News
USA Wrestling
International
USAW
UPDATED: Olympic medalists Steveson, Cox among eight No. 1 seeds to reach U.S. Open men's freestyle finals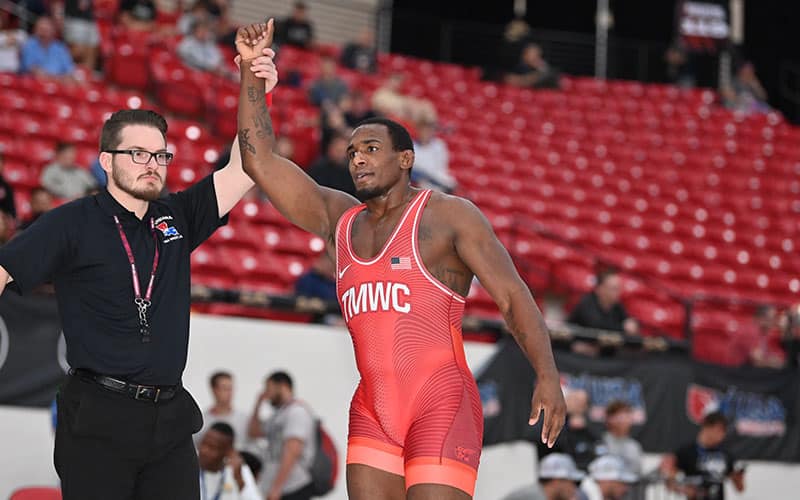 J'den Cox has arm raised in victory at 2023 U.S. Open. Sam Janicki photo


LAS VEGAS, Nev. – The finals have been set in men's freestyle at the 2023 U.S. Open, after an exciting semifinals round on Thursday night.
Eight of the 10 No. 1 seeds were able to advance to the finals, although the round was not without its drama and surprises.
Right off the bat, the highly anticipated semifinals at 57 kg between No. 2 Spencer Lee of the Hawkeye WC/TMWC and No. 3 Nick Suriano of the Sunkist Kids did not happen, as Lee withdrew with an injury default. Suriano will face No. 1 seed Zane Richards of TMWC/Illinois RTC in the finals.
The only No. 1 seed beaten in the semifinals was 2022 World Team member Seth Gross of the Sunkist Kids, who dropped a 5-4 decision to No. 5 Austin Desanto of Hawkeye WC/TMWC, 5-4. Two DeSanto takedowns in the second period was the key. DeSanto will battle No. 2 Vito Arujau of TMWC/Spartan Combat in the finals. Arujau was a 2023 NCAA champion and a past U20 World silver medalist.
The 65 kg semifinals also had its drama. It seemed that No. 10 Beau Bartlett, a Penn State star, had defeated No. 3 Nick Lee, a Penn State grad, 10-10 in their semifinals bout. Officials initially raised Bartlett's hand. However, in the last few seconds, as Bartlett went out of bounds, he was hit for a step out, plus a caution and one for fleeing. The caution had not been put on the scoreboard, and when added, Lee won the criteria. Lee will face No. 1 seed Joey McKenna in the finals.
One of the semifinals which got people's attention came at 79 kg when No. 3 seed Alex Dieringer, a three-time NCAA champion years ago at Oklahoma State, dominated current three-time NCAA champion Carter Starocci, 7-1. Dieringer advances to face No. 1 seed Chance Marsteller of TMWC/NYC RTC in the finals.
2020 Olympic champion Gable Steveson of Gopher WC – RTC at 125 kg and J'den Cox of TMWC/Cliff Keen WC at 97 kg were dominant in semifinals wins.
Steveson scored an impressive 12-1 technical fall over 2023 NCAA champion Mason Parris in the semifinals, delighting the crowd. He will face two-time World silver medalist Nick Gwiazdowski in the finals.
Cox took out No. 4 seed Samuel Mitchell of the Bulls WC in his semifinals, 11-1, and draws unseeded finalist Isaac Trumble of TMWC/Wolfpack WC in the finals.
The men's freestyle finals of the U.S. Open is scheduled for Friday night at 6:00 p.m. PT, live on FloWrestling..



U.S. SENIOR FREESTYLE OPEN

At Las Vegas, Nev., April 27
Men's Freestyle Finals pairings
57 kg - No. 1 Zane Richards (Illinois RTC / TMWC) vs. No. 3 Nick Suriano (Sunkist Kids)
61 kg - No. 5 Austin Desanto (Hawkeye WC/ TMWC) vs. No. 2 Vitali Arujau (Spartan Combat RTC/TMWC)
65 kg - No. 1 Joseph McKenna (PRTC/TMWC) vs. No. 3 Nick Lee (NLWC/TMWC)
70 kg - No. 4 Sam Sasso (Ohio RTC / TMWC) vs. No. 2 Tyler Berger (Sunkist Kids/PRTC)
74 kg - No. 1 Jason Nolf (Nittany Lion WC /TMWC) vs. No. 3 Vincenzo Joseph (Sunkist Kids)
79 kg - No. 1 Chance Marsteller (New York City RTC / TMWC) vs. No. 3 Alex Dieringer (Cliff Keen WC / TMWC)
86 kg - No. 1 Zahid Valencia (Sunkist Kids) vs. No. 3 Aaron Brooks (Nittany Lion WC / TMWC)
92 kg - No. 1 Kollin Moore (Ohio RTC / TMWC) vs. No. 3 Michael Macchiavello (Wolfpack WC/TMWC)
97 kg - No. 1 J'den Cox (Cliff Keen WC/ TMWC) vs. Unseeded Isaac Trumble (Wolfpack WC / TMWC)
125 kg - No. 1 Gable Steveson (Gopher WC- RTC) vs. No. 2 Nick Gwiazdowski (Wolfpack WC/TMWC)
Men's Freestyle Semifinal results
57 kg
No. 1 Zane Richards (Illinois RTC / TMWC) dec. No. 5 Jakob Camacho NC (Wolfpack WC / TMWC), 8-4
No. 3 Nick Suriano (Sunkist Kids) inj. dft over No. 2 Spencer Lee (Hawkeye WC/ TMWC), 0:00
61 kg
No. 5 Austin Desanto (Hawkeye WC/ TMWC) dec. No. 1 Seth Gross (Sunkist Kids), 5-4
No. 2 Vitali Arujau (Spartan Combat RTC/TMWC) dec. No. 3 Nathan Tomasello (Cliff Keen WC / TMWC), 8-3
65 kg
No. 1 Joseph McKenna (PRTC/TMWC) dec. No. 5 Ridge Lovett (Sunkist Kids), 8-3
No. 3 Nick Lee (NLWC/TMWC) dec. No. 10 Beau Bartlett PA (NLWC/TMWC), 10-10
70 kg
No. 4 Sam Sasso (Ohio RTC / TMWC) dec. Unseeded Jarrett Jacques (Tiger Style WC), 9-2
No. 2 Tyler Berger (Sunkist Kids/PRTC) dec. No. 3 Hayden Hidlay(Wolfpack WC/ TMWC), 11-10
74 kg
No. 1 Jason Nolf (Nittany Lion WC /TMWC) dec. No. 4 Keegan O'Toole (Tiger Style WC), 9-2
No. 3 Vincenzo Joseph (Sunkist Kids) dec. No. 7 Joshua Shields (Sunkist Kids Wrestling Club), 5-3
79 kg
No. 1 Chance Marsteller (New York City RTC / TMWC) dec. No. 5 David Mcfadden (Pennsylvania RTC/TMWC), 6-1
No. 3 Alex Dieringer (Cliff Keen WC / TMWC) vs. No. 2 Carter Starocci (Nittany Lion WC / TMWC), 7-1
86 kg
No. 1 Zahid Valencia (Sunkist Kids) dec. No. 4 Trent Hidlay NC (Wolfpack WC/ TMWC), 8-3
No. 3 Aaron Brooks (Nittany Lion WC / TMWC) dec. No. 2 Mark Hall (Pennsylvania RTC / TMWC), 6-1
92 kg
No. 1 Kollin Moore (Ohio RTC / TMWC) tech fall No. 4 Eric Schultz IL (Nebraska WTC).10-0
No. 3 Michael Macchiavello (Wolfpack WC / TMWC) dec. No. 2 Nathan Jackson (New York AC/NJRTC), 4-2
97 kg
No. 1 J'den Cox (Cliff Keen WC/ TMWC) tech fall No. 4 Samuel Mitchell (Bulls Wrestling Club), 11-1
Unseeded Isaac Trumble (Wolfpack WC / TMWC) pin No. 2 Timothy Dudley (Sunkist Kids), 5:59
125 kg
No. 1 Gable Steveson (Gopher WC- RTC) tech fall No. 4 Mason Parris (Cliff Keen WC / TMWC), 12-1
No. 2 Nick Gwiazdowski (Wolfpack WC/TMWC) dec. No. 3 Dominique Bradley MO (Sunkist Kids), 8-0