News
USA Wrestling
High School & Youth
USAW
Bouzakis, Bacon, Fernandez repeat as USMC U15 Women's Nationals champions, with Bacon getting OW
by Gary Abbott, USA Wrestling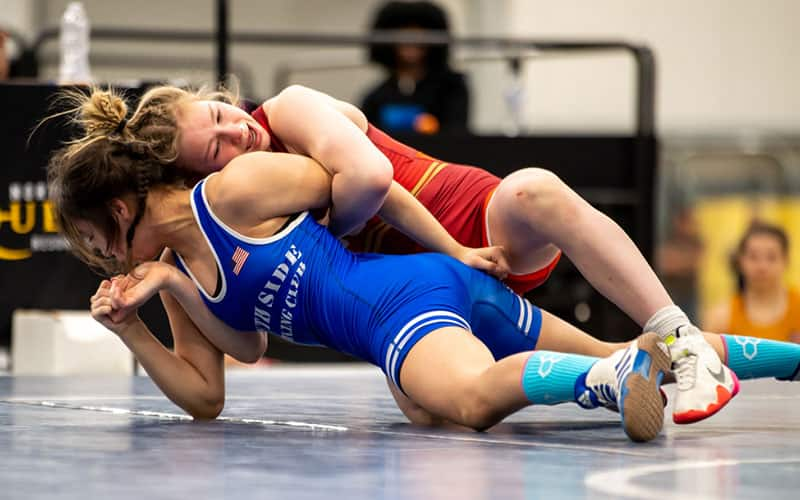 Emma Bacon (PA) controls Kayla Batres (CT) in the 50 kg finals of the USMC Women's U15 National finals. Photo by Robbert Wijtman, CSC Photography.
SPOKANE, Wash. – Three wrestlers were able to repeat as champions as the
USMC Women's U15 Nationals
wrapped up a great weekend of competition at The Podium on Sunday.
Repeat champions were
Jacyln Bouzakis
of Pennsylvania (42 kg),
Emma Bacon
of Pennsylvania (50 kg) and
Taina Fernandez
of Maryland (58 kg).
Bouzakis scored an 8-0 decision over Justice Gutierrez of Colorado in the finals. Bacon secured a 12-2 technical fall over Kayla Batres of Connecticut in the finals. Fernandez secured a 10-0 technical fall over Landri VonGonten of Texas in her finals.
Bacon, who had three technical falls and a pin during her march to the title, was named Outstanding Wrestler.
Bouzakis won her second title of the weekend, after earning a spot on the U17 World Team.
Fernandez was one of four wrestlers who won the U15 Nationals today and the 14U Nationals yesterday, joined by
Maisie Elliott
of Washington (33 kg),
Gail Sullivan
of New York (39 kg) and
Epenesa Elison
of California (46 kg).
Two wrestlers scored pins in the finals:
Jayci Shelton
of Missouri (62 kg) and
Ryen Hickey
of Colorado (66 kg).
The closest finals was at 54 kg, where
Alexis Lazar
of Michigan hit a late throw to secure a 6-5 win over Kaylyn Harrill of Nebraska.
The 36 kg champion was
Alysa Patel
of New Jersey, who won two straight matches of Hayden Kumfer of Alaska.
The top eight placewinners in each weight class qualify for the U15 Pan American Trials which will be held in August at a site and date to be announced.
2023 USMC WOMEN'S U15 NATIONALS

At Spokane, Wash., April 16
33 kg
1st Place - Maisie Elliott of WA
2nd Place - Timmery Condit of CO
Maisie Elliott (WA) won by decision over Timmery Condit (CO) (Dec 10-4)
Maisie Elliott (WA) won by tech fall over Timmery Condit (CO) (TF 10-0)
36 kg
1st Place - Alysa Patel of NJ
2nd Place - Hayden Kumfer of AK
Alysa Patel (NJ) won by fall over Hayden Kumfer (AK) (Fall 0:46)
Alysa Patel (NJ) won by decision over Hayden Kumfer (AK) (Dec 11-5)
39 kg
1st - Gail Sullivan (NY) won by decision over Emma Grimes (PA) (Dec 11-9)
3rd - Paris Soria (CA) won by fall over Brynn Engel (WI) (Fall 0:45)
5th - Remy Whitney (OK) won by tech fall over Zoe Roddis (OR) (TF 11-0)
7th - Kadence Fogg (ME)
42 kg
1st - Jaclyn Bouzakis (PA) won by decision over Justice Gutierrez (CO) (Dec 8-0)
3rd - Hailey Delgado (TX) won by decision over Ryleigh Sturgill (TN) (Dec 3-0)
5th - Elle Changaris (NJ) won by decision over Natalie Radecki (DE) (Dec 12-8)
7th - Lilly Breeden (MO) won by decision over Remington Zimmerer (CO) (Dec 12-6)
46 kg
1st - Epenesa Elison (CA) won by decision over Elizabeth Valenzuela Smith (AZ) (Dec 8-4)
3rd - Nakayla Dawson (MI) won by tech fall over Marie Sharp (NJ) (TF 10-0)
5th - Lola Gonzales (CO) won by fall over Sophia Marie Gonzales (CA) (Fall 0:59)
7th - Katelynn Dockery (TX) won by fall over Sandy Breeden (MO) (Fall 0:43)
50 kg
1st - Emma Bacon (PA) won by tech fall over Kayla Batres (CT) (TF 12-2)
3rd - Sarissa Tucker (VA) won by tech fall over Keanna Conrad (ID) (TF 10-0)
5th - Olivia Bezdicek (ID) won by decision over Kaiya Maggini (CA) (Dec 6-2)
7th - Raenah Smith (WA) won by tech fall over Jacianna Beltran (AZ) (TF 12-0)
54 kg
1st - Alexis Lazar (MI) won by decision over Kaylyn Harrill (NE) (Dec 6-5)
3rd - Danica Torres (AZ) won by tech fall over Sara McLaughlin (MA) (TF 10-0)
5th - Amaya Hinojosa (CO) won by decision over Ava Strayer (IN) (Dec 8-2)
7th - Malia Ottow (WA) won by injury default over Zorina Johnson (OR) (Inj. 0:00)
58 kg
1st - Taina Fernandez (MD) won by tech fall over Landri VonGonten (TX) (TF 10-0)
3rd - Victoria Carbonaro (NJ) won by tech fall over Ava Guilmette (CT) (TF 10-0)
5th - Riley Hanrahan (WI) won by tech fall over Madilyn Peach (WI) (TF 10-0)
7th - Dulcy Martinez (CA) won by fall over Kalynn Lyons (NE) (Fall 2:45)
62 kg
1st - Jayci Shelton (MO) won by fall over Lilliana Banks (WI) (Fall 2:22)
3rd - Eloise Woolsey (HI) won by decision over Roxy Sheen (ID) (Dec 6-2)
5th - Corynne McNulty (MA) won by tech fall over Isabella Miller (IA) (TF 10-0)
7th - Maddie Marsh (IN) won by tech fall over Nia Hagler (UT) (TF 11-0)
66 kg
1st - Ryen Hickey (CO) won by fall over Flor Parker-Borrero (WA) (Fall 0:22)
3rd - Leilani Lemus (CA) won by decision over Kiann Williams (AK) (Dec 5-3)
5th - Ella Poalillo (NJ) won by decision over Remington LaFlamme (TX) (Dec 4-4)
7th - Payton Temple (IL) won by fall over Islah Alcala (WA) (Fall 3:40)