News
USA Wrestling
International
High School & Youth
College
USAW
World medalist Attao leads group of four title repeaters at 2023 U20 Greco-Roman Nationals
by Adam Engel, Special to TheMat.com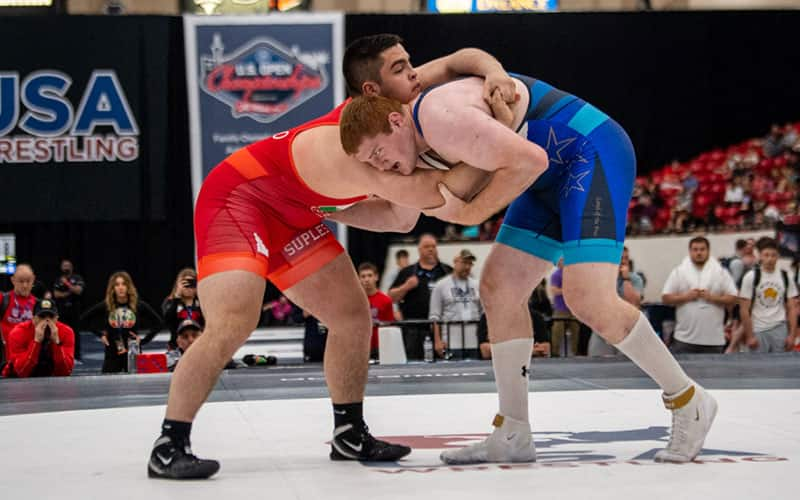 Aden Attao (ID) locks up his opponent during the U20 Greco-Roman Nationals finals. Photo by Robbert Wijtman.
Aden Attao
said he likes to entertain.
A thunderous five-point throw, relentless offense and a celebratory backflip captured the fans' attention during the
U20 Greco-Roman Nationals
finals at the 2
023 Pritchard Companies U.S. Open, presented by FloWrestling
on Friday in Las Vegas.
No. 1 seed Attao, of Suples Wrestling Club, became one of three U20 Greco-Roman World Teamers to repeat as national champions Friday night. Attao won a U20 Greco-Roman World bronze medal last summer.
He teched No. 2 seed Ryan Boersma of Tiger Style Wrestling Club, 13-5, at 130 kg, and won each match in the same fashion.
No. 3 Max Black of NMU ¬— Regional Training Center at 60 kg and No. 2 Richard Fedalen of New York City RTC at 72 kg also joined Attao in that distinction.
Black destroyed his bracket outscoring five opponents 43-0. Black battled No. 1 Cory Land of Panther Wrestling Club RTC, a 2021 Cadet Greco-Roman silver medalist. Black teched Land in the second period, 8-0.
Fedalen, a Columbia freshman, used a big second period to defeat No. 1 Brendon Abdon of Florida, 7-2. Fedalen entered the break tied at 1 before he found his offense minutes later.
Attao became the third Idahoan to claim a title in Friday night's competition.
At 67 kg, No. 1 Jadon Skellenger of Team Idaho Wrestling Club became the first champ from his state as he teched No. 6 Ivan Morris of Black Fox Wrestling Academy in Colorado, 8-0, in 87 seconds. Skellenger, a Lehigh University commit, also earned the tournament's outstanding wrestler award.
No. 4 Derek Matthews of Northern Colorado Wrestling Club needed 21 seconds to tech his teammate No. 7 Aydin Rix McElhinney, 8-0, at 77 kg.
No. 6 Kenneth Crosby of NMU-Regional Training Center at 55 kg and Landon Drury from Betterman Elite Wrestling at 63 kg joined Black as Coloradoans atop the podium.
Crosby quickly teched statemate No. 8 Roberto Estrada of Western Colorado Wrestling Club, 8-0, in 42 seconds.
Unseeded Drury wrecked the odds with a 9-4 win over No. 1 Pierson Manville of M2 Training Center in Pennsylvania. Drury also finished the tournament with wins over the No. 6, No. 3 and No. 7-seeded wrestlers.
At 82 kg, No. 2 Michael Altomer used second period two-and-two sequence to beat No. 5 Darion Johnson of Mustang Wrestling Club, 4-1. Altomer trailed 1-0 at the break before he lifted and turned Johnson.
Johnson recently helped lead Western Wyoming Community College to its first NJCAA title.
Wyatt Voelker of Panther Wrestling Club RTC avenged a Fargo finals loss to No. 3 Jack Darrah of Missouri, 11-2, in 4:12.
Voelker, similar to Land, recently finished his freshman season with University of Northern Iowa.
At 97 kg, No. 1 Sawyer Bartelt of Gladiator Wrestling Club flattened Joey Braunagel of Illinois RTC/Illini WC in 93 seconds. Bartelt will wrestle for Iowa State.
U.S. U20 Greco-Roman Nationals
At Las Vegas, Nev., April 28
55 KG
1st — Kenneth Crosby CO (NMU-National Training Center) tech fall Roberto Estrada CO (Western Colorado Wrestling Club), 8-0 0:42
3rd — Anthony Ruzic IL (Illinois) dec. Zachary Silvis MN (Pinnacle Wrestling Club), 3-2
5th — Elyle Francisco AK (Anchorage Youth Wrestling Academy) tech fall Davis Motyka PA (XCalibur Athletics), 10-1 4:00
7th — Tyler Klein WI (Wisconsin) dec. Blake Gioimo IA (Big Game Wrestling Club), 10-3
60 KG
1st — Max Black CO (NMU-National Training Center) tech fall Cory Land AL (Panther Wrestling Club RTC), 8-0 2:51
3rd — Zan Fugitt MO (Nixa High School Wrestling) tech fall Rhett Peak OK (Cowboy Wrestling Club), 9-0 3:57
5th — Teegan Vasquez MT (Kalispell Wrestling Club) tech fall Ruben Calderon TX (Cy-Select Wrestling, Inc.), 8-0 1:33
7th — Gable Porter IA (Powerhouse Wrestling Club) tech fall Anthony Aniciete NV (Nevada), 10-2 1:42
63 KG
1st — Landon Drury CO (Betterman Elite Wrestling) dec. Pierson Manville PA (M2 Training Center), 9-4
3rd — Colton Parduhn AK (Interior Grappling Academy) tech fall Ayson Rice SD (Legends of Gold), 9-0 1:27
5th — Paul Kelly CA (Poway High School Wrestling) tech fall Nash Singleton OR (Beaver Dam Wrestling RTC), 12-4 2:52
7th — Zachary Marrero CO (Colorado Top Team Wrestling Club) forfeit Otto Black CO (Colorado Top Team Wrestling Club)
67 KG
1st — Jadon Skellenger ID (Team Idaho Wrestling Club) tech fall Ivan Morris CO (Black Fox Wrestling Academy), 8-0 1:27
3rd — Gunnar Hamre WI (Combat W.C. School of Wrestling) tech fall Charlie Dill NY (Curby 3 Style Wrestling Club), 9-0 2:32
5th — Braden Stauffenberg IL (Illinois) tech fall Noah Rice PA (Lancaster Alliance Wrestling Club (LAW)), 8-0 5:08
7th — Christopher Martino ID (Idaho) tech fall Daniel Zepeda CA (Gilroy High School Wrestling), 11-2 2:48
72 KG
1st — Richard Fedalen MD (New York City RTC) dec. Brendon Abdon FL (Florida), 7-2
3rd — Arvin Khosravy CA (California) tech fall Jeremy Paradice GA (The Storm Wrestling Center), 10-0 4:33
5th — Tyler Antoniak NE (MWC Wrestling Academy) dec. Dylan Whitt IA (Viking Wrestling Club (IA)), 10-9
7th — Joe Antonio CA (St. John Bosco High School Wrestling) tech fall Aaron Dobbs WI (NMU-National Training Center), 8-0 1:11
77 KG
1st — Derek Matthews ID (Northern Colorado Wrestling Club) tech fall Aydin Rix mcelhinney ME (Northern Colorado Wrestling Club), 8-0 0:21
3rd — Adrian Artsisheuskiy NY (New York) tech fall Hunter Garvin IA (Iowa), 14-6 4:34
5th — Lars Michaelson WA (Nwwc) injury default Jake Prudek CA (California)
7th — Gaetano Console IL (Illinois) no contest Cj Hamblin WA (Beaver Dam Wrestling RTC), 0-0
82 KG
1st — Michael Altomer NY (NMU-National Training Center) dec. Darion Johnson WA (Mustang Wrestling Club), 4-1
3rd — Jared Stricker WI (Wisconsin) tech fall Franklin Ordonez-fernandez FL (Southwest Miami High School Wrestling), 9-0 1:35
5th — Codei Khawaja MI (Michigan) tech fall Arian Khosravy CA (California), 13-5 4:07
7th — Kasey Ross IA (Sarbacker Wrestling Academy) tech fall Blake Jouret KS (Beaver Wrestling Club), 10-1 2:39
87 KG
1st — Wyatt Voelker IA (Panther Wrestling Club RTC) tech fall Jack Darrah MO (Missouri), 11-2 4:12
3rd — Tate Naaktgeboren IA (Big Game Wrestling Club) dec. Branson Britten TX (Northern Colorado Wrestling Club), 6-2
5th — Jarrett Stoner TX (Rockwall Training Center) injury default Hunter Sonnenberg WA (FordDynastyWrestlingClub)
7th — Talmage Carman UT (Mustang Wrestling Club) tech fall Jakob Gilfoil PA (Pennsylvania), 3-1 6:00
97 KG
1st — Sawyer Bartelt FL (Gladiator Wrestling) fall Joey Braunagel IL (Illinois RTC/Illini WC), 5-4 1:33
3rd — Max Ramberg WI (Viking RTC) fall Jackson Dewald IA (MWC Wrestling Academy), 4-0 0:27
5th — Damion Schunke SD (Legends of Gold) tech fall Asher Ruchti OR (Beaver Dam Wrestling RTC), 11-3 2:40
7th — Sage Harrison CO (Western Colorado Wrestling Club) tech fall Ibrahim Ameer MO (Missouri), 8-0 2:15
130 KG
1st — Aden Attao ID (Suples Wrestling Club) tech fall Ryan Boersma IL (Tiger Style Wrestling Club), 13-5 5:26
3rd — Keith Miley AR (Arkansas RTC) fall Matthew Moore CO (Colorado), 4-0 0:34
5th — Alex Semenenko NY (New York) injury default Soren Pirhoun VA (Virginia)
7th — Cameron Groncki NY (Curby 3 Style Wrestling Club) tech fall Shilo Jones ID (Team Idaho Wrestling Club), 12-1 3:51