News
USA Wrestling
Women
High School & Youth
USAW
U.S. U17 World Team set at USMC Women's Nationals; Robinson repeats and Leydecker named OW
by Gary Abbott, USA Wrestling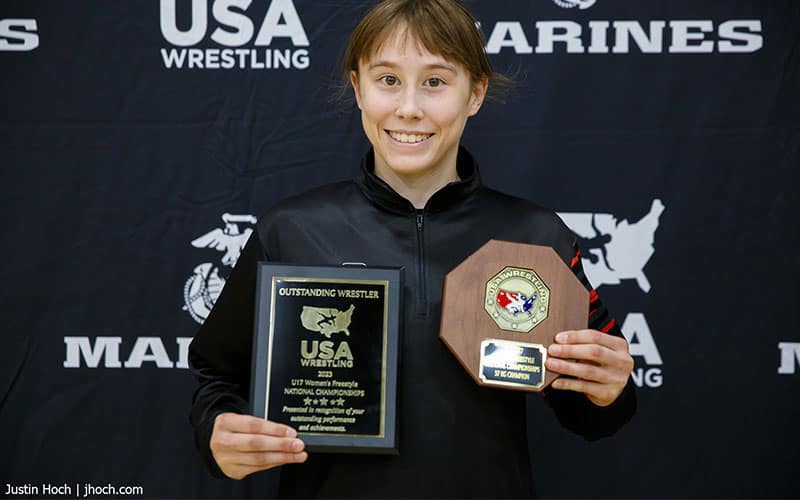 Everest Leydecker of Arizona, 57 kg USMC U17 Nationals champion and Outstanding Wrestler. Photo by Justin Hoch.
SPOKANE, Wash. – The 2023 U.S. U17 World Team was determined during the championship finals series of the
USMC Women's Nationals
, held on Saturday at The Podium.
Winners of Saturday's best-of-three championship series will represent the United States at the U17 World Championships in Istanbul, Turkey, July 31 – August 6.
Repeating as U17 National champion and returning to the World Championships is
Jasmine Robinson
of Texas, who dominated her finals series in two straight matches over 2022 U15 Nationals champion Sarah Henckel of Connecticut. Robinson won the first match 10-0 and the second match by fall in 2:32.
Named the tournament Outstanding Wrestler after winning her 57 kg finals series in two straight matches was
Everest Leydecker
of Arizona. In a rematch of the 16U Nationals freestyle finals which was won by Leydecker in Fargo, N.D., Leydecker beat Ceshker 5-3 in bout one and 7-0 in bout two.
A pair of 2022 U15 Nationals champions moved up in age group this year and made the U17 World Team:
Jaclyn Bouzakis
of Pennsylvania (40 kg) and
Morgan Turner
of Illinois (43 kg).
Bouzakis won both of her finals series matches over Francesca Gufsa of New Jersey with dominance, a first-match pin in 2:39 and a 10-0 technical fall.
Turner, who is ranked No. 1 in her weight class in the National Girls High School Rankings, was dominant in her two-match sweep over national No. 7 Katey Valdez of Colorado. Turner had two technical falls, 12-2 and 10-0.
Haylie Jaffe
of Pennsylvania, who came to Spokane with a No. 18 high school ranking, knocked off national No. 1 Cadence Diduch of Illinois in two straight bouts at 61 kg. Jaffe won the first match, 4-2, then came back with an 8-2 win in match two.
Three of the championship series went the full three matches, and were won by
Rianne Murphy
of Indiana (46 kg),
Karlee Brooks
of Arizona (53 kg) and
May Prado
of Georgia (65 kg)
Murphy won her first match over Caley Graber of Minnesota, 6-4, but Graber came back with a clutch 6-2 win in bout two. In the deciding third match, Murphy was dominant in a 10-0 technical fall.
Brooks also opened with a win, stopping 2022 U15 Nationals champion Isabella Marie Gonzales of California by criteria, 4-4. In bout two, Gonzales scored a 2-0 win. Brooks responded with a 4-0 shutout to claim bout three and make the World Team.
Prado, ranked No. 25 coming into Spokane, won a weight class where the bracket was busted up in the semifinals. Prado stopped unranked freshman Belicia Manuel of Michigan in the finals. Prado won a 10-0 technical fall in bout one, but Manuel rallied with a 9-0 decision in bout two. In the deciding match, Prado won a tight 2-1 match.
Other U17 World Team members will be
Heather Crull
of Indiana (49 kg) and
Piper Fowler
of Tennessee (73 kg).
Crull won two straight 10-0 technical falls over Harlee Hiller of Illinois for a dominant sweep.
Fowler, ranked No. 2 in the USA, won a competitive finals over No. 3 Mishell Rebisch of Michigan. Fowler won 5-1 in the first bout and 10-2 in the second bout.
USMC U17 WOMEN'S NATIONALS
At Spokane, Wash., April 14

Championship finals results
40 kg – Jaclyn Bouzakis (PA) dec. Francesca Gufsa (NJ), two matches to none
Bout One – Bouzakis pin Gusfa, 2:39
Bout Two – Bouzakis tech fall Gusfa, 10-0
Bouzakis will represent Team USA at the 2023 U17 World Championships
3rd Place - Abigail Mendoza of TX
4th Place - Sophie Booe of Tea Titans
5th Place - Annalise Maralit of SC
Francesca Gusfa (NJ) won by injury default over Annalise Maralit (SC) (Inj. 0:49)
Abigail Mendoza (TX) won by decision over Sophie Booe (Tea Titans) (Dec 13-9)
Jaclyn Bouzakis (PA) won by fall over Abigail Mendoza (TX) (Fall 0:29)
Sophie Booe (Tea Titans) won by forfeit over Annalise Maralit (SC) (FF)
Jaclyn Bouzakis (PA) won by tech fall over Sophie Booe (Tea Titans) (TF 10-0)
Francesca Gusfa (NJ) won by tech fall over Abigail Mendoza (TX) (TF 10-0)
Jaclyn Bouzakis (PA) won by fall over Francesca Gusfa (NJ) (Fall 2:39)
Abigail Mendoza (TX) won by forfeit over Annalise Maralit (SC) (FF)
Jaclyn Bouzakis (PA) won by forfeit over Annalise Maralit (SC) (FF)
Francesca Gusfa (NJ) won by tech fall over Sophie Booe (Tea Titans) (TF 10-0)
43 kg - Morgan Turner (IL) dec. Katey Valdez (CO), two matches to none
Bout One – Turner tech fall Valdez, 12-2
Bout Two – Turner tech. fall Valdez, 10-0
Turner will represent Team USA at the 2023 U17 World Championships
3rd - Kendall Moe (IN) won by fall over Katie Biscoglia (IA), 2:25
5th - Elizabeth Brunson (NV) won by decision over Khyla Lipumano (AZ), 5-4
7th Place Match
Bertha Cabrera (NV) won by tech fall over Lyla Stafford (Independence) (TF 10-0)
46 kg - Rianne Murphy (IN) dec. Caley Graber (MN), two matches to one
Bout One – Murphy dec. Graber, 6-4
Bout Two – Graber dec. Murphy, 6-2
Bout Three – Murphy tech fall Graber, 10-0
Murphy will represent Team USA at the 2023 U17 World Championships
3rd - Nakayla Dawson (MI) won by forfeit over Charlie Wylie (NJ)
5th - Monee Cordero (CA) won by decision over Joely Slyter (ID), 10-6
7th - Elizabeth Valenzuela Smith (AZ) won by decision over Brooke Corrigan (WI), 9-0
49 kg - Heather Crull (IN) dec. Harlee Hiller (IL), two matches to none
Bout One – Crull tech. fall Hiller, 10-0
Bout Two – Crull tech. fall Hiller, 10-0
Crull will represent Team USA at the 2023 U17 World Championships
3rd - Kayla Batres (CT) won by tech fall over Libby Roberts (WA), 10-0
5th - Emma Bacon (PA) won by fall over Avy Perez (CA), 1:27
7th - Deandra Meza (CA) won by fall over Taylor Whiting (WI), 1:05
53 kg - Karlee Brooks (AZ) dec. Isabella Marie Gonzales (CA), two matches to one
Bout One – Brooks dec. Gonzales, 4-4
Bout Two – Gonzales dec. Brooks, 2-0
Bout Three – Brooks dec. Gonzales, 4-0
Brooks will represent Team USA at the 2023 U17 World Championships
3rd - Ava Ward (MO) won by decision over Angelina Vargas (MO), 6-0
5th - Alexis Lazar (MI) won by forfeit over Gabriella Gomez (IL)
7th - Milana Borrelli (FL) won by forfeit over Angelina Cassioppi (IL)
57 kg - Everest Leydecker (AZ) dec. Carley Ceshker (WI), two matches to none
Bout One – Leydecker dec. Ceshker, 5-3
Bout Two – Leydecker dec. Ceshker, 7-0
Leydecker will represent Team USA at the 2023 U17 World Championships
3rd - Bella Williams (OK) won by decision over Alejandra Valdiviezo (CA), 4-2
5th - Samantha Sachs (CA) won by injury default over Persaeus Gomez (CO), 0:00
7th - Zorina Johnson (OR) won by injury default over Jax Realin (HI), 2:00
61 kg -. Haylie Jaffe (PA) dec. Cadence Diduch (IL), two matches to none
Bout One – Jaffe dec. Diduch, 4-2
Bout Two – Jaffe dec. Duduch, 8-2
Jaffe will represent Team USA at the 2023 U17 World Championships
3rd - Jordyn Fouse (PA) won by tech fall over Alicen Dillard (TX). 10-0
5th - Janiah Jones (MO) won by injury default over Lauren Walton (KY), 3:51
7th - Jayci Shelton (MO) won by fall over Taydem Bylin (WA), 2:00
65 kg - May Prado (GA) dec. Belicia Manuel (MI), two matches to one
Bout One – Prado tech fall Manuel, 10-0
Bout Two – Manuel dec. Prado, 9-0
Bout Three – Prado dec. Manuel, 2-1
Prado will represent Team USA at the 2023 U17 World Championships
3rd - Skylar Little Soldier (MN) won by tech fall over Skylar Slade (IA), 10-0
5th - Morgan Lucio (AZ) won by forfeit over Sydney Perry (IL)
7th - Gianna DiBenedetto (CA) won by decision over Adelaida Fernandez (CA), 6-0
69 kg - Jasmine Robinson (TX) dec. Sarah Henckel (CT), two matches to none
Bout One – Robinson tech fall Henckel, 10-0
Bout Two – Robinson pin Henckel, 2:32
Robinson will represent Team USA at the 2023 U17 World Championships
3rd - Jahzara O`Neil (AK) won by decision over Elly Janovsky (IN), 8-2
5th - Millie Azlin (OK) won by decision over Skylur Lewis (AR), 4-1
7th - Zoe Fries (ID) won by tech fall over Sadie Evans (WA), 10-0
73 kg - Piper Fowler (TN) dec. Mishell Rebisch (MI), two matches to none
Bout One – Fowler dec. Rebisch, 5-1
Bout Two – Fowler dec. Rebisch, 10-2
Fowler will represent Team USA at the 2023 U17 World Championships
3rd - Alexandria Alli (OH) won by decision over Grace Leota (FL), 8-0
5th - Genevieve An (GA) won by injury default over Emma Villa (WA), 0:00
7th - Billie Bonwell (NV) won by fall over Autumne Williams (IL), 1:38