News
USA Wrestling
College
USAW
Legendary Maryville coach Mike Denney announces his retirement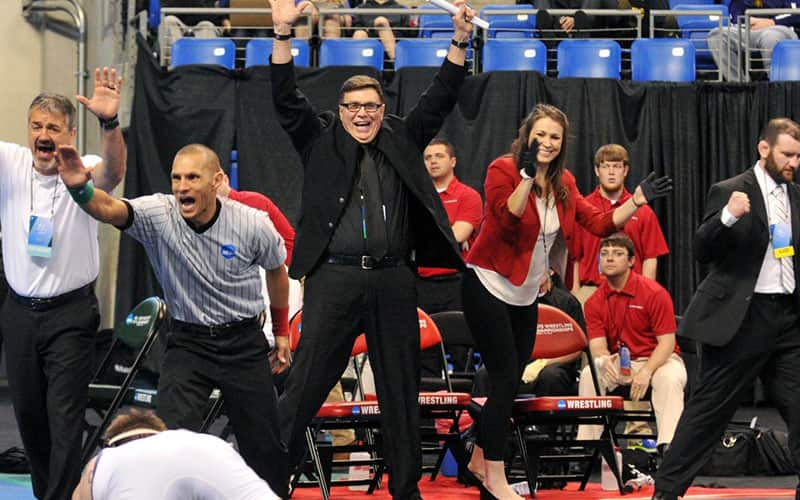 Photo of Mike Denney coaching courtesy of Maryville University
Legendary Maryville University wrestling head coach
Mike Denney
announced his retirement from coaching today. His experience spans over 50 years and dedicated over a decade to the success of the Maryville team. Coach Denney rose the ranks as one of Division II's greatest wrestling coaches, a multiple national champion and one of the most prominent figures in the history of the sport.
"Coach Denney transformed the athletics culture at Maryville University. His championship pedigree, commitment to student-athlete education and his belief in character created a culture of excellence in our wrestling program and throughout the University," says Mark Lombardi, president of Maryville University. "It has been an honor and privilege to work with him over the past 14 years. He will be leaving an enduring legacy for Maryville wrestling."
Coach Denney began his remarkable collegiate coaching tenure in the 1979-80 season and complied a 386-164-5 dual record. He coached seven NCAA Championship teams and was a three-time NCAA Division II National Coach of the Year.
"Coach Denney has been incredible as our first-ever wrestling coach," says Lonnie Folks, director of athletics at Maryville. "He and our program have been shining examples for not only our athletics department but across campus. I look forward to leaning on his knowledge during the process as we look for the next coach of our program."
Denney's wrestling team won three consecutive NCAA Division II National Championships and six of the last eight at the University of Nebraska-Omaha (UNO). However, UNO eliminated the wrestling program after 63 years of competition. Denney directed the wrestling team for the last 32 years before Maryville University named him the inaugural head wrestling coach June 1, 2011.
Notable Wins with Maryville
• Coached two NCAA Division II National Champions, Matt Baker and Nate Rodriguez
• Led the Saints to become the No. 1 ranked team in the nation many times over
• Spearheaded the Saints to a pair of third-place finishes in the DII national championships (2014 and 2015) and Super Regional titles in 2015 and 2016
• Coached 26 All-Americans, 49 NCAA Nationals qualifiers and 102 NWCA Academic All-Americans
• Won four consecutive NWCA Team Academic National Championships from 2017-18 through 2020-21
• Directed Maryville's efforts as the host institution for three NCAA Division II Wrestling National Championships in St. Louis
Recognitions
• Denney was voted 2011 InterMat Coach of the Year, which recognizes the top college wrestling coaches across all NCAA divisions
• Was named the NCAA Division II Wrestling Coach of the Year in 1981, 1991, and 2009
• Claimed seven national titles in 1991, 2004–2006 and 2009–2011
• UNO finished in the NCAA Division II top 10 for all but one season during his tenure
• Led 23 top-three finishes and 27 top-five placements
• Coached 294 NCAA Nationals qualifiers, 207 All-Americans and 35 national champions
Professional Career
• Denney was a four-year starter and All-Conference and All-District performer in football and wrestling at Dakota Wesleyan University in Mitchell, S.D.
• He was inducted into the Dakota Wesleyan Hall of Fame in 1988 and the NCAA Division II Hall of Fame in 1999
• A versatile athlete, Denney played seven years of semi-pro football for the Omaha Mustangs
• Currently holds a Third-Degree Black Belt in Judo, placing in the National Masters Judo Championships and winning in 1982
Denney and his wife, Bonnie, have been married 53 years. Bonnie has been closely involved with all of Denney's wrestling programs and the couple enjoys spending time with their three children and seven grandchildren.
Maryville University's Department of Athletics will be announcing a well-deserved celebration honoring Denney's legacy soon. Check back to the Maryville Athletics website (www.maryvillesaints.com) for further updates.