News
USA Wrestling
International
College
USAW
Cyclone RTC adds Coleman, Schuyler and Ortega as new resident athletes
by Cyclone Regional Training Center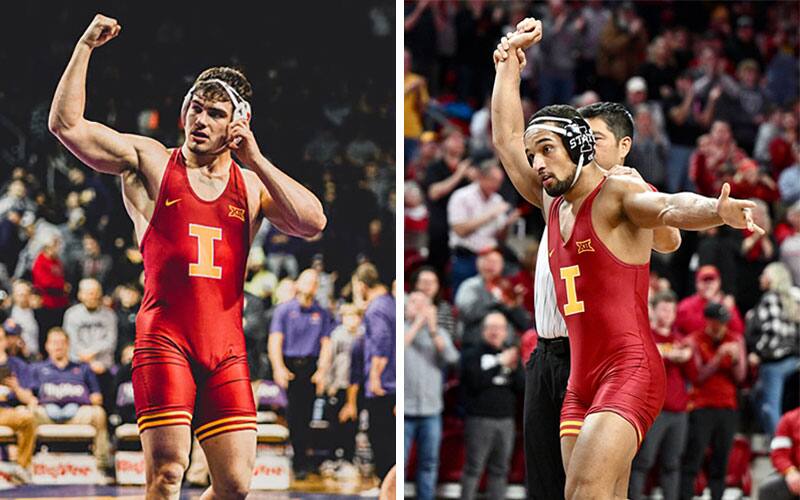 Iowa State wrestlers Sam Schuyler, Marcus Coleman images courtesy of Iowa State Athletics
.
AMES, Iowa – The Cyclone Regional Training Center and its Director
Kevin Dresser
are excited to announce the addition of three new resident athletes:
Marcus Coleman
,
Sam Schuyler
, and
Reineri Andreu Ortega
.
Marcus Coleman is a two-time All-American and four-time NCAA Qualifier for the Cyclones. Most recently, Coleman placed fifth at the 2023 NCAA Championships, outperforming his seventh-place finish at the 2022 NCAA Championships. Coleman, an Ames native, is no stranger to freestyle wrestling and was the runner-up at the 2022 US Open at 86 kilograms.
"As I look to continue my wrestling career, I'm excited to get the opportunity to work with the coaches and the training partners at the Cyclone RTC," Coleman said. "I look forward to pursuing my goals in the freestyle circuit while also helping younger athletes."
Sam Schuyler has been a staple in the Cyclone lineup since arriving in Ames two years ago. Schuyler helped the Cyclones win many big dual meets where the outcome came down to him in the last match. Schuyler is a three-time NCAA Qualifier and was a UWW Junior Nationals Freestyle Champion in 2019.
"I feel like I have not tapped into my full potential, and I want to see how far I can go in the sport of wrestling," said Schuyler. "I am excited to continue training in Ames with world class coaches and partners. I also am excited to help provide some leadership to younger guys and continue to help the upper weights develop."
Reineri Andreu Ortega arrived in Ames earlier this year from Cuba, where he was a two-time U23 World Champion and two-time Pan American Gold Medalist at 57 kilograms.
"Ames is a city where dreams come true, where the impossible becomes possible," Ortega said. "This is where great effort allows one to achieve great results."
Coach Dresser engineered the addition of the three athletes to the C-RTC. "Adding Marcus and Sam as former Iowa State Cyclone Wrestlers is perfect and has been part of our dream from Day One when we started the Cyclone RTC in 2017," he said. "I am excited to see their continued growth as they transition into freestyle wrestling. They have been two of our most improved guys and their upside is still very exciting."
Meanwhile, Coach Dresser notes that adding Ortega — who already is a world-class athlete with impressive credentials — is a big bonus.
"The goal is to help him progress in the sport and to get him eligible to compete again internationally," said Dresser. "In the meantime, he is such a solid training partner for lightweight athletes. "