News
USA Wrestling
High School & Youth
USAW
Castillo, Knox, Sealy among standout U.S. champs at Journeymen World Classic
by Richard Immel, USA Wrestling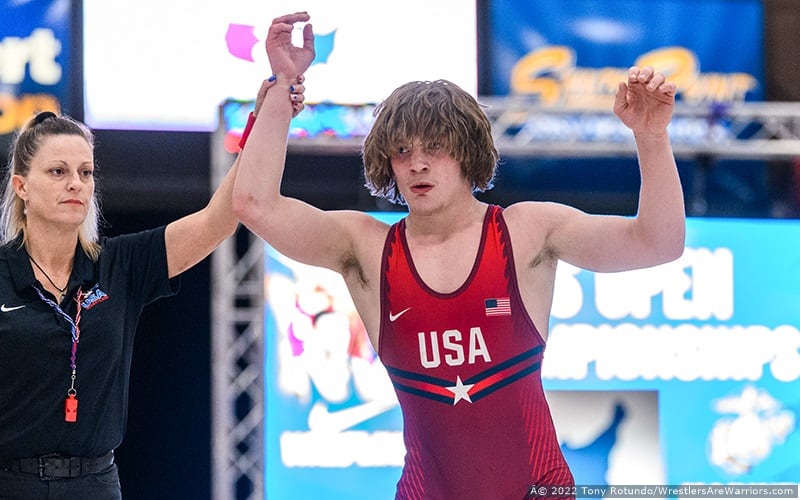 Photo: Joe Sealey, 160-pound champion at the 2023 Journeymen World Classic, pictured at the 2022 U.S. Open in Las Vegas. (Tony Rotundo/wrestlersarewarriors.com).
SCHENECTADY, N.Y. – Following a lively pair of international dual meets on Friday evening between U.S. and international standouts, the individual tournament at the Journeymen World Classic delivered even more of a punch on Saturday at Union College Field House.
Highlight U.S. performances from the event were delivered by Christian Castillo of Valiant College Prep at 113 pounds, Anthony Knox of Rhino at 126 pounds and Joseph Sealey of Wyoming Seminary at 160 pounds.
The No. 1 ranked high school wrestler at 113 in the FloWrestling rankings, Castillo won all four of his bouts by technical fall with only one match making it to the second period. He defeated Maisuradze Giorgi of Georgia 12-1 in the championship match. Castillo is the reigning U17 World silver medalist in men's freestyle and was a double Pan American champion last summer.
Knox, a two-time New Jersey state champion and 16U freestyle national champion, dominated a weight class that included U17 World champion Luke Lilledahl among other stout competition. He went 5-0 with five wins by technical fall, not surrendering a single point to any of his opponents.
U17 World champion Joe Sealey battled his way to gold with multiple victories over tough international opponents. He won comfortably 8-1 against Bekbol Izabekov of Kyrgyzstan in the semifinals before outlasting U20 European champion Hayk Papikyan of Armenia 8-6 for the title. It's Sealey's second win over Papikyan in as many days.
The Sunkist Kids Monster Garage squad picked up the most individual champions in the High School (A) division with three: 16U freestyle national champion Michael Romero at 120 pounds, 2022 Junior freestyle finalist Nicco Ruiz at 152 pounds, and 16U Greco-Roman national champion Nicholas Sahakian at 220 pounds.
Wyoming Seminary was the only other team to grab multiple champions with 132-pound victor Matthew Botello joining Sealey atop the podium.
Additional American competitors finishing in first place were Aydan Thomas of Stillwater at 100 pounds, Pierson Manville of M2/State College High School at 145 pounds, Rocco Welsh of Pennsylvania at 182 pounds and Aeoden Sinclair of Askren Wrestling Academy at 195 pounds.
International athletes picking up gold medals were Uulu Bilol Sharip of Kyrgyzstan at 138 pounds, Aren Israyelyan of Armenia at 170 pounds and Arysbek Akzhigit of Kazakhstan at 285 pounds.
In addition to the premier High School (A) division, tournaments were held for High School (B) and Middle School divisions. Final placements and medal match results from all three divisions can be found below.
Go back and watch all the action from Schenectady on-demand on
FloWrestling.com
. Brackets and match-by-match results are available through
FloArena
.
2023 Journeymen World Classic and Duals
April 7-8, Union College Field House, Schenectady, N.Y.

High School (A) Results
106 pounds

1st place - Aydan Thomas (Stillwater)
2nd place - Dominic Deputy (M2 Training Center)
3rd place - Joe Bachmann (Faith Christian Academy)
4th place - Liam Collins (Pinnacle)
5th place - Uktamovich Rashidov (Uzbekistan)
6th place - Khojikhon Karimov (Uzbekistan)
7th place - Carter Shin (Integrity WC)
8th place - George Jones (Askren Wrestling Academy)
1st place match - Aydan Thomas (Stillwater) fall Dominic Deputy (M2 Training Center), 1:09
3rd place match - Joe Bachmann (Faith Christian Academy) tech. fall Liam Collins (Pinnacle), 10-0
5th place match - Uktamovich Rashidov (Uzbekistan) dec. Khojikhon Karimov (Uzbekistan), 5-0
7th place match - Carter Shin (Integrity WC) tech. fall George Jones (Askren Wrestling Academy), 11-0
113 pounds

1st place - Christian Castillo (Valiant College Prep)
2nd place - Maisuradze Giorgi (Georgia)
3rd place - Dunia Sibomana (Long Beach Gladiators)
4th place - Cadell Lee (Integrity Wrestling Club)
5th place - Nikos Filipos (X-caliber Athletics/Wyoming Seminary)
6th place - Paul Kenny (Elite Wrestling)
7th place - Ezekiel Witt (Team Kansas)
8th place - Carmine Caiazza (Italy)
1st place match - Christian Castillo (Valiant College Prep) tech. fall Maisuradze Giorgi (Georgia), 12-1
3rd place match - Dunia Sibomana (Long Beach Gladiators) forfeit Cadell Lee (Integrity Wrestling Club)
5th place match - Nikos Filipos (X-caliber Athletics/Wyoming Seminary) tech. fall Paul Kenny (Elite Wrestling), 11-1
7th place match - Ezekiel Witt (Team Kansas) tech. fall Carmine Caiazza (Italy), 12-2
120 pounds

1st place - Michael Romero (Sunkist Kids Monster Garage)
2nd place - Liuzzi Pasquale (Italy)
3rd place - Gus Cardinal (Valiant College Prep)
4th place - Ryan Ferrara (Kd Training Center)
5th place - Slater Hicks (Sunkist Kids Monster Garage)
6th place - Evan Sanati (Integrity Wrestling Club)
7th place - Seach Hibler (Apex Wrestling)
8th place - Sherbek Abdumalikov (Uzbekistan)
1st place match - Michael Romero (Sunkist Kids Monster Garage) fall Liuzzi Pasquale (Italy), 2:28
3rd place match - Gus Cardinal (Valiant College Prep) tech. fall Ryan Ferrara (Kd Training Center), 16-6
5th place match - Slater Hicks (Sunkist Kids Monster Garage) dec. Evan Sanati (Integrity Wrestling Club), 7-6
7th place match - Seach Hibler (Apex Wrestling) tech. fall Sherbek Abdumalikov (Uzbekistan), 1-0-
126 pounds

1st place - Anthony Knox (Rhino)
2nd place - Adrian Meza (Valiant College Prep)
3rd place - Luke Lilledahl (X-calibur Athletics)
4th place - Jesse Grajeda (Sunkist Kids Monster Garage)
5th place - Aitanov Nurdanat (Kazakhstan)
6th place - Davit Davtvan (Armenia)
7th place - Tyler Dekraker (Integrity/Blair)
8th place - Brooklyn Pickett (Headhunters WC)
1st place match - Anthony Knox (Rhino) tech. fall Adrian Meza (Valiant College Prep), 11-0
3rd place match - Luke Lilledahl (X-calibur Athletics) dec. Jesse Grajeda (Sunkist Kids Monster Garage), 9-4
5th place match - Aitanov Nurdanat (Kazakhstan) tech. fall Davit Davtvan (Armenia), 10-0
7th place match - Tyler Dekraker (Integrity/Blair) dec. Brooklyn Pickett (Headhunters WC), 10-4
132 pounds

1st place - Matthew Botello (Wyoming Seminary)
2nd place - Billy Dekraker (Blair)
3rd place - Kyler Larkin (Valiant College Prep)
4th place - Herrera Armando (Peru)
5th place - Bakytbek Duishenbekov (Kyrgyzstan)
6th place - Mason Kernan (Young Guns/Bethel Park)
7th place - Aren Hayrapetyan (Armenia)
8th place - Ryan Meier (Blair Academy)
1st place match - Matthew Botello (Wyoming Seminary) dec. Billy Dekraker (Blair), 9-3
3rd place match - Kyler Larkin (Valiant College Prep) tech. fall Herrera Armando (Peru), 14-3
5th place match - Bakytbek Duishenbekov (Kyrgyzstan) dec. Mason Kernan (Young Guns/Bethel Park), 7-5
7th place match - Aren Hayrapetyan (Armenia) tech. fall Ryan Meier (Blair Academy), 12-1
138 pounds

1st place - Uulu Bilol Sharip (Kyrgyzstan)
2nd place - Matthew Lopes (Blair Academy)
3rd place - Amir Avazov (VHW/KWrestling)
4th place - Abdoullah Nakaev (France)
5th place - Tony Wood (Warrior RTC/Jay County)
6th place - Joseph Schinder (Blair Academy)
7th place - Sid Tildsley (DWC)
8th place - Militano Antonino (Italy)
1st place match - Uulu Bilol Sharip (Kyrgyzstan) tech. fall Matthew Lopes (Blair Academy), 10-0
3rd place match - Amir Avazov (VHW/KWrestling) fall Abdoullah Nakaev (France)
5th place match - Tony Wood (Warrior RTC/Jay County) tech. fall Joseph Schinder (Blair Academy), 11-0
7th place match - Sid Tildsley (DWC) tech. fall Militano Antonino (Italy), 13-2
145 pounds

1st place - Pierson Manville (M2/State College High School)
2nd place - Luke Roberts (Integrity Wrestling Club)
3rd place - Khizir Dasiyev (France)
4th place - Tabriz Khetab (Journeymen/Albany)
5th place - Corbin Ramos (Kenosha Wrestling Academy)
6th place - Pulatov Alimbek (Kazakhstan)
7th place - August Hibler (Apex)
8th place - Hector Mateo (Saucon Valley HS/Grit Mat Club)
1st place match - Pierson Manville (M2/State College High School) tech. fall Luke Roberts (Integrity Wrestling Club), 11-0
3rd place match - Khizir Dasiyev (France) tech. fall Tabriz Khetab (Journeymen/Albany), 12-1
5th place match - Corbin Ramos (Kenosha Wrestling Academy) forfeit Pulatov Alimbek (Kazakhstan)
7th place match - August Hibler (Apex) tech. fall Hector Mateo (Saucon Valley HS/Grit Mat Club), 10-0
152 pounds

1st place - Nicco Ruiz (Sunkist Kids Monster Garage)
2nd place - Grigor Cholakyan (Sunkist Kids Monster Garage)
3rd place - Nurgazy Yernur (Kazakhstan)
4th place - Yannis Charles (ET)
5th place - Logan Rozynski (Blair Academy)
6th place - Julian George (Christian Brothers Academy)
7th place - Chris Creason (Wrestling Prep)
8th place - Abdoul Malek Nakaev (France)
1st place match - Nicco Ruiz (Sunkist Kids Monster Garage) tech. fall Grigor Cholakyan (Sunkist Kids Monster Garage), 10-0
3rd place match - Nurgazy Yernur (Kazakhstan) dec. Yannis Charles (ET), 6-1
5th place match - Logan Rozynski (Blair Academy) dec. Julian George (Christian Brothers Academy), 13-9
7th place match - Chris Creason (Wrestling Prep) forfeit Abdoul Malek Nakaev (France)
160 pounds

1st place - Joseph Sealey (Wyoming Seminary)
2nd place - Hayk Papikyan (Armenia)
3rd place - William Henckel (Blair Academy)
4th place - Bekbol Izabekov (Kyrgyzstan)
5th place - Charlie Millard (Askren Wrestling Academy)
6th place - Christopher Crawford (Wyoming Seminary)
7th place - Luca Felix (Felix Wrestling Academy)
8th place - Bekhruz Gubaev (Uzbekistan)
1st place match - Joseph Sealey (Wyoming Seminary) dec. Hayk Papikyan (Armenia), 8-6
3rd place match - William Henckel (Blair Academy) dec. Bekbol Izabekov (Kyrgyzstan), 2-0
5th place match - Charlie Millard (Askren Wrestling Academy) tech. fall Christopher Crawford (Wyoming Seminary), 12-1
7th place match - Luca Felix (Felix Wrestling Academy) dec. Bekhruz Gubaev (Uzbekistan), 5-1
170 pounds

1st place - Aren Israyelyan (Armenia)
2nd place - Adam Waters (Steller Trained)
3rd place - Silas Dailey (Askren Wrestling Academy)
4th place - Tuymorot Ugli Kurbonov (Uzbekistan)
5th place - Zhumanazarov Mukhagali (Kazakhstan)
6th place - Aris Gyulnazaryan (Armenia)
7th place - Jake Dailey (Bethlehem Catholic)
8th place - Kalen Rakhat (Kazakhstan)
1st place match - Aren Israyelyan (Armenia) dec. Adam Waters (Steller Trained), 10-5
3rd place match - Silas Dailey (Askren Wrestling Academy) forfeit Tuymorot Ugli Kurbonov (Uzbekistan)
5th place match - Zhumanazarov Mukhagali (Kazakhstan) forfeit Aris Gyulnazaryan (Armenia)
7th place match - Jake Dailey (Bethlehem Catholic) tech. fall Kalen Rakhat (Kazakhstan), 10-0
182 pounds

1st place - Rocco Welsh (United States)
2nd place - Lorenzo Norman (Blair Academy)
3rd place - Razmik Yepremyan (Armenia)
4th place - Petriashvili Konstantine (Georgia)
5th place - Ulan Uulu Denizbek (Kyrgyzstan)
6th place - Dom Federici (Wyoming Seminary)
7th place - Gegeshidze Davit (Georgia)
8th place - Peter Snyder (Blair Academy)
1st place match - Rocco Welsh (United States) dec. Lorenzo Norman (Blair Academy), 4-2
3rd place match - Razmik Yepremyan (Armenia) tech. fall Petriashvili Konstantine (Georgia), 11-0
5th place match - Ulan Uulu Denizbek (Kyrgyzstan) inj. def. Dom Federici (Wyoming Seminary), 3:29
7th place match - Gegeshidze Davit (Georgia) fall Peter Snyder (Blair Academy), 5:17
195 pounds

1st place - Aeoden Sinclair (Askren Wrestling Academy)
2nd place - Ulukbek Soorombekov (Kyrgyzstan)
3rd place - Kurashvili Sandro (Georgia)
4th place - Gogiashvili Giorgi (Georgia)
5th place - Papinashvili Dachi (Georgia)
6th place - Sean Carroll (St. Thomas Aquinas)
7th place - Mark Ayala (Sunkist Kids Monster Garage)
8th place - Liam Kilrain (Blair Academy)
1st place match - Aeoden Sinclair (Askren Wrestling Academy) fall Ulukbek Soorombekov (Kyrgyzstan), 1:08
3rd place match - Kurashvili Sandro (Georgia) forfeit Gogiashvili Giorgi (Georgia)
5th place match - Papinashvili Dachi (Georgia) tech. fall Sean Carroll (St. Thomas Aquinas), 12-2
7th place match - Mark Ayala (Sunkist Kids Monster Garage) fall Liam Kilrain (Blair Academy), 1:20
220 pounds

1st place - Nicholas Sahakian (Sunkist Kids Monster Garage)
2nd place - Varuzhan Hovhannisyan (Armenia)
3rd place - Steven Burrell (GPS Wrestling)
4th place - Gogiashvili Nikolozi (Georgia)
5th place - Dylan Greenstein (NMH/Doughboy)
6th place - Pierce Cunningham (St Thomas Aquinas)
7th place - Colton Delong (Curby)
8th place - Jamie Nania (Curby)
1st place match - Nicholas Sahakian (Sunkist Kids Monster Garage) tech. fall Varuzhan Hovhannisyan (Armenia), 19-8
3rd place match - Steven Burrell (GPS Wrestling) tech. fall Gogiashvili Nikolozi (Georgia), 10-0
5th place match - Dylan Greenstein (NMH/Doughboy) tech. fall Pierce Cunningham (St Thomas Aquinas), 10-0
7th place match - Colton Delong (Curby) fall Jamie Nania (Curby), 2:57
285 pounds

1st place - Arysbek Akzhigit (Kazakhstan)
2nd place - Will Hotaling (Journeymen)
3rd place - Milan Colvin (South Central Punishers)
4th place - Nurgaliyev Olzhas (Kazakhstan)
Round Robin Round 1
Arysbek Akzhigit (Kazakhstan) tech. fall Will Hotaling (Journeymen), 11-0
Milan Colvin (South Central Punishers) fall Nurgaliyev Olzhas (Kazakhstan), 1:57
Round Robin Round 2
Will Hotaling (Journeymen) fall Nurgaliyev Olzhas (Kazakhstan), 0:36
Arysbek Akzhigit (Kazakhstan) tech. fall Milan Colvin (South Central Punishers), 12-2
Round Robin Round 3
Will Hotaling (Journeymen) fall Milan Colvin (South Central Punishers), 4:56
Arysbek Akzhigit (Kazakhstan) tech. fall Nurgaliyev Olzhas (Kazakhstan), 12-1
High School (B) Results

126 pounds

1st place - Landen Ramsey (Askren Wresting Academy)
2nd place - Dominick Witko (Journeymen)
3rd place - Moien Azizi (Hammer Wrestling Club)
4th place - Konnor Rosenzweig (Long Beach)
Round Robin Round 1
Landen Ramsey (Askren Wresting Academy) tech. fall Moien Azizi (Hammer Wrestling Club), 19-8
Dominick Witko (Journeymen) tech. fall Konnor Rosenzweig (Long Beach), 10-0
Round Robin Round 2
Landen Ramsey (Askren Wresting Academy) tech. fall Konnor Rosenzweig (Long Beach), 10-0
Dominick Witko (Journeymen) tech. fall Moien Azizi (Hammer Wrestling Club), 11-0
Round Robin Round 3
Landen Ramsey (Askren Wresting Academy) tech. fall Dominick Witko (Journeymen), 11-0
Moien Azizi (Hammer Wrestling Club) tech. fall Konnor Rosenzweig (Long Beach), 12-2
132 pounds

1st place - Sean Harding (New Zealand)
2nd place - Justin Mullis (Journeyman)
3rd place - Losee Arcangelo (United States)
4th place - Donovan Witko (Journeymen)
5th place - Darius Ogedengbe (Hudson Falls/Journeymen)
Round Robin Round 1
Losee Arcangelo (United States) tech. fall Darius Ogedengbe (Hudson Falls/Journeymen), 14-4
Justin Mullis (Journeyman) tech. fall Donovan Witko (Journeymen), 22-10
Round Robin Round 2
Sean Harding (New Zealand) tech. fall Losee Arcangelo (United States), 14-2
Donovan Witko (Journeymen) tech. fall Darius Ogedengbe (Hudson Falls/Journeymen), 10-0
Round Robin Round 3
Sean Harding (New Zealand) dec. Donovan Witko (Journeymen), 11-10
Justin Mullis (Journeyman) tech. fall Darius Ogedengbe (Hudson Falls/Journeymen), 10-0
Round Robin Round 4
Sean Harding (New Zealand) dec. Justin Mullis (Journeyman), 12-10
Losee Arcangelo (United States) tech. fall Donovan Witko (Journeymen), 12-2
Round Robin Round 5
Sean Harding (New Zealand) forfeit Darius Ogedengbe (Hudson Falls/Journeymen)
Justin Mullis (Journeyman) fall Losee Arcangelo (United States), 2:35
138 pounds

1st place - Sergio Gomez (Sunkist Kids Monster Garage)
2nd place - Maceo Eramo (Long Beach)
3rd place - Adonis Iparraguirre (Integrity)
4th place - Jack Toussaint (Journeymen)
5th place - Joshua Hickman (Integrity Wrestling Club)
6th place - Anthony Santana (Pro Ex)
1st place match - Sergio Gomez (Sunkist Kids Monster Garage) fall Maceo Eramo (Long Beach), 0:15
3rd place match - Adonis Iparraguirre (Integrity) tech. fall Jack Toussaint (Journeymen), 10-0
5th place match - Joshua Hickman (Integrity Wrestling Club) fall Anthony Santana (Pro Ex), 2:37
145 pounds

1st place - Caleb Lawrence (X-calibur)
2nd place - Liam Pionkowski (Askren Wrestling Academy)
3rd place - Ryley Morris (Journeymen)
4th place - Max Kinsey (Journeymen)
Round Robin Round 1
Liam Pionkowski (Askren Wrestling Academy) tech. fall Max Kinsey (Journeymen), 10-0
Caleb Lawrence (X-calibur) fall Ryley Morris (Journeymen), 0:26
Round Robin Round 2
Ryley Morris (Journeymen) fall Max Kinsey (Journeymen), 4:12
Caleb Lawrence (X-calibur) fall Liam Pionkowski (Askren Wrestling Academy), 2:07
Round Robin Round 3
Caleb Lawrence (X-calibur) tech. fall Max Kinsey (Journeymen), 10-0
Liam Pionkowski (Askren Wrestling Academy) tech. fall Ryley Morris (Journeymen), 10-0
160 pounds

1st place - Antonino Walker (Young Guns/Felix Wrestling)
2nd place - Barry Norman (Blair Academy)
3rd place - Ryan Beirne (X-caliber)
4th place - John Welcome (Curby)
5th place - Gregory Milone (Long Beach HS)
6th place - Lucas Schell (Journeymen)
1st place match - Antonino Walker (Young Guns/Felix Wrestling) fall Barry Norman (Blair Academy), 4:04
3rd place match - Ryan Beirne (X-caliber) tech. fall John Welcome (Curby), 10-0
5th place match - Gregory Milone (Long Beach HS) fall Lucas Schell (Journeymen), 1:01
170 pounds

1st place - Julian Barajas (Sunkist Kids Monster Garage)
2nd place - Kaleb Jackson (Olympic)
3rd place - Devin O'Connor (Journeyman)
4th place - Dontae Powell (Journeymen)
Round Robin Round 1
Kaleb Jackson (Olympic) tech. fall Devin O'Connor (Journeyman), 10-0
Julian Barajas (Sunkist Kids Monster Garage) tech. fall Dontae Powell (Journeymen), 10-0
Round Robin Round 2
Kaleb Jackson (Olympic) tech. fall Dontae Powell (Journeymen), 10-0
Julian Barajas (Sunkist Kids Monster Garage) tech. fall Devin O'Connor (Journeyman), 10-0
Round Robin Round 3
Julian Barajas (Sunkist Kids Monster Garage) dec. Kaleb Jackson (Olympic), 7-1
Devin O'Connor (Journeyman) tech. fall Dontae Powell (Journeymen), 16-6
Middle School Results

80 pounds

1st place - Kooper Deputy (M2 Training Center)
2nd place - Jacob Saunders (Fight Club)
3rd place - Wyatt Dannegger (Fight Club)
4th place - Mason Little (Dragon RTC/Journeymen)
5th place - Maximillian Shvartsman (Doughboy Wrestling Club)
6th place - Brennon Egan (Journeymen)
1st place match - Kooper Deputy (M2 Training Center) tech. fall Jacob Saunders (Fight Club), 10-0
3rd place match - Wyatt Dannegger (Fight Club) tech. fall Mason Little (Dragon RTC/Journeymen), 10-0
5th place match - Maximillian Shvartsman (Doughboy Wrestling Club) tech. fall Brennon Egan (Journeymen), 12-1
90 pounds

1st place - Jojo Burke (Apex)
2nd place - James Bilby (South Central Punishers)
3rd place - Hayden Lauterback (Bitetto Trained)
4th place - Zack Dixon (Kt Kidz)
5th place - Alesandro Restrepo (Vougar's Honors/Sachem 3 Style)
6th place - Triston Mouton (Baylor)
1st place match - Jojo Burke (Apex) tech. fall James Bilby (South Central Punishers), 10-0
3rd place match - Hayden Lauterback (Bitetto Trained) fall Zack Dixon (Kt Kidz), 1:35
5th place match - Alesandro Restrepo (Vougar's Honors/Sachem 3 Style) dec. Triston Mouton (Baylor), 9-0
95 pounds

1st place - Turner Ross (Cowboy Wrestling Club)
2nd place - Chase Kastner (Team Tugman)
3rd place - Sean Kenny (Elite Wrestling)
4th place - Daniel Jones (Journeymen Wrestling Club)
5th place - Brogan Lefever (Xtreme)
6th place - Kyle Yannucciello (VHW)
1st place match - Turner Ross (Cowboy Wrestling Club) tech. fall Chase Kastner (Team Tugman), 10-0
3rd place match - Sean Kenny (Elite Wrestling) fall Daniel Jones (Journeymen Wrestling Club), 1:57
5th place match - Brogan Lefever (Xtreme) dec. Kyle Yannucciello (VHW), 9-4
100 pounds

1st place - Fred Bachmann (Faith Christian Academy)
2nd place - Abdulloh Mashrabov (Uzbekistan)
3rd place - PJ Terranova (Coop Trained)
4th place - Brody Dicaprio (Journeymen)
5th place - Quinton Warlikowski (Journeymen)
6th place - Eddie Figueroa (Elite Wrestling)
1st place match - Fred Bachmann (Faith Christian Academy) tech. fall Abdulloh Mashrabov (Uzbekistan), 10-0
3rd place match - PJ Terranova (Coop Trained) dec. Brody Dicaprio (Journeymen), 8-2
5th place match - Quinton Warlikowski (Journeymen) dec. Eddie Figueroa (Elite Wrestling), 8-6
105 pounds

1st place - Matt Dailey (Steller)
2nd place - Luke Galipeau (Journeyman)
3rd place - River Hibler (Apex)
4th place - Luca Popolizio (Journeymen)
5th place - Brice Woodruff (Blue Ridge)
6th place - Herrera Andre (Peru)
7th place - Santiago Chrisjohn (Journeymen)
8th place - Joseph Kokolakis (Connetquot)
1st place match - Matt Dailey (Steller) fall Luke Galipeau (Journeyman), 0:45
3rd place match - River Hibler (Apex) fall Luca Popolizio (Journeymen), 1:34
5th place match - Brice Woodruff (Blue Ridge) forfeit Herrera Andre (Peru)
7th place match - Santiago Chrisjohn (Journeymen) dec. Joseph Kokolakis (Connetquot), 10-9
112 pounds

1st place - Justus Heeg (Stillwater)
2nd place - Thunder Page (South Central Punishers)
3rd place - Avetik Tutkhalyan (Armenia)
4th place - Jack Silfies (Wyoming Seminary)
5th place - Anthony Valls (Team World Wide)
6th place - Owen Clark (Lansing)
7th place - Chace Morris (Savage)
8th place - Kai Fyson (New Zealand)
1st place match - Justus Heeg (Stillwater) dec. Thunder Page (South Central Punishers), 9-0
3rd place match - Avetik Tutkhalyan (Armenia) dec. Jack Silfies (Wyoming Seminary), 2-0
5th place match - Anthony Valls (Team World Wide) dec. Owen Clark (Lansing), 11-9
7th place match - Chace Morris (Savage) tech. fall Kai Fyson (New Zealand), 10-0
120 pounds

1st place - Amari Vann (Delsea Regional HS)
2nd place - Jamil Rivera (Hammer)
3rd place - Loeffler Griffin (Patchogue)
Round Robin
Jamil Rivera (Hammer) tech. fall Loeffler Griffin (Patchogue), 11-0
Amari Vann (Delsea Regional HS) tech. fall Loeffler Griffin (Patchogue), 10-0
Amari Vann (Delsea Regional HS) tech. fall Jamil Rivera (Hammer), 12-1
128 pounds

1st place - Gideon Gonzalez (Olympic)
2nd place - Iskender Tynystanov (Kyrgyzstan)
3rd place - Landyn Shaffer (Xtreme Wrestling)
4th place - Gregory Green (Journeymen Wrestling Club)
5th place - Will Lavallee (St. John's Prep)
6th place - Joseph Bernardi (Kt Kidz)
1st place match - Gideon Gonzalez (Olympic) dec. Iskender Tynystanov (Kyrgyzstan), 7-4
3rd place match - Landyn Shaffer (Xtreme Wrestling) dec. Gregory Green (Journeymen Wrestling Club), 11-5
5th place match - Will Lavallee (St. John's Prep) tech. fall Joseph Bernardi (Kt Kidz), 10-0
140 pounds

1st place - Salah Tsarni (Capital Wrestling Club)
2nd place - Nick Schwartz (Olympic)
3rd place - Asher Bacon (Dallas)
4th place - Nate Keller (Buxton)
5th place - Ryker Cox (Curby 3 Style)
6th place - Maxim Belousov (IS228/K-wrestling)
7th place - Benjamin Roberts (Integrity Wrestling Club)
8th place - Everett Mercier (Albany)
1st place match - Salah Tsarni (Capital Wrestling Club) dec. Nick Schwartz (Olympic), 12-5
3rd place match - Asher Bacon (Dallas) dec. Nate Keller (Buxton), 5-5
5th place match - Ryker Cox (Curby 3 Style) dec. Maxim Belousov (IS228/K-wrestling), 14-10
7th place match - Benjamin Roberts (Integrity Wrestling Club) forfeit Everett Mercier (Albany)