News
USA Wrestling
High School & Youth
Beach
College
Women
USAW
Beach Wrestling season begins with Cali Beach Wrestling Kick Off in Pacifica, Calif., April 2
by Robbert Wijtman, Special to TheMat.com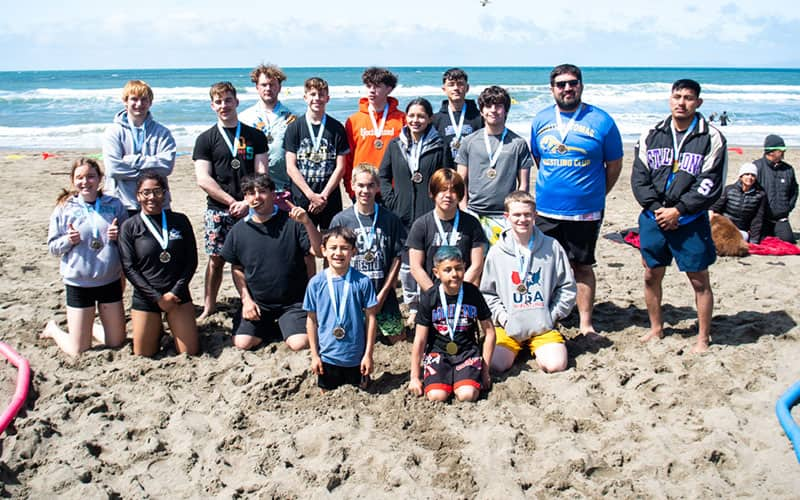 California USA Wrestling kicked off the Beach Wrestling season in Pacifica. Photo by Robbert Wijtman
.
The opening tournament of the
2023 Beach Wrestling season
was held on April 2, 2023, when
California USA Wrestling
hosted the
Cali Beach Wrestling Kick Off
at Pacifica State Beach in Pacifica, California.
There were 125 wrestlers registered for the event, with U8, U10, U12, U14, U16, Junior Boys, Junior Girls, and Open Men divisions contested.
The rules of Beach Wrestling are very simple. One point for a push out. One point for a takedown. Three points for a feet to back takedown. The first wrestler to three points wins.
It was the first of many more Beach competitions to come, not only in California but also all across the United States.
The next major Beach Wrestling event will be the
USMC U.S. Beach National Championships
, set for Carolina Beach, N.C. on May 20. This is the U.S. National Championships for the sport of Beach Wrestling. There will be multiple age groups being contested, from youth to Senior and up to Veterans.
USMC U.S. Beach National Championships website
The U.S. Beach National Championships is also expected to be the first of the
2023 Beach Tour of America
series of USA Wrestling sanctioned Beach Wrestling events. A number of stops on the tour have already been identified, with many more to come.
Beach Tour of America website
CALI BEACH WRESTLING KICK-OFF
At Pacifica, Calif., April 2

8U Boys/Girls
38-43lbs
1st Place - Skyler Aristizabal of Delta Wrestling Club
2nd Place - Julius Robinson of Manteca Cobras Wrestling Club
3rd Place - Adrian Mendez of Wild Cat Wrestling
4th Place - Messiah Guzman-Dominguez of Manteca Cobras Wrestling Club
52-54
1st Place - Kaiden Aristizabal of Delta Wrestling Club
2nd Place - Kylie Ledesma of Plumas
3rd Place - Leo Gomez of North Natomas Wrestling Club
57-59
1st Place - Teaghan Kearns of San Rafael
2nd Place - Mikah Sao of Kaitoa
64-80
1st Place - Carlos Hernandez of Manteca Cobras Wrestling Club
2nd Place - Damian Hernandez of Madera wrestling club
3rd Place - Antonio Barragan of Manteca Cobras Wrestling
10U Boys
49-56
1st Place - Cruz Aguilar of United Wrestling Club
2nd Place - Alani Robinson of Manteca Cobras Wrestling Club
65-67
1st Place - Julien Zepeda of Madera wrestling club
2nd Place - Sean Romo of Manteca Cobras Wrestling Club
3rd Place - Damian Hernandez of Madera wrestling club
84-90
1st Place - Samson Zamora of The Club
2nd Place - Akxel Arias of Madera wrestling club
3rd Place - Alessandra Barragan of Manteca Cobras Wrestling Club
12U Boys
60-68
1st Place - Adrian Dominguez of Manteca Cobras Wrestling Club
2nd Place - Jacob Fay of Red Bluff Wrestling
3rd Place - Dan-Junior Morimoto of Manteca Cobras Wrestling Club
70-78
1st Place - Breanna Bragg of Manteca Cobras Wrestling Club
2nd Place - Augustine Cortes of Madera wrestling club
3rd Place - Jeremiah Euley of Manteca Cobras Wrestling Club
90-100
1st Place - Roman Espinoza of Manteca Cobras Wrestling Club
2nd Place - Jazlyn Sereno of Manteca Cobras Wrestling Club
3rd Place - Ethan Jones of Manteca Cobras Wrestling Club
4th Place - Kynoah Sao of Kaitoa
108-112
1st Place - Manny Ortiz of Kaitoa
2nd Place - Adonis Griffin of Madera wrestling club
3rd Place - Mateo Orozco of Manteca Cobras Wrestling Club
119-124
1st Place - Jonathen Zamora of The Club
2nd Place - Jacob Ortiz of Kaitoa
3rd Place - Ethan Sereno of Manteca Cobras Wrestling Club
14U Boys
102-112 B
1st Place - Helo Blackwell of Central Catholic
2nd Place - Erick Soza of Madera wrestling club
3rd Place - Isaiah Ramirez of Manteca Cobras Wrestling Club
129-135 B
1st Place - Sean Griffin of Central Catholic
2nd Place - Leon Bleess of Peninsula Wrestling Club
3rd Place - Eli Pierce of Redwood City
4th Place - Colton Stafford of Kaitoa
135-140 B
1st Place - Uriel Hernandez of Madera wrestling club
1st Place - Sebastian Garcia of Redwood City
3rd Place - Daniel DeLuna of Manteca Cobras Wrestling Clu
168-180 B
1st Place - Henry Rosendale of Davis
1st Place - Tony Ortiz of Kaitoa
2nd Place - Israel Ramirez of Manteca Cobras Wrestling Club
16U Boys
99-106
1st Place - Brice Bearchum of Red Bluff Wrestling
2nd Place - James-Daniel Morimoto of Manteca Cobras Wrestling Club
3rd Place - Robert Douglas of North Natomas Wrestling Club
4th Place - Lucas Klestoff of Undeclared
112-123
1st Place - Eric Pho of Red Bluff Wrestling
2nd Place - Zachary Bondy of North Natomas Wrestling Club
3rd Place - Luis Gonzalez of Manteca Cobras Wrestling Club
4th Place - Flynn Smith-Lottritz of Davis
112-123
1st Place - Eric Pho of Red Bluff Wrestling
2nd Place - Zachary Bondy of North Natomas Wrestling Club
3rd Place - Luis Gonzalez of Manteca Cobras Wrestling Club
4th Place - Flynn Smith-Lottritz of Davis
127-138
1st Place - William Gilmore of Concord Youth Center
2nd Place - Samuel Perez of Manteca Cobras Wrestling Club
3rd Place - Mateo Sanchez of Golden State Wrestling Club
4th Place - Andrew Lucero of Kaitoa
128-140
1st Place - Randy Euley of Manteca Cobras Wrestling Club
2nd Place - Jonas Rohr of Davis
3rd Place - Jared Perez of Paragon Wrestlng Club
4th Place - David Aguilar of North Natomas Wrestling Club
145-160
1st Place - Jaxon Whatley of Jaguars Wrestling Club
2nd Place - Giovanni Castillo Brown of Davis
3rd Place - Raul Figueroa of Manteca Cobras Wrestling Club
4th Place - Lucas Del Rosario of Kaitoa
16U Girls
152-155
1st Place - Rosalynn Diaz of Delta Wrestling Club
2nd Place - Naomi Van Zandt of Paragon Wrestlng Club
3rd Place - Amelia Montoya of Pacifica
Junior Boys
130-141
1st Place - Malaky Beas of Madera wrestling club
2nd Place - Christian Santiago of Jaguars Wrestling Club
3rd Place - Angel Collazo of Jaguars Wrestling Club
4th Place - Gabriel Sanchez of Golden State Wrestling Club
5th Place - Erick Jacome of Undeclared
157-161
1st Place - Christian Diaz of Delta Wrestling Club
2nd Place - Gabe Lear of Golden State Wrestling Club
3rd Place - Robert Jevarian of Mill Valley
4th Place - Hugo Montoyo of North Natomas Wrestling Club
159-175
1st Place - Keegan Turner of Kaitoa
2nd Place - Francisco Castillo Brown of Davis
3rd Place - Joe Cornejo of North Natomas Wrestling Club
4th Place - Angel Padilla of Peter Johansen High School Wre
176-180
1st Place - Keenan Tumbarello of Jaguars Wrestling Club
2nd Place - Gabriel Leon-Guerro of Wild Cat Wrestling
3rd Place - Reilly Turner of Kaitoa
200-209
1st Place - Derik Wages of Peter Johansen High School Wre
2nd Place - Anthony Alves of Peter Johansen High School Wre
3rd Place - Gage Fernandez of North Natomas Wrestling Club
215-263
1st Place - Aeric Amerel of Peter Johansen High School Wre
2nd Place - Omarion Overby of North Natomas Wrestling Club
3rd Place - Sebastian Mendoza of Jaguars Wrestling Club
Junior Girls
101-105
1st Place - Maia Cornejo of North Natomas Wrestling Club
2nd Place - Vanessa DeLuna of Manteca Cobras Wrestling Club
114-116
1st Place - Andrea Gonzalez of Davis
2nd Place - Stefany Perez of Manteca Cobras Wrestling Club
3rd Place - McKenzi Camara of Peter Johansen High School Wre
4th Place - Raeven Hernandez of Grizzly Wrestling Society
120-128
1st Place - Brendy Puckett of Peter Johansen High School Wre
2nd Place - Kt Thompson of NorCal Queens Wrestling Club
3rd Place - Danielle Gordon of Peter Johansen High School Wre
4th Place - Victoria DeLuna of Manteca Cobras Wrestling Club
133-142
1st Place - Arianna McPike of San Bruno
2nd Place - Brooklin Cienfuegos of Davis
3rd Place - Mariah Gonzalez of South San Francisco gator wc
Open Men
1st Place - Nathan Vasquez of Skyline
2nd Place - Wyatt Carter of Pizza Plus Wrestling
Open Men`s thru `94
165-177
1st Place - Florencio Hernandez of Madera wrestling club
2nd Place - Mateo Gordon of Gordon
3rd Place - James Woods of Paragon Wrestlng Club
195-225
1st Place - Wyatt Koelling of Unattached
2nd Place - Frankie Pomilia of Santa Rosa JC
3rd Place - Logan Colbert of United Wrestling Club
260-260
1st Place - Anthony Mancini of WGWC
2nd Place - Bjorn Bjornsen of Skyline
Open Men`s `93 & up
155-165
1st Place - Daniel Cortes of Madera wrestling club
2nd Place - Cesar Mendez of Wild Cat Wrestling
180-195
1st Place - Miguel Rodriguez of Madera wrestling club
2nd Place - Jesus Ambriz of Mill Valley
3rd Place - Sal Gonzalez of Madera wrestling club
200-215
1st Place - Will Griffin of Madera wrestling club
2nd Place - Ricky Hernandez of Madera wrestling club
3rd Place - Richard Montoya of Unattached
4th Place - Julio Montoya of North Natomas Wrestling Club
230-278
1st Place - Armando Gomez of North Natomas Wrestling Club
2nd Place - Jack Kearns of Undeclare
3rd Place - Cuauhtemoc Cervantes of South San Francisco gator wc
4th Place - Robert Siano of OLYMPIAD RTC
5th Place - Jimmy Au of Richmond