14U, 12U, Masters champs decided at Folkstyle Nationals; Kilgore, Hayes named OW's
by Richard Immel, USA Wrestling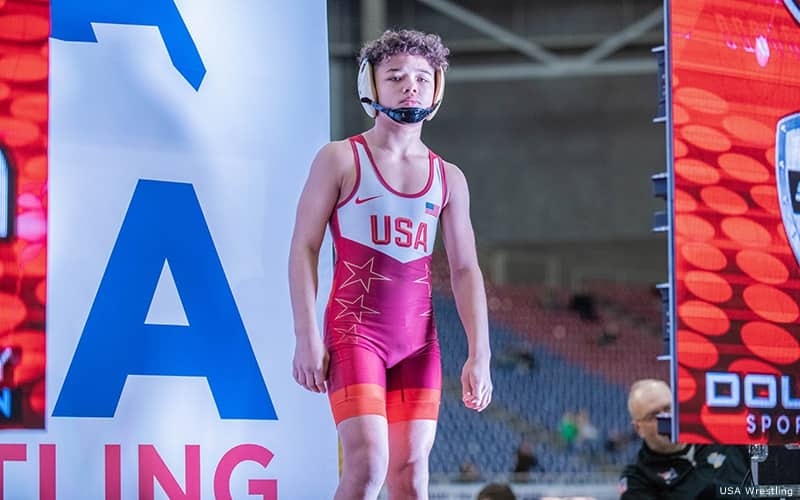 Photo: 14U 102-pound champion Martez Sheard of Wisconsin takes center stage at USA Wrestling Folkstyle Nationals. (Richard Immel/USA Wrestling)
CEDAR FALLS, Iowa – The 14U, 12U and Masters divisions finished up on Sunday morning at the UNUI Dome concluding an action-packed weekend of action at the 2023 USA Wrestling Folkstyle Nationals. Final placements and medal match results are provided below.
The 14U Outstanding Wrestler was presented to 119-pound champion Marcus Kilgore of Arizona who won by pin in 1:59 to claim the title.
Jeremiah Hayes of Illinois won was awarded the 12U Outstanding Wrestler award after scoring a pin in 1:53 decision in the 98-pound finals.
Every match from the USA Wrestling Folkstyle Nationals can be viewed on-demand on
FloWrestling.com
.
Complete brackets and match-by-match results are available on
Trackwrestling.com
.
2023 USA Wrestling Folkstyle Nationals
March 31 – April 2, UNI Dome, Cedar Falls, Iowa
14U Final Results
71 pounds

1st Place - Johnathan Thompson of IA
2nd Place - Max Lindquist of MO
3rd Place - Cody Bakhsh of DE
4th Place - Julian Medina of IL
5th Place - Brody Compau of MI
6th Place - Peter Alexander Schutz of MN
7th Place - Braxton Plunk of OK
8th Place - Simon Trapp of ND
1st Place Match
Johnathan Thompson (IA) won by decision over Max Lindquist (MO) (Dec 3-0)
2nd Place Wrestleback
Max Lindquist (MO) won by decision over Cody Bakhsh (DE) (Dec 3-0)
3rd Place Match
Cody Bakhsh (DE) won in the ultimate tie breaker over Julian Medina (IL) (UTB 4-2)
5th Place Match
Brody Compau (MI) won by decision over Peter Alexander Schutz (MN) (Dec 3-0)
7th Place Match
Braxton Plunk (OK) won by major decision over Simon Trapp (ND) (Maj 10-1)
77 pounds

1st Place - Owen Parish of MN
2nd Place - Ty Martin of IA
3rd Place - Karson Kahalekomo of IN
4th Place - Damien Yeoman of IA
5th Place - Shay Lundvall of IA
6th Place - Malik Hoskins of AZ
7th Place - John Cox of MO
8th Place - Michael McNamara of IL
1st Place Match
Owen Parish (MN) won by decision over Ty Martin (IA) (Dec 5-2)
2nd Place Match
Ty Martin (IA) won by no contest over Karson Kahalekomo (IN) (NC)
3rd Place Match
Karson Kahalekomo (IN) won by decision over Damien Yeoman (IA) (Dec 8-4)
5th Place Match
Shay Lundvall (IA) won by decision over Malik Hoskins (AZ) (Dec 5-2)
7th Place Match
John Cox (MO) won in sudden victory - 1 over Michael McNamara (IL) (SV-1 1-0)
83 pounds

1st Place - Jeremy Carver of IN
2nd Place - Jesse Grossman of MT
3rd Place - Zachary Donalson of AR
4th Place - Kyle Menuez of CO
5th Place - Cruz Gannon of IA
6th Place - Carter Booze of NE
7th Place - Owen Dorshorst of WI
8th Place - Isaiah Neitzel of WI
1st Place Match
Jeremy Carver (IN) won by decision over Jesse Grossman (MT) (Dec 5-0)
2nd Place Match
Jesse Grossman (MT) won by no contest over Zachary Donalson (AR) (NC)
3rd Place Match
Zachary Donalson (AR) won by decision over Kyle Menuez (CO) (Dec 2-0)
5th Place Match
Cruz Gannon (IA) won by decision over Carter Booze (NE) (Dec 4-0)
7th Place Match
Owen Dorshorst (WI) won by fall over Isaiah Neitzel (WI) (Fall 1:59)
87 pounds

1st Place - Aj Woerpel of WI
2nd Place - Ernesto Perez of AZ
3rd Place - Braxton Smith of CO
4th Place - Rex Lancaster of WI
5th Place - Zane Messiter of VA
6th Place - Cooper Smith of KS
7th Place - Traevon Ducking of IN
8th Place - Nathanial Sanders of IN
1st Place Match
Aj Woerpel (WI) won in sudden victory - 1 over Braxton Smith (CO) (SV-1 5-3)
2nd Place Wrestleback
Ernesto Perez (AZ) won by decision over Braxton Smith (CO) (Dec 7-0)
3rd Place Match
Ernesto Perez (AZ) won by major decision over Rex Lancaster (WI) (Maj 9-0)
5th Place Match
Zane Messiter (VA) won by decision over Cooper Smith (KS) (Dec 2-0)
7th Place Match
Traevon Ducking (IN) won by fall over Nathanial Sanders (IN) (Fall 0:46)
92 pounds

1st Place - Trevor Christenson of KS
2nd Place - Kolten Bollig of WI
3rd Place - Mason Soney of IL
4th Place - Jacob Smith of IL
5th Place - Calan Manley of MO
6th Place - Avery Van Zelderen of IA
7th Place - Braeden Hamill of WI
8th Place - Karson Wuebker of IA
1st Place Match
Trevor Christenson (KS) won by decision over Mason Soney (IL) (Dec 8-1)
2nd Place Match
Kolten Bollig (WI) won by decision over Mason Soney (IL) (Dec 7-5)
3rd Place Match
Kolten Bollig (WI) won by decision over Jacob Smith (IL) (Dec 3-2)
5th Place Match
Calan Manley (MO) won by injury default over Avery Van Zelderen (IA) (Inj. 0:00)
7th Place Match
Braeden Hamill (WI) won by major decision over Karson Wuebker (IA) (Maj 11-2)
97 pounds

1st Place - Michael Daleiden of WI
2nd Place - Jaimon Mogard of IA
3rd Place - Kayden Egeberg of ND
4th Place - Cooper Mathews of CO
5th Place - Keagan Berg of WI
6th Place - Oliver Lange of IA
7th Place - Jack Simpson of CO
8th Place - Lincoln Mack of IL
1st Place Match
Michael Daleiden (WI) won by fall over Kayden Egeberg (ND) (Fall 3:55)
2nd Place Match
Jaimon Mogard (IA) won by decision over Kayden Egeberg (ND) (Dec 5-2)
3rd Place Match
Jaimon Mogard (IA) won by decision over Cooper Mathews (CO) (Dec 1-0)
5th Place Match
Keagan Berg (WI) won by decision over Oliver Lange (IA) (Dec 7-4)
7th Place Match
Jack Simpson (CO) won by decision over Lincoln Mack (IL) (Dec 2-0)
102 pounds

1st Place - Martez Sheard of WI
2nd Place - Daniel Green of MT
3rd Place - Hendrix Schwab of IA
4th Place - Calvin Rathjen of IA
5th Place - Audon Clark of WA
6th Place - Logan Refsnider of MN
7th Place - Slater Thomas of IA
8th Place - Isaac Foster of WI
1st Place Match
Martez Sheard (WI) won by decision over Daniel Green (MT) (Dec 8-3)
2nd Place Match
Daniel Green (MT) won by fall over Hendrix Schwab (IA) (Fall 0:25)
3rd Place Match
Hendrix Schwab (IA) won in sudden victory - 1 over Calvin Rathjen (IA) (SV-1 4-2)
5th Place Match
Audon Clark (WA) won in sudden victory - 1 over Logan Refsnider (MN) (SV-1 3-1)
7th Place Match
Slater Thomas (IA) won in sudden victory - 1 over Isaac Foster (WI) (SV-1 5-3)
106 pounds

1st Place - Riker Ohearon of UT
2nd Place - Jon Gonzalez of IA
3rd Place - Thiago Guardiola of WI
4th Place - Adante Washington of IL
5th Place - Chase Boozer of UT
6th Place - Parker Neu of WI
7th Place - Colton Shaffer of IA
8th Place - Noah Brown of MO
1st Place Match
Riker Ohearon (UT) won by fall over Jon Gonzalez (IA) (Fall 1:57)
2nd Place Match
Jon Gonzalez (IA) won by no contest over Thiago Guardiola (WI) (NC)
3rd Place Match
Thiago Guardiola (WI) won by decision over Adante Washington (IL) (Dec 1-0)
5th Place Match
Chase Boozer (UT) won by decision over Parker Neu (WI) (Dec 6-0)
7th Place Match
Colton Shaffer (IA) won in the ultimate tie breaker over Noah Brown (MO) (UTB 9-8)
110 pounds

1st Place - Luke Cline of MO
2nd Place - Alexander Penzkover of WI
3rd Place - Jamison Gregory of MI
4th Place - Tyler Paulson of WI
5th Place - Adam Carey of IA
6th Place - Ayden Jenkins of TN
7th Place - Preston Harms of MN
8th Place - Wyatt Mikkelsen of IL
1st Place Match
Luke Cline (MO) won in tie breaker - 1 over Alexander Penzkover (WI) (TB-1 8-3)
2nd Place Wrestleback
Alexander Penzkover (WI) won by no contest over Jamison Gregory (MI) (NC)
3rd Place Match
Jamison Gregory (MI) won by decision over Tyler Paulson (WI) (Dec 4-0)
5th Place Match
Adam Carey (IA) won by decision over Ayden Jenkins (TN) (Dec 8-1)
7th Place Match
Preston Harms (MN) won by medical forfeit over Wyatt Mikkelsen (IL) (MFF)
114 pounds

1st Place - Carson Neubert of WI
2nd Place - Aiden Arnett of IL
3rd Place - Daniel Dennis of PA
4th Place - Malakii Martin of CO
5th Place - Konnor Fordyce of ID
6th Place - Brett Johnson of IA
7th Place - Korbyn Barent of MT
8th Place - Nolan Schepers of MO
1st Place Match
Carson Neubert (WI) won by decision over Aiden Arnett (IL) (Dec 10-3)
2nd Place Wrestleback
Aiden Arnett (IL) won by decision over Daniel Dennis (PA) (Dec 4-3)
3rd Place Match
Daniel Dennis (PA) won by decision over Malakii Martin (CO) (Dec 6-1)
5th Place Match
Konnor Fordyce (ID) won by decision over Brett Johnson (IA) (Dec 4-3)
7th Place Match
Korbyn Barent (MT) won by forfeit over Nolan Schepers (MO) (FF)
119 pounds

1st Place - Marcus Killgore of AZ
2nd Place - Adrian Phetxoumphone of IA
3rd Place - Bo Jackson of IN
4th Place - Samuel Gehring of WI
5th Place - Colin Rutlin of MO
6th Place - Kylan Ooton of OK
7th Place - Dawson Mack of IL
8th Place - Karrsen Bussan of WI
1st Place Match
Marcus Killgore (AZ) won by fall over Bo Jackson (IN) (Fall 1:59)
2nd Place Match
Adrian Phetxoumphone (IA) won by decision over Bo Jackson (IN) (Dec 7-0)
3rd Place Match
Adrian Phetxoumphone (IA) won by decision over Samuel Gehring (WI) (Dec 4-2)
5th Place Match
Colin Rutlin (MO) won by major decision over Kylan Ooton (OK) (Maj 11-2)
7th Place Match
Dawson Mack (IL) won by decision over Karrsen Bussan (WI) (Dec 3-0)
125 pounds

1st Place - Carmine Cruz of AZ
2nd Place - Thomas Banas of IL
3rd Place - Easton Kammerud of WI
4th Place - Magnus Michaelson of WA
5th Place - Collin Hamm of WI
6th Place - Anthony Lopshire of IN
7th Place - Dakoda Willoughby of IN
8th Place - Jack Ireland of WI
1st Place Match
Carmine Cruz (AZ) won by fall over Easton Kammerud (WI) (Fall 3:21)
2nd Place Wrestleback
Thomas Banas (IL) won by decision over Easton Kammerud (WI) (Dec 5-1)
3rd Place Match
Thomas Banas (IL) won by major decision over Magnus Michaelson (WA) (Maj 8-0)
5th Place Match
Collin Hamm (WI) won by decision over Anthony Lopshire (IN) (Dec 6-0)
7th Place Match
Dakoda Willoughby (IN) won by major decision over Jack Ireland (WI) (Maj 10-0)
130 pounds

1st Place - Joaquin Chacon of AZ
2nd Place - Andrew Moro of OH
3rd Place - Kenneth Ferrario of MN
4th Place - Sergio Macias of AZ
5th Place - Carter Barrio of TX
6th Place - Luke Banas of IL
7th Place - Luke Conroy of ND
8th Place - Dylan Brown of AL
1st Place Match
Joaquin Chacon (AZ) won by fall over Andrew Moro (OH) (Fall 4:22)
2nd Place Wrestleback
Andrew Moro (OH) won by no contest over Kenneth Ferrario (MN) (NC)
3rd Place Match
Kenneth Ferrario (MN) won by decision over Sergio Macias (AZ) (Dec 4-2)
5th Place Match
Carter Barrio (TX) won by decision over Luke Banas (IL) (Dec 11-4)
7th Place Match
Luke Conroy (ND) won by fall over Dylan Brown (AL) (Fall 2:00)
136 pounds

1st Place - Owen Schacht of WI
3rd Place - Carter Birdyshaw of WI
3rd Place - Liam Richards of WI
4th Place - Tobias Pacheco of MI
5th Place - Soren Nico of WI
6th Place - Jackson Smith of IN
7th Place - Remington Anhorn of ND
8th Place - Maximo Xolo of WI
1st Place Match
Owen Schacht (WI) won by decision over Carter Birdyshaw (WI) (Dec 5-3)
2nd Place Wrestleback
3rd Place Match
Liam Richards (WI) won by decision over Tobias Pacheco (MI) (Dec 2-1)
5th Place Match
Soren Nico (WI) won by injury default over Jackson Smith (IN) (Inj. 1:00)
7th Place Match
Remington Anhorn (ND) won by decision over Maximo Xolo (WI) (Dec 5-0)
149 pounds

1st Place - Peyton Hornsby of IN
2nd Place - Duane Leslie of ID
3rd Place - Jacob Hodge of MI
4th Place - Elias Reed of WI
5th Place - Maximus Purdy of IL
6th Place - Kace Fullmer of ID
7th Place - Radic Dvorak of IL
8th Place - Ashtyn Kreuser of WI
1st Place Match
Peyton Hornsby (IN) won by decision over Duane Leslie (ID) (Dec 7-5)
2nd Place Wrestleback
Duane Leslie (ID) won by no contest over Jacob Hodge (MI) (NC)
3rd Place Match
Jacob Hodge (MI) won by decision over Elias Reed (WI) (Dec 2-0)
5th Place Match
Maximus Purdy (IL) won by decision over Kace Fullmer (ID) (Dec 5-2)
7th Place Match
Radic Dvorak (IL) won by medical forfeit over Ashtyn Kreuser (WI) (MFF)
165 pounds

1st Place - Isaac Barrientos of IL
2nd Place - Kannon Freschette of WA
3rd Place - Braylen Bieber of IA
4th Place - Tyrus Alley of MO
5th Place - Macklin Penner of IA
6th Place - Brandon Bethea of AL
7th Place - Raidyn Tidwell of AL
8th Place - Ibrahim Zaky of VA
1st Place Match
Isaac Barrientos (IL) won by decision over Kannon Freschette (WA) (Dec 5-1)
2nd Place Wrestleback
Kannon Freschette (WA) won in sudden victory - 1 over Braylen Bieber (IA) (SV-1 1-0)
3rd Place Match
Braylen Bieber (IA) won by decision over Tyrus Alley (MO) (Dec 7-2)
5th Place Match
Macklin Penner (IA) won in sudden victory - 1 over Brandon Bethea (AL) (SV-1 10-8)
7th Place Match
Raidyn Tidwell (AL) won by forfeit over Ibrahim Zaky (VA) (FF)
187 pounds

1st Place - Ceasar Salas of IN
2nd Place - Joe Constable of IA
3rd Place - Elliot Havlish of WI
4th Place - Sergio Baity of IL
5th Place - Jack Praska of ND
6th Place - Aiden Stiven of ND
1st Place Match
Ceasar Salas (IN) won by decision over Joe Constable (IA) (Dec 7-1)
2nd Place Wrestleback
Joe Constable (IA) won by decision over Elliot Havlish (WI) (Dec 8-2)
3rd Place Match
Elliot Havlish (WI) won by fall over Sergio Baity (IL) (Fall 0:26)
5th Place Match
Jack Praska (ND) won by fall over Aiden Stiven (ND) (Fall 0:51)
250 pounds

1st Place - William Bishop of KS
2nd Place - Matthew Kelley of MO
3rd Place - Garrett Dagestad of WI
4th Place - Sawyer Schendel of MN
5th Place - Nolan Lopez of IL
6th Place - Tucker Miller of MO
1st Place Match
William Bishop (KS) won by fall over Matthew Kelley (MO) (Fall 1:56)
2nd Place Wrestleback
Matthew Kelley (MO) won by no contest over Garrett Dagestad (WI) (NC)
3rd Place Match
Garrett Dagestad (WI) won by fall over Sawyer Schendel (MN) (Fall 2:40)
5th Place Match
Nolan Lopez (IL) won by fall over Tucker Miller (MO) (Fall 0:31)
12U Final Results

58 pounds

1st Place - Jacob Graber of MN
2nd Place - Kameron Cushman of IA
3rd Place - Brooks Horwath of MI
4th Place - Joe Kappes of ND
5th Place - Cole Train Vanderwerff of WI
6th Place - Maxwell St.John of KS
1st Place Match
Jacob Graber (MN) won by major decision over Kameron Cushman (IA) (Maj 8-0)
2nd Place Wrestleback
Kameron Cushman (IA) won by no contest over Brooks Horwath (MI) (NC)
3rd Place Match
Brooks Horwath (MI) won by decision over Joe Kappes (ND) (Dec 4-2)
5th Place Match
Cole Train Vanderwerff (WI) won by major decision over Maxwell St.John (KS) (Maj 13-2)
63 pounds

1st Place - Beckett Moyer of IA
2nd Place - Brennan Hart of MI
3rd Place - Avery Anderson of CO
4th Place - Cannon Ziller of IL
5th Place - Blayden Thompson of NC
6th Place - Ryder Uhlenhake of IA
7th Place - Estevan Maximo Jr. of AZ
8th Place - Colton Steingraber of WI
1st Place Match
Beckett Moyer (IA) won by decision over Avery Anderson (CO) (Dec 4-1)
2nd Place Wrestleback
Brennan Hart (MI) won by decision over Avery Anderson (CO) (Dec 4-2)
3rd Place Match
Brennan Hart (MI) won by decision over Cannon Ziller (IL) (Dec 4-3)
5th Place Match
Blayden Thompson (NC) won by decision over Ryder Uhlenhake (IA) (Dec 2-0)
7th Place Match
Estevan Maximo Jr. (AZ) won by fall over Colton Steingraber (WI) (Fall 1:48)
67 pounds

1st Place - Lincoln Schulz of MN
2nd Place - Cole Martin of MO
3rd Place - Gabriel Jaxon Medrano of TX
4th Place - Hayes Daniel of AR
5th Place - Garrett Williams of MN
6th Place - Jeremiah Maldonado of IN
7th Place - Jon Luke Austin of IN
8th Place - Kamren Schuebel of WI
1st Place Match
Lincoln Schulz (MN) won by decision over Cole Martin (MO) (Dec 5-0)
2nd Place Wrestleback
Cole Martin (MO) won by no contest over Gabriel Jaxon Medrano (TX) (NC)
3rd Place Match
Gabriel Jaxon Medrano (TX) won by decision over Hayes Daniel (AR) (Dec 2-0)
5th Place Match
Garrett Williams (MN) won by decision over Jeremiah Maldonado (IN) (Dec 4-3)
7th Place Match
Jon Luke Austin (IN) won by decision over Kamren Schuebel (WI) (Dec 7-0)
70 pounds

1st Place - Noah Thomas of IL
2nd Place - Colton Hamill of WI
3rd Place - Haedyn Cochran of IN
4th Place - Dalton Perkins of OK
5th Place - Austin Armstrong of ID
6th Place - Kanoa Saferite of VA
7th Place - Brody Camp of MI
8th Place - Gunner Killingsworth of OK
1st Place Match
Noah Thomas (IL) won by decision over Colton Hamill (WI) (Dec 2-0)
2nd Place Match
Colton Hamill (WI) won by decision over Haedyn Cochran (IN) (Dec 1-0)
3rd Place Match
Haedyn Cochran (IN) won by decision over Dalton Perkins (OK) (Dec 2-1)
5th Place Match
Austin Armstrong (ID) won by decision over Kanoa Saferite (VA) (Dec 6-4)
7th Place Match
Brody Camp (MI) won by decision over Gunner Killingsworth (OK) (Dec 5-2)
74 pounds

1st Place - Kai McDonald of IA
2nd Place - Arto Khachatryan of CA
3rd Place - Marcarlo Mannello of NY
4th Place - Preston Van Hoven of VA
5th Place - Nash Denison of OK
6th Place - Colin Weber of WI
7th Place - Landon Newbold of OH
8th Place - Kholden House of MO
1st Place Match
Kai McDonald (IA) won by decision over Arto Khachatryan (CA) (Dec 5-1)
2nd Place Match
Arto Khachatryan (CA) won by decision over Marcarlo Mannello (NY) (Dec 4-1)
3rd Place Match
Marcarlo Mannello (NY) won by major decision over Preston Van Hoven (VA) (Maj 9-1)
5th Place Match
Nash Denison (OK) won by decision over Colin Weber (WI) (Dec 4-3)
7th Place Match
Landon Newbold (OH) won by decision over Kholden House (MO) (Dec 3-1)
78 pounds

1st Place - Jacob Saunders of MO
2nd Place - Case Freeman of IA
3rd Place - Titus Slaughter of AL
4th Place - Joshua Sanders of IN
5th Place - Carter Hill of MI
6th Place - Blaine Fletcher of WI
7th Place - Ryan Gartman of WI
8th Place - Sawyer Crook of WI
1st Place Match
Jacob Saunders (MO) won by fall over Titus Slaughter (AL) (Fall 0:28)
2nd Place Wrestleback
Case Freeman (IA) won by decision over Titus Slaughter (AL) (Dec 3-0)
3rd Place Match
Case Freeman (IA) won by major decision over Joshua Sanders (IN) (Maj 12-1)
5th Place Match
Carter Hill (MI) won by major decision over Blaine Fletcher (WI) (Maj 12-0)
7th Place Match
Ryan Gartman (WI) won by fall over Sawyer Crook (WI) (Fall 0:30)
82 pounds

1st Place - Vincenzo Mannello of NY
2nd Place - Keilan Yang of WI
3rd Place - Jaxson Boucher of MI
4th Place - Adonis Washington of IL
5th Place - Brogan Sendele of IL
6th Place - Hunter Erdmann of WI
7th Place - Yates White Buffalo Jr of ND
8th Place - Graham Lofton of MN
1st Place Match
Vincenzo Mannello (NY) won by decision over Keilan Yang (WI) (Dec 4-0)
2nd Place Wrestleback
Keilan Yang (WI) won by no contest over Jaxson Boucher (MI) (NC)
3rd Place Match
Jaxson Boucher (MI) won by decision over Adonis Washington (IL) (Dec 6-2)
5th Place Match
Brogan Sendele (IL) won by medical forfeit over Hunter Erdmann (WI) (MFF)
7th Place Match
Yates White Buffalo Jr (ND) won by decision over Graham Lofton (MN) (Dec 5-1)
86 pounds

1st Place - Jaden Washington of IL
2nd Place - Mitchell Chen of VA
3rd Place - Declan Dahl of MN
4th Place - Gunnar Wilson of OR
5th Place - Romen Cruz of AZ
6th Place - Corbyn Weiss of WI
7th Place - Wyatt Wolf of WI
8th Place - Mick Dobbs of AK
1st Place Match
Jaden Washington (IL) won by fall over Mitchell Chen (VA) (Fall 3:57)
2nd Place Match
Mitchell Chen (VA) won by no contest over Declan Dahl (MN) (NC)
3rd Place Match
Declan Dahl (MN) won by decision over Gunnar Wilson (OR) (Dec 6-5)
5th Place Match
Romen Cruz (AZ) won in sudden victory - 1 over Corbyn Weiss (WI) (SV-1 9-6)
7th Place Match
Wyatt Wolf (WI) won by decision over Mick Dobbs (AK) (Dec 3-0)
92 pounds

1st Place - Nathan Fenner of PA
2nd Place - Waylon Fry of WI
3rd Place - Te`Jon Beals of IL
4th Place - Beau DeLong of WI
5th Place - Zakari Willems of IA
6th Place - Brooks Bath of WY
7th Place - Esteban Aranguiz Jr. of KS
8th Place - William Van Bruggen of IA
1st Place Match
Nathan Fenner (PA) won by decision over Waylon Fry (WI) (Dec 6-2)
2nd Place Wrestleback
Waylon Fry (WI) won by decision over Te`Jon Beals (IL) (Dec 4-2)
3rd Place Match
Te`Jon Beals (IL) won by decision over Beau DeLong (WI) (Dec 2-1)
5th Place Match
Zakari Willems (IA) won by decision over Brooks Bath (WY) (Dec 4-0)
7th Place Match
Esteban Aranguiz Jr. (KS) won by decision over William Van Bruggen (IA) (Dec 1-0)
98 pounds

1st Place - Jeremiah Hayes of IL
2nd Place - Jacob Penzkover of WI
3rd Place - Jaxon Petersen of NE
4th Place - Alexander Depratti of CT
5th Place - William Smith of IN
6th Place - Dylan Sardina of WI
7th Place - Beckett Svuba of IA
8th Place - Henry Scott McDoniel of AR
1st Place Match
Jeremiah Hayes (IL) won by fall over Jaxon Petersen (NE) (Fall 1:53)
2nd Place Match
Jacob Penzkover (WI) won by fall over Jaxon Petersen (NE) (Fall 3:40)
3rd Place Match
Jacob Penzkover (WI) won by decision over Alexander Depratti (CT) (Dec 6-0)
5th Place Match
William Smith (IN) won by fall over Dylan Sardina (WI) (Fall 2:47)
7th Place Match
Beckett Svuba (IA) won by fall over Henry Scott McDoniel (AR) (Fall 2:24)
108 pounds

1st Place - Aiden Robideaux of OK
2nd Place - Stetson Gabel of CO
3rd Place - Dalton Jones of IN
4th Place - Landon Komperda of CO
5th Place - Blake Konichek of WI
6th Place - Drezden Short of MN
7th Place - Conner Schoneman of IA
8th Place - Kavan Beyer of IA
1st Place Match
Aiden Robideaux (OK) won by decision over Stetson Gabel (CO) (Dec 6-5)
2nd Place Wrestleback
Stetson Gabel (CO) won by major decision over Dalton Jones (IN) (Maj 10-0)
3rd Place Match
Dalton Jones (IN) won by decision over Landon Komperda (CO) (Dec 2-0)
5th Place Match
Blake Konichek (WI) won by decision over Drezden Short (MN) (Dec 6-1)
7th Place Match
Conner Schoneman (IA) won by fall over Kavan Beyer (IA) (Fall 1:28)
117 pounds

1st Place - Luke Lucero of TX
2nd Place - Rosco Lewis of OK
3rd Place - Luke Braddy of MN
4th Place - Michael Alexander of MN
5th Place - Whitley Wilscam of KS
6th Place - Brogan Bingham of ID
7th Place - Oliver Bongle of WI
8th Place - Hank Stortz of IA
1st Place Match
Luke Lucero (TX) won in sudden victory - 1 over Rosco Lewis (OK) (SV-1 4-2)
2nd Place Wrestleback
Rosco Lewis (OK) won by fall over Luke Braddy (MN) (Fall 1:21)
3rd Place Match
Luke Braddy (MN) won by medical forfeit over Michael Alexander (MN) (MFF)
5th Place Match
Whitley Wilscam (KS) won by fall over Brogan Bingham (ID) (Fall 2:38)
7th Place Match
Oliver Bongle (WI) won by medical forfeit over Hank Stortz (IA) (MFF)
135 pounds

1st Place - Naijier Morris of IL
2nd Place - Kody Doran of MO
3rd Place - Gavin Brown of IN
4th Place - Caleb Walshire of WI
5th Place - Brier McPeek of IL
6th Place - Asher Batteiger of ND
7th Place - Ian Leverance of WI
1st Place Match
Naijier Morris (IL) won by major decision over Gavin Brown (IN) (Maj 12-4)
2nd Place Wrestleback
Kody Doran (MO) won by decision over Gavin Brown (IN) (Dec 10-7)
3rd Place Match
Kody Doran (MO) won in sudden victory - 1 over Caleb Walshire (WI) (SV-1 5-3)
5th Place Match
Brier McPeek (IL) won by fall over Asher Batteiger (ND) (Fall 2:43)
160 pounds

1st Place - Bobby McNutt of MN
2nd Place - Wes Wolke of MN
3rd Place - Logan Noto of WI
4th Place - Phoenix Alameda of WI
5th Place - Josiah Lodeserto of NC
6th Place - Coda Fladeland of ND
7th Place - Malachi Anderson of SD
8th Place - Owen Sauer of WI
1st Place Match
Bobby McNutt (MN) won by decision over Wes Wolke (MN) (Dec 4-3)
2nd Place Wrestleback
Wes Wolke (MN) won by fall over Logan Noto (WI) (Fall 2:28)
3rd Place Match
Logan Noto (WI) won in sudden victory - 1 over Phoenix Alameda (WI) (SV-1 4-2)
5th Place Match
Josiah Lodeserto (NC) won by decision over Coda Fladeland (ND) (Dec 6-0)
7th Place Match
Malachi Anderson (SD) won by decision over Owen Sauer (WI) (Dec 6-0)
Masters A Final Results

62-70 kg

1st Place - Nathan Ryan of Iowa
2nd Place - Brandon Gacad of No Nonsense Wrestling
3rd Place - Sawyer Sarbacker of WI
4th Place - Mitchell Cook of Natural Athlete Wrestling Club
5th Place - Louis Rojas of Natural Athlete Wrestling Club
7th Place - Hunter Dodds of Mossyrock
1st Place Match
Nathan Ryan (Iowa) won by fall over Brandon Gacad (No Nonsense Wrestling) (Fall 2:01)
3rd Place Match
Sawyer Sarbacker (WI) won by decision over Mitchell Cook (Natural Athlete Wrestling Club) (Dec 3-1)
5th Place Match
Louis Rojas (Natural Athlete Wrestling Club) received a bye () (Bye)
78 kg

1st Place - Cedric Gibson of WI
2nd Place - Casper Petty of Fayetteville Youth Wrestling Club
3rd Place - Timothy Duffy of Natural Athlete Wrestling Club
4th Place - Cordell Hestness of Iowa
Round 1
Timothy Duffy (Natural Athlete Wrestling Club) won by major decision over Cordell Hestness (Iowa) (Maj 8-0)
Cedric Gibson (WI) won by major decision over Casper Petty (Fayetteville Youth Wrestling Club) (Maj 8-0)
Round 2
Casper Petty (Fayetteville Youth Wrestling Club) won by decision over Timothy Duffy (Natural Athlete Wrestling Club) (Dec 6-2)
Cedric Gibson (WI) won by fall over Cordell Hestness (Iowa) (Fall 1:23)
Round 3
Cedric Gibson (WI) won by medical forfeit over Timothy Duffy (Natural Athlete Wrestling Club) (MFF)
Casper Petty (Fayetteville Youth Wrestling Club) won by fall over Cordell Hestness (Iowa) (Fall 0:33)
88 kg

1st Place - Jeffrey Isaac of MN
2nd Place - Wyatt Seep of Wisconsin
3rd Place - Uriahs Williams of Unattached
Round 1
Jeffrey Isaac (MN) received a bye () (Bye)
Wyatt Seep (Wisconsin) won by fall over Uriahs Williams (Unattached) (Fall 1:32)
Round 2
Jeffrey Isaac (MN) won by fall over Uriahs Williams (Unattached) (Fall 0:53)
Wyatt Seep (Wisconsin) received a bye () (Bye)
Round 3
Jeffrey Isaac (MN) won by decision over Wyatt Seep (Wisconsin) (Dec 3-1)
Uriahs Williams (Unattached) received a bye () (Bye)
100 kg

1st Place - Kenneth Porter of Methods Wrestling
2nd Place - Anthony Degani of Onalaska
3rd Place - Silas Coleman of Wisconsin
Round 1
Silas Coleman (Wisconsin) received a bye () (Bye)
Kenneth Porter (Methods Wrestling) won in sudden victory - 1 over Anthony Degani (Onalaska) (SV-1 3-1)
Round 2
Kenneth Porter (Methods Wrestling) won by fall over Silas Coleman (Wisconsin) (Fall 3:35)
Anthony Degani (Onalaska) received a bye () (Bye)
Round 3
Anthony Degani (Onalaska) won by fall over Silas Coleman (Wisconsin) (Fall 1:59)
Kenneth Porter (Methods Wrestling) received a bye () (Bye)
130 kg

1st Place - Devon Price of California
2nd Place - Nick Gibson of Wisconsin
3rd Place - Zach Marxen of Iowa
Round 1
Devon Price (California) won by fall over Zach Marxen (Iowa) (Fall 1:49)
Nick Gibson (Wisconsin) received a bye () (Bye)
Round 2
Nick Gibson (Wisconsin) won by fall over Zach Marxen (Iowa) (Fall 0:58)
Devon Price (California) received a bye () (Bye)
Round 3
Zach Marxen (Iowa) received a bye () (Bye)
Devon Price (California) won by decision over Nick Gibson (Wisconsin) (Dec 5-2)
Masters B Final Results

62 kg

1st Place - Nick Cleary of Pe Ell
2nd Place - Dustin Ayers of Nevada
3rd Place - Simeon Pak of Methods Wrestling
Round 1
Dustin Ayers (Nevada) won by fall over Simeon Pak (Methods Wrestling) (Fall 2:03)
Nick Cleary (Pe Ell) received a bye () (Bye)
Round 2
Simeon Pak (Methods Wrestling) received a bye () (Bye)
Nick Cleary (Pe Ell) won by decision over Dustin Ayers (Nevada) (Dec 6-1)
Round 3
Nick Cleary (Pe Ell) won by medical forfeit over Simeon Pak (Methods Wrestling) (MFF)
Dustin Ayers (Nevada) received a bye () (Bye)
70 kg

1st Place - Jared O`Riley of Lenox Tiger Wrestling Club
2nd Place - Nathaniel Falconer of Texas
3rd Place - Erik Johnson of Yorktown Wrestling Club
4th Place - Caleb Ayers of Nebraska
Round 1
Nathaniel Falconer (Texas) won in sudden victory - 1 over Erik Johnson (Yorktown Wrestling Club) (SV-1 5-3)
Jared O`Riley (Lenox Tiger Wrestling Club) won by decision over Caleb Ayers (Nebraska) (Dec 7-0)
Round 2
Erik Johnson (Yorktown Wrestling Club) won by fall over Caleb Ayers (Nebraska) (Fall 2:14)
Jared O`Riley (Lenox Tiger Wrestling Club) won by decision over Nathaniel Falconer (Texas) (Dec 4-1)
Round 3
Jared O`Riley (Lenox Tiger Wrestling Club) won by decision over Erik Johnson (Yorktown Wrestling Club) (Dec 6-0)
Nathaniel Falconer (Texas) won by decision over Caleb Ayers (Nebraska) (Dec 3-0)
78-88 kg

1st Place - Donaco Watts of South Dakota
2nd Place - Wade England of Iowa
3rd Place - Jerry Noto of Fond du Lac Wrestling Club
Round 1
Donaco Watts (South Dakota) received a bye () (Bye)
Wade England (Iowa) won by fall over Jerry Noto (Fond du Lac Wrestling Club) (Fall 1:59)
Round 2
Wade England (Iowa) received a bye () (Bye)
Donaco Watts (South Dakota) won by fall over Jerry Noto (Fond du Lac Wrestling Club) (Fall 0:57)
Round 3
Jerry Noto (Fond du Lac Wrestling Club) received a bye () (Bye)
Donaco Watts (South Dakota) won by fall over Wade England (Iowa) (Fall 2:06)
100 kg

1st Place - Michael Burke of Yorktown Wrestling Club
2nd Place - DeAndre Nunn of Chicago Wrestling Club
3rd Place - Christopher Myers of Carroll Wrestling Club
Round 1
Christopher Myers (Carroll Wrestling Club) received a bye () (Bye)
Michael Burke (Yorktown Wrestling Club) won by decision over DeAndre Nunn (Chicago Wrestling Club) (Dec 5-4)
Round 2
Michael Burke (Yorktown Wrestling Club) received a bye () (Bye)
DeAndre Nunn (Chicago Wrestling Club) won in sudden victory - 1 over Christopher Myers (Carroll Wrestling Club) (SV-1 4-2)
Round 3
DeAndre Nunn (Chicago Wrestling Club) received a bye () (Bye)
Michael Burke (Yorktown Wrestling Club) won by decision over Christopher Myers (Carroll Wrestling Club) (Dec 5-0)
130 kg

1st Place - James Medeiros of Birmingham Community Charter High School Wrestling
2nd Place - Garrett Gillas of OR
3rd Place - James Haddix of Indiana
4th Place - Hayden Boeke of Iowa
Round 1
James Haddix (Indiana) won by fall over Hayden Boeke (Iowa) (Fall 3:18)
James Medeiros (Birmingham Community Charter High School Wrestling) won by decision over Garrett Gillas (OR) (Dec 7-2)
Round 2
James Medeiros (Birmingham Community Charter High School Wrestling) won by fall over James Haddix (Indiana) (Fall 2:47)
Garrett Gillas (OR) won by fall over Hayden Boeke (Iowa) (Fall 2:30)
Round 3
Garrett Gillas (OR) won by decision over James Haddix (Indiana) (Dec 4-1)
James Medeiros (Birmingham Community Charter High School Wrestling) won by tech fall over Hayden Boeke (Iowa) (TF 22-5)
Masters C Final Results

70-77 kg

1st Place - Rudy James of Minnesota Storm
2nd Place - Marcus Collins of Oklahoma
Round 1
Rudy James (Minnesota Storm) won by forfeit over Marcus Collins (Oklahoma) (FF)
Round 2
Rudy James (Minnesota Storm) won by forfeit over Marcus Collins (Oklahoma) (FF)
88 kg

1st Place - Rudy James of Minnesota Storm
2nd Place - James Wolke of Minnesota
3rd Place - Sam Estrada of Texas
Round 1
Rudy James (Minnesota Storm) won by decision over Sam Estrada (Texas) (Dec 9-2)
James Wolke (Minnesota) received a bye () (Bye)
Round 2
James Wolke (Minnesota) won by fall over Sam Estrada (Texas) (Fall 1:32)
Rudy James (Minnesota Storm) received a bye () (Bye)
Round 3
Sam Estrada (Texas) received a bye () (Bye)
Rudy James (Minnesota Storm) won by major decision over James Wolke (Minnesota) (Maj 16-5)
100 kg

1st Place - Andy Ward of Wrestling With Character
2nd Place - Brenden Troster of Tenino
Round 1
Andy Ward (Wrestling With Character) won by fall over Brenden Troster (Tenino) (Fall 1:20)
Round 2
Andy Ward (Wrestling With Character) won by fall over Brenden Troster (Tenino) (Fall 1:39)
130 kg

1st Place - Travis Wiuff of Minnesota
2nd Place - Clinton Knauer of Indiana
Round 1
Travis Wiuff (Minnesota) won by tech fall over Clinton Knauer (Indiana) (TF 21-5)
Round 2
Travis Wiuff (Minnesota) won by fall over Clinton Knauer (Indiana) (Fall 0:38)
Masters D Final Results

58-62 kg
1st Place - Joe Raia of Chicago Wrestling Club
2nd Place - Greg McLaughlin of Avon Wrestling Club
3rd Place - Michael Cartossa of Willapa
4th Place - Mark Ellis of California
Round 1
Joe Raia (Chicago Wrestling Club) won by major decision over Michael Cartossa (Willapa) (Maj 9-0)
Greg McLaughlin (Avon Wrestling Club) won by fall over Mark Ellis (California) (Fall 1:47)
Round 2
Joe Raia (Chicago Wrestling Club) won by decision over Greg McLaughlin (Avon Wrestling Club) (Dec 4-2)
Michael Cartossa (Willapa) won by decision over Mark Ellis (California) (Dec 4-0)
Round 3
Joe Raia (Chicago Wrestling Club) won by fall over Mark Ellis (California) (Fall 3:18)
Greg McLaughlin (Avon Wrestling Club) won by fall over Michael Cartossa (Willapa) (Fall 0:55)
70 kg

1st Place - Chad Otterness of Mat Rats Wrestling Club
2nd Place - Michael Gilbert of New York
3rd Place - Alexander Dilmaghani of Massachusetts
Round 1
Alexander Dilmaghani (Massachusetts) received a bye () (Bye)
Chad Otterness (Mat Rats Wrestling Club) won by decision over Michael Gilbert (New York) (Dec 6-1)
Round 2
Michael Gilbert (New York) received a bye () (Bye)
Chad Otterness (Mat Rats Wrestling Club) won by fall over Alexander Dilmaghani (Massachusetts) (Fall 0:49)
Round 3
Chad Otterness (Mat Rats Wrestling Club) received a bye () (Bye)
Michael Gilbert (New York) won by fall over Alexander Dilmaghani (Massachusetts) (Fall 2:19)
78-88 kg

1st Place - Nicholas Bluel of Winlock
2nd Place - Eric Lopshire of Indiana
3rd Place - James Clemons of Chehalis
Round 1
Nicholas Bluel (Winlock) won by decision over James Clemons (Chehalis) (Dec 1-0)
Eric Lopshire (Indiana) received a bye () (Bye)
Round 2
Nicholas Bluel (Winlock) received a bye () (Bye)
Eric Lopshire (Indiana) won by major decision over James Clemons (Chehalis) (Maj 11-0)
Round 3
Nicholas Bluel (Winlock) won by decision over Eric Lopshire (Indiana) (Dec 5-3)
James Clemons (Chehalis) received a bye () (Bye)
Masters E Final Results

78-88 kg

1st Place - Dennis McInerney of Texas
2nd Place - Louis Orr of Victory School of Wrestling
3rd Place - James Miller of Iowa
Round 1
Louis Orr (Victory School of Wrestling) received a bye () (Bye)
Dennis McInerney (Texas) won by medical forfeit over James Miller (Iowa) (MFF)
Round 2
Louis Orr (Victory School of Wrestling) won by medical forfeit over James Miller (Iowa) (MFF)
Dennis McInerney (Texas) received a bye () (Bye)
Round 3
Dennis McInerney (Texas) won by fall over Louis Orr (Victory School of Wrestling) (Fall 1:40)
James Miller (Iowa) received a bye () (Bye)
130 kg

Guaranteed Places
1st Place - Mark Dollins of South Side Wrestling Club
Round 1
Mark Dollins (South Side Wrestling Club) received a bye () (Bye)
Round 2
Mark Dollins (South Side Wrestling Club) received a bye () (Bye)
Masters F Final Results

70-76 kg

1st Place - James Miller of Iowa
2nd Place - Charles McCook of Lake City
Round 1
James Miller (Iowa) won by forfeit over Charles McCook (Lake City) (FF)
Round 2
James Miller (Iowa) won by forfeit over Charles McCook (Lake City) (FF)