Hopke pins Schunke, Araujo named Junior OW at Folkstyle Nationals
by Richard Immel, USA Wrestling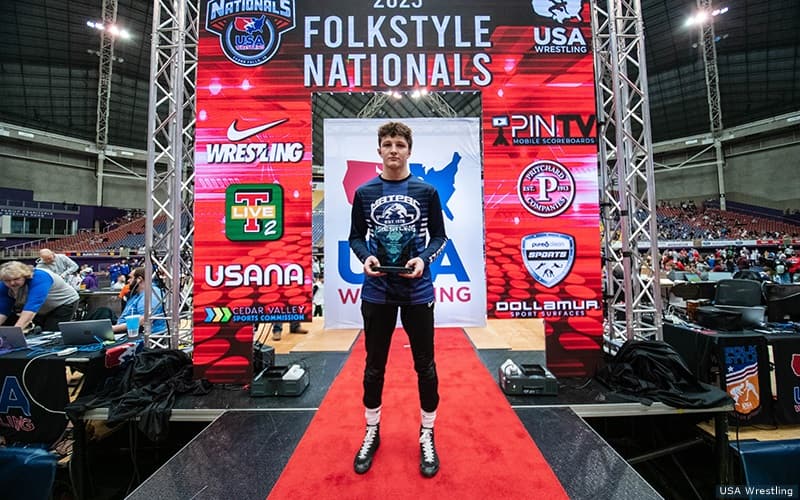 Photo: Junior 152-pound champion and Outstanding Wrestler recipient Leandro Araujo of North Dakota. (Richard Immel/USA Wrestling)
🎥:
2023 USA Wrestling Folkstyle Nationals champion interviews
CEDAR FALLS, Iowa – The Junior division at the 2023 USA Wrestling Folkstyle Nationals has concluded at the UNI Dome.
North Dakota's Leandro (LJ) Araujo was named outstanding wrestler following his 4-2 sudden victory win over Illinois' Jaydon Robinson in the 152-pound finals.
U17 World champion Koy Hopke of Wisconsin pinned double Fargo champion Navarro Schunke of South Dakota in just over four minutes in the climactic heavyweight final.
Idaho's Mack Mauger has successfully passed stage one of the Triple Crown award for the second straight year courtesy of a tight 3-1 win over Iowa's Dru Ayala at 113 pounds. Mauger won this event and the USA Wrestling Triple Crown in 2022.
Every match from the USA Wrestling Folkstyle Nationals can be viewed on-demand on
FloWrestling.com
. Complete brackets and match-by-match results are available on
Trackwrestling.com
.
2023 USA Wrestling Folkstyle Nationals
March 31 – April 2, UNI Dome, Cedar Falls, Iowa
Junior Results

100 pounds
1st – Saxton Scott (ID) maj. dec. William Jakeway (SC), 9-1
3rd – Taye Jordan (IA) fall Jackson Esser (WI), 0:17
5th – Wyatt Chavez (AL) tech. fall Wyatt Eddy (AZ), 16-0
7th – Hunter Anderson (ID) dec. Brooks Morton (AL), 7-2
106 pounds
1st – Ezekiel Witt (KS) dec. Brayden Teunissen (IL), 6-5
3rd – Kiyan Simon (AL) dec. Daniel Guerrero (AZ), 2-1
5th – Gavin Rockey (IL) dec. Tommy Booth (IA), 7-0
7th – Elijah Cherry (OK) dec. Cole Dyer (TN), 9-4
113 pounds
1st – Mack Mauger (ID) dec. Dru Ayala (IA), 3-1
3rd – Tyson Roach (LA) dec. Brodie Christmas (AL), 8-5
5th – Jacob Fitzpatrick (MN) dec. Caleb Wright (AL), 18-5
7th – Everest Sutton (OR) dec. Nolan Brown (MT), 4-2
120 pounds
1st – Benjamin DeForest (ND) fall Talen Eck (ID), 2:55
3rd – Reid Spurley (WI) fall Drew Davis (IL), 1:37
5th – Jaxton Packer (ID) forfeit Anthony Lopez (NM)
7th – Carson Doolittle (IA) dec. Easton Cooper (WI), 9-2
126 pounds
1st – Cael Nasdeo (PA) fall Jake Castagneto (ID), 0:57
3rd – Bowen Brunson (ID) fall Tanner Tishner (IN), 1:48
5th – Irie Jackson (WI) dec. Dillon White (IL), 3-1
7th – Devin Grossman (MT) fall Jaxson Humphries (OK), 4:39
132 pounds
1st – Teegan Vasquez (MT) dec. Kale Petersen (IA), 8-7
3rd – Carter Schmidt (MT) maj. dec. Eddie Bowman (CO), 19-5
5th – Russell Evans (UT) med. for. Jackzen Rairdon (CO)
7th – Nate Bierma (IA) fall Jack McDonald (TX), 2:06
138 pounds
1st – Dorian Olivarez (TX) dec. Chase Van Hoven (VA), 4-0
3rd – Dresden Grimm (IL) dec. Evan Gosz (IL), 6-4 SV-1
5th – James Wright (IL) dec. Kaiden Schrandt (MN), 5-3
7th – Brady Collins (CO) fall Grayson Williams (ID), 0:47
145 pounds
1st – Jason Mara (ID) dec. Alex Braun (MN), 5-0
3rd – McKinley Robbins (IA) dec. Trey Dillow (KS), 6-3
5th – Kilian Schultz (CO) fall Alexander Smith (IN), 0:42
7th – Jackson Jaspers (IA) dec. Elijah Larsen (AK), 7-1
152 pounds
1st – Leandro Araujo (ND) dec. Jaydon Robinson (IL), 4-2 SV-1
3rd – Vincent Robinson (IL) dec. Ty Koedam (IA), 8-4
5th – Xerarch Tungjaroenkul (KS) dec. Grant Kress (IA), 3-1
7th – Waylon Cressell (ND) dec. Noah Elliott (CA), 13-7
160 pounds
1st – Thor Michaelson (WA) maj. dec. Damarion Ross (IA), 12-2
3rd – Paolo Salminen (MT) dec. Samuel Richardson (MO), 15-8
5th – Ryker Fullmer (ID) dec. Jermaine Butler Jr. (IL), 4-0
7th – Ryker Gibson (ID) med. for. Thomas Stuhlman (MO)
170 pounds
1st – Hudson Rogers (ID) dec. Jacob Fistler (IA), 2-0
3rd – Lars Michaelson (WA) dec. Jayden Ford (KS), 11-5
5th – Owen Wasley (WI) med. for. Caden Young (WI)
7th – Jack Gillis (WI) forfeit Dalton Loyden (AZ)
182 pounds
1st – Wyatt Ingham (WI) dec. Orlando Cruz (IN), 9-4 SV-1
3rd – Anders Thompson (MT) dec. Shamon Handegan (IL), 7-1
5th – Brian Petry (NE) dec. Braden Brown (OK), 1-0
7th – Ronan Wunsch (KS) dec. Matthew Kubas (IL), 4-3
195 pounds
1st – Karson Tompkins (TX) tech. fall Chase Matthias (WI), 15-0
3rd – Brendan Lockart (MT) med. for. Ian Smith (WI)
5th – Nathan Fury (KS) fall Carson Gooley (ID), 4:47
7th – Quinlan Morgan (MN) dec. Grant Cook (WI), 7-2
220 pounds
1st – Cy Kruse (MN) dec. Mason Christian (MT), 9-2
3rd – Joseph Lewis (IA) dec. Leonardo Tovar (IL), 6-1
5th – Alex Hamrick (IL) dec. Pierce Cunningham (KS), 5-4 TB-1
7th – Jesus Gonzalez (WI) dec. Elijah Mathis (KS), 4-2
285 pounds
1st – Koy Hopke (WI) fall Navarro Schunke (SD), 4:18
3rd – Brett Carroll (KS) fall Wyatt Smith (IA), 5:00
5th – Michael Haas (IL) med. for. Shilo Jones (ID)
7th – Dallyn Grimes (ID) med. for. Miguel Perez (ID)