News
USA Wrestling
International
USAW
USA squad set for 2022 Veteran World Championships in Bulgaria
by Taylor Gregorio, USA Wrestling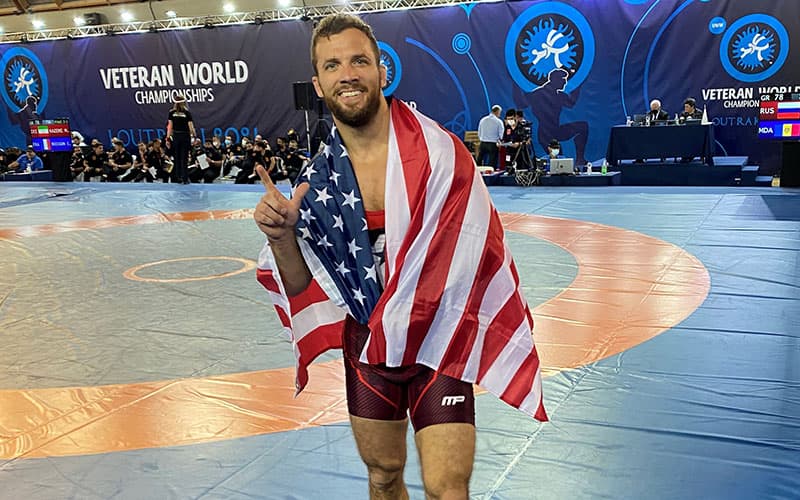 Photo of 2021 Veteran Worlds double champion Reece Humphrey.
The USA is sending a massive roster of 51 wrestlers to the Veteran World Championships, many of whom will compete in both men's freestyle and Greco-Roman. The tournament is set for Oct. 4-9 in Plovdiv, Bulgaria, and will be streamed live on FloWrestling.
In 2021, the United States collected 29 medals, including eight golds, nine silvers and 12 bronzes. Six athletes representing seven of those gold medals are returning, including double champion Reece Humphrey, men's freestyle champions Robinson Prebish, Jon Banko and Stephen Horton as well as Greco-Roman champions David Yi and Octavius Bellamy.
There are also several past Veteran Worlds medalists in the delegation.
Below are the men's freestyle and Greco-Roman rosters, along with the athletes' past Veteran Worlds medals in that style since 2017.
U.S. men's freestyle roster

Division A

62 kg – Nathan Hansen

70 kg – Jordin Humphrey, 2021 silver, 2019 bronze, 2018 bronze

70 kg – Reece Humphrey, 2021 gold

78 kg – Michael Morgan

78 kg – Rashaad Saunders

100 kg – Marko Bojkovic

130 kg – Daniel Erekson
Division B

62 kg – Roger Stewart-Frederick

70 kg – Leevy Mears

70 kg – Dennis Wymer

88 kg – Jeremy Black

88 kg – Gerald Harris

88 kg – Sion King

88 kg – Brian McGinnis

88 kg – James Medeiros, 2021 bronze (A), 2019 silver (A)

100 kg – Karl Junitz

100 kg – Ben McCrillis

100 kg – Joshua Nacey, 2019 silver

130 kg – Michael Harbison
Division C

62 kg – Robinson Prebish, 2021 gold

62 kg – David Yi, 2021 bronze (B)

70 kg – Will Anderson, 2019 bronze (B)

70 kg – Tom Donahue, 2021 bronze

78 kg – Rudy James, 2018 silver (B), 2017 silver (B)

88 kg – Octavius Bellamy, 2021 silver

88 kg – Alvin Riggs

100 kg – William Carr

100 kg – Alsandro Turner

130 kg – Gabe Beauperthy
Division D

78 kg – Jon Banko, 2021 gold

88 kg – Kevin Pine, 2018 gold, 2017 bronze (C)

100 kg – Erik Hinckley

100 kg – Todd Moss

130 kg – George Porter, 2019 bronze (C), 2017 gold (C)
Division E

70 kg – Stephen Horton, 2021 gold (D), 2019 silver (D), 2018 gold (D)

70 kg – Michael Madry, 2021 silver

70 kg – Jerry Valencia

78 kg – Warner Bouzek

78 kg – Louis Orr

88 kg – Jeffery Anderson, 2021 silver (D), 2019 bronze (D)

88 kg – Kevin Kares

88 kg – James Miller

88 kg – Petros Petrosyan, 2021 silver, 2017 bronze (D)

100 kg – Charles Jones

130 kg – Brian Jones, 2021 silver
U.S. Greco-Roman roster

Division A

70 kg – Jordin Humphrey

70 kg – Reece Humphrey, 2021 gold

78 kg – Michael Morgan

78 kg – Rashaad Saunders

100 kg – Marko Bojkovic

130 kg – Ronald Dombkowski, 2021 bronze
Division B

62 kg – Roger Stewart-Frederick

70 kg – Eric Caballero

78 kg – Andrei Stashonak

88 kg – Jeremy Black

88 kg – Gerald Harris

88 kg – James Medeiros, 2019 bronze (A), 2017 bronze (A)

100 kg – Karl Junitz

100 kg – Ben McCrillis
Division C

62 kg – David Yi, 2021 gold (B)

78 kg – Rudy James

88 kg – Octavius Bellamy, 2021 gold, 2017 silver (B)

88 kg – Dave Hart

88 kg – Alvin Riggs

100 kg – William Carr

100 kg – Alsandro Turner

130 kg – Gabe Beauperthy
Division D

70 kg – Ernesto Alarcon

78 kg – Jon Banko, 2021 bronze

88 kg – Kevin Pine

100 kg – Erik Hinckley, 2019 bronze

100 kg – Domenico Lemme

100 kg – Todd Moss

130 kg – George Porter, 2019 silver (C), 2017 bronze (C)
Division E

70 kg – Stephen Horton, 2021 silver (D), 2018 silver (D)

70 kg – Michael Madry, 2019 bronze (D)

70 kg – Jerry Valencia

78 kg – Louis Orr

88 kg – Jeffery Anderson

88 kg – Kevin Kares

100 kg – Charles Jones

130 kg – Brian Jones, 2021 bronze
Support Staff
Coach – Robert Bundy

Coach – Scott Erekson

Coach – Sarah Medeiros

Coach – Craig VanDyke

Team Leader – Chris Brown

Official – Chance Boatman