News
USA Wrestling
High School & Youth
USAW
Missouri Border Brawl is set for September 24 in St. Charles, Mo., featuring strong boys and girls matchups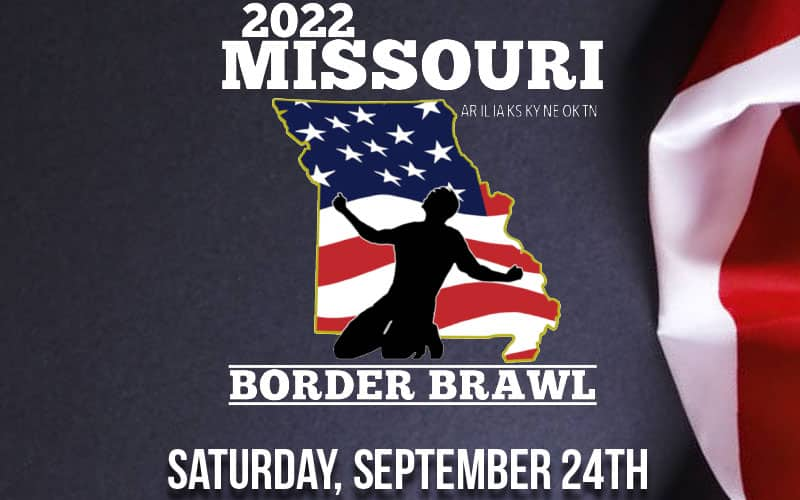 The Missouri Border Brawl is BACK! Saturday September 24th at the Boys & Girls Club of St Charles this prestigious event continues a long tradition of excellence.
Past participants include Ed Ruth, Jake Herbert, Aaron Brooks, Joe Colon, Alan Waters, Jaydin Eierman, Daton Fix, Kamal Bey, Austin O'Connor, Tyler Caldwell, Joe Smith and many more.
Border Brawl President David Mirikitani "We have been blessed to have some absolutely outstanding wrestlers compete in our event. We do our best to create an amazing atmosphere and put together great matchups for the wrestling world to enjoy."
This year's participants include well-known competitors Zan Fugitt, Massey Odiotti, Rylan Kuhn, Gunner Wilson, Angelina Vargas, A.J. Rallo, Brock Woodcock, E.J. Beloncik, Faith Spicer, Savannah Isaac, Braxton Strick, K.J. Evans, Carter McCallister, Layton Schneider and many more.
The event will be
live streamed on Flowrestling
.
VIP tables are sold out, but General Admission tickets are available at
www.nitrotickets.com/MBB.
MISSOURI BORDER BRAWL TENTATIVE LINEUP
145 boys - Layton Schneider (Edmond North HS) vs. Jeremy Ginter (Whitman HS)
132 boys - Jackson Tucker (Hillsboro HS) vs. Noah Gonzalez (St. Pius HS)
115 girls - Angelina Vargas (Park Hill HS) vs. Josiah Ortiz (Lakin HS)
65 girls - Kinsley Rife (Palmyra Youth WC) vs. Haley Brown (Waynesville WC)
81 boys - Kosta Hatzigeorgiou (Truman Middle School) vs. Rowdy Angst (Victory WC)
106 boys - Parker Lutz (St. Michael's HS) vs. Jade Goodin (Edmond North HS)
92 boys - Rocky Thompson (Open Mats WC) vs. Casen McAlister (Mill Valley WC)
120 boys - Dylan Roth (Lafayette HS) vs. Porter Matecki (Whitfield HS)
70 girls - Ava Rife (Palmyra Youth WC) vs. Remi Downing (Greater Heights WC)
126 boys - Chance Ruble (Seckman) vs. Mason Petersen (Columbus HS)
55 boys - Mason Ezersky (Hillsboro Elementary) vs. Billy Roberts (Greater Heights WC)
113 boys - Yashua Amen (Whitfield HS) vs. Canon Acklin (Collinsville HS)
120 girls - Cassidy Benwell (North Point HS) vs. Maggie Buurma (Fowlerville HS)
126 boys - AJ Rallo (Whitfield HS) vs. Hayden Benter (Hickman HS)
65 boys - Mason Turner (Ridgewood Middle School) vs. Kasen Karl (Dogwood Elementary)
160 boys - Brock Woodcock (St. Clair HS) vs. EJ Beloncik (Heritage Hall HS)
235 girls - Faith Spicer (Fox HS) vs. Savannah Isaac (Whitmer HS)
215 boys - Rylan Kuhn (St. Pius X HS) vs. Gunner Wilson (Catoosa HS)
152 boys - Braxton Strick (Ozark HS) vs. KJ Evans (Heritage Hall HS)
145 boys - Carter McCallister (Rock Bridge HS) vs. Layton Schneider (Edmond North HS)
126 boys - Zan Fugitt (Nixa HS) vs. Massey Odiotti (Loyola Academy HS)