News
USA Wrestling
International
USAW
Burroughs, Taylor and Retherford open men's freestyle action with World semis bids
by Taylor Gregorio, USA Wrestling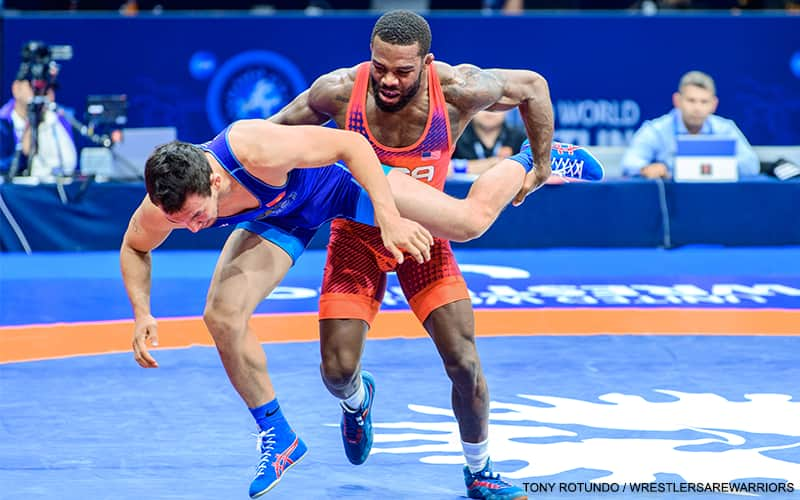 Photo of Jordan Burroughs by Tony Rotundo, WrestlersAreWarriors.com
BELGRADE, Serbia – USA men's freestyle started its 2022 World Championships impressively, sending three of four wrestlers to Thursday's semifinals in Belgrade, Serbia, including Olympic champions Jordan Burroughs and David Taylor as well as three-time World teamer Zain Retherford.
Men's freestyle
Seeking to make history as the first U.S. seven-time World/Olympic champion, Jordan Burroughs lit up the 79 kg bracket this morning with three-straight tech falls to outscore his opponents 34-2 in the first session. He downed athletes from Turkmenistan, North Macedonia and Kyrgyzstan.
In the semifinals, Burroughs will face Ali Umarpashaev of Bulgaria, who was 11th at the 2022 European Championships.
Going 2-0 in the first session, David Taylor, also a 2018 World champion, is on a path to meet up with Tokyo silver medalist and defending World champion Hassan Yazdanicharati of Iran in the 86 kg championship match. Taylor and Yazdani traded major wins in 2021 with Taylor defeating the Iranian in the Olympic finals and Yazdani getting revenge in the Oslo World finals.
In the semis, Taylor will face three-time age-group World medalist and 2022 Senior Asian champion Azamat Dauletbekov from Kazakhstan.
2012 U17 World champion Zain Retherford has a dominant morning without surrendering a single point. He opened with a 10-0 tech fall over Kevin Henkel of Germany before recording a first-period pin over Marc Dietsche from Switzerland. In the quarters, Retherford shut out 2022 European silver medalist Arman Andreasyan of Armenia.
For a shot at gold, Retherford will face 2017 World champion and two-time World bronze medalist Zurabi Iakobishvili of Georgia.
At heavyweight, newcomer Hayden Zillmer earned two wins to advance to the quarterfinals. There, he dropped a 9-4 bout to two-time Olympic medalist and three-time World champion Geno Petriashvili from Georgia. Petriashvili must advance to the finals to pull Zillmer into repechage.
Women's freestyle
Abby Nette competed in repechage at 59 kg on Thursday morning, where she took on 2018 U17 World bronze medalist Erdenesuvd Bat Erdene from Mongolia. Despite getting on several shots, Nette fell to the Mongolian, 4-0, eliminating her from the tournament.
Three U.S. women will wrestle for gold medals tonight, including Olympic champions Helen Maroulis (57 kg) and Tamyra Mensah Stock (68 kg) and two-time U20 World champion Amit Elor (72 kg).
Semifinals begins at 4:45 p.m. local time (10:45 a.m. ET) followed by medal matches at 6 p.m. (noon ET) live on FloWrestling. Follow along for live updates on Twitter @USAWrestling.
For more information on the 2022 Senior World Championships, visit USA Wrestling's Special Section.
SENIOR WORLD CHAMPIONSHIPS
Sept. 10-18, 2022 | Belgrade, Serbia
Men's freestyle results (group 1)
70 kg: Zain Retherford (State College, Pa./Nittany Lion WC/Titan Mercury WC) – SEMIFINALS
WIN Kevin Henkel (Germany), 10-0
WIN Marc Dietsche (Switzerland), fall 1:11
WIN Arman Andreasyan (Armenia), 5-0
vs. Zurabi Iakobishvili (Georgia), 2017 World champion, two-time World bronze medalist
79 kg: Jordan Burroughs (Philadelphia, Pa./Pennsylvania RTC/Sunkist Kids) – SEMIFINALS
WIN Sahergeldi Saparmyradov (Turkmenistan), 12-1
WIN Dejan Mitrov (North Macedonia), 12-1
WIN Arsalan Budazhapov (Kyrgyzstan), 10-0
vs. Ali Umarpashaev (Bulgaria), 11th at 2022 European Championships
86 kg: David Taylor (State College, Pa./Nittany Lion WC/Titan Mercury WC) – SEMIFINALS
WIN Aron Caneva (Italy), 10-0
WIN Ethan Ramos (Puerto Rico), 11-0
vs. Azamat Dauletbekov (Kazakhstan), 2022 Asian champion, three-time age-group World medalist
125 kg: Hayden Zillmer (Minneapolis, Minn./Gopher WC RTC) – awaiting repechage
WIN Zyyamuhammet Saparov (Turkmenistan), 15-4
WIN Robert Baran (Poland), 3-2
LOSS Geno Petriashvili (Georgia), 9-4
Women's freestyle results (group 3)
59 kg: Abigail Nette (Colorado Springs, Colo./Army WCAP) – eliminated
LOSS Grace Bullen (Norway), 14-4
LOSS Erdenesuvd Bat Erdene (Mongolia), 4-0
Schedule (local time is 6 hours ahead of U.S. ET)
Thursday, Sept. 15
10:30 a.m. – Qualification rounds (MFS 70, 79, 86, 125 kg)
10:30 a.m. – Repechage (WFS 57, 59, 68, 72 kg)
4:45 p.m. – Semifinals (MFS 70, 79, 86, 125 kg)
6 p.m. – Finals (WFS 57, 59, 68, 72 kg)
Friday, Sept. 16
10:30 a.m. – Qualification rounds (MFS 57, 74, 92 kg)
10:30 a.m. – Repechage (MFS 70, 79, 86, 125 kg)
4:45 p.m. – Semifinals (MFS 57, 74, 92 kg)
6 p.m. – Finals (MFS 70, 79, 86, 125 kg)
Saturday, Sept. 17
10:30 a.m. – Qualification rounds (MFS 61, 65, 97 kg)
10:30 a.m. – Repechage (MFS 57, 74, 92 kg)
4:45 p.m. – Semifinals (MFS 61, 65, 97 kg)
6 p.m. – Finals (MFS 57, 74, 92 kg)
Sunday, Sept. 18
4:30 p.m. – Repechage (MFS 61, 65, 97 kg)
6 p.m. – Finals (MFS 61, 65, 97 kg)