News
USA Wrestling
International
USAW
U.S. men's freestyle receives draws for Senior World Championships, Sept. 15-18
by Taylor Gregorio, USA Wrestling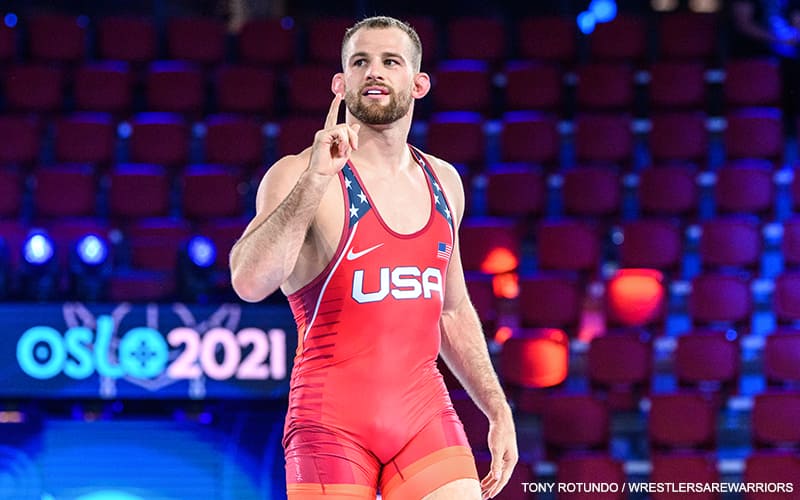 Photo of David Taylor by Tony Rotundo, WrestlersAreWarriors.com.
BELGRADE, Serbia – The U.S. men's freestyle team received its draws for the Senior World Championships in Belgrade, Serbia.
Men's freestyle action wraps up the 2022 World Championships for Sept. 15-18. Representing the USA on Thursday is Zain Retherford (70 kg), Jordan Burroughs (79 kg), David Taylor (86 kg) and Hayden Zillmer (125 kg).
Beginning their tournaments on Friday are Thomas Gilman (57 kg), Kyle Dake (74 kg) and J'den Cox (92 kg).
The final men's freestylers starting their tournaments on Saturday are Seth Gross (61 kg), Yianni Diakomihalis (65 kg) and Kyle Snyder (97 kg).
Wrestling begins at 10:30 a.m. local time (4:30 a.m. U.S. ET) each day. Fans can watch all the action live on FloWrestling and follow along on Twitter @USAWrestling.
Below are the draws for each U.S. men's freestyle as well as a detailed schedule. Complete brackets can be found on UWW's website.
SENIOR WORLD CHAMPIONSHIPS

Sept. 10-18, 2022 | Belgrade, Serbia
Men's freestyle draws
57 kg: Thomas Gilman (State College, Pa./Nittany Lion WC/Titan Mercury WC)

vs. Georgii Okorokov (Australia), gold at 2016 European Championships

-OR- Edwin Segura Guerra (Guatemala), fifth at 2021 Pan American Championships
61 kg: Seth Gross (Madison, Wisc./Badger RTC/Sunkist Kids WC)

vs. Andrii Dzhelep (Ukraine), gold at 2016 U17 Worlds, silver at 2019 U20 Worlds
65 kg: Yianni Diakomihalis (Rochester, N.Y./Spartan Combat RTC/Titan Mercury WC)

vs. Vazgen Tevanyan (Armenia), silver at 2021 U23 Worlds, bronze at 2018 U20 Worlds
70 kg: Zain Retherford (State College, Pa./Nittany Lion WC/Titan Mercury WC)

vs. Kevin Henkel (Germany), gold at 2022 Grand Prix of Spain
74 kg: Kyle Dake (Ithaca, N.Y./Spartan Combat RTC/Titan Mercury WC)

vs. Islambek Orozbekov (Kyrgyzstan), bronze at 2019, 2020 and 2021 Asian Championships
79 kg: Jordan Burroughs (Philadelphia, Pa./Pennsylvania RTC/Sunkist Kids)

vs. Sahergeldi Saparmyradov (Turkmenistan), eighth at 2019 Asian Championships
86 kg: David Taylor (State College, Pa./Nittany Lion WC/Titan Mercury WC)

vs. Aron Caneva (Italy), fourth at 2018 Mediterranean Games

-OR- Lars Schaefle (Germany), bronze at 2021 U23 Worlds
92 kg: J'den Cox (Ann Arbor, Mich./Michigan RTC/Titan Mercury WC)

vs. Johan Mostert (South Africa), fifth at 2019 African Championships

-OR- Yuxiang Bi (China), no international credentials
97 kg: Kyle Snyder (State College, Pa./Nittany Lion WC/Titan Mercury WC)

vs. Zbigniew Baranowski (Poland), silver at 2019 European Championships, bronze at 2022 European Championships
125 kg: Hayden Zillmer (Minneapolis, Minn./Gopher WC RTC)

vs. Zyyamuhammet Saparov (Turkmenistan), bronze at 2017 U17 Worlds, silver at 2022 Asian Championships
Schedule (local time is 6 hours ahead of U.S. ET)
Thursday, Sept. 15
10:30 a.m. – Qualification rounds (MFS 70, 79, 86, 125 kg)

10:30 a.m. – Repechage (WFS 57, 59, 68, 72 kg)

4:45 p.m. – Semifinals (MFS 70, 79, 86, 125 kg)

6 p.m. – Finals (WFS 57, 59, 68, 72 kg)
Friday, Sept. 16
10:30 a.m. – Qualification rounds (MFS 57, 74, 92 kg)

10:30 a.m. – Repechage (MFS 70, 79, 86, 125 kg)

4:45 p.m. – Semifinals (MFS 57, 74, 92 kg)

6 p.m. – Finals (MFS 70, 79, 86, 125 kg)
Saturday, Sept. 17
10:30 a.m. – Qualification rounds (MFS 61, 65, 97 kg)

10:30 a.m. – Repechage (MFS 57, 74, 92 kg)

4:45 p.m. – Semifinals (MFS 61, 65, 97 kg)

6 p.m. – Finals (MFS 57, 74, 92 kg)
Sunday, Sept. 18
4:30 p.m. – Repechage (MFS 61, 65, 97 kg)

6 p.m. – Finals (MFS 61, 65, 97 kg)