News
USA Wrestling
International
Women
USAW
Maroulis, Mensah Stock and Elor reach women's freestyle finals, Nette pulled into repechage at World Championships
by Gary Abbott, USA Wrestling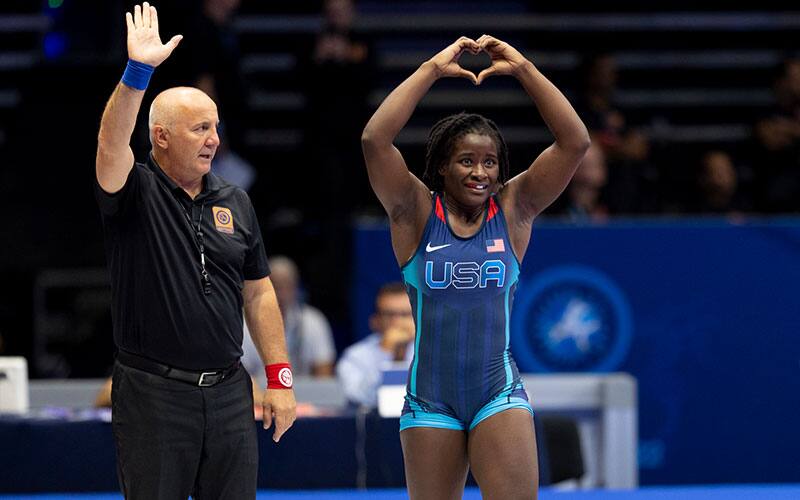 Tamyra Mensah Stock (USA) gives the heart sign after a win at the World Championships. Photo by Larry Slater.
BELGRADE, Serbia – The United States put three more wrestlers into the women's freestyle gold-medal finals on Thursday night after victories in the World Championships semifinals in Stark Arena on Wednesday evening.
Advancing to the finals from Group 2 are
Helen Maroulis
(57 kg),
Tamyra Mensah Stock
(68 kg) and
Amit Elor
(72 kg).
Maroulis faced 2021 World bronze medalist Davaachimeg Erkhembayar of Mongolia in the semifinals. Maroulis scored a takedown and added a point when Erkhembayar did not score on the shot clock to lead 3-0 at the break. In the second period, Erkhembayar got a point when Maroulis was unable to score on the shot clock. Maroulis took down Erkhembayar to her back for four points and finished the pin at 5:20.
In the finals, Maroulis will battle Tsugumi Sakurai of Japan, the 2021 World champion at 55 kg.
Maroulis, a 2016 Olympic champion and the first U.S. woman to win an Olympic wrestling gold medal, has won three previous World titles in 2015, 2017 and 2021.
Mensah Stock dominated Irina Ringaci of Moldova, the 2021 World champion at 65 kg, in the finals in a 10-0 technical fall. Mensah Stock opened with a double leg takedown to lead 2-0. She added another takedown and tacked on two turns to lead 8-0. Mensah Stock finished off the win with another double leg takedown.
Mensah Stock will face 2022 U20 World champion Ami Ishii of Japan in the gold-medal match.
Mensah Stock was a 2020 Olympic champion, a World champion in 2019 and a World bronze medalist in 2018.
Elor defeated 2021 World champion Masako Furuichi of Japan, 3-2 in a tactical match in the semifinals. Elor scored the first takedown when Furuichi tried a headlock, which Elor countered to lead 2-0. Early in the second period, Elor got her third point when Furuichi was put on the shot clock and did not score. Furuichi scored a takedown with 10 seconds left but could not turn Elor as time ran out.
Elor, competing in her first Senior Worlds, will battle 2021 World silver medalist Zhamila Bakbergenova of Kazakhstan in the finals.
Elor boasts four age-group World titles, a 2019 U17 Beach title, 2021 World titles at the U17 and U20 levels, and a 2022 U20 World gold medal.
Abigail Nette
was pulled back into repechage at 59 kg, when U23 World champion Grace Bullen of Norway defeated 2022 European silver medalist Jowita Wrzesien of Poland in the semifinals, 5-3. She will face Erdenesuvd Bat Erdene of Mongolia in the repechage round. If she wins her repechage, Nette will be in a bronze-medal bout against Wrzesien.
The women's freestyle Group 2 finals are set for 6:00 p.m. local time tonight. Dom Parrish will go for gold at 53 kg, while Americans in bronze medal bouts are Sarah Hildebrandt at 50 kg and Mallory Velte at 62 kg. Belgrade is six hours ahead of U.S. Eastern time. All of the action is live on
FloWrestling
. https://flosports.link/3HwrYxD
WORLD WRESTLING CHAMPIONSHIPS

At Belgrade, Serbia, September 14, 2022Women's Freestyle Finals pairings
57 kg - Tsugumi Sakurai (Japan) vs. Helen Maroulis (USA)
59 kg - Anastasia Nichita (Moldova) vs. Grace Bullen (Norway)
68 kg - Tamyra Mensah Stock (USA) vs. Ami Ishii (Japan)
72 kg - Zhamila Bakbergenova (Kazakhstan) vs. Amit Elor (USA)
Semifinal results
57 kg
Tsugumi Sakurai (Japan) tech. fall Zhala Aliyeva (Azerbaijan), 10-0
Helen Maroulis (USA) pin Davaachimeg Erkhembayar (Mongolia), 5:20
59 kg
Anastasia Nichita (Moldova) dec. Sakura Motoki (Japan), 7-5
Grace Bullen (Norway) dec. Jowita Wrzesien (Poland), 5-3
68 kg
Tamyra Mensah Stock (USA) tech. fall Irina Ringaci (Moldova), 10-0
Ami Ishii (Japan) dec. Nisha (India), 5-4
72 kg
Zhamila Bakbergenova (Kazakhstan) tech fall Alexandra Anghel (Romania), 12-2
Amit Elor (USA) dec. Masako Furuichi (Japan), 3-2
Women's freestyle results (group 3)
57 kg: Helen Maroulis (Tempe, Ariz./Sunkist Kids) – IN FINALS
WIN Emma Tissina (Kazakhstan), fall 0:17
WIN Anhelina Lysak (Poland), 10-0
WIN Davaachimeg Erkhembayar (Mongolia), pin 5:20
Gold Medal Match – Vs. Tsugumi Sakurai (Japan)
59 kg: Abigail Nette (Colorado Springs, Colo./Army WCAP) – IN REPECHAGE
LOSS Grace Bullen (Norway), 14-4
Repechage - Vs. Erdenesuvd Bat Erdene (Mongolia)
68 kg: Tamyra Mensah Stock (Colorado Springs, Colo./USOPTC/Titan Mercury WC) – IN FINALS
WIN Alla Belinska (Ukraine), fall 3:41
WIN Feng Zhou (China), tech fall 10-0
WIN Irina Ringaci (Moldova), tech fall 10-0
Gold Medal Match - Ami Ishii (Japan)