News
USA Wrestling
International
USAW
Hildebrandt and Parrish lock in semifinals bids, Velte seeks shot at repechage
by Taylor Gregorio, USA Wrestling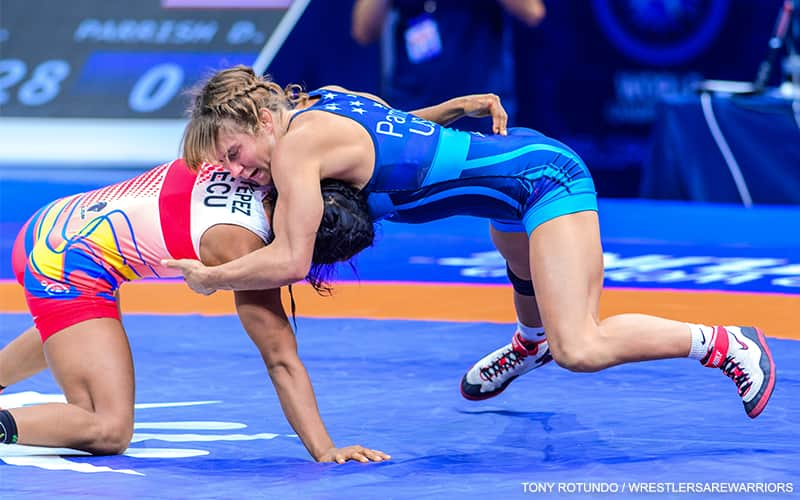 Photo of Dom Parrish by Tony Rotundo, WrestlersAreWarriors.com
BELGRADE, Serbia – Sarah Hildebrandt and Dominique Parrish combined to outscore their opponents 41-0 on Tuesday morning to cruise to their respective semifinals of the 2022 World Championships in Belgrade, Serbia.
Women's freestyle

Competing at 50 kg, Olympic bronze medalist and two-time World silver medalist Sarah Hildebrandt needed just 39 seconds to defeat Kamila Barbosa of Brazil with her lethal leg lace to open the tournament. In the quarterfinals, she put on a takedown clinic against 2018 World bronze medalist Oksana Livach of Ukraine for an 11-0 victory.
Tonight, Hildebrandt will face Otgonjargal Dolgorjav, a returning World bronze medalist from Mongolia.
In her Senior Worlds debut, Dom Parrish collected five takedowns for a 10-0 win against 2014 U20 World runner-up Mercedesz Denes of Hungary. Next, she rolled to a 10-0 victory with an effective leg lace over U23 World champion and fellow Pan Am competitor Lucia Yepez Guzman of Ecuador.
In the semifinals, Parrish will take on two-time World bronze medalist Maria Prevolaraki of Greece.
Returning to the World Championships for the first time since 2018, Mallory Velte went 1-1 in the morning session at 65 kg. Velte, a 2018 World bronze medalist, opened her tournament with a dominant 14-4 technical fall over 2019 U23 World silver medalist Perevsuren Ulziisaikhan of Mongolia. In the quarterfinals, Velte lost a competitive 2-0 battle to 2021 Senior World runner-up and 2019 U20 World champion Miwa Morikawa of Japan.
Morikawa must win tonight's semifinals to pull Velte into repechage.
Making her debut with Parrish was Dymond Guilford at 76 kg, who had a tight bout with three-time age-group World champion and U23 World silver medalist Yuka Kagami of Japan, ultimately losing 3-0. Kagami went on to drop her quarterfinal bout to Tokyo Olympic bronze medalist Yasemin Adar of Turkey, eliminating Guilford from the tournament.
Greco-Roman
At 60 kg, Ildar Hafizov, a Tokyo Olympian, wrestled USA's final Greco-Roman bout of the tournament, taking on 2019 U23 World fifth-place finisher Krisztian Kecskemeti of Hungary in 60 kg repechage. Kecskemeti's par terre offense helped him to a 9-0 win, eliminating Hafizov from the tournament.
Semifinals begins at 4:45 p.m. local time (10:45 a.m. ET) followed by medal matches at 6 p.m. (noon ET) live on FloWrestling. Follow along for live updates on Twitter @USAWrestling.
For more information on the 2022 Senior World Championships, visit USA Wrestling's Special Section.
SENIOR WORLD CHAMPIONSHIPS
Sept. 10-18, 2022 | Belgrade, Serbia

Women's freestyle results
50 kg: Sarah Hildebrandt (Colorado Springs, Colo./USOPTC/New York AC) – semifinals
WIN Kamila Barbosa Da Silva (Brazil), 10-0

WIN Oksana Livach (Ukraine), 11-0

vs. Otgonjargal Dolgorjav (Mongolia)
53 kg: Dominique Parrish (Tempe, Ariz./Sunkist Kids) – semifinals
WIN Mercedesz Denes (Hungary), 10-0

WIN Lucia Yepez Guzman (Ecuador), 10-0

vs. Maria Prevolaraki (Greece)
65 kg: Mallory Velte (Corvallis, Ore./Beaver Dam RTC/Titan Mercury WC) – awaiting repechage
WIN Perevsuren Ulziisaikhan (Mongolia), 14-4

LOSS Miwa Morikawa (Japan), 2-0
76 kg: Dymond Guilford (Colorado Springs, Colo./USOPTC/Titan Mercury WC) – eliminated
LOSS Yuka Kagami (Japan), 3-0
Greco-Roman results
60 kg: Ildar Hafizov (Colorado Springs, Colo./Army WCAP) – eliminated

WIN Ditcher Toro Castaneda (Colombia), 9-6

WIN Michal Tracz (Poland), 7-1

LOSS Zholaman Sharshenbekov (Kyrgyzstan), fall 0:45

LOSS Krisztian Kecskemeti (Hungary), 9-0
Schedule (local time is 6 hours ahead of U.S. ET)
Tuesday, Sept. 13
10:30 a.m. – Qualification rounds (WFS 50, 53, 65, 76 kg)
10:30 a.m. – Repechage (GR 60, 130 kg; WFS 55, 62 kg)
4:45 p.m. – Semifinals (WFS 50, 53, 65, 76 kg)
6 p.m. – Finals (GR 60, 130 kg; WFS 55, 62 kg)

Wednesday, Sept. 14
10:30 a.m. – Qualification rounds (WFS 57, 59, 68, 72 kg)
10:30 a.m. – Repechage (WFS 50, 53, 65, 76 kg)
4:45 p.m. – Semifinals (WFS 57, 59, 68, 72 kg)
6 p.m. – Finals (WFS 50, 53, 65, 76 kg)

Thursday, Sept. 15
10:30 a.m. – Qualification rounds (MFS 70, 79, 86, 125 kg)
10:30 a.m. – Repechage (WFS 57, 59, 68, 72 kg)
4:45 p.m. – Semifinals (MFS 70, 79, 86, 125 kg)
6 p.m. – Finals (WFS 57, 59, 68, 72 kg)

Friday, Sept. 16
10:30 a.m. – Qualification rounds (MFS 57, 74, 92 kg)
10:30 a.m. – Repechage (MFS 70, 79, 86, 125 kg)
4:45 p.m. – Semifinals (MFS 57, 74, 92 kg)
6 p.m. – Finals (MFS 70, 79, 86, 125 kg)

Saturday, Sept. 17
10:30 a.m. – Qualification rounds (MFS 61, 65, 97 kg)
10:30 a.m. – Repechage (MFS 57, 74, 92 kg)
4:45 p.m. – Semifinals (MFS 61, 65, 97 kg)
6 p.m. – Finals (MFS 57, 74, 92 kg)