News
USA Wrestling
International
USAW
Winchester and Miracle cruise to women's freestyle semifinals at World Championships in Serbia
by Taylor Gregorio, USA Wrestling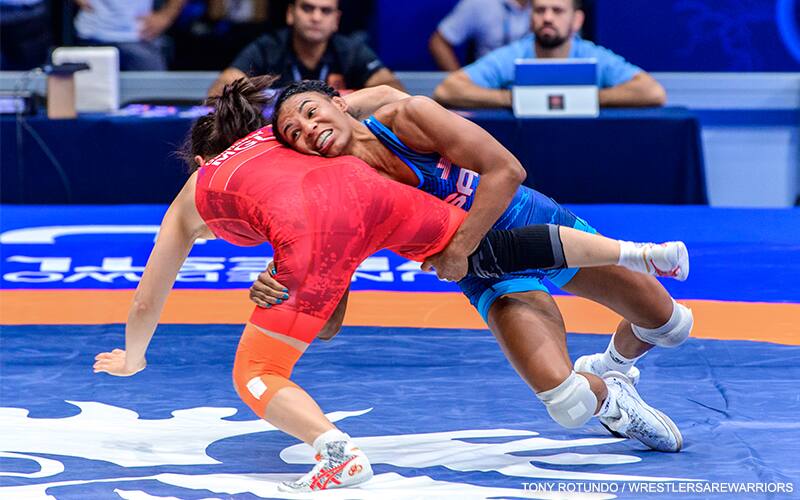 Photo of Jacarra Winchester by Tony Rotundo, WrestlersAreWarriors.com
BELGRADE, Serbia – The USA pushed both of its women's freestylers into the semifinals on the opening day of women's action at the 2022 World Championships in Belgrade, Serbia, on Monday. One Greco-Roman athlete seeks a repechage bid.
Women's freestyle
2019 World champion Jacarra Winchester and 2021 World silver medalist Kayla Miracle advanced to the semis at 55 kg and 62 kg, respectively.
At 55 kg, Winchester trailed on criteria late in her first match, but used double overhooks to score a four-pointer along with a step out for an 8-3 win over 2017 U23 World bronze medalist Otgonjargal Ganbaatar from Mongolia. In the quarterfinals, an early go-behind takedown propelled Winchester to an eventual 4-2 win over 2017 Senior World medalist Roksana Zasina of Poland.
In the semis, Winchester will take on Tokyo Olympic gold medalist Mayu Shidochi-Mukaida of Japan.
Competing at 62 kg, Miracle dominated her way into the quarters with a 17-6 technical fall over two-time Senior Asian champion Xiaojuan Luo of China, thanks to a pair of four-point takedowns. To secure her spot in the semis, Miracle put together a late rally for a 6-1 win against 2017 U23 World bronze medalist Tetiana Omelchenko of Azerbaijan.
In the semis, Miracle will face 2021 U23 World champion and this year's Pan Am champion Ana Godinez from Canada.
Greco-Roman
In his third World Championships for the USA, Ildar Hafizov turned in back-to-back resilient wins over 2021 Pan American champion Ditcher Toro Castaneda of Colombia, 9-6, and Michal Tracz of Poland, 7-1, to advance to the 60 kg quarterfinals. There, he faced two-time Senior World silver medalist Zholaman Sharshenbekov from Kyrgyzstan, who threw the American to his back for a fall in 45 seconds. Sharshenbekov must win tonight's semifinals to pull Hafizov into repechage.
U17 World champion and multiple-time U20 World medalist Cohlton Schultz grinded out a 1-1 win over 2021 U23 World silver medalist David Ovasapyan of Armenia to open his tournament at 130 kg. Schultz dropped his next bout to returning World bronze medalist Oskar Marvik of Norway, 5-0. Marvik eventually lost in the quarterfinals to Mantas Knystautas of Lithuania, eliminating Schultz from the tournament.
Semifinals begins at 4:45 p.m. local time (10:45 a.m. ET) followed by medal matches at 6 p.m. (noon ET) live on FloWrestling. Follow along for live updates on Twitter @USAWrestling.
For more information on the 2022 Senior World Championships, visit USA Wrestling's Special Section.
SENIOR WORLD CHAMPIONSHIPS

Sept. 10-18, 2022 | Belgrade, Serbia
Greco-Roman results
60 kg: Ildar Hafizov (Colorado Springs, Colo./Army WCAP) – awaiting repechage

WIN Ditcher Toro Castaneda (Colombia), 9-6

WIN Michal Tracz (Poland), 7-1

LOSS Zholaman Sharshenbekov (Kyrgyzstan), fall 0:45
130 kg: Cohlton Schultz (Parker, Colo./Sunkist Kids) – eliminated

WIN David Ovasapyan (Armenia), 1-1

LOSS Oskar Marvik (Norway), 5-0
Women's freestyle results

55 kg: Jacarra Winchester (Colorado Springs, Colo./USOPTC/Titan Mercury WC) – SEMIFINALS

WIN Otgonjargal Ganbaatar (Mongolia), 8-3

WIN Roksana Zasina (Poland), 4-2

vs. Mayu Shidochi Mukaida (Japan)
62 kg: Kayla Miracle (Tempe, Ariz./Sunkist Kids) – SEMIFINALS

WIN Xiaojuan Luo (China), 17-6

WIN Tetiana Omelchenko (Azerbaijan), 6-1

vs. Ana Godinez (Canada)
Schedule (local time is 6 hours ahead of U.S. ET)
Monday, Sept. 12
10:30 a.m. – Qualification rounds (GR 60, 130 kg; WFS 55, 62 kg)

10:30 a.m. – Repechage (GR 63, 67, 82, 97 kg)

4:45 p.m. – Semifinals (GR 60, 130 kg; WFS 55, 62 kg)

6 p.m. – Finals (GR 63, 67, 82, 97 kg)
Tuesday, Sept. 13
10:30 a.m. – Qualification rounds (WFS 50, 53, 65, 76 kg)

10:30 a.m. – Repechage (GR 60, 130 kg; WFS 55, 62 kg)

4:45 p.m. – Semifinals (WFS 50, 53, 65, 76 kg)

6 p.m. – Finals (GR 60, 130 kg; WFS 55, 62 kg)
Wednesday, Sept. 14
10:30 a.m. – Qualification rounds (WFS 57, 59, 68, 72 kg)

10:30 a.m. – Repechage (WFS 50, 53, 65, 76 kg)

4:45 p.m. – Semifinals (WFS 57, 59, 68, 72 kg)

6 p.m. – Finals (WFS 50, 53, 65, 76 kg)
Thursday, Sept. 15
10:30 a.m. – Qualification rounds (MFS 70, 79, 86, 125 kg)

10:30 a.m. – Repechage (WFS 57, 59, 68, 72 kg)

4:45 p.m. – Semifinals (MFS 70, 79, 86, 125 kg)

6 p.m. – Finals (WFS 57, 59, 68, 72 kg)
Friday, Sept. 16
10:30 a.m. – Qualification rounds (MFS 57, 74, 92 kg)

10:30 a.m. – Repechage (MFS 70, 79, 86, 125 kg)

4:45 p.m. – Semifinals (MFS 57, 74, 92 kg)

6 p.m. – Finals (MFS 70, 79, 86, 125 kg)
Saturday, Sept. 17
10:30 a.m. – Qualification rounds (MFS 61, 65, 97 kg)

10:30 a.m. – Repechage (MFS 57, 74, 92 kg)

4:45 p.m. – Semifinals (MFS 61, 65, 97 kg)

6 p.m. – Finals (MFS 57, 74, 92 kg)
Sunday, Sept. 18
4:30 p.m. – Repechage (MFS 61, 65, 97 kg)

6 p.m. – Finals (MFS 61, 65, 97 kg)