News
USA Wrestling
International
USAW
Serbia adds two more Greco-Roman golds to lead team race at Worlds; Aleksanyan wins fourth World title
by Gary Abbott, USA Wrestling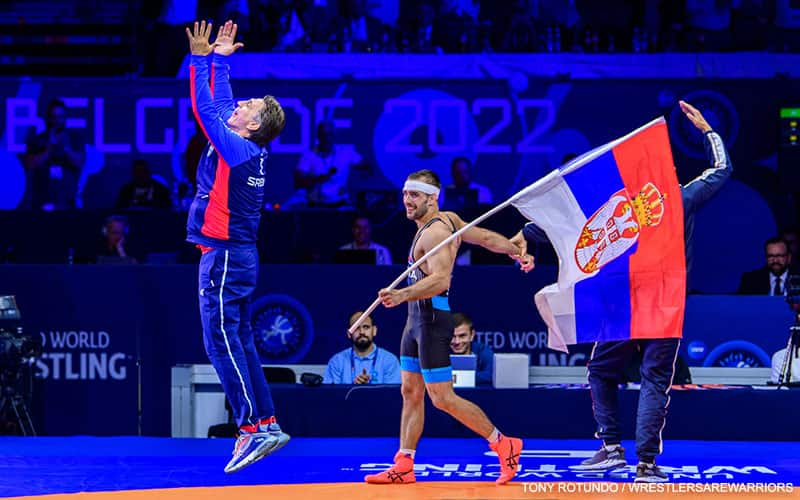 Serbian coach celebrates as World champion Mate Nemes carries the Serbian flag. Photo by Tony Rotundo, Wrestlers Are Warriors
.
BELGRADE, Serbia – Host Serbia continued its amazing run of success by adding two more World gold medalists on Monday to the two champions they crowned on Sunday, giving them four individual champions at the World Wrestling Championships at Stark Arena.
Claiming individual titles for Serbia tonight were Sebastian Nad (63 kg) and Mate Nemes (67 kg). Add them to World champions Ali Arsalan (72 kg) and Zurabi Datunashvili (87 kg) on Sunday. These four champions have helped Serbia take a lead in the team race by 10 points over Azerbaijan.
Winning a fourth World title, to go along with his 2016 Olympic gold medal, was Artur Aleksanyan of Armenia, who beat Kiril Milov of Bulgaria, 5-1 in the finals at 97 kg.
The other individual champion of the night was Burhan Akbudak of Turkey at 82 kg.
Braxton Amos placed 10th for the United States at 97 kg, earning two team points for the USA. The other U.S. placements in Group 2 were Alejandro Sancho (11th at 67 kg), Spencer Woods (22nd at 82 kg) and Sam Jones (23rd at 63 kg).
The Greco-Roman competition concludes Tuesday with the finals at 60 kg and 130 kg. All of the action is live on
FloWrestling
.
WORLD WRESTLING CHAMPIONSHIPS
At Belgrade, Serbia, September 11

Greco-Roman Group 2 Championship finals pairings
63 kg
Gold - Sebastian Nad (Serbia)
Silver - Leri Abuladze (Georgia)
Bronze - Taleh Mammadov (Azerbaijan)
Bronze - Erbatu Tuo (China)
5th - Hrachya Poghosyan (Armenia)
5th - dec. Ali Reza Nejati (Iran)
7th - Luis Alberto Orta Sanchez (Cuba)
8th - Victor Ciobanu (Moldova)
9th - Tynar Sharshenbekov (Kyrgyzstan)
10th - Razvan Arnaut (Romania)
Gold - Nad dec. Abuladze, 3-1
Bronze - Mammadov dec. Poghosyan, 10-4
Bronze - Tuo dec. Nejati, 4-1
67 kg
Gold - Mate Nemes (Serbia)
Silver - Mohammadreza Geraei (Iran)
Bronze - Amantur Ismailov (Kyrgyzstan)
Bronze - Hasrat Jafarov (Azerbaijan)
5th - Joni Khetsuriani (Georgia)
5th - dec. Murat Firat (Turkey)
7th - Mateusz Bernatek (Poland)
8th - Hansu Ryu (Korea)
9th - Husiyuetu (China)
10th - Parviz Nasibov (Ukraine)
Gold - Nemes dec. Geraei, 5-4
Bronze - Ismailov tech. fall Khetsuriani, 17-8
Bronze - Jafarov dec. Firat, 8-2
82 kg
Gold - Burhan Akbudak (Turkey)
Silver - Jalgasbay Berdimuratov (Uzbekistan)
Bronze - Yaroslav Flichakov (Ukraine)
Bronze - Tamas Levai (Hungary)
5th - Gela Bolkvadze (Georgia)
5th - Rafig Huseynov (Azerbaijan)
7th - Chengwu Wang (China)
8th - Roland Schwarz (Germany)
9th - Dias Kalen (Kazakhstan)
10th - Yuya Okajima (Japan)
Gold - Akbudak dec. Berdimuratov, 7-6
Bronze - Flichakov dec. Bolkvadze, 3-1
Bronze - Levai dec. Huseynov, 3-1
97 kg
Gold - Artur Aleksanyan (Armenia)
Silver - Kiril Milov (Bulgaria)
Bronze - Mohammadhadi Saravi (Iran)
Bronze - Arif Niftullayev (Azerbaijan)
5th - Metehan Basar (Turkey)
5th - Nikoloz Kakhelashvili (Italy)
7th - Rustam Assakalov (Uzbekistan)
8th - Giorgi Melia (Georgia)
9th - Beksultan Makhmudov (Kyrgyzstan)
10th - Braxton Amos (USA)
Gold - Aleksanyan dec. Milov, 5-1
Bronze - Saravi dec. Basar, 6-1
Bronze – Niftullayev dec. Kakhelashvili, 2-1
U.S. Greco-Roman Group 2 results
63 kg: Sam Jones (Rockford, Mich./New York AC), 23rd place
LOSS No. 7 Neeraj Neeraj (India), 4-0
67 kg: Alex Sancho (Colorado Springs, Colo./Army WCAP) – 11th place
WIN Norva Bukasa (Congo), 9-0
LOSS Parviz Nasibov (Ukraine), 5-0
82 kg: Spencer Woods (Colorado Springs, Colo./Army WCAP), 22nd place
LOSS Chengwu Wang (China), fall 4:01
97 kg: Braxton Amos (Mineral Wells, W.V./Badger RTC/Sunkist Kids), 10th place
WIN Vladlen Kozliuk (Ukraine), 12-6
LOSS Beksultan Makhmudov (Kyrgyzstan), 5-2
Top five teams after eight weight classes
1. Serbia, 110
2. Azerbaijan, 100
3. Turkey, 92
4. Georgia, 66
5. Iran, 61