News
USA Wrestling
International
USAW
U.S. Greco-Roman receives draws for Senior World Championships, Sept. 10-13
by Taylor Gregorio, USA Wrestling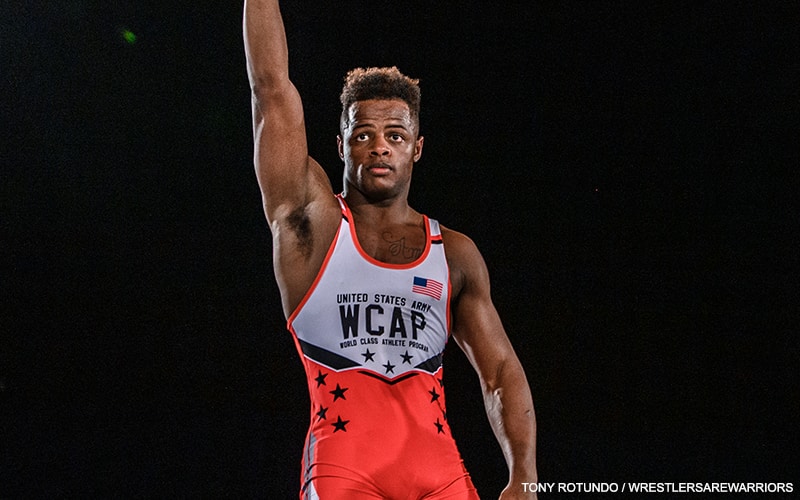 Photo of Kamal Bey by Tony Rotundo, WrestlersAreWarriors.com.
BELGRADE, Serbia – The U.S. Greco-Roman team received its draws for the Senior World Championships in Belgrade, Serbia.
Greco-Roman action kicks off the tournament Sept. 10-13. Representing the USA on Saturday is Max Nowry (55 kg), Benji Peak (72 kg), Kamal Bey (77 kg) and Alan Vera (87 kg).
Beginning their tournaments on Sunday is Sam Jones (63 kg), Alejandro Sancho (67 kg), Spencer Woods (82 kg) and Braxton Amos (97 kg).
The final two U.S. Greco-Roman athletes starting their tournaments on Monday are Ildar Hafizov (60 kg) and Cohlton Schultz (130 kg).
Wrestling begins at 10:30 a.m. local time (4:30 a.m. U.S. ET) each day. Fans can watch all the action live on FloWrestling and follow along on Twitter @USAWrestling.
Below are the draws for each U.S. Greco-Roman athlete as well as a detailed schedule. Complete brackets can be found on UWW's website.
SENIOR WORLD CHAMPIONSHIPS

Sept. 10-18, 2022 | Belgrade, Serbia
Greco-Roman draws
55 kg: No. 4 Max Nowry (Colorado Springs, Colo./Army WCAP)

vs. Arjun Halakurki (India), bronze at 2022 Asian Championships
60 kg: Ildar Hafizov (Colorado Springs, Colo./Army WCAP)

vs. Ditcher Toro Castaneda (Colombia), gold at 2021 Pan American Championships
63 kg: Sam Jones (Rockford, Mich./New York AC)

vs. No. 7 Neeraj Neeraj (India), bronze at 2022 Senior Asian Championships, gold at 2022 U23 Asian Championships
67 kg: Alex Sancho (Colorado Springs, Colo./Army WCAP)

vs. Norva Bukasa (Cote d'Ivoire), fifth at 2022 U20 Asian Championships
72 kg: Benji Peak (Marquette, Mich./MNU-OTS/Sunkist Kids)

vs. No. 8 Robert Fritsch (Hungary), silver at 2017 U23 World Championships, gold at 2022 European Championships
77 kg: Kamal Bey (Colorado Springs, Colo./Army WCAP)

vs. No. 4 Viktor Nemes (Serbia), gold at 2017 World Championships, bronze at 2018 World Championships
82 kg: Spencer Woods (Colorado Springs, Colo./Army WCAP)

vs. Chengwu Wang (China), silver at 2022 Ion Corneanu & Ladislau Simon Memorial
87 kg: Alan Vera (New York, N.Y./NYC RTC/New York AC)

vs. Haitao Qian (China), bronze at 2019 World Championships, bronze at 2019 Asian Championships
97 kg: Braxton Amos (Mineral Wells, W.V./Badger RTC/Sunkist Kids)

vs. Vladlen Kozliuk (Ukraine), bronze at 2022 European Championships, gold at 2017 U20 World Championships, gold at 2014 U17 World Championships
130 kg: Cohlton Schultz (Parker, Colo./Sunkist Kids)

vs. David Ovasapyan (Armenia), silver at 2021 U23 World Championships, bronze at 2019 U23 World Championships, silver at 2018 U20 World Championships
Schedule (local time is 6 hours ahead of U.S. ET)
Saturday, Sept. 10
10:30 a.m. – Qualification rounds (GR 55, 72, 77, 87 kg)

6 p.m. – Semifinals (GR 55, 72, 77, 87 kg)
Sunday, Sept. 11
10:30 a.m. – Qualification rounds (GR 63, 67, 82, 97 kg)

10:30 a.m. – Repechage (GR 55, 72, 77, 87 kg)

4 p.m. – Opening ceremony

4:45 p.m. – Semifinals (GR 63, 67, 82, 97 kg)

6 p.m. – Finals (GR 55, 72, 77, 87 kg)
Monday, Sept. 12
10:30 a.m. – Qualification rounds (GR 60, 130 kg; WFS 55, 62 kg)

10:30 a.m. – Repechage (GR 63, 67, 82, 97 kg)

4:45 p.m. – Semifinals (GR 60, 130 kg; WFS 55, 62 kg)

6 p.m. – Finals (GR 63, 67, 82, 97 kg)
Tuesday, Sept. 13
10:30 a.m. – Qualification rounds (WFS 50, 53, 65, 76 kg)

10:30 a.m. – Repechage (GR 60, 130 kg; WFS 55, 62 kg)

4:45 p.m. – Semifinals (WFS 50, 53, 65, 76 kg)

6 p.m. – Finals (GR 60, 130 kg; WFS 55, 62 kg)
Wednesday, Sept. 14
10:30 a.m. – Qualification rounds (WFS 57, 59, 68, 72 kg)

10:30 a.m. – Repechage (WFS 50, 53, 65, 76 kg)

4:45 p.m. – Semifinals (WFS 57, 59, 68, 72 kg)

6 p.m. – Finals (WFS 50, 53, 65, 76 kg)
Thursday, Sept. 15
10:30 a.m. – Qualification rounds (MFS 70, 79, 86, 125 kg)

10:30 a.m. – Repechage (WFS 57, 59, 68, 72 kg)

4:45 p.m. – Semifinals (MFS 70, 79, 86, 125 kg)

6 p.m. – Finals (WFS 57, 59, 68, 72 kg)
Friday, Sept. 16
10:30 a.m. – Qualification rounds (MFS 57, 74, 92 kg)

10:30 a.m. – Repechage (MFS 70, 79, 86, 125 kg)

4:45 p.m. – Semifinals (MFS 57, 74, 92 kg)

6 p.m. – Finals (MFS 70, 79, 86, 125 kg)
Saturday, Sept. 17
10:30 a.m. – Qualification rounds (MFS 61, 65, 97 kg)

10:30 a.m. – Repechage (MFS 57, 74, 92 kg)

4:45 p.m. – Semifinals (MFS 61, 65, 97 kg)

6 p.m. – Finals (MFS 57, 74, 92 kg)
Sunday, Sept. 18
4:30 p.m. – Repechage (MFS 61, 65, 97 kg)

6 p.m. – Finals (MFS 61, 65, 97 kg)