News
USA Wrestling
High School & Youth
Women
USAW
Boys and Girls champions crowned in youth divisions at 2022 Brian Keck Memorial Preseason Nationals
by Gary Abbott, USA Wrestling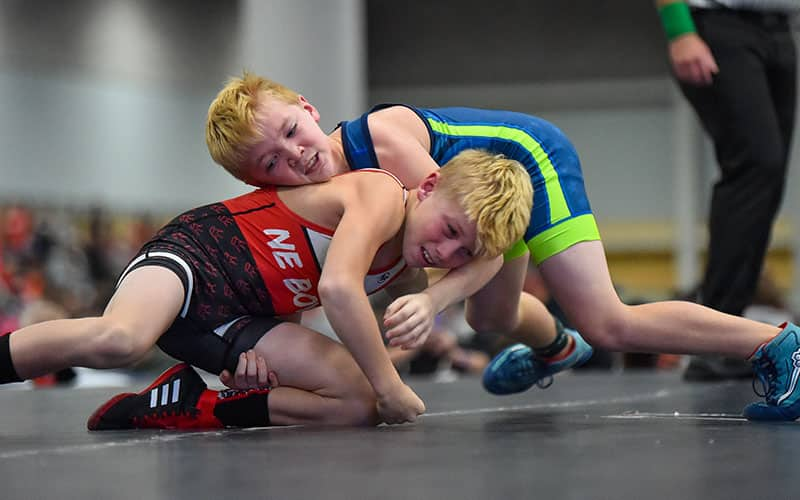 Kids wrestling action from the Brian Keck Memorial Preseason Nationals. Photo by Andy Hamilton, FloWrestling.
DES MOINES, Iowa – The final day of the 2022 Brian Keck Memorial Preseason Nationals concluded on Sunday with competition in a variety of youth age divisions for both boys and girls.
Boys competition in Grades 7-8, Grades 5-6, Grades 3-4 and Grades 1-2, as well as Girls competition in Grades 6-8, Grades 3-5 and Grades 1-2 were completed on Sunday at Hyvee Hall at the Iowa Events Center.
With record numbers of entries, the level of competition was outstanding in all of the age levels.

BRIAN KECK MEMORIAL PRESEASON NATIONALS
At Des Moines, Iowa, October 30

7th & 8th Boys
71
1st Place Match - Collin Bagdonas (OH) won in tie breaker - 1 over Connor Bagdonas (OH) (TB-1 3-1)
3rd Place Match - Breckin Wittenburg (IA) won by fall over Ryan Fuenffinger (MN) (Fall 0:23)
5th Place Match - Carter Pryor (MO) won by decision over Jacob Blankenship (NE) (Dec 4-0)
7th Place Match - Cash Vanderwerff (WI) won by decision over Keyen Koochel (KS) (Dec 3-2)
77
1st Place Match - Chase Karenbauer (PA) won by decision over Alex Huddleston (IN) (Dec 1-0)
3rd Place Match - Cruz Gannon (IA) won by decision over Ty Martin (IA) (Dec 1-0)
5th Place Match - William Alves (MT) won by decision over Jackson Thorn (MN) (Dec 8-2)
7th Place Match - Cash Bratt (OK) won by major decision over Brodey Lewis (WI) (Maj 11-0)
83
1st Place Match - Landon Thoennes (MN) won by decision over Ethan Humphrey (IA) (Dec 4-2)
3rd Place Match - Greysen Packer (ID) won by decision over Flynn Arnestad (VA) (Dec 6-1)
5th Place Match - Kaden Potter (IL) won by decision over Chase Watkinson (IA) (Dec 7-1)
7th Place Match - Hailey Delgado (TX) won by decision over Cooper Smith (KS) (Dec 3-0)
87
1st Place Match - Cason Craft (OK) won by decision over Jax Fuhrman (PA) (Dec 6-0)
3rd Place Match - Coy Mehlert (IA) won by decision over Cole Lemovitz (CT) (Dec 6-1)
5th Place Match - Maxwell Bradley (OK) won by decision over Kellen Downing (MT) (Dec 9-4)
7th Place Match - Dylan Williamson (IA) won in sudden victory - 1 over Barret Speck (IL) (SV-1 3-1)
92
1st Place Match - Conner Whitely (OH) won by fall over Pierce Hurd (SD) (Fall 3:15)
3rd Place Match - Allen Woo (IL) won in sudden victory - 1 over Trusten Lee Douglas (OK) (SV-1 2-0)
5th Place Match - Gage Bjerga (MN) won by decision over Camden Rugg (WI) (Dec 3-0)
7th Place Match - Cole Caniglia (NE) won by fall over Cache Williams (OK) (Fall 1:29)
97
1st Place Match - Gavin Landers (IA) won by decision over Mac Crosson (IA) (Dec 2-1)
3rd Place Match - Gage Lohr (SD) won by decision over Van Smith (OK) (Dec 4-0)
5th Place Match - Kamdyn Borrero (PA) won by decision over Bradley Lazzerini (OK) (Dec 3-0)
7th Place Match - Calvin Rathjen (IA) won by decision over Maddux Tindal (TX) (Dec 4-2)
102
1st Place Match - Rocco Cassioppi (IL) won by tech fall over Mathew Prine (IA) (TF 18-3)
3rd Place Match - Ben Ziola (NE) won by decision over Isaac Wignall (IA) (Dec 4-2)
5th Place Match - Royce Malone (IN) won by decision over Chazz Robinson (IL) (Dec 4-0)
7th Place Match - Justin Williamson (IN) won by decision over Aiden Jalajel (OK) (Dec 6-2)
106
1st Place Match - Bruno Cassioppi (IL) won by decision over Zack Samano (CA) (Dec 6-5)
3rd Place Match - Aiden Garcia (CA) won by decision over Brady Harper (IN) (Dec 5-0)
5th Place Match - Matthew Tran (IA) won by decision over Gage Spurgeon (IA) (Dec 7-1)
7th Place Match - Aiden Mincey (MN) won by fall over Kieran Akerson (NE) (Fall 2:34)
110
1st Place Match - Dawson Youngblut (IA) won by decision over Grey Burnett (OH) (Dec 6-1)
3rd Place Match - Jake Mescher (ID) won by decision over Brodye Kocher-Munoz (KS) (Dec 2-0)
5th Place Match - Brady Slicker (PA) won by forfeit over Carson Neubert (WI) (FF)
7th Place Match - Landon Rosenthal (NE) won by decision over Marcus Killgore (AZ) (Dec 9-2)
114
1st Place Match - Jovani Solis (FL) won by decision over Colin Rutlin (MO) (Dec 5-2)
3rd Place Match - Jet Brown (MO) won by decision over Adrian Phetxoumphone (IA) (Dec 1-0)
5th Place Match - Gavin Green (PA) won by fall over Levi Dicksion (OK) (Fall 2:28)
7th Place Match - Carter Cajthaml (IA) won by decision over Olin Neuville (WI) (Dec 0-0)
119
1st Place Match - Cayden Rios (TX) won by decision over Kamden Hooper (MO) (Dec 3-1)
3rd Place Match - Conner Giedd (SD) won by fall over Myles Sanchez (NE) (Fall 2:25)
5th Place Match - Jake Kos (MN) won in sudden victory - 1 over Emerson Tjaden (KS) (SV-1 4-2)
7th Place Match - Daniel Blanke (IL) won by decision over Zane Engels (MN) (Dec 4-2)
125
1st Place Match - Cade Aaberg (WI) won by fall over Lake Waters (MO) (Fall 0:21)
3rd Place Match - Maximus Dhabolt (IA) won by fall over Sean Breedlove (IN) (Fall 0:50)
5th Place Match - James Anderson (OK) won by decision over Ryder Crawford (MT) (Dec 3-2)
7th Place Match - Roman Stewart (MO) won by decision over Landen McDowell (MO) (Dec 5-3)
130
1st Place Match - Xavier Chavez (AZ) won by fall over Elijah Blewitt (IA) (Fall 3:42)
3rd Place Match - Ryan Gavrish (NJ) won by decision over Brody Warrick (IA) (Dec 7-0)
5th Place Match - Angelo Vargo (IN) won by decision over Carter Birdyshaw (WI) (Dec 2-0)
7th Place Match - Samuel Mosier (IN) won in sudden victory - 1 over Jack Mulnix (WI) (SV-1 6-4)
136
1st Place Match - Knox Verbais (IL) won by decision over Ethan Christoffer (IA) (Dec 5-0)
3rd Place Match - Augustus Smith (AR) won by decision over Duane Leslie (ID) (Dec 5-1)
5th Place Match - Matthew Staples (IN) won by decision over Parker Casey (IA) (Dec 4-2)
7th Place Match - Dayton Fitzgibbon (WA) won by decision over Gage Grandel (NE) (Dec 1-0)
149
1st Place Match - Jimmy Mastny (IL) won by fall over Ronan An (GA) (Fall 3:52)
3rd Place Match - Benjamin James (OH) won by decision over Byson Huber (TX) (Dec 2-1)
5th Place Match - Luke Hayden (MO) won by fall over Nolan Kriegel (IA) (Fall 0:51)
7th Place Match - Noah Howk-Erwin (IA) won in the ultimate tie breaker over Reed Wilson (MO) (UTB 6-4)
165
1st Place Match - Beau Waldron (MO) won in sudden victory - 1 over Carter Brown (MO) (SV-1 4-2)
3rd Place Match - Carter Temple (MO) won by decision over Eli Maier (WI) (Dec 6-2)
5th Place Match - Theron Davis (OK) won by decision over Joe Constable (IA) (Dec 2-0)
7th Place Match - Tyler Ruff (MN) won by decision over Easton Beyer (IA) (Dec 6-2)
187
1st Place Match - Broedy Collins Hendricks (IA) won by decision over Cole Dunlavy (SD) (Dec 7-5)
3rd Place Match - Owen Johnson (MN) won by fall over Aaron Dunigan Jr. (WI) (Fall 2:37)
5th Place Match - Roman Fraser (TX) won by fall over Alessio Cisneros (NM) (Fall 0:30)
7th Place Match - Alexander Burns (AZ) won by decision over Kellen Fellure (IN) (Dec 6-0)
250
1st Place - Preston Krueger of WI
2nd Place - Leland Day of CO
3rd Place - Brody Lidbury of IL
Preston Krueger (WI) won by fall over Leland Day (CO) (Fall 1:35)
Preston Krueger (WI) won by fall over Brody Lidbury (IL) (Fall 1:21)
Leland Day (CO) won by fall over Brody Lidbury (IL) (Fall 1:38)
6th - 8th Girls
72
1st Place - Abigail Peterson of IA
2nd Place - Kylee Ooton of OK
3rd Place - Piper Phillips of IA
Abigail Peterson (IA) won by decision over Kylee Ooton (OK) (Dec 4-0)
Kylee Ooton (OK) won by major decision over Piper Phillips (IA) (Maj 8-0)
Abigail Peterson (IA) won by fall over Piper Phillips (IA) (Fall 0:26)
79
1st Place - Remy Whitney of OK
2nd Place - Zolah Williams of MO
3rd Place - Easton Dadiomoff of TN
4th Place - Teagan Turk of WI
Remy Whitney (OK) won by decision over Teagan Turk (WI) (Dec 10-5)
Zolah Williams (MO) won by major decision over Easton Dadiomoff (TN) (Maj 9-0)
Remy Whitney (OK) won by decision over Easton Dadiomoff (TN) (Dec 2-0)
Zolah Williams (MO) won by decision over Teagan Turk (WI) (Dec 15-8)
Remy Whitney (OK) won by decision over Zolah Williams (MO) (Dec 5-0)
Easton Dadiomoff (TN) won by fall over Teagan Turk (WI) (Fall 0:37)
85
1st Place Match - Hailey Delgado (TX) won by decision over Ryleigh Sturgill (TN) (Dec 5-0)
3rd Place Match - Kassie Sapp (MI) won by major decision over Cora Stewart (WI) (Maj 13-1)
5th Place Match - Mckenzy Mason (MO) won by fall over Aspen Walker (KS) (Fall 1:34)
7th Place Match - Faith Gladfelter (PA) received a bye () (Bye)
92
1st Place Match - Rain Scott (IL) won by decision over Dilynn Albrecht (WI) (Dec 4-0)
3rd Place Match - Libertie Nigh (OH) won by decision over Erica Irvine (IA) (Dec 5-0)
5th Place Match - Violet Diaz (IA) won by decision over Adela Didovic (MN) (Dec 6-0)
7th Place Match - Remington Zimmerer (CO) won by decision over Kaison Miller (KS) (Dec 4-1)
97
1st Place Match - Camryn Gresham (OH) won by fall over Abigail Gonzalez (FL) (Fall 0:36)
3rd Place Match - Tatianna Castillo (MI) won by fall over Mia Anderson (NE) (Fall 0:58)
5th Place Match - Zoe Delgado (FL) won by decision over Finley Evjen (SD) (Dec 6-2)
7th Place - Lilli Cooper (IA)
101
1st Place Match - Epenesa Elison (CA) won by fall over Kaydence Golding (ND) (Fall 3:25)
3rd Place Match - Sarissa Tucker (VA) won by fall over Abigail Gindele (MN) (Fall 0:16)
5th Place Match - Chloe Ross (RI) won by fall over Addison Bunch (OK) (Fall 2:00)
7th Place Match - Kali Hartnett (IA) won by fall over Kylie Smith (TX) (Fall 2:49)
105
1st Place - Kennedy Unrue of PA
2nd Place - Mara Vanderpool of NE
3rd Place - Myla Woolridge of MO
4th Place - Stella Piazza of IL
5th Place - Capri Johnson of SD
Kennedy Unrue (PA) won in sudden victory - 1 over Stella Piazza (IL) (SV-1 8-6)
Capri Johnson (SD) won by decision over Myla Woolridge (MO) (Dec 7-1)
Mara Vanderpool (NE) won by fall over Myla Woolridge (MO) (Fall 1:34)
Stella Piazza (IL) won by fall over Capri Johnson (SD) (Fall 3:33)
Mara Vanderpool (NE) won by fall over Capri Johnson (SD) (Fall 0:27)
Kennedy Unrue (PA) won by tech fall over Myla Woolridge (MO) (TF 16-1)
Kennedy Unrue (PA) won by fall over Mara Vanderpool (NE) (Fall 3:14)
Myla Woolridge (MO) won by fall over Stella Piazza (IL) (Fall 1:36)
Mara Vanderpool (NE) won by fall over Stella Piazza (IL) (Fall 1:49)
Kennedy Unrue (PA) won by fall over Capri Johnson (SD) (Fall 0:40)
110
1st Place Match - Malia Ottow (WA) won by decision over Aniz Ramirez (TX) (Dec 4-0)
3rd Place Match - Emily Beckley (OK) won by decision over Analia Urias (TX) (Dec 3-0)
5th Place Match - Isabella Mares (CO) won by decision over Marisa Iturrino (TX) (Dec 8-2)
7th Place Match - Trinity Butler (MO) won by fall over Kate Krause (IA) (Fall 1:54)
119
1st Place Match - Kaylyn Harrill (NE) won by decision over Emma Antoni (MN) (Dec 4-0)
3rd Place Match - Riley Hanrahan (WI) won by decision over Camille Schult (IA) (Dec 5-2)
5th Place Match - Daniella Apodaca (CO) won by decision over Sayben Owen (OK) (Dec 5-4)
7th Place Match - Kelley Enterline (PA) won by decision over Saphira Olsen (IA) (Dec 5-0)
127
1st Place Match - Hayden Bratland (IA) won by decision over Avaeh Smith (IA) (Dec 10-3)
3rd Place Match - Amari Y` Ana Richard (WI) won by fall over Parker Martinez (OK) (Fall 2:54)
5th Place Match - Millie Bradley (OK) won by fall over Caritina Vega (OK) (Fall 1:13)
7th Place Match - Iliana Villagrana (TX) won by fall over Emalee Poore (NE) (Fall 1:54)
136
1st Place Match - Isabella Ndinga Mbappe (OH) won by decision over Rylee Dearwester (OH) (Dec 8-4)
3rd Place Match - Carli Vargas (MO) won by fall over Kylee Wicklund (WA) (Fall 1:51)
5th Place Match - Caylin Johnson (WI) won by fall over Isabella Huber (AZ) (Fall 0:27)
145
1st Place - Aliah Fischer of MN
2nd Place - Makayla Liska of IA
3rd Place - Aislin Barnett of OK
4th Place - Tessa Felter of WI
Aliah Fischer (MN) won by decision over Makayla Liska (IA) (Dec 4-2)
Aislin Barnett (OK) won by fall over Tessa Felter (WI) (Fall 2:02)
Aliah Fischer (MN) won by fall over Tessa Felter (WI) (Fall 3:31)
Makayla Liska (IA) won by fall over Aislin Barnett (OK) (Fall 2:18)
Aliah Fischer (MN) won by decision over Aislin Barnett (OK) (Dec 4-0)
Makayla Liska (IA) won by fall over Tessa Felter (WI) (Fall 2:00)

Boys 5th & 6th
58
1st Place Match - Joel Alves (MT) won by major decision over Cole Train Vanderwerff (WI) (Maj 12-1)
3rd Place Match - Axton Wittenburg (IA) won by fall over Miller Williams (AZ) (Fall 0:42)
5th Place Match - Kameron Cushman (IA) won in sudden victory - 1 over Tyton Ray (OK) (SV-1 3-0)
7th Place Match - Sophia Valdez (CO) won by fall over Kolton Delebreau (WI) (Fall 0:16)
63
1st Place Match - Ethan Spatz (NE) won in sudden victory - 1 over Jett Foster (MN) (SV-1 10-8)
3rd Place Match - Max Lindquist (MO) won by decision over William ``Conner`` Craig (OK) (Dec 6-1)
5th Place Match - Nathan Nelson (MN) won by fall over Keian Linnell (UT) (Fall 2:46)
7th Place Match - Knox Ayala (IA) won by decision over Colton Benwell (MO) (Dec 2-0)
67
1st Place Match - Johnathan Thompson (IA) won by decision over Cameron Ramp (IL) (Dec 9-2)
3rd Place Match - Carter Noonan (IL) won by decision over Nathan Hoopman (MN) (Dec 3-0)
5th Place Match - Grayson Schroeder (MN) won by decision over Esaias Koethe (IA) (Dec 4-2)
7th Place Match - Elijah Pagonis (OK) won by decision over Wyler Allen (OK) (Dec 8-4)
70
1st Place Match - Brody Compau (MI) won in sudden victory - 1 over Noah Thomas (IL) (SV-1 5-3)
3rd Place Match - Wesley Janick (IL) won by decision over Lincoln Schulz (MN) (Dec 4-0)
5th Place Match - Parker Wingen (SD) won by fall over Cooper Saine (GA) (Fall 0:22)
7th Place Match - Kole Nelson (MN) won by decision over Logan Gass (IA) (Dec 4-2)
74
1st Place Match - Owen Parish (MN) won by major decision over Jackson Smith (OK) (Maj 10-2)
3rd Place Match - Keilan Yang (WI) won by decision over Hogan Rice (IL) (Dec 1-0)
5th Place Match - Alexander Hall (MO) won by fall over Camden Runnels (AR) (Fall 0:54)
7th Place Match - Leonydes Peraza (FL) won by decision over Kellen Eva (NV) (Dec 6-2)
78
1st Place Match - Joey Cady (MN) won by decision over Beau Abbott (GA) (Dec 4-0)
3rd Place Match - Kagan Painter (PA) won by decision over Case Freeman (IA) (Dec 6-2)
5th Place Match - Liam Jennett (IA) won by decision over Isaiah Neitzel (WI) (Dec 7-1)
7th Place Match - Jeffrey Dunaway (IL) won by decision over Fernando Jimeno (TX) (Dec 3-1)
82
1st Place Match - Cohen Reer (OH) won by decision over Aj Woerpel (WI) (Dec 9-2)
3rd Place Match - Gabriel Ryzyi (MI) won by fall over Michael Newton (RI) (Fall 2:54)
5th Place Match - Kash Koopmans (IA) won by decision over Jett Kline (OK) (Dec 1-0)
7th Place Match - Adonis Washington (IL) won in sudden victory - 1 over Mick Dobbs (AK) (SV-1 6-4)
86
1st Place Match - Cain Crosson (IA) won by major decision over Avery Rios (OK) (Maj 9-1)
3rd Place Match - Elijah Castanon (FL) won by decision over Levi Halbert (NE) (Dec 5-0)
5th Place Match - Garrett Bjerga (MN) won by decision over Dominic Scully (MN) (Dec 7-0)
7th Place Match - Taber McBurney (KS) won by fall over Corbyn Weiss (WI) (Fall 2:14)
92
1st Place Match - Blake Nevils (AR) won by fall over Vinny Ferrari (TX) (Fall 1:24)
3rd Place Match - Julian (Gullien) Holguin (CA) won in sudden victory - 1 over Cruz Enderle (MO) (SV-1 4-2)
5th Place Match - Jeremiah Hayes (IL) won by decision over Maximus Pearch (IL) (Dec 7-0)
7th Place Match - Drake Arnold (NE) won by decision over Dylan Parker (NV) (Dec 6-3)
98
1st Place Match - Maddox Fields (OK) won by decision over Caden Woodall (AZ) (Dec 3-0)
3rd Place Match - Shane Ostermiller (AK) won by decision over Lucas Barrios (FL) (Dec 7-4)
5th Place Match - Adam Carey (IA) won by fall over Eli Berry (OK) (Fall 2:46)
7th Place Match - Jacob Penzkover (WI) won by major decision over Jacob Sutphin (IL) (Maj 13-5)
108
1st Place Match - Jerin Coles (CAN) won by decision over Cayden Neisen (MN) (Dec 9-3)
3rd Place Match - Zeke Ranvek (MN) won by decision over Nolan Seman (MN) (Dec 2-0)
5th Place Match - Aiden Robideaux (OK) won by fall over Ricky Titus (IA) (Fall 2:57)
7th Place Match - Logan Woodbury (IL) won by decision over Owen Kuehl (MN) (Dec 6-2)
117
1st Place Match - Ryan Moore (OH) won by decision over Elijah Gulley (KS) (Dec 4-0)
3rd Place Match - Liam Crandall (WI) won by fall over David A. Burchett (CO) (Fall 2:57)
5th Place Match - Rosco Lewis (OK) won by decision over Keon Callies (MN) (Dec 4-0)
7th Place Match - Landon Komperda (CO) won by decision over Jason Heiser (WI) (Dec 6-0)
135
1st Place Match - Elias Motta (MN) won by fall over Maximo Xolo (WI) (Fall 1:42)
3rd Place Match - Jacob Phelps (WI) won by decision over Burkley Collison (NE) (Dec 5-2)
5th Place Match - Trig Johnson (SD) won by decision over Grant Penney (OH) (Dec 4-0)
160
1st Place - Kade Splinter of WI
2nd Place - Rhodes Molenda of OK
3rd Place - Michael Ramirez of IA
4th Place - Malachi Anderson of SD
5th Place - Lance Jennings of OH
Rhodes Molenda (OK) won by fall over Lance Jennings (OH) (Fall 0:35)
Michael Ramirez (IA) won by fall over Malachi Anderson (SD) (Fall 2:04)
Kade Splinter (WI) won by fall over Michael Ramirez (IA) (Fall 2:18)
Rhodes Molenda (OK) won by fall over Malachi Anderson (SD) (Fall 0:53)
Kade Splinter (WI) won by fall over Malachi Anderson (SD) (Fall 0:33)
Michael Ramirez (IA) won by fall over Lance Jennings (OH) (Fall 0:21)
Kade Splinter (WI) won by fall over Lance Jennings (OH) (Fall 0:23)
Rhodes Molenda (OK) won by fall over Michael Ramirez (IA) (Fall 2:14)
Kade Splinter (WI) won by major decision over Rhodes Molenda (OK) (Maj 17-3)
Malachi Anderson (SD) won by fall over Lance Jennings (OH) (Fall 0:57)
3rd - 5th Girls
47-49
1st Place - Kinsley Kothenbeutel of MN
2nd Place - Kona Hughes of IA
Kinsley Kothenbeutel (MN) won by decision over Kona Hughes (IA) (Dec 3-2)
Kinsley Kothenbeutel (MN) won by decision over Kona Hughes (IA) (Dec 2-0)
54-59
1st Place Match - Alaina Williams (MN) won by fall over Leah Hatfield (IA) (Fall 2:30)
3rd Place Match - Gwen Gross (WI) won by fall over Mila Sebolt (IA) (Fall 1:42)
5th Place Match - Kayleigh Vest (IL) won by fall over Hanna Lollis (OK) (Fall 1:29)
7th Place Match - Delaney Hardy (NE) won by forfeit over Justine Smith (AR) (FF)
59-65
1st Place Match - Jasmine Buck (AZ) won by decision over Jaelyn Anderson (NE) (Dec 10-5)
3rd Place Match - Adriana Ragona (IL) won by fall over Everly Himanga (SD) (Fall 0:30)
5th Place Match - Paityn McCann (OK) won by fall over Kenley Berglund (WI) (Fall 0:28)
7th Place - Zadie Helmrich (IA)
67-73
1st Place Match - Mya Guyette (WI) won by decision over Kinsley Rife (MO) (Dec 2-0)
3rd Place Match - Bryher Horton (IA) won by decision over Gjoa Rowe (IA) (Dec 6-0)
5th Place Match - Bailey Baird (KS) won by fall over Payten Jagodzinski (WI) (Fall 0:14)
7th Place Match - Piper Weaver (MO) won by fall over Emery Soukup (MN) (Fall 0:31)
79-85
1st Place Match - Carleigh Clark (OK) won by decision over Jasmine Anderson (IA) (Dec 5-0)
3rd Place Match - Maya Rodriguez (AZ) won by fall over Ava Rife (MO) (Fall 0:45)
5th Place Match - Brielle Kuschel (MN) won by decision over Chloe Caton (SD) (Dec 4-2)
7th Place Match - Harper Kalo (MI) received a bye () (Bye)
84-92
1st Place Match - Adriana Kunz (MN) won by fall over Hailey Goth (MN) (Fall 2:52)
3rd Place Match - Ariana Schacht (WI) won by fall over Zainab Albadri (MO) (Fall 1:55)
5th Place Match - Blayke McDaniel (MO) won by fall over Maggie Martinez (OK) (Fall 2:35)
7th Place - Addyson Bass (IA)
97-111
1st Place - KiMorah Cathey of OK
2nd Place - Melissa Gallo of FL
3rd Place - Kenzie Hairston of MO
4th Place - Giuliana Stinson of MO
KiMorah Cathey (OK) won by fall over Giuliana Stinson (MO) (Fall 0:17)
Melissa Gallo (FL) won by fall over Kenzie Hairston (MO) (Fall 0:53)
KiMorah Cathey (OK) won by fall over Kenzie Hairston (MO) (Fall 1:21)
Melissa Gallo (FL) won by fall over Giuliana Stinson (MO) (Fall 0:08)
KiMorah Cathey (OK) won by decision over Melissa Gallo (FL) (Dec 7-3)
Kenzie Hairston (MO) won by decision over Giuliana Stinson (MO) (Dec 6-0)
Boys 3rd & 4th
49
1st Place Match - Wiley Derby (MN) won by decision over Louis Taylor (IA) (Dec 7-2)
3rd Place Match - John Reimer (WI) won by fall over Chasen Roman (MO) (Fall 1:58)
5th Place Match - Nolan Gatt (GA) won by decision over Kona Hughes (IA) (Dec 4-0)
7th Place Match - Immanuel Morales (IL) won by decision over Colton Copstead (IL) (Dec 9-5)
53
1st Place Match - Jacob Graber (MN) won by fall over Dominik Chavez (AZ) (Fall 0:54)
3rd Place Match - Lane McClintock (IA) won by major decision over Bennett Dawson (OK) (Maj 11-3)
5th Place Match - Kasyn Smith (IA) won by decision over Camden Batton (MN) (Dec 5-0)
7th Place Match - Landon Walker (GA) won by decision over Charles Benwell (MO) (Dec 2-1)
56
1st Place Match - Billy Roberts (MO) won by decision over Channing Bowman (OK) (Dec 4-2)
3rd Place Match - Luke Taussig (KS) won by decision over Adam Husk Jr. (WI) (Dec 6-0)
5th Place Match - Tyler Valimont Jr. (PA) won by decision over Bowen Freisberg (KS) (Dec 10-4)
7th Place Match - Jase Mauck (IA) won by decision over Colton Stephens (PA) (Dec 4-1)
59
1st Place Match - Beckett Moyer (IA) won by decision over Kai Hughes (NE) (Dec 4-0)
3rd Place Match - Landon Edwards (MO) won by decision over Ian Weber (WI) (Dec 9-2)
5th Place Match - Noah Porter (IA) won by decision over Tate Johnson (KS) (Dec 4-2)
7th Place Match - Braxton Irvine (IA) won by medical forfeit over Easton Schut (MN) (MFF)
63
1st Place Match - Cameron Rodgers (MN) won by fall over Kasen Karl (MO) (Fall 1:35)
3rd Place Match - Hunter Marx (SD) won by decision over Carter Matthias (NE) (Dec 1-0)
5th Place Match - Kaden Williamson (IA) won by decision over Julien Mejia (OK) (Dec 4-1)
7th Place Match - Jackson Hermann (KS) won by fall over Urijah Ayala (IA) (Fall 1:46)
67
1st Place Match - Jake Wehner (NJ) won by tech fall over Aidyn Bryant (MO) (TF 15-0)
3rd Place Match - Kolt Palmer (AL) won in sudden victory - 1 over Hayes Daniel (AR) (SV-1 8-6)
5th Place Match - Logan Pigott (IA) won by fall over Fletcher Headley (MO) (Fall 1:44)
7th Place Match - Cal Satterstrom (MN) won by decision over Kalon Lindquist (MN) (Dec 5-0)
71
1st Place Match - Cayden Mango (MO) won by decision over Owen Taylor (KS) (Dec 1-0)
3rd Place Match - Jett Allen (IA) won by decision over Logan Oakes (IA) (Dec 6-2)
5th Place Match - Dylan Ingalls (SD) won by decision over Gavin Marx (SD) (Dec 4-0)
7th Place Match - Hank Droessler (WI) won in sudden victory - 1 over Elias Nielsen (MN) (SV-1 6-4)
77
1st Place Match - Kellan Spisok (IL) won by fall over Jayce Leclaire (WI) (Fall 2:33)
3rd Place Match - Aiden Dalie (WI) won by decision over Mason Rivera (KS) (Dec 4-0)
5th Place Match - Gunnar Helwig (WI) won by decision over Blake Goucher (OK) (Dec 9-8)
7th Place Match - Cael Combs (IA) won in sudden victory - 1 over Keynu Neiswender (MO) (SV-1 4-1)
84
1st Place Match - Bode Bratsburg (NE) won by decision over Kamdyn Smith (OK) (Dec 4-0)
3rd Place Match - Eli Anderson (SD) won by decision over Beckhem Fields (OK) (Dec 3-0)
5th Place Match - Jackson Spielman (MN) won by decision over Lincoln Goodrich (MN) (Dec 5-3)
7th Place Match - Declan Jones (WA) won in sudden victory - 1 over Liam Lane (IL) (SV-1 6-4)
93
1st Place Match - Jaxon Petersen (NE) won by fall over William Zapf (IL) (Fall 0:47)
3rd Place Match - Slayden Hunt (OK) won by decision over Hawk Smith (MO) (Dec 6-5)
5th Place Match - Brecken Grav (SD) won by fall over Stone Helmrichs (IA) (Fall 2:48)
7th Place Match - Landon Schulte (MO) won by fall over Henry Haut (IA) (Fall 1:11)
105
1st Place Match - Isaiah Engels (MN) won by fall over JaMarcus Siemens (OK) (Fall 0:41)
3rd Place Match - Bentley Reddick-Keehn (KS) won by decision over Asher Ward (SD) (Dec 5-4)
5th Place Match - Amos Jirak (IA) won by decision over Jayvyn Allami (OK) (Dec 9-2)
7th Place Match - Lowden Bass (IA) won by decision over Maddox Glew (IA) (Dec 4-0)
120
1st Place - Zaiden Yates of IA
2nd Place - Ethan Lilienthal of IA
Ethan Lilienthal (IA) won by fall over Zaiden Yates (IA) (Fall 1:29)
Zaiden Yates (IA) won by decision over Ethan Lilienthal (IA) (Dec 2-0)
Zaiden Yates (IA) won by decision over Ethan Lilienthal (IA) (Dec 4-0)
Girls 1st & 2nd
41-43
1st Place - Madilyn McHawes of IA
2nd Place - Sawyer Phillips of IA
3rd Place - Graceanne Gross of WI
4th Place - Lola Roe of MO
Madilyn McHawes (IA) won by fall over Graceanne Gross (WI) (Fall 0:37)
Sawyer Phillips (IA) won by fall over Lola Roe (MO) (Fall 1:14)
Sawyer Phillips (IA) won by fall over Graceanne Gross (WI) (Fall 0:51)
Madilyn McHawes (IA) won by fall over Lola Roe (MO) (Fall 0:39)
Graceanne Gross (WI) won by fall over Lola Roe (MO) (Fall 0:20)
Madilyn McHawes (IA) won by fall over Sawyer Phillips (IA) (Fall 2:36)
44-48
1st Place - Hailey Lollis of OK
2nd Place - Adalyn Albavera of IL
3rd Place - Jade Book of IA
Hailey Lollis (OK) won by fall over Adalyn Albavera (IL) (Fall 1:20)
Adalyn Albavera (IL) won by fall over Jade Book (IA) (Fall 0:24)
Hailey Lollis (OK) won by forfeit over Jade Book (IA) (FF)
52-56
1st Place - Sadie Sweat of MT
2nd Place - Ellie Schmadeke of IA
3rd Place - Alivia Emms of MN
Sadie Sweat (MT) won by fall over Ellie Schmadeke (IA) (Fall 0:43)
Sadie Sweat (MT) won by fall over Alivia Emms (MN) (Fall 0:51)
Ellie Schmadeke (IA) won by fall over Alivia Emms (MN) (Fall 2:52)
58-60
1st Place - Luci Tiankee of NJ
2nd Place - Olive Burrows of IA
Luci Tiankee (NJ) won by decision over Olive Burrows (IA) (Dec 7-0)
Luci Tiankee (NJ) won by decision over Olive Burrows (IA) (Dec 7-3)
Boys 1st & 2nd
43
1st Place Match - Liam Miller (IA) won by fall over Kyan Keys (NE) (Fall 0:55)
3rd Place Match - Braxson Bas (KS) won by fall over Cohen Groh-Schroeder (WI) (Fall 1:41)
5th Place Match - Naji Toomey (IA) won by fall over Josiah Dadiomoff (TN) (Fall 1:34)
7th Place Match - Leo Ruiz (IA) won by fall over Edward Simmons (MN) (Fall 1:30)
45
1st Place Match - Montagne Melstrand (WI) won by fall over Liam Gatt (GA) (Fall 1:39)
3rd Place Match - Asher Wilbur (LA) won by fall over Kaison Perkins (MN) (Fall 1:32)
5th Place Match - Mason Miller (IA) won by fall over Lane Bruss (NE) (Fall 1:30)
7th Place Match - Zaiden Jones (MN) won by fall over Jaxon Burke (MO) (Fall 0:18)
49
1st Place Match - Landyn Schadt (IA) won by decision over Ren Tse (MO) (Dec 6-0)
3rd Place Match - Kai Moc (FL) won by decision over Levi McCombs (IA) (Dec 2-0)
5th Place Match - Easton Werner (WI) won by medical forfeit over Crew Mohler (IA) (MFF)
7th Place Match - Owen Slinker (IA) won by decision over Lincoln Gutierrez (IA) (Dec 6-4)
53
1st Place Match - Jaxon Liffrig (MN) won by fall over Drake Cooreman (MN) (Fall 0:55)
3rd Place Match - Nash Jirele (MN) won by decision over Colt Gass (IA) (Dec 8-4)
5th Place Match - Chev Addyman (MN) won by fall over Brody Owens (KS) (Fall 0:49)
7th Place Match - Sadie Sweat (MT) won by decision over Theodore Swedberg (IA) (Dec 7-0)
56
1st Place Match - Kaiden Galindez (MI) won by tech fall over Adis Didovic (MN) (TF 21-5)
3rd Place Match - Boaz Diaz (IA) won by decision over Robert Gibbs (GA) (Dec 5-0)
5th Place Match - Nolan Bender (MN) won by decision over Zayden Ayala (IA) (Dec 5-4)
7th Place Match - Jack Lange (IA) won by decision over Oliver Umlauf (SD) (Dec 10-7)
62
1st Place Match - Luke Nelson (SD) won by decision over Dawson Gassen (SD) (Dec 7-0)
3rd Place Match - Rodolfo Jose Cabrera (FL) won by decision over Brooks Maddix (IA) (Dec 10-4)
5th Place Match - Nico Distasio (IL) won by decision over Henry Pharis (SD) (Dec 6-1)
7th Place Match - Andrew Hole (WI) won by fall over Luci Tiankee (NJ) (Fall 1:52)
70
1st Place Match - Michael Dudak III (IN) won by decision over Creo Davis (IA) (Dec 6-4)
3rd Place Match - Everett Murtha (IA) won by fall over Rogan Hunter (OK) (Fall 1:25)
5th Place Match - Vincent Englese (IL) won by fall over Tobias Solinger (IA) (Fall 0:50)
7th Place Match - Jace Matson (MN) won by decision over Bane Harjo (IA) (Dec 4-0)
85
1st Place - Caiden Deaguero-Scott of CO
2nd Place - Nolan Grund of MN
3rd Place - Oscar Pederson of MN
4th Place - Ryker Soukup of MN
Nolan Grund (MN) won by decision over Ryker Soukup (MN) (Dec 6-2)
Caiden Deaguero-Scott (CO) won by fall over Oscar Pederson (MN) (Fall 2:44)
Caiden Deaguero-Scott (CO) won by fall over Ryker Soukup (MN) (Fall 0:59)
Nolan Grund (MN) won by major decision over Oscar Pederson (MN) (Maj 10-0)
Oscar Pederson (MN) won by decision over Ryker Soukup (MN) (Dec 5-4)
Caiden Deaguero-Scott (CO) won by fall over Nolan Grund (MN) (Fall 2:51)