News
USA Wrestling
High School & Youth
Women
USAW
Cassioppi repeats as Brian Keck Preseason Nationals girls high school champion, as 12 ranked wrestlers win titles
by Gary Abbott, USA Wrestling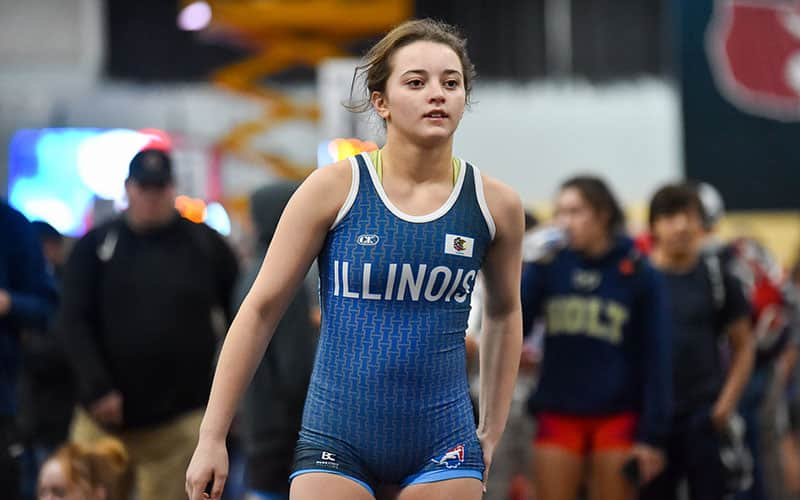 Angelina Cassioppi (IL) at the 2022 Brian Keck Memorial Preseason Nationals. Photo by Andy Hamilton, FloWrestling.
DES MOINES, Iowa – Many of the nation's top high school girls were on display at the Brian Keck Memorial Preseason Nationals in the Grade 9-12 girls division on Sunday.
The tournament was loaded with nationally ranked wrestlers, with at least one ranked wrestler in every finals bout, with eight weight classes featuring both finalists with rankings. This event will have an impact on the next National Girls High School Rankings.
In a battle of returning champions, No. 6
Angelina Cassioppi
of Illinois stopped No. 14 Angelina Vargas of Missouri, 10-3. Cassioppi was dominant on her feet, scoring a takedown in each of the three periods. Cassioppi also scored third-period back points. Last year, Cassioppi was the champion at 100 pounds, while Vargas won this event at 112 pounds.
At 144 pounds, No. 9
Delise E Villa
of California defeated returning champion and No. 12 AshLynn Goodwin of Kansas, 11-5. The match was tied 2-2 going into the third period. Villa scored back points while on top, then the match was decided on the feet. Villa scored a clutch counter takedown, and scored four points on a hip toss in the closing seconds to secure the win.
No. 27
Caley Graber
of Minnesota finished off a strong tournament with a first-period pin over No. 12 Katey Valdez of Colorado. Graber scored the first takedown, locked up a bar and a half nelson, and turned Valdez for the pin. Graber dominated her opponents, including a big win over No. 2 Valarie Solorio of Pennsylvania.
At 106 pounds, No. 11
Reanah Utterback
scored a second-period pin over No. 10 Chloe Dearwester of Ohio. After a scoreless first period, Utterback got an escape to lead 1-0. During a scramble, Dearwester attempted to step over, but Utterback powered her to her back and secured the fall.
In an all-California finals,
Alexandra Waitsman
came from behind to defeat No. 15 Presley Anderson, 6-5 at 117 pounds. Anderson led 4-0 in the first period, with a takedown and back points. Waitsman came back strong, with a second period takedown. In the third period, Waitsman scored a reversal, cut Anderson, then secured a winning dump takedown for the one-point win.
Claiming the title at 122 pounds was No. 13
Carissa Qureshi
of California, who pinned all five of her opponents. Qureshi pinned No. 7 Carley Ceshker of Wisconsin in the finals. After a scoreless first period, Qureshi was on top in the second period. She scored two points on a tilt, then ran a bar arm to turn and pin Ceshker.
No. 25
Taylor Colangelo
of Arizona defeated Cassandra Gonzales of Minnesota, 3-0 in the finals at 127 pounds. Colangelo scored the only takedown of the bout in the first period. Gonzales rode Colangelo the entire second period and most of the third period, cutting Colangelo late in the period. Gonzales could not score as time ran out.
In a close battle at 132, No. 4
Lauren Walton
of Kentucky scored a reversal late in the third period to edge No. 16 Kylie Rule of Wisconsin. With no first period takedown, Rule chose neutral and got a takedown, with Walton answering with a reversal to tie it at 2-2. Walton got her winning reversal with 35 seconds to go.
No. 2 ranked
Valerie Hamilton
of Illinois secured a second period pin over No. 19 Olivia Messerly of Kentucky at 138 pounds. Hamilton led 7-0 when she ran a bar arm and put Messerly to her back, finishing off the fall. Hamilton was a U17 World silver medalist this past summer.
Another pin came at 152 pounds, when No. 5
Eduarda Rodrigues
of California scored a second period fall over No. 7 Genevieve An of Georgia. Rodrigues led 6-0 on two takedowns and a turn, then ran a half nelson to secure the pin.
No. 7
Naomi Simon
of Iowa turned No. 18 Cali Dupree of Missouri twice with a cradle, and cruised to a 10-1 victory in the finals at 164 pounds.
No. 16
Faith Macharia
of Texas needed a sudden victory overtime counter takedown to edge Brooke Huffman of Wisconsin in the 180-pound finals. Macharia led 6-1 early, but Huffman battled back to tie the bout in the third period.
No. 5
Zoe Adam
of South Dakota was taken down to start the 200-pound match, but she scored a reversal then secured a first-period pin over Ella Brown of Iowa at 200 pounds.
Scoring the only two takedowns of the match,
Lillianna Garcia
of Michigan was in control in her 7-1 victory over No. 24 Chloe Hoselton of Illinois at 225 pounds.
BRIAN KECK MEMORIAL PRESEASON NATIONALS
At Des Moines, Iowa, October 30

Girls Grade 9-12 results
100
1st Place Match – No. 27 Caley Graber (MN) won by fall over No. 12 Katey Valdez (CO) (Fall 1:16)
3rd Place Match – No. 2 Valarie Solorio (FL) won by decision over Madison Nieuwenhuis (MI) (Dec 8-3)
5th Place Match – No. 21 Abbeygael Cabuag (CA) won by fall over No. 19 Riley Banyas (OH) (Fall 2:41)
7th Place Match – No. 15 Isabella Bocanegra (AZ) won by decision over Grace Romans (TX) (Dec 8-2)
106
1st Place Match – No. 11 Reanah Utterback (IA) won by fall over No. 10 Chloe Dearwester (OH) (Fall 3:03)
3rd Place Match - Kaura Coles (CAN) won by fall over Talea Nichols (ID) (Fall 4:47)
5th Place Match - Nathalie Erazo (CA) won by decision over Hannah Lopez (OK) (Dec 9-2)
7th Place Match - Layla Phillips (IA) won by fall over Mileena Notaro (NE) (Fall 1:59)
112
1st Place Match – No. 6 Angelina Cassioppi (IL) won by decision over No. 14 Angelina Vargas (MO) (Dec 10-3)
3rd Place Match – No. 18 Alexsys Jacquez (CO) won by fall over No. 24 Alexis Hanks (TX) (Fall 4:50)
5th Place Match – No. 30 Akeelah Moore (TX) won by major decision over Amaya Hinojosa (CO) (Maj 9-0)
7th Place Match - Alena Williams (AR) won by decision over Miyah R. Palacios (AZ) (Dec 7-1)
117
1st Place Match - Alexandra Waitsman (CA) won by decision over No. 15 Presley Anderson (CA) (Dec 6-5)
3rd Place Match - Samantha Sachs (CA) won by decision over Adyson Lundquist (IA) (Dec 4-0)
5th Place Match - Aubrie Pehrson (NE) won by forfeit over Reagan Riddick (NC) (FF)
7th Place Match - Isabella Downing (MT) won by decision over Kyla Johnson (IN) (Dec 7-5)
122
1st Place Match – No. 13 Carissa Qureshi (CA) won by fall over No. 7 Carley Ceshker (WI) (Fall 3:34)
3rd Place Match – No. 23 Alyssa Ruiz (TX) won by fall over No. 10 Rose Kaplan (IN) (Fall 2:16)
5th Place Match – No. 18 Karianne Baldwin (WA) won in sudden victory - 1 over Lilyana Balderas (CA) (SV-1 6-4)
7th Place Match - Hannah Rogers (IA) won by fall over Madisen Petersen (NE) (Fall 0:40)
127
1st Place Match – No. 25 Taylor Colangelo (AZ) won by decision over Cassandra Gonzales (MN) (Dec 3-0)
3rd Place Match - Emily Pedro (TX) won by major decision over No. 23 Dealya Collins (WI) (Maj 14-5)
5th Place Match – No. 9 Bayley Trang (TX) won by decision over No. 13 Regan Rosseter (NE) (Dec 12-5)
7th Place Match - Lilliana Banks (WI) won by decision over Britny Morales (CA) (Dec 3-1)
132
1st Place Match – No. 4 Lauren Walton (KY) won by decision over No. 16 Kylie Rule (WI) (Dec 4-2)
3rd Place Match – No. 24 Addison Messerly (KY) won by decision over No. 14 Brenya Crahan (MO) (Dec 5-0)
5th Place Match - Chloe Sanders (IA) won by decision over No. 23 Marissa Sanabria (MO) (Dec 5-3)
7th Place Match - Kayden Sipp (NE) won by decision over Ashlan Thompson (MO) (Dec 9-8)
138
1st Place Match – No. 2 Valerie Hamilton (IL) won by fall over No. 19 Olivia Messerly (KY) (Fall 3:33)
3rd Place Match - Zoey Barber (NE) won by fall over Elena Gutierrez (TX) (Fall 1:56)
5th Place Match – No. 20 Sofia Delgado (FL) won by decision over Olivia Davis (CA) (Dec 5-3)
7th Place Match - Faith James (MO) won by major decision over Socorro Rodriguez (MO) (Maj 16-4)
144
1st Place Match – No. 9 Delise E Villa (CA) won by decision over No. 12 AshLynn Goodwin (KS) (Dec 11-5)
3rd Place Match – No. 30 Presley Givens (AR) won by decision over Moorea Brown (IA) (Dec 4-3)
5th Place Match - Anna Vogt (TX) won by medical forfeit over Addeline Graser (NE) (MFF)
7th Place Match - Chloe LaRue (WI) won by fall over Kyleigh James (IA) (Fall 1:53)
152
1st Place Match – No. 5 Eduarda Rodrigues (CA) won by fall over No. 7 Genevieve An (GA) (Fall 3:38)
3rd Place Match – No. 17 Brynn Green (MI) won in sudden victory - 1 over Chloe Harris (KS) (SV-1 8-6)
5th Place Match - Breanna Wier (WI) won by fall over EliBeth Cervantes (WA) (Fall 2:25)
7th Place Match - No. 20 Lexi Ritchie (IL) won by forfeit over Azana King (TX) (FF)
164
1st Place Match – No. 7 Naomi Simon (IA) won by major decision over No. 18 Cali Dupree (MO) (Maj 10-1)
3rd Place Match – No. 20 Sidney Milligan (OK) won by medical forfeit over No. 24 Millie Azlin (OK) (MFF)
5th Place Match – No. 10 Kaylee Ricketts (NE) won by major decision over Sophia Bassino (WI) (Maj 15-4)
7th Place Match - Alicia Tucker (IL) won by fall over No. 11 Alyssa Favara (PA) (Fall 2:20)
180
1st Place Match – No. 16 Faith Macharia (TX) won in sudden victory - 1 over Brooke Huffman (WI) (SV-1 8-6)
3rd Place Match - Kendra Johnston (KY) won by decision over Emma Thomas (TX) (Dec 6-2)
5th Place Match – No. 20 Mackenzie Konanz (IN) won by fall over No. 26 AvaLyn Mosconi (IN) (Fall 1:52)
7th Place Match - Makayla Vasser (NE) won by fall over Olivia Fischer (TX) (Fall 3:22)
200
1st Place Match – No. 5 Zoe Adam (SD) won by fall over Ella Brown (IA) (Fall 1:42)
3rd Place Match - Abigail Fonseca (TX) won by decision over No. 18 Maggie Smith (WY) (Dec 4-1)
5th Place Match - Dayla Brown (TX) won by fall over Madison Hazeltine (IN) (Fall 2:10)
7th Place Match - Giuliana Reed (IN) won by fall over Taryn Boehmer (IA) (Fall 1:22)
225
1st Place Match - Lillianna Garcia (MI) won by decision over No. 24 Chloe Hoselton (IL) (Dec 7-1)
3rd Place Match - Tiffany Curry (TX) won by fall over Amaya McLaren (NE) (Fall 4:53)
5th Place Match - Alexis Stinson (MO) won by medical forfeit over Caitlyn Sohm (NE) (MFF)
7th Place - Ashlyn Naylor (TX)