News
USA Wrestling
International
High School & Youth
USAW
USA set for U15 Pan American Championships in Colombia, Nov. 4-6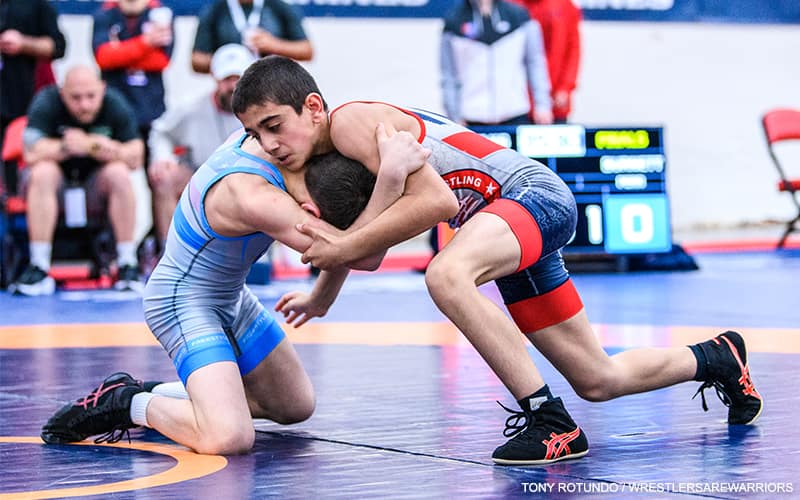 Photo of Henry Aslikyan by Tony Rotundo, WrestlersAreWarriors.com.
USA Wrestling is sending 20 athletes to compete at the U15 Pan American Championships in Medellin, Colombia, Nov. 4-6.
Fans can watch all the action live on FloWrestling.
The team was formed based upon the results of the 2022 U15 Pan American Team Trials, held in Boys Town, Neb., in August.
The boys who qualified for the U.S. U15 Pan American team will compete in both Greco-Roman and men's freestyle. The team members were determined by the highest point value of both styles combined from the Trials as set in the U15 Pan American Team Selection procedures.
Boys who won both styles at the U15 Pan American Team Trials include Henry Aslikyan (44 kg), Josiah Boyden (52 kg), Thomas Verrette (57 kg), Mikel Uyemura (68 kg), Terrell McFarland (75 kg) and Dreshaun Ross (85 kg).
The other boys who made the team are Liam Collins (38 kg), Jensen Boyd (41 kg), Lincoln Sledzianowski (48 kg) and Blue Stiffler (62 kg).
All nine of the girls who won titles at the U15 Pan American Team Trials will make the trip to Colombia. They include Brynn Engel (33 kg), Jaclyn Bouzakis (39 kg), Morgan Turner (42 kg), Ysabelle Ocampo (46 kg), Jayden Keller (50 kg), Isabella Marie Gonzales (54 kg), Taina Fernandez (58 kg), Isis France (62 kg) and Skylar Slade (66 kg).
There were no entries at 39 kg women's freestyle weight class at the U15 Pan American Team Trials. The champion at 36 kg, Bouzakis, decided to move up and represent at 39 kg. Francesca Gusfa, who placed second behind Bouzakis at the U15 Nationals at 36 kg, was offered the team berth and accepted.
2022 U15 PAN AMERICAN CHAMPIONSHIPS

Medellin, Colombia | Nov. 4-6
U.S. Greco-Roman and men's freestyle roster
38 kg: Liam Collins (Savage, Minn.)

41 kg: Jensen Boyd (Muncie, Indiana)

44 kg: Henry Aslikyan (Panorama City, Calif.)

48 kg: Lincoln Sledzianowski (Naples, Fla.)

52 kg: Josiah Boyden (Grovetown, Ga.)

57 kg: Thomas Verrette (Lakewood, Colo.)

62 kg: Blue Stiffler (Braselton, Ga.)

68 kg: Mikel Uyemura (San Gabriel, Calif.)

75 kg: Terrell McFarland (Pottsville, Pa.)

85 kg: Dreshaun Ross (Fort Dodge, Iowa)
Coach – Danny Struck (Jeffersonville, Ind.)

Coach – Joe Uccellini (Troy, N.Y.)
Team leader – Christina Hargrove (Colorado Springs, Colo.)

Medical – Ciara Dargahi (Denver, Colo.)

Referee – Edgar Carrasco (Fontana, Calif.)
U.S. women's freestyle roster
33 kg: Brynn Engel (Genoa City, Wis.)

36 kg: Francesca Gusfa (Ridgewood, N.J.)

39 kg: Jaclyn Bouzakis (Shavertown, Pa.)

42 kg: Morgan Turner (Lockport, Ill.)

46 kg: Ysabelle Ocampo (New Haven, Ind.)

50 kg: Jayden Keller (Saint Catharine, Mo.)

54 kg: Isabella Marie Gonzales (Fresno, Calif.)

58 kg: Taina Fernandez (Bowie, Md.)

62 kg: Isis France (Glendale, Ariz.)

66 kg: Skylar Slade (Altoona, Iowa)
Coach – Brazel Marquez (Reading, Pa.)
Team leader – Christina Hargrove (Colorado Springs, Colo.)

Medical – Ciara Dargahi (Denver, Colo.)

Referee – Edgar Carrasco (Fontana, Calif.)
Schedule
Friday, Nov. 4
10 a.m. – Qualification rounds (Greco-Roman)

4:30 p.m. – Opening Ceremony

5 p.m. – Medal matches
Saturday, Nov. 5
10 a.m. – Qualification rounds (women's freestyle)

5 p.m. – Medal matches
Sunday, Nov. 6
10 a.m. – Qualification rounds (men's freestyle)

5 p.m. – Medal matches