News
USA Wrestling
High School & Youth
Women
USAW
61 ranked athletes in loaded Girls Grades 9-12 field at Brian Keck Preseason Nationals this year
by Gary Abbott, USA Wrestling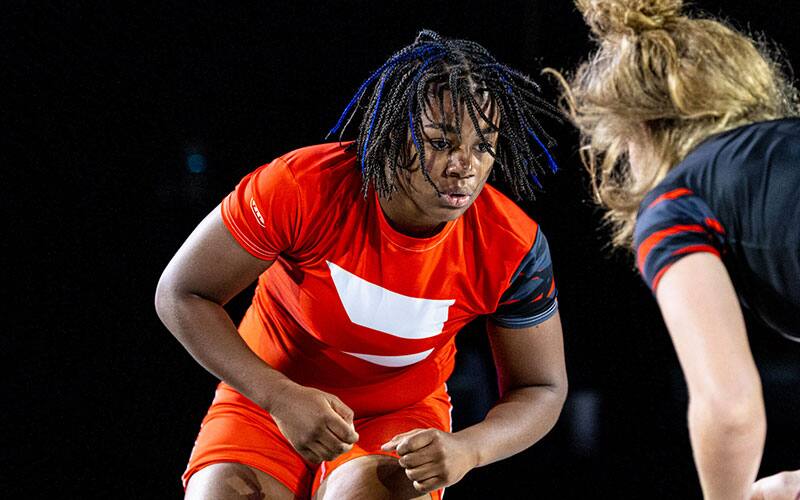 No. 1 ranked Janida Garcia competing at Who's Number One. Photo by Sam Janicki
The Girls Grade 9-12 field for the 2022 Brian Keck Memorial Preseason Nationals is extremely talented, with 61 nationally ranked high school athletes in the pre-registration. The competition will be held on Sunday, October 30.
Among the nationally ranked athletes entered are No. 1 ranked
Sabrina Nauss
of Michigan (180) and
Janida Garcia
of Colorado (132), plus three No. 2 ranked stars,
Valarie Solorio
of Florida (100),
Valerie Hamilton
of Illinois (117) and
Persaeus Gomez
of Colorado (117).
Nauss is one of the four returning champions in the field, joined by
Angelia Cassioppi
of Illinois (112),
Angelina Vargas
of Missouri (112) and
Ashlyn Goodwin
of Kansas (144). Cassioppi was the champion at 100 pounds last year and is moving up in weight. The other three are competing at the same weight class that they won last year.
This event will surely impact the next National Girls High School rankings, which will be released in November.
Among the entries are four champions from Fargo last summer, Junior National champions Janida Garcia (132) and Sabrina Nauss (180), plus 16U National champions
Katey Valdez
of Colorado (100), Persaeus Gomez of Colorado (122) as well as Nauss.
Two weight classes have eight ranked athletes in the field, 112 pounds and 122 pounds.
The entire competition will be live on
FloWrestling
RANKED GIRLS AT BRIAN KECK PRESEASON NATIONALS
100
No. 2 at 100 - Valarie Solorio, junior, Panama City, Fla., Mosely High School
No. 12 at 100 - Katey Valdez, sophomore, Colorado Springs, Colo., Doherty High School
No. 15 at 100 - Isabella Bocanegra, senior, Glendale, Ariz., Liberty High School
No. 19 at 100 - Riley Banyas, senior, Amherst, Ohio, Elyria High School
No. 21 at 100 - Abbygael Cabaug, senior, Morgan Hill, Calif., Ann Sobrato High School
No. 27 at 100 - Caley Graber, freshman, Northfield, Minn., Northfield High School
106
No. 4 at 100 - Gigi Bragg, sophomore, Anoka, Minn., Anoka High School
No. 10 at 106 - Chloe Dearwester, junior, Cincinnati, Ohio, Harrison High School
No. 11 at 112 - Reanah Utterback, sophomore, Eddyville, Iowa, Sigourney-Keota High School
112
No. 3 at 100 - Mary Manis, sophomore, Orlando, Fla., Lake Highland Prep
No. 6 at 106 - Angelina Cassioppi, sophomore, Roscoe, Ill., Hononegah High School
No. 14 at 112 - Angelina Vargas, sophomore, Kansas, City, Mo., Park Hill High School
No. 15 at 112 - Skyla Zimmerman, senior, Moscow, Idaho, Moscow High School
No. 15 at 106 - Kadence Beck, senior, Lewiston, Idaho, Grangeville High School
No. 18 at 106 - Alexsys Jacquez, senior, Fountain, Colo., Mesa Ridge High School
No. 28 at 106 - Maycee Peacher, sophomore, Bennington, Neb., Bennington High School
No. 30 at 106 - Akeelah Moore, sophomore, Richardson, Texas, Richardson High School
117
No. 2 at 132 - Valerie Hamilton, junior, Gridley, Ill., El Paso-Gridley High School
No. 9 at 117 - Bayley Trang, senior, Keller, Texas, Southlake Carroll High School
No. 13 at 117 - Evelyn Holmes-Smith, sophomore, Enterprise, Alabama, Enterprise High School
No. 15 at 117 - Presley Anderson, senior, Huntington Beach, Calif., Marina High School
122
No. 2 at 117 - Persaeus Gomez, junior, Arvada, Colo., Pomona High School
No. 7 at 122 - Carley Ceshker, freshman, Lake Geneva, Wis., Traver High School
No. 10 at 122 - Rose Kaplan, junior, West Lafayette, Ind., West Lafayette High School
No. 13 at 122 - Carissa Qureshi, senior, Irvine, Calif., Portola High School
No. 16 at 117 - Cassidy Benwell, junior, Wentzville, Mo., North Point High School
No. 18 at 117 - Karianne Baldwin, junior, Snohomish, Wash., Glacier Peak High School
No. 23.at 122 - Alyssa Ruiz, senior, Roanoke, Texas, Northwest Nelson High School
No. 25 at 122 - Taylor Colangelo, junior, Peoria, Ariz., Liberty High School
127
No. 13 at 127 - Regan Rosseter, junior, Omaha, Neb., Omaha Westside High School
No. 14 at 127 - Brenya Crahan, junior, Nixa, Mo., Nixa High School
No. 19 at 127 - Olivia Messerly, senior, Gray, Ky., Ryle High School
No. 23 at 127 - Dealya Collins. freshman, Mineral Point, Wis., Mineral Point High School
132
No. 1 at 132 - Janida Garcia, senior, Colorado Springs, Colo., Springs Studio
No. 4 at 132 - Lauren Walton, junior, Lexington, Ky., Carr Academy
No. 16 at 132 - Kylie Rule, senior, Mineral Point, Wis., Mineral Point High School
No. 23 at 132 - Marissa Sanabria, senior, Wentzville, Mo., Wentzville High School
No. 24 at 138 - Addison Messerly, senior, Gray, Ky., Ryle High School
138 pounds
No. 9 at 138 - Gianna DiBenedetto, junior, Rancho Cordova, Calif., Bella Vista High School
No. 20 at 138 - Sofia Delgado, junior, Miami, Fla., Miami Coral Park High School
144 pounds
No. 9 at 152 - Delise E. Villa, senior, Sylmar, Calif., San Fernando High School
No. 12 at 144 - AshLynn Goodwin, senior, Wichita, Kan., Goddard High School
No. 21 at 152 - Kaylee Davis, junior, Yukon, Okla., Yukon High School
No. 30 at 138 - Presley Givens, senior, Benton, Ark., Bryant High School
152 pounds
No. 5 at 152 - Eduarda Rodrigues, junior, Newport Beach, Calif., Newport Harbor High School
No. 7 at 152 - Genevieve An, junior, Marietta, Ga., Kennesaw Mountain High School
No. 17 at 152 - Brynn Green, senior, Howell, Mich., Howell High School
No. 18 at 152 - Calyese Dupree, sophomore, Branson, Mo., Nixa High School
No. 20 at 152 - Alexis Ritchie, junior, Tolono, Ill., Unity High School
No. 24 at 152 - Avry Ryhal, junior, Mercer. Pa., Mercer High School
164 pounds
No. 7 at 164 - Naomi Simon, junior, Decorah, Iowa, Decorah High School
No. 10 at 164 - Kaylee Ricketts, senior, Wahoo, Neb., Wahoo High School
No. 11.at 164 - Alyssa Favara, junior, Naples, Fla., Palmetto Ridge High School
No. 20 at 164 - Sidney Milligan, senior, Owasso, Okla., Owasso High School
180 pounds
No. 1 at 180 - Sabrina Nauss, junior, Brighton, Mich., Brighton High School
No. 16 at 164 - Faith Macharia, senior, Fort Worth, Texas, Keller Central High School
No. 20 at 180 - Mackenzie Konanz, senior, Granger, Ind., Penn High School
No. 26 at 180 - AvaLyn Mosconi, sophomore, Indianpolis, Ind., Southport High School
No. 27 at 180 - Maggie Smith, senior, Rock Springs, Wyo., Rock Springs High School
200 pounds
No. 5 at 200 - Zoë Adam, senior, Canton, S.D., Canton High School
225 pounds
No. 24 at 200 - Chloe Hoselton, sophomore, Chenoa, Ill. Prairie Central High School
2021 USA WRESTLING BRIAN KECK PRESEASON NATIONALS FINALS RESULTS
100 - Angelina Cassioppi (Hononegah Wrestling Club) won by decision over Gigi Bragg (Pinnacle Wrestling Club) (Dec 2-1)
106 - Molly Allen (The Best Wrestler) won by decision over Mia Zuniga (Ascend Wrestling Academy) (Dec 6-4)
112 - Angelina Vargas (Greater Heights Wrestling) won by decision over Carley Ceshker (Ringers Wrestling Club) (Dec 5-2)
117 - Madison Canales (Gracie Barra Westchase Wrestling Club) won by fall over Alyssa Ruiz (All American Wrestling Club) (Fall 2:49)
122 - Olivia Moreno (3F Wrestling) won by fall over Taylor Colangelo (Lions Wrestling Club) (Fall 2:43)
127 - Shelby Moore (Takedown Express Wrestling Club) won by decision over Olivia Messerly (The Raider Wrestling Club) (Dec 8-5)
132- Taylor Fierbach-Graveman (South Dakota) won by major decision over Jordyn Fouse (Team Pennsylvania) (Maj 12-4)
138- Sydney Perry (Illinois) won by decision over Avangeline Turner (Central Catholic Wrestling Club) (Dec 6-0)
144 - AshLynn Goodwin (Maize Wrestling Club) won by decision over Maggie Graham (Bluff City Wrestling Club) (Dec 5-3)
152 - Amarisa Manuel (Michigan Revolution) won by decision over Lydia Krauss (Boyne City Area Wrestling) (Dec 4-0)
164- Rose Cassioppi (Hononegah Wrestling Club) won by decision over Shannon Workinger (Ascend Wrestling Academy) (Dec 1-0)
180 - Sabrina Nauss (Michigan Revolution) won by fall over Ella Beam (North Carolina) (Fall 1:44)
200- Ella Murphey (Tennessee Outlaws Wrestling Club) won by fall over Azreal Smith (Hurricane Wrestling Academy) (Fall 2:21)
225 - Eliana Bommarito (Michigan Revolution) won by fall over Zoe Adam (South Dakota) (Fall 0:50)