News
USA Wrestling
International
College
USAW
Hidlay and Cardenas get silvers, Cassioppi takes bronze, U.S. wins third-place men's freestyle trophy at U23 World Championships
by Gary Abbott, USA Wrestling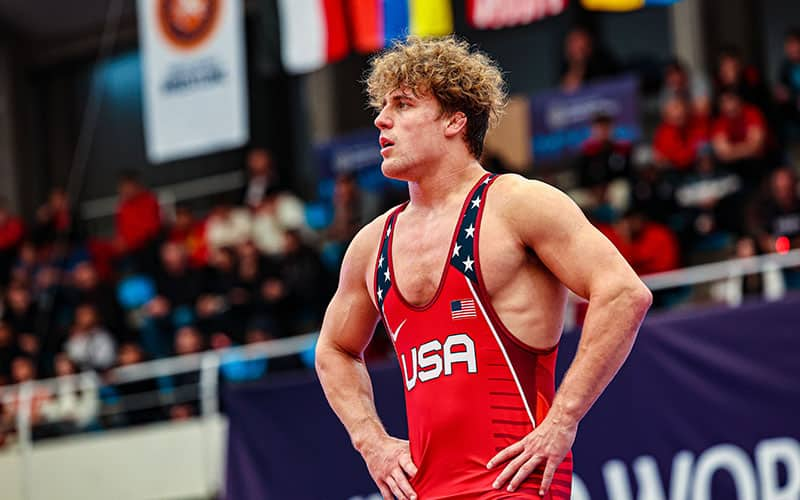 Competition portrait of Trent Hidlay (USA) by Kadir Caliskan, United World Wrestling
PONTEVEDRA, Spain – The United States concluded the 2022 U23 World Championships with three more medals, silver medals from
Trent Hidlay
(86 kg) and
Jacob Cardenas
(92 kg) and a bronze medal from
Tony Cassioppi
(125 kg) in men's freestyle on Sunday night.
Based on points scored both days, Team USA also won the third-place team trophy in men's freestyle, scoring 112 points, trailing only team champion Georgia with 141 points and Iran with 134 points.
Hidlay was edged by 2019 Asian U20 champion Tatsuya Shirai of Japan in the finals, in a 3-3 criteria decision. Hidlay led 2-0, after forcing a step out and getting a point when Shirai was put on the shot clock and did not score. Shirai got a step out point late in the first period to make it 2-1. Shirai was able to score a single leg takedown in the second period for a 3-2 lead. Shirai went on defense, and Hidlay upped the pressure. Shirai was hit with a caution and one penalty for fleeing to tie it at 3-3. Shirai won on the criteria of scoring the only two-point move.
Hidlay was a 2019 U20 World bronze medalist, and is a three-time All-American for NC State
Cardenas was defeated in the finals by 2021 and 2022 U20 World champion Amirhossein Firouzpourbandpei of Iran, 10-0. Firouzpourbandpei opened with a pair of step outs, then took down Cardenas twice. When he was on top in par terre, Firouzpourbandpei score two ankle laces to finish the match.
Cardenas, an NCAA qualifier for Cornell, made the finals of his first international competition, winning three straight matches on Saturday.
Winning a bronze medal was Tony Cassioppi (125 kg). He becomes the first U.S. wrestler to win two career U23 World medals, after also claiming a gold medal at this weight class in 2021.
Cassioppi won his bronze-medal bout by forfeit over 2019 European U23 silver medalist and two-time European U20 silver medalist Yurii Idzinskyi of Ukraine. Idzinskyi did not step out on the mat to compete.
Cassioppi is a two-time All-American for the University of Iowa.
Aaron Nagao
placed fifth at 61 kg. He was defeated by 2022 European U23 champion Emrah Ormanoglu of Turkey in his bronze-medal bout, 9-4. Ormanoglu jumped to a big 8-0 lead in the first period, scoring three takedowns and a tilt. Nagao fought back, getting three points on a takedown, plus a caution and one against Ormanoglu. Nagao was penalized for his head taps, for a 9-3 lead for Ormanoglu. Nagao added a step out point, but could not score again in the closing moments.
Nagao, who competes for Minnesota, was in his first age-group World Championships for Team USA.
Nagao and Cassioppi won repechage matches earlier on Sunday afternoon to advance to their medal matches. They were defeated on Saturday by opponents who qualified for the finals, which pulled them back into repechage.
The other U.S. men's freestyle wrestler in Group Two, 2019 U20 World champion David Carr, was 11th at 74 kg,
On Saturday, the USA won two other medals, a silver by
Tanner Sloan
at 97 kg and a bronze by
Carter Starocci
at 79 kg Eight of the 10 U.S. wrestlers placed in the top 10 and scored team points, and the U.S. qualified for seven men's freestyle medal matches.
It is the first time that the U.S. men's freestyle team has won a team trophy at the U23 World Championships. The U.S. women's freestyle team won a second-place trophy this year, and a third-place trophy in 2021.

U23 WORLD CHAMPIONSHIPS
At Pontevedra, Spain, October 23

Group Two men's freestyle results
61 kg
Gold - Armen Harutyunyan (Armenia)
Silver - Taiyrbek Zhumashbek (Kyrgyzstan)
Bronze - Assyl Aitakyn (Kazakhstan)
Bronze - Emrah Ormanoglu (Turkey)
5th - Aaron Nagao (USA)
5th - Ramaz Turmanidze (Georgia)
74 kg
Gold - Mohammadsadegh Firouzpourbandpei (Iran)
Silver - Khadzhimurad Gadzhiyev (Azerbaijan)
Bronze - Vadym Kurylenko (Ukraine)
Bronze - Vasile Diacon (Moldova)
5th - Temuri Beruashvili (Georgia)
5th - Hrayr Alikhanyan (Armenia)
86 kg
Gold - Tatsuya Shirai (Japan)
Silver - Trent Hidlay (USA)
Bronze - Ivan Ichizli (Moldova)
Bronze - Emre Cifti (Turkey)
5th - Maksat Satbaldy (Kazakhstan)
5th - Evsem Shvelidze (Georgia)
92 kg
Gold - Amirhossein Firouzpourbandpei (Iran)
Silver - Jacob Cardenas (USA)
Bronze - Miriani Maisuradze (Georgia)
Bronze - Feyzulla Akurk (Turkey)
5th - Rizabek Aitmukhan (Kazakhstan)
5th - Denys Sahaliuk (Ukraine)
130 kg
Gold - Amir Reza Masoumi Valadi (Iran)
Silver - Solomon Manashvili (Georgia)
Bronze - Anthony Cassioppi (USA)
Alisher Yergali (Kazakhstan) Milan Korcsog (Hungary)
5th - Yurii Idzinskyi (Ukraine)
U.S. Group 2 men's freestyle results
61 kg: Aaron Nagao, La Habra, Calif. (Gopher WC RTC), Fifth Place
LOSS Taiyrbek Zhumashbek (Kyrgyzstan), 9-0
WIN Elkin Espana Santa (Colombia), tech. fall 14-4
LOSS Emrah Ormanoglu (Turkey), 9-4
74 kg: David Carr, Canton, Ohio (Cyclone RTC/TMWC), dnp/11th
WIN Sonny James Santiago (Puerto Rico), tech fall 12-2
LOSS Temuri Beruashvili (Georgia), 4-3
86 kg: Trent Hidlay, Lewiston, Pa. (Wolfpack WC/TMWC), Silver Medal
WIN Sajjad Gholami (Iran), 15-6
WIN Nurtilek Karypbaev (Kyrgyzstan), 6-0
WIN Maksat Satbaldy (Kazakhstan), 6-0
WIN Ivan Ichizli (Moldova), tech fall 11-0
LOSS Tasuya Shirai (Japan)
92 kg: Jacob Cardenas, Kearny, N.J. (Spartan Combat RTC/TMWC), Silver Medal
WIN Denys Sahaliuk (Ukraine), 4-0
WIN Baisal Kubatov (Kyrgyzstan), 7-2
WIN Miriani Maisuradze (Georgia), 8-0
LOSS Amirhossein Firouzpourbandpei (Iran), tech. fall 10-0
125 kg: Anthony Cassioppi, Roscoe, Ill. (Hawkeye WC/TMWC), Bronze Medal
WIN Lior Altshuler (Israel), tech fall 10-0
LOSS Solomon Manashvili (Georgia), tech fall, 16-4
WIN Kai Shutto (Japan), pin 0:33
WIN Yurii Idzinskyi (Ukraine), forfeit
Team Standings
1 Georgia, 141
2 Iran, 134
3 United States, 112
4 Ukraine, 104
5 Turkey, 95
6 Kazakhstan, 92
7 Armenia, 85
8 Japan, 72
9 Azerbaijan, 60
10 Kyrgysztan, 55
11 Moldova, 34
12 India, 25
13 Germany, 24
13 Greece, 24
15 Hungary, 14