News
USA Wrestling
International
College
Women
USAW
Elor to go for gold at U23 World Championships, Taylor to wrestle for bronze, Hedrick qualifies for repechage
by Gary Abbott, USA Wrestling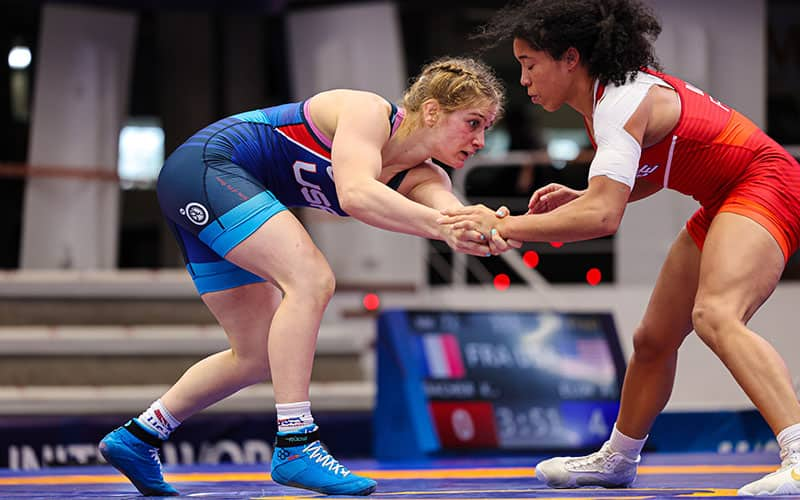 Amit Elor (USA) competing in the 2022 U23 World Championships. Photo by Kadir Caliskan, United World Wrestling
PONTEVEDRA, Spain –
Amit Elor
has qualified for her third World finals in 2022, after winning her 72 kg semifinal bout at the U23 World Championships on Thursday night.
Elor defeated 2022 U23 European silver medalist Maria Nitu of Romania in the semifinals in just 34 seconds. She secured a takedown, quickly locked up a cradle and turned her for the fall
Elor will face two-time European U23 champion Wiktoria Choluj of Poland in the finals on Friday night. Elor has never faced this opponent.
Elor is attempting to become the first U.S. wrestler to win three UWW World titles during the same year, having won the U20 Worlds and the Senior Worlds earlier this season.
Felicity Taylor
was defeated by two-time Senior World champion Haruna Okuno of Japan in the semifinals, 11-1, and will compete for a bronze medal on Friday. Okuno got the first point when Taylor was on the shot clock. An Okuno takedown and turn was followed by a Taylor reversal, making it 5-1 at the break. In the second period, Okuno scored three takedowns, including one at the buzzer.
Okuno won Senior World titles in 2017 and 2018, and also boasts two U23 World titles, a U20 World title and a U17 World title. Taylor is a U.S. Senior Nationals champion and was second in Final X this year. She attends the University of Iowa and was previously a national champion for McKendree University.
Taylor's opponent in the bronze-medal match will be the winner of the repechage match between 2022 European U23 silver medalist Anastasia Blayvas of Germany and 2021 Junior Pan American Games bronze medalist Mariana Rojas Diaz of Venezuela.
Earning a place in Friday morning's repechage was
Alexandra Hedrick
at 57 kg. Hedrick lost to Patrycja Gil of Poland, 9-6 in the morning session. Gil pinned Laura Almaganbetova of Kazakhstan in 4:53 in the semifinals, pulling Hedrick into repechage.
Hedrick will face Welvima Vemba of Angola in the repechage round on Friday morning. If she beats Vemba, she will battle Laura Almaganbetova of Kazakhstan for bronze on Friday night.
Two U.S. wrestlers were eliminated after the wrestler who beat them on Thursday morning were defeated in the semifinals,
Alexandria Liles
(62 kg) and
Emma Bruntil
(65 kg)
Liles lost to Astrid Montero Chirinos of Venezuela, 4-0. Montero was defeated by technical fall in the semifinals by Iryna Bondar of Ukraine.
Bruntil lost to Katerina Zelenykh of Ukraine by pin. Zelenykh lost a tough 6-2 match to Japan's Miwa Morikowa in the semifinals.
The Group Two repechage will begin at 10:30 a.m. on Friday, with the medal match finals set for 6:00 p.m. local time. Pontevedra is six hours ahead of U.S. Eastern time. The first day of men's freestyle competition is also scheduled for Friday.
Follow it live on
FloWrestling
.
U23 WORLD CHAMPIONSHIPS

At Pontavedra, Spain, October 20, 2022


Group Two women's freestyle finals pairings
53 kg - Haruna Okuno (Japan) vs. Lucia Yepez Guzman (Ecuador)
57 kg - Sae Nanjo (Japan) vs. Patrycja Gil (Poland)
62 kg - Iryna Bondar (Ukraine) vs. Nonoka Ozaki (Japan)
65 kg - Miwa Morikowa (Japan) vs. Nigar Mirzazada (Azerbaijan)
72 kg - Amit Elor (USA) vs. Wiktoria Choluj (Poland)
Group Two women's freestyle Semifinal results
53 kg
Lucia Yepez Guzman (Ecuador) tech. fall Zeynep Yetgil (Turkey), 10-0
Haruna Okuno (Japan) tech. fall Felicity Taylor (USA), 11-1
57 kg
Patrycja Gil (Poland) pin Laura Almaganbetova (Kazakhstan), 4:53
Sae Nanjo (Japan) pin Siwar Bouseta (Tunisia), 0:59
62 kg
Iryna Bondar (Ukraine) tech. fall Astrid Montero Chirinos (Venezuela) 10-0
Nonoka Ozaki (Japan) tech fall Ana Godinez Gonzalez (Canada), 10-0
65 kg
Miwa Morikowa (Japan) dec. Kateryna Zelenykh (Ukraine), 6-2
Nigar Mirzazada (Azerbaijan) dec. Elena Esposito (Italy), 3-2
72 kg
Wiktoria Choluj (Poland) dec. Sumire Niikura (Japan), 3-1
Amit Elor (USA) pin Maria Nitu (Romania), 0:34
U.S. Women's freestyle Group Two results
53 kg: Felicity Taylor, Spillville, Iowa (Hawkeye WC/TMWC), in bronze medal bout
WIN Aikaterini Vekri (Greece), pin 0:36
WIN Ellada Makhyaddinova (Kazakhstan), tech. fall 10-0
LOSS Haruna Okuno (Japan), tech. fall 11-0
Bronze bout – winner of Anastasia Blayvas (Germany) vs. Mariana Rojas Diaz (Venezuela)
57 kg: Alexandra Hedrick, Colorado Springs, Colo. (Titan Mercury WC), in repechage
WIN Melda Dernekci (Turkey), pin 3:28
LOSS Patrycja Gil (Poland), 9-6
Repechage – Welvima Vemba (Angola)
62 kg: Alexandria Liles, Pueblo, Colo. (U.S. Army WCAP), eliminated
LOSS Astrid Montero Chirinos (Venezuela), 4-0
65 kg: Emma Bruntil, Colorado Springs, Colo. (Titan Mercury WC), eliminated
LOSS Katerina Zelenykh (Ukraine), pin 0:15
72 kg: Amit Elor, New York, N.Y. (NYC RTC/TMWC), in gold-medal finals
WIN Kendra Dacher (France), pin 5:31
WIN Maria Nitu (Romania), pin 0:34
Gold Medal finals – vs. Wiktoria Choluj (Poland)