News
USA Wrestling
International
College
Women
USAW
Returning champions Taylor, Howk, Moore, Kilty reach USMC U23 Women's Nationals finals in Spokane
by Gary Abbott, USA Wrestling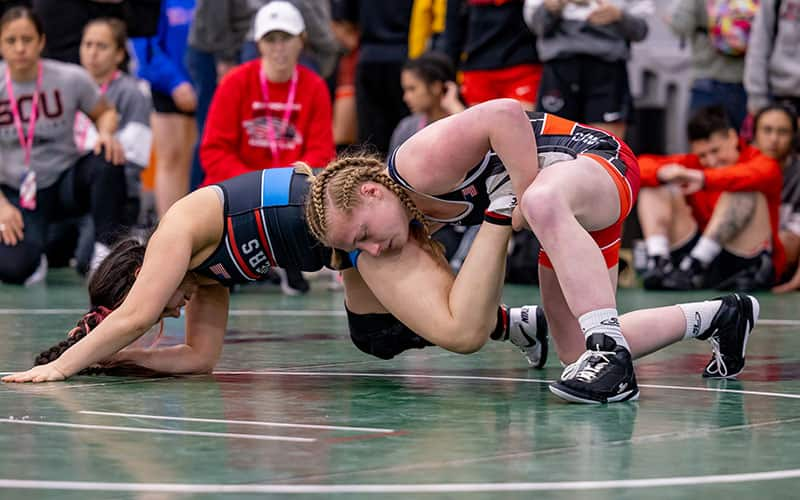 Macey Kilty controls an opponent at the U23 Nationals. Kilty seeks to repeat as a U23 Nationals champion. Photo by AJ Grieves, Mat Focus
.
SPOKANE, Wash. - Four returning U23 Nationals champion powered through the semifinals and will look to repeat as champions at the USMC U23 Women's Nationals at The Podium in Spokane, Wash.
The returning U23 National champions in the finals on Saturday are
Felicity Taylor
(53 kg),
Alisha Howk
(55 kg),
Nichole Moore
(59 kg) and
Macey Kilty
(65 kg).
Taylor, who competes for Iowa and is a member of the Senior National team, defeated King University star Samara Chavez in the semifinals, 6-0. She will battle Estrella Dorado Marin of Army WCAP in the finals.
Howk, a U23 World bronze medalist, was trailing in a 1-1 tie against frequent training partner Gabrielle Skidmore before locking up cradle to a pin in 5:45. She will wrestle California high school senior Elena Ivaldi in the championship series.
Moore, who took a redshirt year this year from college, won a convincing 10-0 technical fall over high school star Piper Cadden of Arizona in the semifinals. She draws past Senior Nationals runner-up Xochitl Mota-Pettis of Texas in the finals series.
Kilty, a multiple age-group World medalist and a Senior National Team member, scored a 12-2 technical fall over Lock Haven star Grace Stem, 12-2. She will face Columbia student-athlete Maya Letona in the championship series.
Four-time NCWWC champion Emily Shilson, a 2021 U23 World champion and multiple age-group World champion defeated Kendra Ryan of North Central in the semifinals by technical fall. Shilson , who wrestles at McKendree will wrestle Sage Mortimer of King in a rematch of the 2023 NCWWC Nationals finals, won by Shilson.
Two-time NAIA champion Adaugo Nwachukwu of Iowa Wesleyan, a 2022 U20 Nationals champion, advanced to the 62 kg finals with a pin over past NAIA champion Waipuilani Estrella-Beauchamp in 2:52. Nwachukwu will face Marisol Nugent of the Univ. of North Carolina in the finals series.
Ashley Lekas of Texas upset 2022 U20 World bronze medalist Tristan Kelly of Army WCAP in the 76 kg semifinals. She will battle NAIA national runner-up Joye Levendusky of Southern Oregon, who edged 2023 NCWWC national champion Marlynne Deede of Augsburg, 3-1 in the other semifinals.
There is an all-Augsburg finals at 68 kg, as 2023 NCWWC national champion Katerina Lange will face teammate and NCWWC All-American Nina Makem in the finals.
NAIA national champion Kaylynn Albrecht of Baker will face NCWWC All-American Cheyenne Bowman of King in the 72 kg finals.
The other finals matchup is between college stars Montana DeLawder of King against Payton Stroud of McKendree at 57 kg.
Champions at the U23 World Team Trials may compete at the U23 World Championships in Tampere, Finland, October 23-29, unless an age-eligible member of the 2023-24 U.S. Senior National Team chooses to compete at the weight class, as determined by the U23 World Team Selection Procedures.
USMC WOMEN'S NATIONALS

At Spokane, Wash., April 14, 2023


Championship Finals Series pairings
50 kg - Emily Shilson (MN) vs. Sage Mortimer (UT)
53 kg - Felicity Taylor (IA) vs. Estrella Dorado Marin (CO)
55 kg - Alisha Howk (WI) vs. Elena Ivaldi (CA)
57 kg - Montana DeLawder (PA) vs. Payton Stroud (WA)
59 kg - Xochitl Mota-Pettis (TX) vs. Nichole Moore (LMRC)
62 kg - Adaugo Nwachukwu (CA) vs. Marisol Nugent (MA)
65 kg - Macey Kilty (WI) vs. Maya Letona (CA)
68 kg - Katerina Lange (MN) vs. Nina Makem (MN)
72 kg - Cheyenne Bowman (CA) vs. Kaylynn Albrecht (TX)
76 kg - Ashley Lekas (TX) vs. Joye Levendusky (NY)
U23 semifinals results
50 kg
Emily Shilson (MN) won by tech fall over Kendra Ryan (IL), 12-1
Sage Mortimer (UT) won by tech fall over Anaya Falcon (CA) 10-0
53 kg
Felicity Taylor (IA) won by decision over Samara Chavez (TX) 6-0
Estrella Dorado Marin (CO) won by decision over Jaslynn Gallegos (CO) 8-6
55 kg
Alisha Howk (WI) won by fall over Gabrielle Skidmore (WI) Fall 5:45
Elena Ivaldi (CA) won by fall over Mia Macaluso (NY) Fall 4:07
57 kg
Montana DeLawder (PA) won by fall over Katrina Kling (NJ) 0:59
Payton Stroud (WA) won by decision over Ngao Shoua Whitethorn (WI) 4-4
59 kg
Xochitl Mota-Pettis (TX) won by fall over Lily Sherer (PA) 3:52
Nichole Moore (LMRC) won by tech fall over Piper Cadden (AZ) 10-0
62 kg
Adaugo Nwachukwu (CA) won by fall over Waipuilani Estrella-Beauchamp (HI) 2:53
Marisol Nugent (MA) won by decision over YeLe Aycock (NM) 6-5
65 kg
Macey Kilty (WI) won by tech fall over Grace Stem (PA) 12-2
Maya Letona (CA) won by decision over Viktorya Torres (WA) 8-3
68 kg
Katerina Lange (MN) won by decision over Chloe Ogden (NC) 6-4
Nina Makem (MN) won by tech fall over Tiera Jimerson (CA) 10-0
72 kg
Cheyenne Bowman (CA) won by tech fall over Marissa Porsch (KS) 10-0
Kaylynn Albrecht (TX) won by injury default over Cara Broadus (CT) 0:35
76 kg
Ashley Lekas (TX) won by decision over Tristan Kelly (CO) 6-3
Joye Levendusky (NY) won by decision over Marlynne Deede (UT) 3-1