News
USA Wrestling
International
College
USAW
Omania, Moomey fall in Greco-Roman quarterfinals at U23 World Championships, four U.S. Group B wrestlers still possible for repechage
by Gary Abbott, USA Wrestling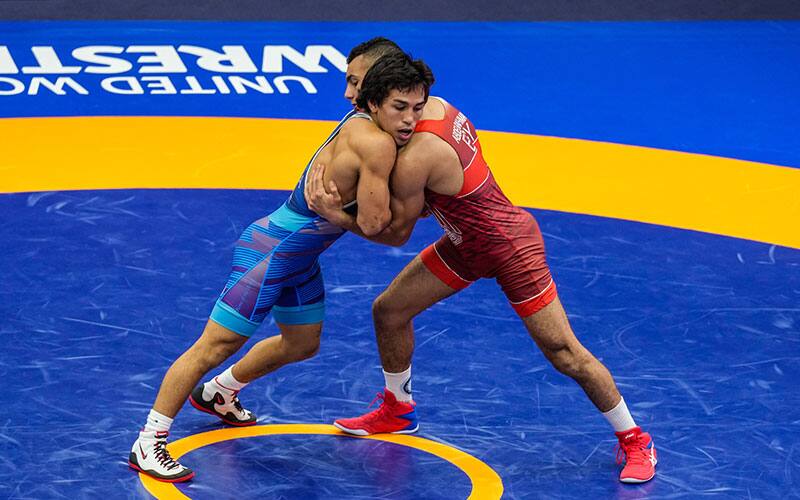 Peyton Omania (USA) competing at 2022 U23 World Championships in Spain. Gary Abbott photo.
PONTEVEDRA, Spain – Two more U.S. Greco-Roman wrestlers reached the quarterfinals at the U23 World Championships on Tuesday, but fell short of reaching the gold-medal match
2021 Senior World Team member
Peyton Omania
won two impressive matches to start the day at 67 kg.
Omania came out on fire, hitting a headlock and adjusting for a quick 34-second pin over Aleksander Mielewczyk of Poland.
In his second match, he was in control throughout in his 7-0 win over 2022 African Senior champion Abdelrahman Omar of Egypt. Omania led 2-0 at the break, on a passivity call and a step out. In the second period, Omania scored four points on the edge, which was challenged by Egypt. The challenge was denied, giving Omania the final point of the match. Omar could not get anything going the rest of the way.
In the semifinals, Omania lost a wide-open match to 2022 Japan Senior bronze medalist Kyotaro Sogabe, 13-4. Sogabe opened up with a flourish, getting a takedown and two turns for a 6-0 lead. Omania hit a four-pointer on the edge, but Sogabe reversed for two and got another turn, making it 10-4 at the break. In the second period, Sogabe made a throw on the edge for two points, and the U.S. challenge was denied, ending the match.
If Sogabe defeats Snojayan of France in the semifinals, Omania is pulled into repechage.
Omania is competing in his fifth age-group World Championships, and has wrestled at the U17, U20 and U23 Worlds in the past. He won a U20 World bronze medal in 2019,
Also reaching the quarterfinals today was
Phillip Moomey
at 60 kg. Moomey opened with a come-from-behind 7-5 win over Georgios Scarpello of Germany. Scarpello opened with a 5-0 lead, after a passivity call and two turns from par terre. Early in the second period, Moomey popped a four-point throw on the edge to close it to 5-4. It became 5-5 when Scarpello was hit for passivity. Moomey closed out the win with a counter takedown and held strong for the victory.
In the quarterfinals, Moomey fell to 2022 Asian U23 silver medalist Nurmukhammet Abdullaev of Kyrgyzstan, 8-0. Abdullaev hit a four-point arm throw, and followed with a pair of gut wrenches to finish the bout in 27 seconds.
If Abdullaev wins in the semifinals later today, Moomey will be drawn back into Wednesday's repechage.
This is Moomey's second age-group World event, after having competed at the 2018 U17 World Championships. He competes for Cornell.
2022 Senior World Team member
Benji Peak
was defeated in his opening bout by 2022 U20 World bronze medalist Irfan Mirzoiev of Ukraine, 9-0. Mirzoiev led 5-0 after a passivity point, a lift and a gut wrench turn. In the second period, Mirzoiev was able to finish off the match in the second period. Mirzoiev has reached the semifinals, meaning Peak still has the possibility of repechage.
Peak is a two-time U.S. Senior Nationals champion, and is competing in his first age-group World Championships.
Past Senior National Team member
Nick Boykin
was defeated in his opening bout by 2021 World silver medalist Alex Szoke of Hungary, 9-0 in the first period. After Boykin was penalized for passivity and put down, Szoke turned him twice for a 5-0 lead. A Szoke takedown was followed by a turn, ending the match. Szoke has also powered into the semifinals, meaning Boykin still has a chance to reach the repechage.
Boykin, a two-time U.S. Senior Nationals champion, competing in his third age-group World Championships.
Competing in his first age-group World Championships,
Tyler Cunningham
was defeated 9-1 by Semion Brekkeli of Moldova at 82 kg. Brekkeli scored a takedown, a two-point throw and added a passivity point to lead 5-0 at the break. Brekkeli threw Cunningham for a takedown, but Cunningham scored a reversal to make it 7-1. A counter takedown by Brekkeli ended the match. When Brekkeli lost in his next match, Cunningham was eliminated from the event.
The semifinals are scheduled for 4:45 p.m. local time. The championship finals for Group 1 will follow at 6:00 p.m. Follow it live on
FloWrestling
.
Pontevedra is six hours ahead of U.S. Eastern Time
U23 WORLD CHAMPIONSHIPS

At Pontevedra, Spain


U.S. Greco-Roman Group Two results
60 kg: Phillip Moomey, Kearney, Neb. (Spartan Combat RTC/TMWC), still eligible for repechage
WIN Georgios Scarpello (Germany), 7-5
LOSS Nurmukhammet Abdullaev (Kyrgyzstan), tech. fall 10-0
67 kg: Peyton Omania, Concord, Calif. (New York AC), still eligible for repechage
WIN Aleksander Mielewczyk (Poland), pin 0:34
WIN Abdelrahman Omar (Egypt), 7-0
LOSS Kyotaro Sogabe (Japan), tech fall 13-4
72 kg: Benjamin Peak, Marquette, Mich. (NMU-OTS/Sunkist Kids), still eligible for repechage
LOSS Irfan Mirzoiev (Ukraine), tech. fall 9-0
82 kg: Tyler Cunningham, Gretna, Neb. (MWC Wrestling Academy), eliminated
LOSS Semion Brekkeli (Moldova), tech fall 9-1
97 kg: Nicholas Boykin, Murfreesboro, Tenn. (Ohio RTC/Sunkist Kids), still eligible for repechage
LOSS Alex Szoke (Hungary), tech fall 9-0
Greco-Roman Group 2 Semifinals pairings
60 kg
Kerem Kamal (Turkey) vs. Irakli Dzimistarishvili (Georgia)
Nihat Mammadli (Azerbaijan) vs. Nurmukhammet Abdullaev (Kyrgyzstan)
67 kg
Gagik Mishai Snjoyan (France) vs. Kyotaro Sogabe (Japan)
Diego Chkhikvadze (Georgia) vs. Sayed Sohrabi (Iran)
72 kg
Irfan Mirzoiev (Ukraine) vs. Gruban Gurbanov (Azerbaijan)
Vikas (India) vs. Pavel Puklavec (Croatia)
82 kg
Karlo Kodric (Croatia) vs. Beka Guruli (Georgia)
Mats Ahlgren (Sweden) vs, Exause Mukubu (Norway)
97 kg
Alex Szoke (Hungary) vs. Igor Alves de Queuroz (Brazil)
Markus Ragginger (Austria) vs. Giorgi Katsanashvili (Georgia)