News
USA Wrestling
International
College
USAW
Five Olympians reach finals of World Team Trials Challenge Tournament in Greco-Roman
by Gary Abbott, USA Wrestling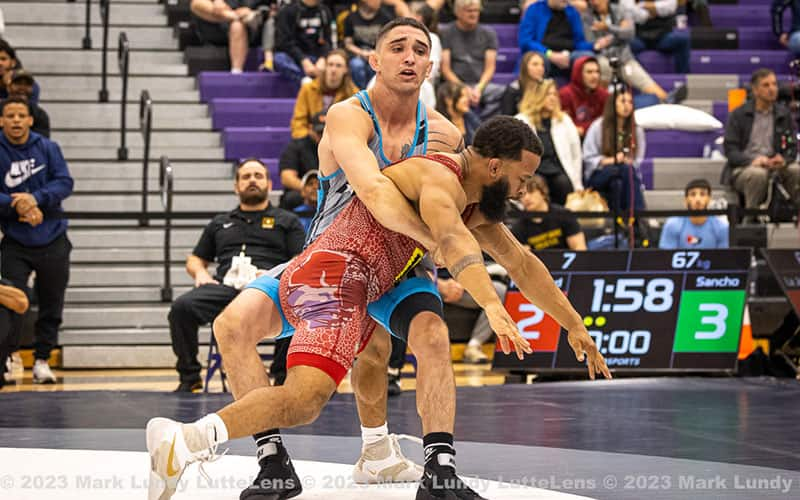 Alejandro Sancho (Army WCAP) lifts Savion Haywood (Iguana WC) at the World Team Trials Challenge Tournament. Photo by Mark Lundy, LutteLens
COLORADO SPRINGS, Colo. – Five Olympians have powered their weight into the championship finals in Greco-Roman at the World Team Trials Challenge Tournament at Discovery Canyon High School on Saturday morning.
The winner of the World Team Trials Challenge Tournament finals later today in all 10 weight classes will compete in Final X against the 2023 U.S. Open champion at Prudential Center in Newark, N.J., June 10.
The 67 kg finals will feature a match between a pair of U.S. Olympians now competing for Army WCAP, 2016 Olympian
Jesse Thielke
against 2020 Olympian
Alejandro Sancho
. Both scored technical fall victories in their semifinals matches.
Three other Olympians have advanced to the finals, two-time Olympians
Idlar Hafizov
(60 kg) and
Ben Provisor
(82 kg) plus 2012 Olympian
Aliaksandr Kikiniou
at 77 kg.
Hafizov competed in the Olympic Games for Uzbekistan in 2008 and the United States in 2000. Kikinou was an Olympian for Belarus. Provisor competed in the 2012 and 2016 Olympic Games.
In the 87 kg semifinals,
Richard Carlson
scored a two-point throw in the second period to edge 2020 Olympian John Stefanowicz, 2-1. He will face University of Illinois student-athlete Zachary Braunagel in the finals. Braunagel scored an 8-0 technical fall over 2022-23 National Team member Timothy Young in his semifinals.
Two Senior World medalists are in the finals, Kikiniou and
Adam Coon
(130 kg). Kikiniou, a 43-year old who recently received U.S. citizenship, was a 2009 World bronze medalist for Belarus. Coon was a 2018 World silver medalist for the United States.
At 97 kg, No. 4 seed
Cade Lautt
, a student-athlete at North Carolina, knocked off top seed Nicholas Boykin, 6-6. Lautt will battle Christian DuLaney, the No. 2 seed, in the finals.
The championship finals will be a one-match final, not a best-of-three series.
A schedule change was made, as the third-place matches were moved to 3:00 p.m. MT. The championship finals remain at 4:30 p.m. Follow all of the action live on FloWrestling.
WORLD TEAM TRIALS CHALLENGE TOURNAMENT
At Colorado Springs, Colo., May 20, 2023

Finals pairings
55 kg - Dalton Duffield, Army WCAP vs. Camden Russell, MWC Wrestling Academy/New York AC
60 kg - Ildar Hafizov, Army WCAP vs. Randon Miranda, Rise RTC
63 kg - Sammy Jones, Sunkist Kids WC vs. Xavier Johnson, Army WCAP
67 kg - Jesse Thielke, Army WCAP vs. Alejandro Sancho, Army WCAP
72 kg - Patrick Smith, Minnesota Storm vs. Noah Wachsmuth, New York AC
77 kg - Aliaksandr Kikiniou, California vs. Payton Jacobson, Sunkist Kids WC
82 kg - Ben Provisor, New York AC vs. Ryan Epps, Minnesota
87 kg - Richard Carlson, Minnesota Storm vs. Zachary Braunagel, Illinois RTC/Illini WC
97 kg - Cade Lautt, Tar Heel WC vs. Christian DuLaney, Minnesota Storm
130 kg - Adam Coon, Cliff Keen WC/New York AC vs. Donny Longendyke, Minnesota Storm
Greco-Roman results (Championships bracket)
55 kg
Semifinals
Dalton Duffield, Army WCAP tech. fall Jacob Cochran, Army WCAP, 10-0
Camden Russell, MWC Wrestling Academy/New York AC dec. Billy Sullivan, Army WCAP, 5-5
Quarterfinals
Jacob Cochran, Army WCAP tech. fall Tirso Lara, Top Gun WC, 11-2
60 kg
Semifinals
Ildar Hafizov, Army WCAP dec. Dylan Koontz, Dubuque RTC/Titan Mercury WC, 6-0
Randon Miranda, Rise RTC tech fall Phillip Moomey, Spartan Combat RTC, 8-0
Quarterfinals
Dylan Koontz, Dubuque RTC/Titan Mercury WC dec. Jonathan Gurule, NMU-National Training Center, 5-0
Randon Miranda, Rise RTC tech fall Max Black, NMU-National Training Center, 12-4
Phillip Moomey, Spartan Combat RTC dec. Leslie Fuenffinger, Army WCAP, 6-6
63 kg
Semifinals
Sammy Jones, Sunkist Kids WC tech. fall Corbin Nirschl, MWC Wrestling Academy/New York AC, 9-0
Xavier Johnson, Army WCAP dec. Dylan Gregerson, Brunson UVRTC, 8-4
67 kg
Semifinals
Jesse Thielke, Army WCAP tech fall David Stepanian, New York AC, 10-0
Alejandro Sancho, Army WCAP tech fall Chayse La Joie, California RTC, 9-0
Quarterfinals
David Stepanian, New York AC dec. Joel Adams, The Best Wrestler. 4-2
Chayse La Joie, California RTC tech. fall Nicholas Leonetti, Suples WC, 10-2
Alejandro Sancho, Army WCAP tech fall Savion Haywood, Iguana WC, 11-2
72 kg
Semifinals
Patrick Smith, Minnesota Storm tech. fall Michael Hooker, Army WCAP, 8-0
Noah Wachsmuth, New York AC tech. fall Jack Ervien, Viking WC, 8-0
77 kg
Semifinals
Aliaksandr Kikiniou, California. dec. RaVaughn Perkins, New York AC, 7-2
Payton Jacobson, Sunkist Kids WC dec. Burke Paddock, New York AC, 7-1
Quarterfinals
RaVaughn Perkins, New York AC dec. Jesse Porter, New York AC, 4-0
82 kg
Semifinals
Ben Provisor, New York AC pin Tyler Cunningham, New York AC, 1;04
Ryan Epps, Minnesota, tech. fall Andrew Berreyesa, New York AC, 9-1
Quarterfinals
Tyler Cunningham, New York AC dec. Barrett Stanghill, Minnesota Storm, 4-2
Ryan Epps, Minnesota dec. Tommy Brackett, New York AC, 1-1
87 kg
Semifinals
Richard Carlson, Minnesota Storm dec. John Stefanowicz, Navy WC, 2-1
Zachary Braunagel, Illinois RTC/Illini WC tech. fall Timothy Young, Army WCAP, 8-0
Quarterfinals
Richard Carlson, Minnesota Storm tech fall Jordan Lara, Texas RTC, 8-0
Timothy Young, Army WCAP tech. fall MacAron Kukowski, Minnesota Storm, 12-4
97 kg
Semifinals
Cade Lautt, Tar Heel WC, dec. Nicholas Boykin, Sunkist Kids WC, 6-6
Christian DuLaney, Minnesota Storm dec. Brandon Marshall, Big Game WC, 5-1
130 kg
Semifinals
Adam Coon, Cliff Keen WC/New York AC tech fall Darryl Aiello, Dubuque RTC, 8-0
Donny Longendyke, Minnesota Storm, dec. Tanner Farmer, New York AC, 6-5
Quarterfinals
Darryl Aiello, Dubuque RTC pin Brandon Metz, North Dakota, 1:07