News
USA Wrestling
International
College
USAW
Schultz and Russell eliminated in Greco-Roman to close day one at U23 Worlds in Spain
by Gary Abbott, USA Wrestling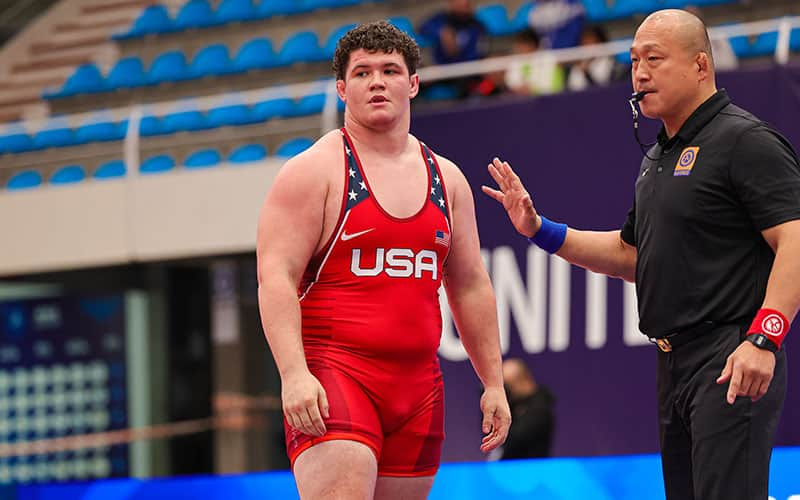 Cohlton Schultz at the 2022 U23 World Championships. Photo by Kadir Caliskan, United World Wrestling
PONTEVEDRA, Spain – The Greco-Roman Group One semifinals were held Monday night at the U23 World Championships. Although there were no U.S. wrestlers competing in the round, the fate of two American athletes were determined by the results.
In the final match of the semifinal session, 2021 U20 World silver medalist Sarkhan Mammadov of Azerbaijan was defeated by Mykhailo Vyshnyvetskyi (Ukraine, which eliminated two-time Senior World Team member
Cohlton Schultz
from the tournament.
Schultz was defeated in the quarterfinals by Mammadov, 5-1.
In a 55 kg semifinal, Nihad Guluzade of Azerbaijan scored an 8-0 technical fall over 2021 World champion Ken Matsui of Japan. Matsui's loss eliminated
Camden Russell
from the tournament.
Russell was beaten by Matsui in the quarterfinals, 8-2.
Only wrestlers who lose to a gold-medal finalist are eligible for the repchage rounds.
Three other U.S. wrestlers in Greco-Roman Group One were defeated and eliminated on Monday morning: Mason Carzino-Hartshorn at 63 kg, Britton Holmes at 77 kg and Michial Foy at 87 kg.
Greco-Roman Group Two begins on Tuesday morning, with five U.S. athletes getting started. This group is led by past Senior World Team members Peyton Omania at 67 kg and Benji Peak at 72 kg, plus Phillip Moomey at 60 kg, Tyler Cunningham at 82 kg and Nick Boykin at 97 kg. Their draw is listed below.
The competition is broadcast live on
FloWrestling
. Pontevedra is six hours ahead of U.S. Eastern time.
U23 WORLD CHAMPIONSHIPS
At Pontevedra, Spain, October 17
Greco-Roman Group One Finals pairings
55 kg - Poya Soulat Dad Marz (Iran) vs. Nihad Guluzade (Azerbaijan)
63 kg - Imam Hossein Koon Mohammadi (Iran) vs. Giorgi Shotadze (Georgia)
77 kg - Malkhas Amoyan (Armenia) vs. Alexandrin Gutu (Moldova)
87 kg - Gevorg Tadevosyan (Armenia) vs. Istvan Takacs (Hungary)
130 kg - Fatih Bozkurt (Turkey) vs. Mykhailo Vyshnyvetskyi (Ukraine)
Greco-Roman Group One Semifinal results
55 kg
Poya Soulat Dad Marz (Iran) dec. Denis Florin Mihai (Romania), 9-4
Nihad Guluzade (Azerbaijan) tech fall Ken Matsui (Japan), 8-0
63 kg
Imam Hossein Koon Mohammadi (Iran) dec, Ziya Babashov (Azerbaijan), 5-1
Giorgi Shotadze (Georgia) dec. Maksym Liu (Ukraine), 5-2
77 kg
Malkhas Amoyan (Armenia) dec. Nao Kusaka (Japan), 9-5
Alexandrin Gutu (Moldova) tech. fall Dmytro Vasetskyi (Ukraine), 11-1, 1:53
87 kg
Gevorg Tadevosyan (Armenia) dec. Maksat Sailau (Kazakhstan), 6-4
Istvan Takacs (Hungary) dec. Szymon Szymonowicz (Poland). 4-1
130 kg
Fatih Bozkurt (Turkey) dec. Dariusz Vitek (Hungary), 6-1
Mykhailo Vyshnyvetskyi (Ukraine) dec. Sarkhan Mammadov (Azerbaijan), 6-3
U.S. Greco-Roman Group One results
55 kg: Camden Russell, Omaha, Neb. (MWC Wrestling Academy), Eliminated
WIN Abduvali Rahimbayev (Turkmenistan). 11-5
LOSS Ken Matsui (Japan), 8-2
63 kg: Mason Carzino-Hartshorn, Antioch, Calif. (West Coast Greco RTC). Eliminated
LOSS Ahmed Fouad Bagdouda (Egypt), 6-0
77 kg: Britton Holmes, Colorado Springs, Colo. (U.S. Army WCAP), Eliminated
LOSS Lamjed Maafi (Tunisia), tech. fall 11-1
87 kg: Michial Foy, Crete, Ill. (Gopher WC RTC), Eliminated
LOSS Filip Smetko (Croatia), 4-0
130 kg: Cohlton Schultz, Parker, Colo. (Sunkist Kids), Eliminated
WIN Jonavan Smith (Puerto Rico), tech fall 9-0
LOSS Sarkhan Mammadov (Azerbaijan), 5-1
U.S. Greco-Roman Group Two first round pairings
60 kg: Phillip Moomey, Kearney, Neb. (Spartan Combat RTC/TMWC)
Vs. Georgios Scarpello (Germany), 3rd 2022 U23 Europeans, 10th 2021 U20 Europeans, 9th 2019 U17 Europeans
67 kg: Peyton Omania, Concord, Calif. (New York AC)
Vs. Aleksander Mielewczyk (Poland), 3rd in 2020 Poland Senior Championships, 7th in 2017 U17 Europeans
72 kg: Benjamin Peak, Marquette, Mich. (NMU-OTS/Sunkist Kids)
Vs. winner of Irfan Mirzoiev (Ukraine) and Furkan Zirin (Turkey)
Mirzoiev – 3rd in 2022 U20 World Championships, 7th in 2021 U17 World Championships
Zirin – No international achievements
82 kg: Tyler Cunningham, Gretna, Neb. (MWC Wrestling Academy)
Vs. Semion Brekkeli (Moldova), 3rd 2022 U23 Europeans, 8th in 2021 U20 European
97 kg: Nicholas Boykin, Murfreesboro, Tenn. (Ohio RTC/Sunkist Kids)
Vs. Alex Szoke (Hungary), 2021 Senior World silver medalist, 5th in 2020 Olympics, 3rd in 2017 U17 Worlds
2022 U23 WORLD CHAMPIONSHIPS REMAINING SCHEDULE
at Pontevedra, Spain (October 17-23, 2022
Tuesday, October 18
10:30 a.m. – Qualification rounds (GR 60, 67, 72, 82, 97 kg)
10:30 a.m. – Repechage (GR 55, 63, 77, 87, 130 kg)
4:45 p.m. – Semifinals (GR 60, 67, 72, 82, 97 kg)
6 p.m. – Finals (GR 55, 63, 77, 87, 130 kg)
Wednesday, October 19
10:30 a.m. – Qualification rounds (WFS 50, 55, 59, 68, 76 kg)
10:30 a.m. – Repechage (GR 60, 67, 72, 82, 97 kg)
4:45 p.m. – Semifinals (WFS 50, 55, 59, 68, 76 kg)
6 p.m. – Finals (GR 60, 67, 72, 82, 97 kg)
Thursday, October 20
10:30 a.m. – Qualification rounds (WFS 53, 57, 62, 65, 72 kg)
10:30 a.m. – Repechage (WFS 50, 55, 59, 68, 76 kg)
4:45 p.m. – Semifinals (WFS 53, 57, 62, 65, 72 kg)
6 p.m. – Finals (WFS 50, 55, 59, 68, 76 kg)
Friday, October 21
10:30 a.m. – Qualification rounds (MFS 57, 65, 70, 79, 97 kg)
10:30 a.m. – Repechage (WFS 53, 57, 62, 65, 72 kg)
4:45 p.m. – Semifinals (MFS 57, 65, 70, 79, 97 kg)
6 p.m. – Finals (WFS 53, 57, 62, 65, 72 kg)
Saturday, October 22
10:30 a.m. – Qualification rounds (MFS 61, 74, 86, 92, 125 kg)
10:30 a.m. – Repechage (MFS 57, 65, 70, 79, 97 kg)
4:45 p.m. – Semifinals (MFS 61, 74, 86, 92, 125 kg)
6 p.m. – Finals (MFS 57, 65, 70, 79, 97 kg)
Sunday, October 23
4:00 p.m. – Repechage (MFS 61, 74, 86, 92, 125 kg)
6 p.m. – Finals (MFS 61, 74, 86, 92, 125 kg)
*All times listed reference Pontevedra local time, six hours ahead of U.S. Eastern Time