News
USA Wrestling
International
Women
College
USAW
Senior World champion Elor, Senior World Team member Guilford lead loaded U.S. U23 Women's Freestyle World Team
by Gary Abbott, USA Wrestling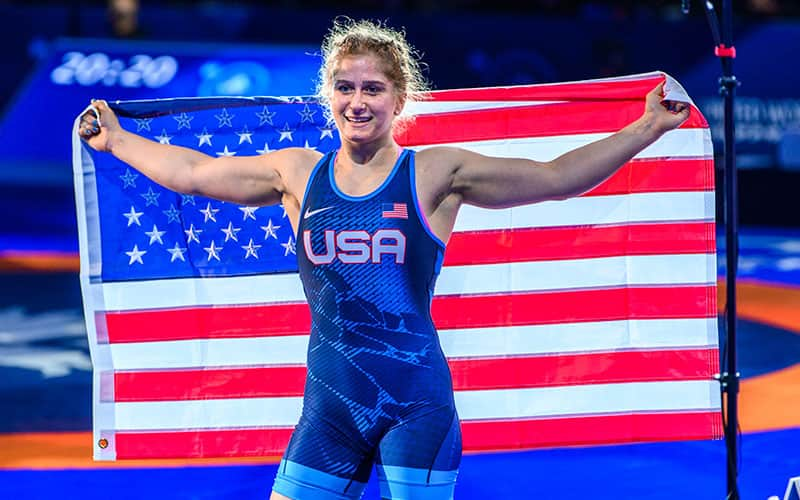 Amit Elor (USA) with the American flag after winning the 2022 Senior World gold medal. Photo by Tony Rotundo, Wrestlers Are Warriors
The 2021 U23 World Team for the United States made history, when Emily Shilson became the first U.S. woman to win a U23 World title, and the team claimed the third-place trophy, the first trophy for Team USA in any discipline at the U23 World Championships, which were created in 2017.
The talented 2022 team, which features eight athletes who have made the U.S. Senior National Team, is looking to raise the bar even more, both on the individual and team levels, when it competes in Pontevedra, Spain, October 18-21.
It all begins with the amazing
Amit Elor,
who became the youngest U.S. wrestler to win a Senior World title when she claimed 72 kg gold medal at the Senior Worlds in Belgrade, Serbia in September. Elor also aims to become the first U.S. wrestler to win three UWW World titles in the same year, as she claimed a U20 World gold medal at 72 kg in Sofia, Bulgaria in August.
Winning gold medals is something Elor has become very good at, with five UWW World titles in her trophy case. She won two World titles in 2021, claiming both the U17 World gold medal and the U20 World gold medal. In 2019, she added a U17 Beach World title. Add in a U17 World bronze medal, and her resume is already jammed with success.
2022 Senior World Team member
Dymond Guilford,
Amit's teammate in Belgrade, will compete at 76 kg in Pontevedra. Guilford was also a member of the 2018 U.S. U20 World Team. Guilford has an impressive college career, winning two NAIA national titles (one each for the Cumberlands and for Missouri Baptist), plus a WCWA national title for Missouri Baptist.
Three members of this team have current UWW Senior World rankings: Elor at No. 2, Guilford at No. 14, and
Emma Bruntil
at No. 11 at 65 kg. Bruntil has twice been a member of the Women's Senior National Team. She comes off a great year, which included a title at the respected Ivan Yarygin Grand Prix in Russia. Bruntil boasts two U.S. Senior Nationals title and was on the 2021 U23 World Team. She was a two-time NCWWC national champion at McKendree, then chose to focus completely on her international career.
The eight Senior National Team members on this U23 team include Elor, Guilford, Bruntil plus
Felicity Taylor
at 53 kg,
Alex Hedrick
at 57 kg,
Lexie Basham
at 59 kg,
Alexandria Liles
at 62 kg and
Sienna Ramirez
at 68 kg. Each of these athletes also have a long list of Senior and age-group achievements.
Taylor, second in 2022 Final X, was a 2022 Senior Nationals champion. She competed on the 2019 U23 World Team. Taylor won a NCWWC national title and a WCWA national title when she was one of the top stars on the national champion McKendree team. She is completing her college career at Div. I Iowa.
Hedrick has twice been No. 2 on the National Team behind Helen Maroulis, and has also won two U.S. Senior National titles. This is her fourth age-group World Championships, having competed in the 2021 U23 Worlds and the 2018 and 2019 U20 Worlds. She was also a college star for Simon Fraser, winning two NCWWC titles there and a pair of WCWA runner-up finishes.
Basham powered onto the college scene this year by winning the NAIA national title for Texas Wesleyan. She continued her dominance in the spring, placing second in Final X to make the Senior National Team.
Liles had a great high school career, winning four Texas titles and a pair of Junior National golds. She has made big jumps since joining the Army WCAP program, placing third on the National Team ladder this year. Liles is also in her fourth age-group World tournament, after competing on a U20 World Team and two U17 World teams.
Ramirez is another young star powering out of the college ranks. Ramirez was a 2021 NAIA champion for Southern Oregon. She won the 2022 U.S. Senior Nationals and placed second in Final X. A fifth place at the Grand Prix of Spain gave her some international experience heading into Pontevedra.
Competing at 55 kg,
Alisha Howk
will be wrestling in her third age-group World Championships. She made a medal match, placing fifth at the 2018 U20 Worlds, and also wrestled in the 2017 U17 Worlds. Howk won Cadet and Junior National titles in Fargo in high school.
University of Iowa freshman
Nyla Valencia
shocked the nation when she beat 2021 U23 World champion Emily Shilson in the U23 World Team Trials semifinals, then won the spot on the team. Valencia was a 2019 Pan American U17 champion and won the National High School Recruiting Showcase.
Will Elor win her historic third World title in 2022? Can this talented U.S. team bring home a number of medals and win another World Team trophy? There will be a ton of excitement when this American team hits the mats next week.
U.S. U23 Women's Freestyle roster
50 kg: Nyla Valencia, Morgan Hill, Calif. (Hawkeye WC/TMWC)
53 kg: Felicity Taylor, Spillville, Iowa (Hawkeye WC/TMWC)
55 kg: Alisha Howk, River Falls, Wis. (Victory School of Wrestling/Sunkist Kids)
57 kg: Alexandra Hedrick, Colorado Springs, Colo. (Titan Mercury WC)
59 kg: Lexie Basham, Roanoke, Texas (Spartan Mat Club)
62 kg: Alexandria Liles, Pueblo, Colo. (U.S. Army WCAP)
65 kg: Emma Bruntil, Colorado Springs, Colo. (Titan Mercury WC)
68 kg: Sienna Ramirez, Ashland, Ore. (Southern Oregon RTC)
72 kg: Amit Elor, New York, N.Y. (NYC RTC/TMWC)
76 kg: Dymond Guilford, Colorado Springs, Colo. (Titan Mercury WC)
Athlete College Affiliations
Iowa 2 (Valencia, Taylor), McKendree 2 (Taylor, Bruntil), Missouri Baptist (Guilford), Simon Fraser (Hedrick), Southern Oregon (Ramirez), Texas Wesleyan (Basham), University of the Cumberlands (Guilford)
U23 WORLD CHAMPIONSHIPS SCHEDULE

Women's freestyle competition
Wednesday, October 19
10:30 a.m. – Qualification rounds (WFS 50, 55, 59, 68, 76 kg)
4:45 p.m. – Semifinals (WFS 50, 55, 59, 68, 76 kg)
Thursday, October 20
10:30 a.m. – Qualification rounds (WFS 53, 57, 62, 65, 72 kg)
10:30 a.m. – Repechage (WFS 50, 55, 59, 68, 76 kg)
4:45 p.m. – Semifinals (WFS 53, 57, 62, 65, 72 kg)
6 p.m. – Finals (WFS 50, 55, 59, 68, 76 kg)
Friday, October 21
10:30 a.m. – Repechage (WFS 53, 57, 62, 65, 72 kg)
6 p.m. – Finals (WFS 53, 57, 62, 65, 72 kg)
*All times listed reference Pontevedra local time, six hours ahead of U.S. Eastern Time