News
USA Wrestling
College
Women
USAW
NCAA Div. III Univ. of Dubuque in Iowa adds women's wrestling; World champion & Hall of Famer Dennis Hall named coach
by University of Dubuque athletics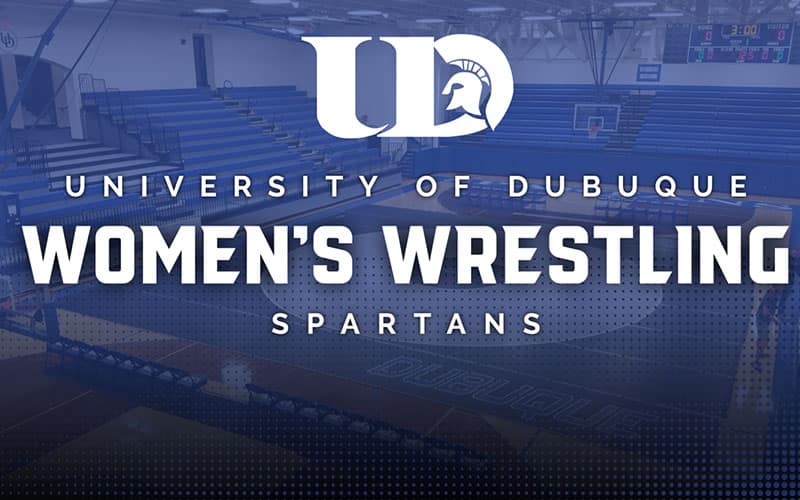 DUBUQUE, Iowa -
University of Dubuque
president Jeffrey Bullock, PhD, has announced the addition of women's wrestling as a varsity sport beginning 2023-24. UD joins Buena Vista University, Central College, Simpson College, and Wartburg College who have all announced the addition of women's wrestling in the
American Rivers Conference
.
"Women's wrestling is an emerging sport in Iowa and across the country. The University of Dubuque is excited to announce the addition of collegiate women's wrestling to UD Spartans athletics," stated Bullock. "The University welcomes, three-time Olympian and former World Champion,
Dennis Hall
, to be the first women's head wrestling coach in the school's 170-year history. We look forward to the opportunities for our student-athletes to excel and grow not only in the classroom, but also on the mat."
Women's Wrestling is the 23rd varsity sport at UD and Iowa is one of 34 states who offer female wrestling in high school. Announced as an emerging sport by the NCAA in 2020, and Iowa Girls High School Athletic Union (IGHSAU) voted unanimously to sanction girls wrestling as the organization's 11th sport in 2022.
The First IGHSAU-sanctioned season will be offered during the 2022-23 school year. The State Wrestling Tournament will tentatively take place February 2-3 at the Xtream Arena in Coralville. Xtream Arena, which is also the new home to the IGHSAU State Volleyball Tournament, has hosted the past two Iowa Wrestling Coaches and Officials Association (IWOCA) Girls State Wrestling Tournaments.
Most collegiate programs compete in Freestyle Wrestling, which is the Olympic style and can compete as an Olympian. The weight classes for colleges are: 101 lbs., 109lbs., 116 lbs., 123 lbs., 130 lbs., 136 lbs., 143 lbs., 155 lbs., 170 lbs., and 191 lbs.
Hall, will be head women's coach and assistant men's coach. Jon McGovern will be the head men's coach and assistant women's coach for the Spartans.
"I can't wait to start building our women's team into a premier competitive squad and look forward to watching competitions across the state and country to recruit the best student-athletes to become a Spartan," stated Hall. "This is an exciting time for college wrestling and the American Rivers Conference and I'm thrilled to join Jon McGovern to be able to offer everyone a chance to wrestle at UD."
Hall, a former Greco-Roman wrestler from Neosho, Wisconsin. Hall was a 10-time US National Champion, World Champion, and 3-time USA Olympian. He won a silver medal at the 1996 Atlanta Olympics.
Hall attended Hartford Union High School and began his career by defeating a two-time senior state champion named Mark Riggs in the state finals as a freshman. Hall finished his prep career with a 146-1-1 record including 110 pins and three individual Wisconsin state titles. During his high school years, he was also a three-time Junior National Greco Champion and World Team member. He was Wisconsin's first Dream Team All-American.
Hall was named USA Wrestling Man of the Year in 1995 as well as three-time Greco-Roman athlete of the year in 1994, 1995, and 1996. In 2011, Hall was inducted into the National Wrestling Hall of Fame as a Distinguished Member.
Women's Wrestling prospects interested to learn more about attending the University of Dubuque and the opportunity to be part of the Spartan Women's Wrestling team should contact the Office of Admission at admissions@dbq.edu or (563)589-3000.