News
USA Wrestling
College
Women
USAW
NCAA finals rematch, Starocci vs. Lewis, headlines loaded NWCA All-Star Classic 15-match card in Austin, Texas on Tuesday
by Adam Engel, Special to TheMat.com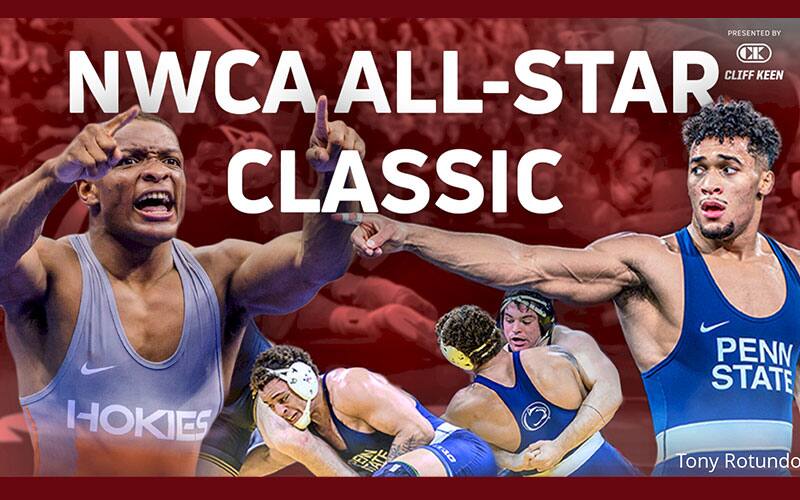 Several of the nation's best college wrestlers are Texas bound. On Tuesday, the National Wrestling Coaches Association will host its
All-Star Classic
in Austin, Texas.
The event, which returns after a four-year hiatus, features 11 men's bouts and four women's bouts. Eleven national champions will compete with an NCAA finals rematch of Carter Starocci vs Mekhi Lewis as the main event.
The event will be
live streamed on FloWrestling
.
Below is a breakdown of each match in the proper bout order.
125: Pat McKee (Minnesota) vs Kysen Terukina (Iowa State)
The event will begin with the only match with one All-American. Terukina, who replaces Arizona State's Brandon Courtney, qualified for the past two NCAA Championships but hasn't found the podium.
Still, he's a speedy wrestler that could challenge McKee, a two-time All-American. He placed third in 2021 and fifth in 2022.
133: Lucas Byrd (Illinois) vs Michael McGee (Arizona State)
These two-time All-Americans meet again. No. 5 Byrd beat No. 4 McGee via fall in the 2021 NCAA Championships fifth place match. That was the only previous meeting between the two.
Both guys are experienced college wrestlers. McGee is in his sixth year while Byrd is in his fourth as a sophomore. McGee reached the 2022 NCAA semifinals but finished fourth. Byrd finished fifth. McGee's offense can be dangerous with his speed and athleticism. His defense is just as good.
157: Bryce Andonian (Virginia Tech) vs Will Lewan (Michigan)
These guys roll into Texas after All-American finishes. No. 4 Andonian spent his first three years at 149 but moved up this year. He finished third at the NCAA Championships while No. 2 Lewan placed fifth.
This will be the first meeting between the two. Both have strong international experience, too. Andonian won a 2021 U20 bronze medal while Lewan won the U17 world championships in 2017.
Andonian's full go offense created a contrast in styles. While Andonian is fully offensive with an elite gas tank, Lewan owns a highly defensive style that could limit Andonian. Which style will win? Fans will find out Tuesday.
141: Cole Matthews (Pittsburgh) vs Real Woods (Iowa)
This will be a rematch of the 2022 NCAA fifth place match in which Matthews won 7-3.
Woods, who was with Stanford, will wear a different singlet in this one. He's now a Hawkeye. Woods also earned All-American status in 2020. This will be an intriguing bout which showcases this year's top talent at 141.
191 women's bout: Kelani Corbett (Missouri Valley) vs Sydnee Kimber (McKendree)
This match wins of the contest of most recent matchup. The two wrestled Sunday in the Missouri Valley Open and Kimber won 6-4. So, the familiarity will be fresh on Tuesday.
Kimber is a three-time national champion who seeks her fourth in March. Corbett won an NAIA national championship with Lyon College in 2022 but transferred to Missouri Valley.
170 women's bout: Yelena Makoyed (North Central) vs Jessie Lee (Life)
Makoyed's two national championships make her the favorite against Lee, a three-time All-American. This is a new weight class for Lee. She earned those All-American honors at 191 but moved to 170 this season.
Makoyed earned more prominence for her terrific summer — gold medals at three UWW ranking tournaments. Makoyed pinned Lee in 4:08 in a 191-pound bout in 2021. That was the only previous match between the two.
149: Sammy Sasso (Ohio State) vs Austin Gomez (Wisconsin)
A Big Ten banger set in an all-star setting. No. 3 Gomez holds a 2-0 advantage of this battle of All-Americans. No. 4 Sasso found the podium in 2021 as a runner-up and in 2022 at fifth. Gomez clipped Sasso, 6-5, to place fourth at the 2022 NCAA Championships.
Except this to be a scramble heavy match with plenty of neutral defense and scoring. Top position will be key here. This will be a fun one.
184: Aaron Brooks (Penn State) vs Parker Keckeisen (Northern Iowa)

These guys have history. A lot of it.
No. 1 Brooks, a two-time defending national champion, holds a 7-0 advantage which makes him a heavy favorite. But don't count out No. 2 Keckeisen, a two-time All-American. The two past matches, in March and December 2021, could've gone either way. Brooks won 6-4 in the NCAA semifinals and 3-2 in the Collegiate Wrestling Duals.
165: Dean Hamiti Jr. (Wisconsin) vs Keegan O'Toole (Missouri)
Two of the sport's youngest stars clash. No. 1 O'Toole enters this season seeking a repeat national championship at 165. He finished third in 2021 as a freshman. Hamiti, a sophomore, finished sixth at the 2022 NCAA Championships. This is the first meeting between these guys in a loaded weight class.
Both guys use their length to their advantage with quick ankle picks and scrambles. O'Toole is the favorite, but No. 5 Hamiti should make it interesting. Hamiti went 28-4 last season with 22 bonus point wins.
143 women's bout: Adaugo Nwachukwu (Iowa Wesleyan) vs Alara Boyd (McKendree)
An established name versus a new start. This will be the first meeting between these two hammers. Boyd, the more established wrestler, won a NCWWC championship in 2021 but finished as runner-up in 2020 and 2022. She also won two U17 World medals.
Nwachukwu's career is just hitting the spotlight. A Nigeria native, she moved to the U.S. in 2018. Her success is evident. She won a 2022 NAIA championship at 136 and won a U20 bronze medal this summer. She will jump a weight for this one. Nwachukwu will look to establish dominance with her heavy hand fighting skills.
109 women's bout: Peyton Prussin (Life) vs Emily Shilson (Augsburg)
These athletes combine for six national championships. Yeah, it's gonna be a high level match.
Prussin seeks her third consecutive NAIA championship in March. She won at 116 in 2022 and at 109 in 2022. Shilson, a career 109-pounder, won both WCWA and NCWWC championship in 2020 before adding two more NCWWC titles in the following years. This will be the first meeting for the pair. Prussin and Shilson are explosive offensively so expect plenty of action.
165: David Carr (Iowa State) vs Quincy Monday (Princeton)
An old rivalry extends to another generation. Two of the country's best middleweights will battle in Austin. The two are sons of Olympic medalists Nate Carr and Kenny Monday. Nate beat Kenny in the 1982 and 1983 NCAA finals. The two exchanged wins and ultimately left college with three wins apiece against each other.
Unlike their fathers, David and Quincy meet for the first time Tuesday night. Both guys are highly technical with strong gas tanks, so the first takedown is crucial. No. 1 (157) Quincy will bump from his usual 157 weight class for this match. David, a 2021 157-pound national champion, moved to 165 this season. No. 3 David responded from a second round loss in the 2022 NCAA Championships while Quincy finished as runner-up to Northwestern's Ryan Deakin.
197: Jacob Warner (Iowa) vs Rocky Elam (Missouri)
These guys combine for five All-American honors but will meet for the first time Tuesday night.
No. 2 Warner, a three-time All-American, recorded wins over some of the best. He defeated Wyoming's Stephen Buchanan in the 2022 NCAA semifinals and finished runner-up.
No. 4 Elam, a 2021 Junior World Champion, finished fourth at the 2022 NCAA Championships and fifth in 2021.
Warner's ability on top will be key in this match as he earned several key wins via riding time. Elam, though, could stop that with his potent leg attacks.
285: Anthony Cassioppi (Iowa) vs Greg Kerkvliet (Penn State)
The Hawkeye holds a 3-0 advantage in this battle of giants. Cassioppi's third period proved to be a difference in each bout against Kerkvliet. Both are two-time All-Americans seeking to improve podium finishes.
Cassioppi finished seventh in 2022 and third in 2021. Kerkvliet placed fourth in 2022 and seventh in 2021.
174: Carter Starocci (Penn State) vs Mekhi Lewis (Virginia Tech)
A repeat of a thrilling NCAA final. Welcome to the main event. These guys battled in Detroit and riding time became the difference. Starocci won 6-5 on riding time in overtime.
Something similar could occur in Austin.
No. 1 Starocci looks to defend his two national championships in March. He's only lost twice in college — both as a redshirt freshman. No. 2 Lewis, the Hokies' star, won in 2019 before his runner-up finish in 2022.
This will be a banger.