News
USA Wrestling
College
Women
USAW
Unattached Iowa women wrestlers win five Missouri Valley Open titles; two battles between NAIA and NCAA No. 1 wrestlers among exciting finals
by Gary Abbott, USA Wrestling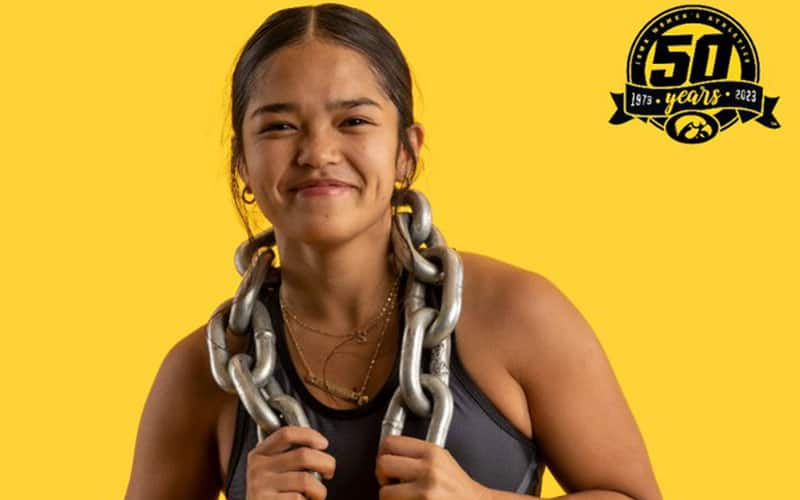 Graphic of Sterling Dias, University of Iowa, courtesy of Iowa Athletics
MARSHALL, Mo. – The largest and most respected women's college open championships, the Missouri Valley Open, completed on Saturday with high-level women's college competition in 11 weight classes.
The tournament was loaded with ranked wrestlers from the NAIA, NCAA, NJCAA and USports in Canada.
The team with the best performance had no college ranked wrestlers, as the new University of Iowa program entered a strong group of stars who are wrestling the 2022-23 season unattached.
Individual champion for the unattached Hawkeyes were
Sterling Dias
(101),
Nyla Valencia
(109),
Felicity Taylor
(116),
Nanea Estrella
(136) and
Reese Larramendy
(143). The other two unattached Hawkeyes reached the finals and lost to their teammates: Emilie Gonzalez (101) and Brianna Gonzalez (109).
Taylor, a past NCWWC champion at McKendree, and Estrella, an NAIA runner-up for Menlo College, were transfers to Iowa, while the other unattached Hawkeyes are college freshmen.
There was one other unattached champion,
Katie Gomez
of California, who competes with the Sunkist Kids and claimed the 123 pounds title.
Two of the finals featured the No. 1 wrestler from the NAIA facing the No. 1 wrestler from the NCAA. The organizations split these matches.
At 130 pounds, NAIA No. 1
Lexie Basham
of Texas Wesleyan beat NCAA No. 1 Cameron Guerin of McKendree, 3-1. Both have been members of the Senior Women's National Team.
At 191 pounds, NCAA No. 1
Sydnee Kimber
of McKendree defeated NAIA No. 1 Kelani Corbett of Missouri Valley College, 6-4.
Other individual champions were:
• NCAA No. 1
Marlynne Deede
of Augsburg, who beat her teammate Brooklyn Hays in the 155 pound finals, 12-0.
• NCAA No. 4
Ashley Lekas
of Augsburg, who beat NCAA No. 2 Emily Cue of Simon Fraser in the 170-pound finals, 7-0
•
Riley Dempewolf
of Indiana Tech, who stopped Alexis Cole of William Jewell, 6-4 at 235 pounds.
MISSOURI VALLEY OPEN
At Marshall, Mo., November 19-20
(With national college ranking listed)
101
1st Place Match - Sterling Dias (Unattached) won by decision over Emilie Gonzalez (Unattached) (Dec 3-1)
3rd Place Match – NAIA No. 1 Ira Navarro (University of Providence) won by decision over NAIA No. 10 Elizabeth Dosado (University of the Cumberlands) (Dec 7-4)
5th Place Match – NAIA No. 17 Erin Hikiji (University of Providence) won by tech fall over NAIA No. 3 Alyssa Quezaire (Missouri Baptist University) (TF 16-4)
7th Place Match – NAIA No. 6 Esthela Trevino (Southern Oregon University) won by fall over NAIA No. 4 Esther Walker (Midland University) (Fall 1:48)
109
1st Place Match - Nyla Valencia (Unattached) won by decision over Brianna Gonzalez (Unattached) (Dec 6-5)
3rd Place Match – NAIA No. 2 Mia Palumbo (Iowa Wesleyan) won by decision over Pauline Granados (McKendree University) (Dec 3-0)
5th Place Match – NAIA No. 2 Emma Baertlein (Unattached) won by fall over NCAA No. 4 Julianne Moccia (Gannon University) (Fall 3:52)
7th Place Match – NAIA No. 9 Jasmine Sands (Texas Wesleyan) won by decision over NAIA No. 4 Natalie Reyna-Rodriguez (Southern Oregon University) (Dec 10-8)
116
1st Place Match - Felicity Taylor (Unattached) won by fall over NAIA No. 1 Ashley Gooman (University of Providence) (Fall 2:26)
3rd Place Match – NAIA No. 4 Juliana Diaz (Missouri Baptist University) won by decision over Caitlyn Thorne (Central Methodist University) (Dec 3-3)
5th Place Match - Jenna Petryna (University of Alberta) won by decision over NAIA No. 7 Camille Fournier (Texas Wesleyan) (Dec 4-2)
7th Place Match – NAIA No. 2 Hannah Hall (Central Methodist University) won by fall over NAIA No. 15 Kylie Robledo (Baker University) (Fall 0:39)
123
1st Place Match - Katie Gomez (Unattached) won by decision over NAIA No. 2 Leilah Castro (Campbellsville University) (Dec 10-1)
3rd Place Match – NAIA No. 1 Carolina Moreno (Southern Oregon University) won by decision over Victoria Seal (Simon Fraser University) (Dec 9-0)
5th Place Match – NCAA No. 3 Payton Stroud (McKendree University) won by fall over NCAA No. 7 Gabby Skidmore (Augsburg University) (Fall 2:39)
7th Place Match – NAIA No. 6 Catharine Campbell (Grand View) won by fall over USports No. 1 Robbie Ann Pingal (University of Alberta) (Fall 0:13)
130
1st Place Match -NAIA No. 1 Lexie Basham (Texas Wesleyan) won by decision over NCAA No. 1 Cameron Guerin (McKendree University) (Dec 3-1)
3rd Place Match – NJCAA No. 1 Victoria Baez-Dillone (Umpqua Community College) won by tech fall over NAIA No. 8 Zaynah McBryde (Life University) (TF 10-0)
5th Place Match - Marquesis Haintz (Simon Fraser University) won by decision over NAIA No. 3 Angela Vitiritti (Campbellsville University) (Dec 7-0)
7th Place Match - Nichole Moore (Unattached) won by decision over NCAA No. 7 Alexandra Fitzgerald (Sacred Heart) (Dec 10-5)
136
1st Place Match - Nanea Estrella (Unattached) won by decision over NCAA No. 2 Blanche `Nina` Kemu Makem (Augsburg University) (Dec 3-3)
3rd Place Match - Claire DiCugno (Unattached) won by tech fall over NAIA No. 6 Aliyah Yates (University of the Cumberlands) (TF 12-2)
5th Place Match - Abigail Varady (McKendree University) won by fall over Sierra Brown Ton (Unattached) (Fall 1:47)
7th Place Match – NAIA No. 8 Ellyana Kuzma (Indiana Tech) won by fall over Riley Dalrymple (Life University) (Fall 2:33)
143
1st Place Match - Reese Larramendy (Unattached) won by tech fall over NAIA No. 4 Alexis Gomez (Grand View) (TF 15-5)
3rd Place Match – NAIA No. 9 Emily Se (Southern Oregon University) won by fall over NAIA No. 2 Emma Walker (Campbellsville University) (Fall 2:11)
5th Place Match – NAIA No. 12 Mea Mohler (Texas Wesleyan) won by decision over NCAA No. 3 Katie Lange (Augsburg University) (Dec 3-2)
7th Place Match – NAIA No. 6 Jamilah McBryde (Life University) won by tech fall over Aniseta Acosta (Missouri Valley College) (TF 12-2)
155
1st Place Match – NCAA No. 1 Marlynne Deede (Augsburg University) won by tech fall over Brooklyn Hays (Augsburg University) (TF 12-0)
3rd Place Match - Caitlyn Davis (Central Methodist University) won by decision over Randi Robison (Campbellsville University) (Dec 3-2)
5th Place Match – NAIA No. 8 India Page (Brewton-Parker College) won by decision over NAIA No. 2 Kaylynn Albrecht (Baker University) (Dec 6-2)
7th Place Match – NAIA No. 1 Kenya Sloan (Campbellsville University) won by fall over Haley Ward (Unattached) (Fall 1:20)
170
1st Place Match – NCAA No. 4 Ashley Lekas (Augsburg University) won by decision over NCAA No. 2 Emily Cue (Simon Fraser University) (Dec 7-0)
3rd Place Match – NAIA No. 3 Joye Levendusky (Southern Oregon University) won by decision over Liliana Vergara (Campbellsville University) (Dec 5-0)
5th Place Match – NAIA No. 5 Abby McIntyre (Grand View) won by injury default over NCAA No. 6 Cristina Santoyo (Emmanuel College) (Inj. 0:00)
7th Place Match – Usports No. 1 Vianne Rouleau (University of Alberta) won by fall over NAIA No. 9 Danielle Saldivar (Missouri Valley College) (Fall 1:18)
191
1st Place Match – NCAA No. 1 Sydnee Kimber (McKendree University) won by decision over NAIA No. 1 Kelani Corbett (Missouri Valley College) (Dec 6-4)
3rd Place Match – NAIA No. 4 Jesse Kirby (University of the Cumberlands) won by fall over NAIA No. 4 Jaycee Foeller (Central Methodist University) (Fall 2:55)
5th Place Match – NAIA No. 11 Grace Kristoff (Southern Oregon University) won by decision over NAIA No. 15 Lessly Sandoval (University of Saint Mary) (Dec 10-6)
7th Place Match – NCAA No. 3 Jayleen Sekona (Colorado Mesa University ) won by decision over Aubrey Yauger (Texas Woman`s University) (Dec 8-3)
235
1st Place Match - Riley Dempewolf (Indiana Tech) won by decision over Alexis Cole (William Jewell College) (Dec 6-4)
3rd Place Match - Rewa Chababo (University of the Ozarks) won by fall over NJCAA No. 7 Faith Wooley (Umpqua Community College) (Fall 3:42)
5th Place Match - Perla Ramirez (Indiana Tech) won by forfeit over Maquoia Bernabe (University of the Cumberlands) (FF)
7th Place Match - Kylie Martin (William Penn) won by fall over Sydni Scott (William Jewell College) (Fall 5:55)