News
USA Wrestling
College
USAW
Gomez defeats Diakomihalis, as Wisconsin upsets Cornell, 19-13 in Ithaca
by Jessica Burda, Wisconsin Athletics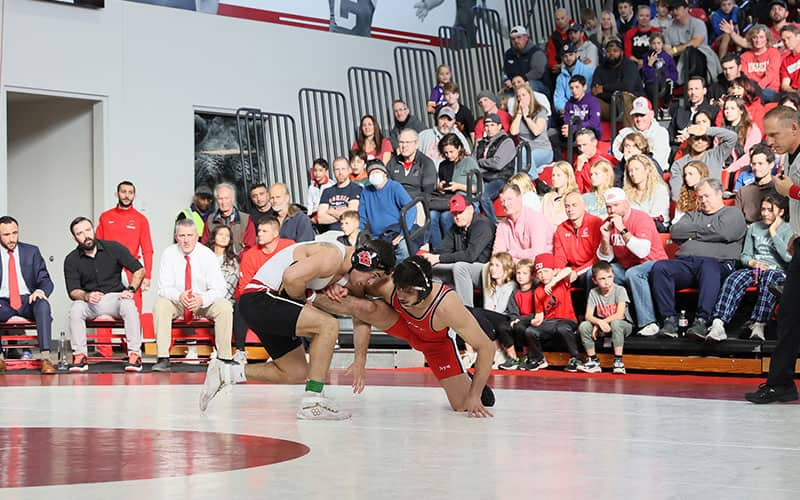 Austin Gomez (Wisconsin) vs. Yianni Diakomihalis (Cornell). Image courtesy of Wisconsin Athletics
ITHACA, N.Y. -- No. 14 Wisconsin held nothing back on the road at No. 9 Cornell on Saturday, upsetting the home team 19-13 in a dual match that wowed wrestling fans.
Ranked third in the nation by Intermat, Austin Gomez led the Badgers with his stunning 9-3 upset decision over three-time NCAA Champion Yianni Diakomihalis. The loss stands as only the second in Diakomihalis' collegiate career as he entered Saturday's dual with a remarkable 93-1 career record and was ranked No. 1 at 149 pounds.
According to FloWrestling, "Gomez escaped in the second period to go up 1-0 and then padded his lead late in the period when he came off a whipover position into a bodylock and outside trip that put Diakomihalis on his back for a takedown and two-point near-fall. ... Gomez added two more re-attack takedowns in the third period on his way to the victory." Intermat called the win "one of the most shocking college wrestling upsets in recent memory."
The last time Wisconsin wrestled Cornell, the Badgers split the bouts 5-5 with Big Red and won 19-16 last February at the UW Field House. This time around, Wisconsin improved their team scoring as the Badgers won six of the 10 bouts.
Eric Barnett opened scoring with a 6-5 decision at 125 pounds over Brett Ungar to give his team a 3-0 lead at the sold-out Friedman Wrestling Center. Cornell claimed the wins at 133 and 131, before Gomez helped Wisconsin change the momentum. Teammate Garrett Model earned a 6-2 decision at 157 against Cole Handlovic to reclaim the team lead 9-7. Dean Hamiti then collected a nice 14-4 major decision over eighth-ranked Julian Ramirez to extend the Badgers' lead to 13-7.
Cornell picked up wins at 174 and 184 to tie up the dual at 13-13. But the Badgers' big men came through with power to close out the victory. At 197, Braxton Amos earned a tight 2-0 decision with riding time to retake the lead before heavyweight Trent Hillger earned the 5-2 decision upset against No. 9 Lewis Fernandes to seal the notable win.
Wisconsin takes a break from duals for two weeks. Gomez and Hamiti will compete in the NWCA All-Star Classic on Tuesday, while several Badgers will attend the Iowa State Harold Nichols Cyclone Open on Saturday, Nov. 26. Wisconsin returns to dual action at the Garden State Grapple on Sunday, Dec. 4 against Princeton and Penn at the Prudential Center in Newark, New Jersey.
Nov. 19, 2022 - #14 Wisconsin 19, #7 Cornell 13 (Ithaca, N.Y.)
125: #9 Eric Barnett (WIS) over Brett Ungar (COR) (Dec 6-5)
133: #3 Vito Arujau (COR) over #18 Taylor LaMont (WIS) (MD 17-6)
141: #21 Vince Cornella (COR) over #18 Joseph Zargo (WIS) (Dec 4-1)
149: #3 Austin Gomez (WIS) over #1 Yianni Diakomihalis (COR) (Dec 9-3)
157: #16 Garrett Model (WIS) over Cole Handlovic (COR) (Dec 6-2)
165: #5 Dean Hamiti (WIS) over #8 Julian Ramirez (COR) (MD 14-4)
174: #9 Chris Foca (COR) over James Rowley (WIS) (Dec 6-3)
184: #7 Jonathan Loew (COR) over Tyler Dow (WIS) (Dec 10-3)
197: #21 Braxton Amos (WIS) over #20 Jacob Cardenas (COR) (Dec 2-0)
285: #12 Trent Hillger (WIS) over #9 Lewis Fernandes (COR) (Dec 5-2)
All rankings are Intermat for Nov. 15, 2022