News
USA Wrestling
International
Women
USAW
Ukraine women's team announced for Men's and Women's Freestyle World Cup in Coralville, Iowa, December 10-11
by Gary Abbott, USA Wrestling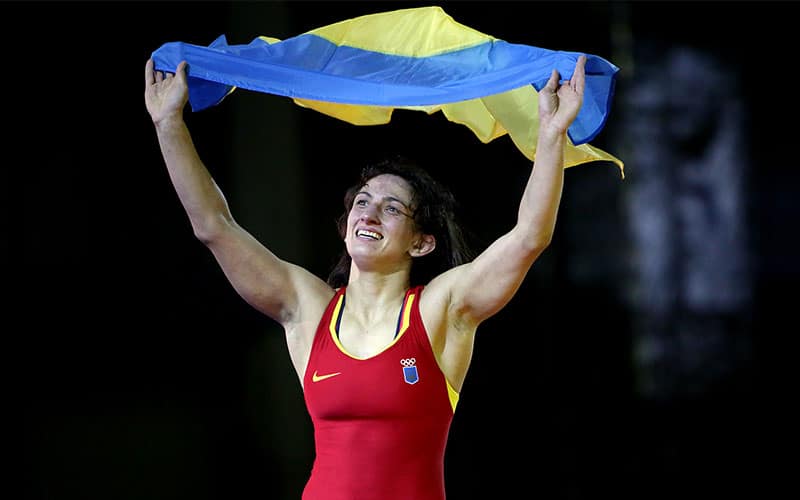 Yulia Tkach Ostapchuk (Ukraine) with the Ukrainian flag. Photo by Martin Gabor, United World Wrestling.
The lineup for
Ukraine
, which will compete in women's freestyle at the Men's and Women's Freestyle World Cup has been released.
The Men's and Women's Freestyle World Cup will be held at Xtream Arena in Coralville, Iowa, Dec. 10-11. It is the first time that men's freestyle and women's freestyle will be held together side-by-side at the World Cup.
The World Cup is the annual international dual meet championships, conducted by United World Wrestling. The top five teams in men's freestyle and the top five teams in women's freestyle from the 2022 Senior World Championships in Belgrade, Serbia in September have confirmed their participation. There is also an All World Team in each discipline, featuring the top available athlete from the World Championships in each weight class that were not from a nation which qualified for the World Cup.
The Ukraine Women's World Cup team is talented, as nine of the 10 entries have won at least one World medal, either on the Senior level or age-group level, or both.
The team is led by 2014 World champion
Yulia Tkach Ostapchuk
, who has also won three other World medals, a 2017 World silver medal and World bronze medals in 2015 and 2018. She has also won World titles at the University and U20 age levels.
Other Senior World medalists on the roster include two-time World medalist
Oleksandra Khomenets
(55 kg), a 2022 World silver medalist and a 2021 World bronze medalist. Also competing are
Oksana Livach (
50 kg), a 2018 World bronze medalist,
Alina Hrushyna Akobiia
(57 kg), a 2022 World bronze medalist and
Ilona Prokopevniuk
(62 kg), a 2022 World bronze medalist. All four of these stars have also won age-group World medals, with Livach a 2013 U17 World champion.
Age-group World medalists on the team include
Tetiana Sova Rizhko
(65 kg), Alla Belinska (68 kg),
Anastasiya Alpyeva
(72 kg) and
Anastasiia Osniach Shustova
(76 kg). Alpyeyeva was a 2021 U23 World champion and Onsiak Shustova was a 2013 U17 World champion.
Ukraine, which placed fifth at the 2022 World Championships in women's freestyle, will be joined in the World Cup by World champion Japan, second place United States, third place China and fourth place Mongolia, in addition to the All World Team.
Ukraine's women's team will spend an extended time in the United States, training with Team USA and others prior to and after the World Cup. The Ukrainian women will also compete in the Beat the Streets Los Angeles International Wrestling event in San Marino, Calif. on December 18, where it will take on a U.S. women's all-star team.
The rosters of the World Cup teams for the other nations will be announced over the next week by USA Wrestling.
Ticket packages for the 2022 Men's and Women's Freestyle World Cup are currently on sale. The seating capacity for Xtream Arena for the World Cup will be approximately 5,300. Ticket packages include a Gold package for $275, Silver package for $200 and All-Session tickets for $90.
A special Presentation of Teams and Team USA Meet & Greet will also be held on Friday, December 9 at 6:45 p.m. It is free and open to the public.
Men's and Women's Freestyle World Cup tickets
Ukraine Women's Freestyle World Cup team
50 kg – Oksana Livach
53 kg – Lilija Malanchuk
55 kg – Oleksandra Khomenets
57 kg – Alina Hrushyna Akobiia
59 kg – Yuliia Tkach Ostapchuk
62 kg – Ilona Prokopevniuk
65 kg – Tetiana Sova Rizhko
68 kg – Alla Belinska
72 kg – Anastasiya Alpyeva
76 kg – Anastasiia Osniach Shustova