News
USA Wrestling
College
USAW
Maryland tops No. 16 Pitt, 18-16, for first ranked win since 2013
by Maryland Athletics, Pitt Athletics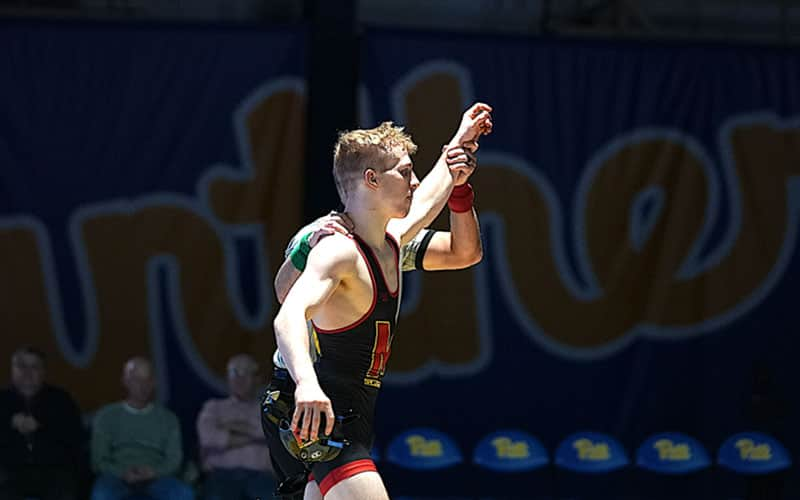 Image courtesy of Maryland Athletics
PITTSBURGH, PA -- The Terps (4-0) won five bouts and bested No. 16 Pittsburgh (1-1) by a score of 18-16 for the program's first ranked win since 2013 on Friday night in the Fitzgerald Field House.
The last time the Terps had beat a ranked team was Feb. 17, 2013 against No. 20 Wyoming, 20-12.
Braxton Brown, Ethen Miller, Michael North, Dominic Solis
and
Jaron Smith
all won their individual bouts.
Brown kicked off the night in style with a pin in the second period to put the Terps on top 6-0 early.
Miller later claimed a decision and North followed that up with a dramatic, come-from-behind sudden victory win over No. 11 Dazjon Casto.
Entering the final match down 16-15, Jaron Smith battled for a 6-1 decision to bring the Terps to the thrilling victory.
Maryland 18, No. 16 Pittsburgh 16
125: No. 26 Braxton Brown fall (4:55) Colton Camacho - Maryland 6, Panthers 0
133: No. 8 Micky Phillippi dec. (5-1) Jackson Cockrell - Maryland 6, Panthers 3
141: No. 1 Cole Matthews dec. (5-1) No. 33 Kal Miller - Maryland 6, Panthers 6
149: No. 24 Ethen Miller dec. (9-4) Tyler Badgett - Maryland 9, Panthers 6
157: Michael North SV dec. (10-8) No. 11 Dazjon Casto - Maryland 12, Panthers 6
165: No. 14 Holden Heller major dec. (12-4) Lucas Cordio - Maryland 12, Panthers 10
174: No. 32 Dominic Solis SV dec. (3-1) Luca Augustine - Maryland 15, Panthers 10
184: No. 24 Reece Heller dec. (10-4) Chase Mielnik - Maryland 15, Panthers 13
197: No. 9 Nino Bonaccorsi dec. (8-2) No. 13 Jaxon Smith - Maryland 15, Panthers 16
HWT: No. 29 Jaron Smith dec. (6-1) Jake Slinger - Maryland 18, Panthers 16
Pitt press release by Roger Milan Sepich

Early Pin Proves Crucial, Maryland Beats No. 17 Pitt

Pitt's Nino Bonaccorsi Earns 100th Collegiate Win
PITTSBURGH — Pitt super senior Nino Bonaccorsi earned the 100th victory of his remarkable college career on Friday night at the Fitzgerald Field House, earning a standing ovation from the crowd.
Ranked No. 9 by InterMat at 197 pounds, Bonaccorsi beat No. 13 Jaxon Smith by 8-2 decision with a trademark attacking performance with mat control throughout. Bonaccorsi's improved his career record in college wrestling matches to 100-25.
However, the No. 17 Pitt wrestling team dropped an 18-16 decision to visiting Maryland. The Terrapins (4-0) earned the win thanks to a pin by No. 26 Braxton Brown at 125 pounds and secured victory in come-from-behind fashion by taking the heavyweight bout via No. 28 Jaron Smith.
Also winning matches for the Panthers (1-1) were No. 8 Micky Phillippi at 133 pounds, No. 1 Cole Matthews at 141, No. 14 Holden Heller by major decision at 165 and No. 24 Reece Heller at 184.
Close defeats at 157 and 174 pounds were also vital in the dual, including a takedown by Pitt's Luca Augustine at 174 that was controversially overturned upon review before No. 32 Dominic Solis won the match in sudden-victory overtime.
"It was a disappointing night," Pitt head coach Keith Gavin said. "To start out with a pin for them at 125, that was a huge swing. I told Colton after that he looked really good, but he has to be ready for that roll. Hopefully he stays positive because he was wrestling very well before that moment. But that was huge. The match at 157 was a big one too."
"There we some good performances, too," Gavin added. "The Heller brothers both looked great. Nino, too. But overall, we need to see a little more offense and scoring across the 10 weight classes."
Pitt has a chance to respond immediately tomorrow with a 7 p.m. home dual with No. 13 Lehigh.
Saturday's dual with Lehigh – the 67th all-time wrestling matchup between the Panthers and Mountain Hawks – will serve as Pitt's Hall of Fame Recognition Night. Lehigh head coach Pat Santoro, a national champion during his career wrestling for the Panthers, and late great Pitt head coach Rande Stottlemyer will be honored as Class of 2022 inductees into the Pitt Athletics Hall of Fame.
Fans coming from Pitt's home football game on Saturday against Duke can also attain free admission to Saturday's wrestling match with Lehigh at Fitzgerald Field House by showing their ticket from Acrisure Stadium.