News
USA Wrestling
College
USAW
No. 5 Arizona State defeats No. 3 Missouri, 19-17, in Tempe
by ASU Athletics/Missouri Athletics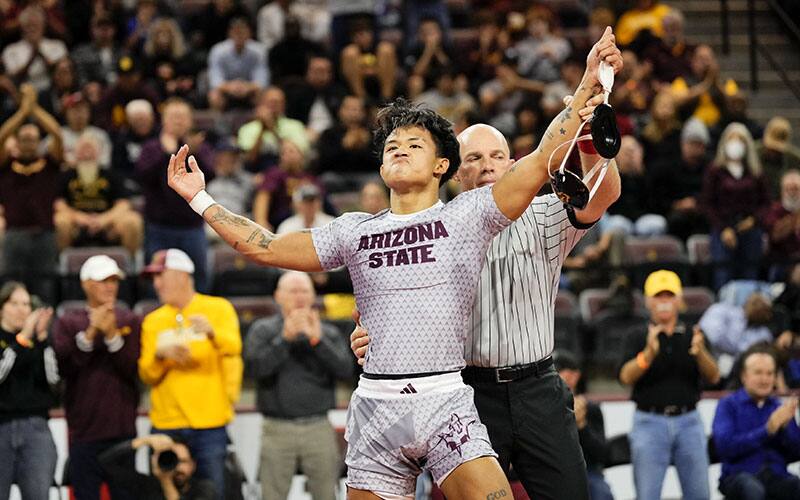 Kyle Parco (Arizona State) after victory over Brock Mauller (Missouri). Photo courtesy of ASU AthleticsSun Devils Top Missouri 19-17 in Home Opener

By: Zach Wargo, Media Relations Intern
TEMPE – No. 5 Sun Devil Wrestling (2-0) came out victorious over No. 3 Missouri (1-1) Thursday night at Mullett Arena, winning the home opener 19-17 in electric fashion. The home-opening victory featured huge wins at 125, 141, 149 and heavyweight. The 2,947 fans in attendance made the dual the second-largest attended dual in program history. Richard Figueroa and Jesse Vasquez upset their opponents, and Schultz, the heavyweight national runner-up, made his season debut and closed things out with a major decision. ASU won the first four bouts of the night and had a 12-0 lead heading into 157.
"Thank you all for coming," head coach Zeke Jones said in his post match opening statement. "We just talked about it with the team that we're just thankful for the opportunity. We just remember that we're blessed to do what we love to do. In a match, it's easy to go and freak out a little, but I think the guys stayed steady. They were resilient, they were tough, and I'm really proud of them."
Sun Devil nation showed up and showed out. The 5,000-seat arena was buzzing from start to finish, and the roof almost came down on multiple occasions, most notably No. 24 Vasquez' upset 3-2 decision over No. 6 Allan Hart.
"I think that was the difference: We won because of the people in those stands tonight," Jones said. "They were rockin. Our guys fed off of it, you could just tell. Look at Cohlton Schultz, he had a smile on his face while he was wrestling, he enjoyed it. The fans were the 11th man tonight."
"It felt like a true event, like entertainment," 184 Anthony Montalvo said. "For a moment there I was like, 'Oh. I'm up in four minutes.' I was so locked in. And I feel like the fans are able to see our energy as well as a team. We are a group of guys who truly do care about each other. It's a solid bond of friendship and I've never been a part of something like this. I think that along with being the rank that we are and being able to hopefully bring the title here, all those things combined bring up the atmosphere."
Up Next
The Sun Devils will send a small squad of younger wrestlers to the Keystone Classic in Philadelphia, Pennsylvania, Nov. 20. Veterans and primary starters will take a break to reset for the Cliff Keen Invitational Dec. 2-3 in Las Vegas.
No. 5 Arizona State 19, No. 3 Missouri 17
125 | Richard Figueroa (ASU) over No. 14 Noah Surtin (MIZ) by 6-4 dec.
133 | No. 4 Michael McGee (ASU) over Connor Brown (MIZ) by 6-4 dec.
141 | No. 24 Jesse Vasquez (ASU) over No. 6 Alan Hart (MIZ) by 3-2 dec.
149 | No. 3 Kyle Parco (ASU) over No. 8 Brock Mauller (MIZ) by 3-2 dec.
157 | No. 15 Jarrett Jacques (MIZ) over Max Wilner (ASU) by TF 25-9 (6:15)
165 | No. 1 Keegan O'Toole (MIZ) over No. 19 Tony Negron (ASU) by TF 17-1 (5:52)
174 | No. 9 Peyton Mocco (MIZ) over Cael Valencia (ASU) by 14-4 MD
184 | Np. 20 Anthony Montalvo (ASU) over Sean Harman (MIZ) by 4-2 dec.
197 | No. 4 Rocky Elam (MIZ) over No. 15 Kordell Norfleet (ASU) by 8-2 dec.
285 | No. 1 Cohlton Schultz (ASU) over No. 7 Zach Elam (MIZ) by 12-4 MD
*Rankings according to FloWrestling
Missouri press release
TEMPE, Ariz. – The No. 3 ranked University of Missouri wrestling team fell short on the road in Tempe, Ariz., losing 19-17 to No. 5 Arizona State. The Tigers move to 1-1 this season, and are 2-5-1 all-time against the Sun Devils.
Senior Jarrett Jacques got the Mizzou bench to its feet with a dominant 25-9 technical fall at 157 pounds, earning the team its first points of the match. Sophomore Keegan O'Toole followed suit, earning a technical fall of his own at 165 pounds (17-1). Redshirt junior Peyton Mocco's 14-4 major decision at 184 gave the Tigers their first lead of the night, 14-12.
Winning his season debut and giving Missouri a two-point lead heading into the final bout, sophomore Rocky Elam earned an 8-2 decision. In the final matchup of the night, redshirt junior Zach Elam was unable to get the upset over No. 1 Cohlton Schultz at 285, as the Tigers fell on the road 19-17.
MATCH NOTES
Mizzou moves to 2-5-1 all-time against Arizona State, having a 1-2 record over the last three meetings.
With the technical fall, Jacques moves to 6-0 on the year to lead the Tigers for most wins thus far in 2022-23.
O'Toole extended his win steak to 34 consecutive bouts dating back to the 2021 NCAA Tournament, with his 17-1 technical decision.
R. Elam earned a win in his season debut, defeating No. 15 Kordell Norfleet at 197 pounds by 8-2 decision.
Note: Arizona State press release will be added when available