News
USA Wrestling
High School & Youth
USAW
Top high school teams from many states to compete in inaugural National Wrestling Hall of Fame Dual Classic, December 21-22
by Jack Carnefix, National Wrestling Hall of Fame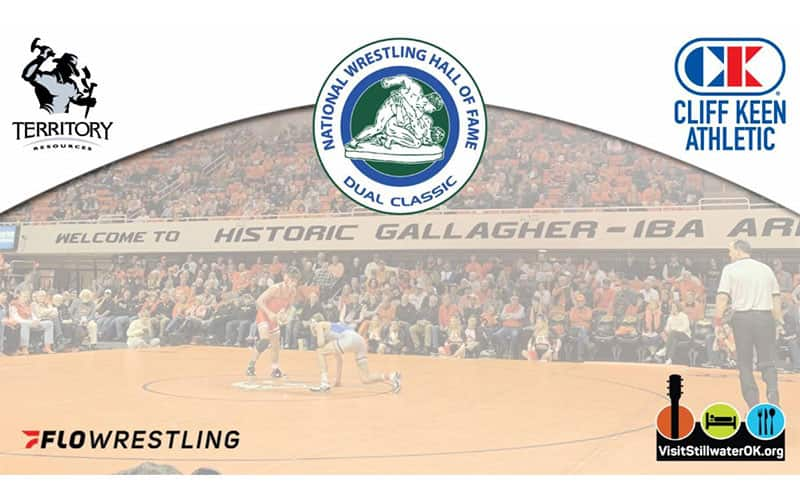 Top high school teams from many states to compete in inaugural
National Wrestling Hall of Fame Dual Classic
, December 21-22
The National Wrestling Hall of Fame will host 16 of the top high school wrestling teams in the country in the inaugural National Wrestling Hall of Fame Dual Classic presented by Cliff Keen Athletics and Territory Resources on December 21 and 22 at
Gallagher-Iba Arena
.
The dual tournament includes Oklahoma high school powerhouses Bixby, Edmond North, Stillwater and Tuttle and Allen, Texas; Arlington Martin, Texas; Delbarton, New Jersey; Derby, Kansas; Liberty, Missouri; Loyola, Illinois; Pomona, Colorado; Poway, California; St. Joseph Mountvale, New Jersey; and St. Pius X, Missouri.
All-session tickets are on sale at
bit.ly/2022NWHOFDualClassicTickets
and at the Oklahoma State box office. All-session tickets are $15 for youth (18 and under) and $25 for adults. Groups of 12 or more can purchase all-session tickets for $10 each, using Promo Code: 22HOF. Individual session tickets will be available on the day of event.
FloWrestling
will broadcast all 40 dual matches at
FloWrestling.org
.
"The Dual Classic allows us to share the history and mission with some of the elite teams and wrestlers in the country," said Lee Roy Smith, Executive Director of the National Wrestling Hall of Fame. "We are also providing wrestling fans with an opportunity to watch some of our nation's best high school wrestlers, either in person or on FloWrestling."
Each of the competing teams will receive a private tour of the National Wrestling Hall of Fame and Museum.
Teams will also attend a post-event banquet that includes presentation of awards and a roundtable discussion with Hall of Fame Distinguished Members Dan Gable and John Smith.
The 16 teams will be seeded and divided into four pools. Pool 1 will be Nos. 1, 8, 9 and 16, Pool 2 will be Nos. 2, 7, 10 and 15, Pool 3 will be Nos. 3, 6, 11 and 14, and Pool 4 will be Nos. 4, 5, 12 and 13. Pools 1 and 2 will compete in the first session and Pools 3 and 4 will compete in the second session on December 21.
Each team will wrestle three duals on December 21. The top four finishers in each pool will be placed into the gold pool, the four runners-up will be placed into the silver pool, the four third-place finishers will be placed into the bronze pool, and the four fourth-place finishers will be placed into the copper pool.
Teams in the pools will be seeded based on their original tournament seed. In the first session on December 22, the highest original seed in each pool will meet the lowest original seed and the two remaining teams will meet The final session will have the winners in each pool meeting to determine the pool winner and runner-up while the other two will meet to determine the pool's third-place and fourth-place finishers.