News
USA Wrestling
International
College
Women
USAW
Hall of Fame Order of Merit recipient and USA Wrestling supporter Arno Niemand passes away
by Jack Carnefix, National Wrestling Hall of Fame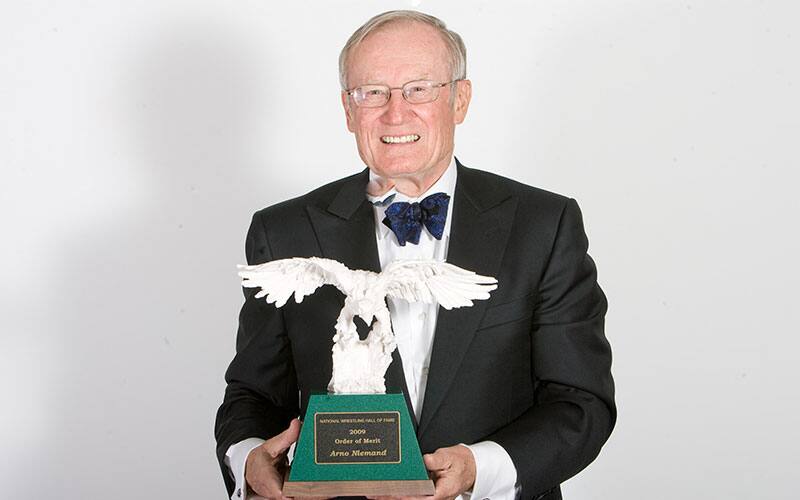 Arno Niemand with his Order of Merit award. Photo courtesy of the National Wrestling Hall of Fame
STILLWATER, Okla. – The National Wrestling Hall of Fame was saddened to learn that
Arno Niemand,
who received the Hall of Fame's Order of Merit award in 2009, has passed away, at the age of 88.
"On behalf of the National Wrestling Hall of Fame Board of Governors and staff, I want to extend our sincerest sympathies to Arno's wife, Brenda, his family and all of those in wrestling who he impacted," said Lee Roy Smith, Executive Director of the National Wrestling Hall of Fame. "Not only was Arno an active board member with a keen sense of stewardship for the Hall of Fame and the preservation of our sport's heritage, but more importantly he was someone who was incredibly effective at helping to educate people about our sport and pass its history on to future generations."
Anyone who knew Niemand would say quite simply that, "he loved wrestling." Men's wrestling, women's wrestling, folkstyle wrestling, freestyle wrestling, it didn't matter. Niemand was so passionate about the sport that he devoted significant portions of his time, creativity and financial resources to wrestling for most of his adult life.
Niemand's love affair with wrestling began in the early 1950s as a prepster competing for Mercersburg Academy and as team captain for Phillips Academy. He earned a varsity spot at Cornell University and helped his team to a second-place finish in the EIWA and a third-place finish in the 1953 NCAA championships. His experiences earned him the nickname "Grappler," shortened by his friends into "Graps," and instilled in him a lifelong devotion to the sport.
After earning his bachelor's degree from Cornell in 1956 and his master's degree from the Darden School of Business, University of Virginia in 1958, Niemand served as a 1st Lieutenant in the U.S. Army Signal Corps from 1958-60. He then went to work for Niemand Industries, a $20-million sales specialty packaging company. He became president and chief executive officer, serving in that position for 20 years before becoming chairman for five more.
His book, "The Dream Team of 1947," tells the story of the small Cornell College team in Mt. Vernon, Iowa, that inconceivably won the NCAA national wrestling championship.
In 1990, he founded
Body Bar Systems,
a producer of fitness products sold around the world, which was a sponsor of USA Wrestling's Women's National Team, helping to pioneer the sport through its first two Olympiads. The company also sponsored collegiate wrestling tournaments.
Editor's Note:
The USA Wrestling Body Bar Women's Nationals, which included age-group World Team Trials and youth national tournaments in freestyle wrestling, was held for many years.
Niemand was a driving force in Cornell's resurgence and was instrumental in helping the school to build a new wrestling facility and a women's softball field. He also supported the National Wrestling Coaches Association "Building Leaders for Life" program.
He also supported the College Sports Council, the New York Athletic Club, the Mercersburg Academy wrestling program and has served as a long-time board member of the Excel Wrestling Club in Colorado.
Niemand was presented the USA Wrestling Lifetime Achievement Award in 2011 and was awarded the FILA Gold Star for 2008, the highest award granted by the international governing body.
He is member of the Cornell Hall of Distinguished Wrestling Alumni and an Honorary Cornell College Alumnus.
At a time when the sport of wrestling needed more energy and support than ever before, Niemand provided it.


National Wrestling Hall of Fame & Museum
America's shrine to the sport of wrestling, the National Wrestling Hall of Fame & Museum was founded as a nonprofit organization in 1976 to honor the sport of wrestling, preserve its history, recognize extraordinary individual achievements, and inspire future generations. The National Wrestling Hall of Fame has museums in Stillwater, Oklahoma, and Waterloo, Iowa. The Stillwater, Oklahoma, location reopened in June 2016 following a $3.8 million renovation and now features interactive exhibits and electronic kiosks, as well as the opportunity to watch NCAA Championship matches from the 1930s to present day. It also has the John T. Vaughan Hall of Honors where the greatest names in wrestling are recognized, including iconic granite plaques presented to Distinguished Members since the Hall of Fame opened in 1976. The museum has the largest collection of wrestling artifacts and memorabilia in the world, including the most collegiate and Olympic wrestling uniforms. Wrestling truly is for everyone and the diversity and accessibility of the sport continues to be highlighted through exhibits featuring females, African-Americans, Asian Americans, Native Americans, and Latino Americans. There is also a library featuring historical documents, including NCAA guides and results, as well as books on the sport. For more information about the Hall of Fame, please visit
www.NWHOF.org
.