News
USA Wrestling
College
USAW
No. 14 Iowa State downs No. 12 Wisconsin, 26-6, winning eight matches
by Andy Stubblefield, Iowa State athletics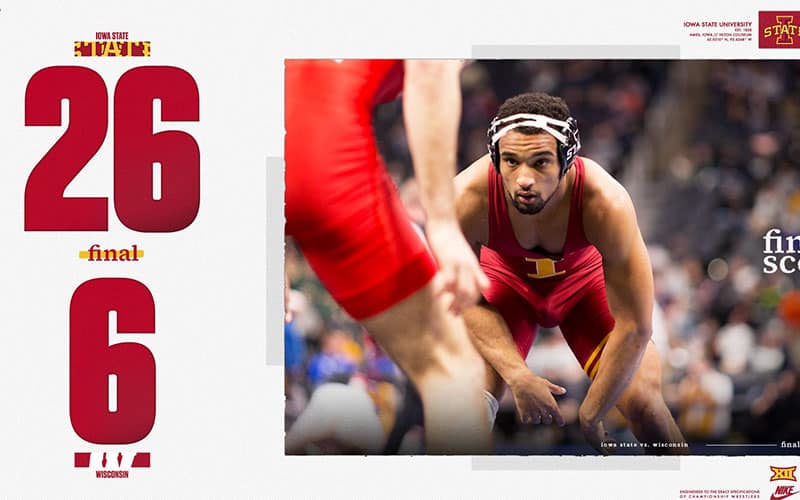 Graphic courtesy of Iowa State Athletics
JACKSONVILLE, Fla. – No. 14 Iowa State took eight of 10 matches, including six against top 15 opponents, to defeat No. 12 Wisconsin Saturday night inside Swisher Gymnasium. The Cyclones went 3-0 on the day to win the Battle in the River City, capped by a 26-6 victory over the Badgers.
Iowa State has won 16 consecutive duals dating back to last season, the second-longest active streak nationally.
"I'm proud of our guys tonight," said head coach Kevin Dresser. "They set the tone early in the day and wrestled with great attitude and effort. The fun part is that it's only November 5th and we have a lot of time to get better. We can't let the highs get too high or the lows get too low because it's a long road to March. We'll enjoy this one tonight and get back to work on Monday."
How it Happened
The Cyclones made a statement early by opening the dual with four-straight wins against Badgers ranked in the top 15.
Kysen Terukina
was the aggressor early at 125 pounds and was rewarded as he built a 4-1 lead after one period against No. 6 Eric Barnett. Barnett rallied to send the match to sudden victory but Terukina notched the takedown to come out on top, 9-7.
Iowa State was deducted a team point during the 125-pound match for control of mat area.
Zach Redding
looked the part in a commanding 10-4 decision against No. 12 Taylor LaMont which included four takedowns.
Three first-period takedowns for Swiderski propelled the highly-touted freshman to a victory over No. 11 Joseph Zargo at 141 pounds. Swiderski added another takedown and two escapes in a hard-nosed battle and came out on top, 10-5, giving the Cyclones an 8-0 lead after three matches.
At 149 pounds, No. 24
Paniro Johnson
downed No. 2 Austin Gomez behind two third-period takedowns. Gomez tried a big move early in the match but Johnson held his own and secured the victory against last year's Big Ten Champion.
The most anticipated match of the day came between No. 3
David Carr a
nd No. 5 Dean Hamiti at 165 pounds. Things were tight between the pair early as Carr fended off a few attacks from Hamiti, but two takedowns in the third lifted Carr, 7-5.
No. 5
Marcus Coleman
made quick work of Tyler Dow at 184 pounds, picking up the fall in 1:45, his fastest pin since 2020.
In a rematch from the 2022 NCAA Championships, No. 6
Yonger Bastida
prevailed over No. 20 Braxton Amos once again. Bastida owned a narrow 1-0 lead entering the final period and secured two late takedowns to come out on top.
No. 16
Sam Schuyler
won a thriller at heavyweight against No. 11 Trent Hillger to close out the dual. Schuyler trailed late but scored a takedown with only five seconds remaining to seal the win.
No. 14 Iowa State 26, No. 12 Wisconsin 6
125: #27 Kysen Terukina (ISU) dec. #6 Eric Barnett (WIS), 9-7 SV-1
133: Zach Redding (ISU) dec. #12 Taylor LaMont (WIS), 10-4
141: Casey Swiderski (ISU) dec. #11 Joseph Zargo (WIS), 10-5
149: #24 Paniro Johnson (ISU) dec. #2 Austin Gomez (WIS), 9-4
157: #18 Garrett Model (WIS) dec. Jason Kraisser (ISU), 6-5
165: #3 David Carr (ISU) dec. #5 Dean Hamiti (WIS), 7-5
174: James Rowley (WIS) dec. MJ Gaitan (ISU), 4-3
184: #5 Marcus Coleman (ISU) WBF Tyler Dow (WIS) (1:45)
197: #6 Yonger Bastida (ISU) dec. #20 Braxton Amos (WIS), 5-3
285: #16 Sam Schuyler (ISU) vs. #11 Trent Hillger (WIS), 3-2
*Iowa State was deducted a team point after the 125-pound match for control of mat area.