News
USA Wrestling
International
College
High School & Youth
USAW
Hall of Fame biography: Cory Land, Dave Schultz HS Excellence Award
by National Wrestling Hall of Fame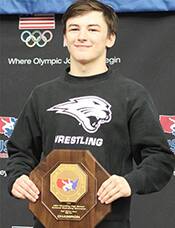 Cory Land – Dave Schultz High School Excellence Award
The 2022 national winner of the Dave Schultz High School Excellence Award is Cory Land.
Cory Land of Moody, Alabama is the son of Eric Land and Kaylea Williams.
Cory was a five-time Alabama state champion for Moody High School and finished his high school career with a perfect 203-0 record.
He was named Outstanding Wrestler at the state tournament as a junior and holds the school record for single-season and career records for wins and pins.
Cory is the first wrestler from Alabama to compete in the Cadet Greco-Roman World Championships, finishing fifth in 2019 and capturing a silver medal in 2021.
He was a Moody High School Bryant-Jordan Achievement Award nominee and received the Ironclad Wrestling Organization Coaches Award.
Cory read to elementary school students on Read Across America Day and volunteered at the elementary school's Thanksgiving Feast and at October Fest.
A Beta Club officer and member of the Moody High School Student Leadership Team, he was co-editor of the Moody High School yearbook and served as an ambassador at the Moody Middle School groundbreaking.
Cory has a GPA of 3.86 and has signed a letter of intent to wrestle at the University of Northern Iowa.