News
USA Wrestling
International
College
High School & Youth
Women
USAW
Hall of Fame biography: Clarissa Chun, Distinguished Member
by National Wrestling Hall of Fame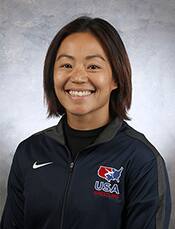 Clarissa Chun - Distinguished Member
Clarissa Chun won a World Championship in 2008 and captured a bronze medal at the London Olympics in 2012.
A four-time U.S. Open champion, she competed in five world championships and two Olympics, finishing fifth in 2008 when she was the first wrestler from Hawaii to qualify for the Olympics.
She also won four Pan American Championships and was a silver medalist at the Pan American Games in 2011.
Clarissa was a four-time Sunkist Kids International Open champion and also captured championships at the Dave Schultz Memorial International, Poland Open, Open Cup of Russia, New York AC International, Vehbi Emre Golden Grand Prix, and Klippan Ladies Open.
An exceptionally gifted athlete, Clarissa qualified for state tournaments in wrestling, swimming and bowling and competed in judo and water polo.
She made history when she won the first Hawaii state title in the first year the state held an officially sanctioned tournament for girls.
She went on to win a second state championship for Roosevelt High School and placed third in the 1999 USGWA High School Nationals.
While attending Missouri Valley College, one of the pioneer women's college wrestling team programs, she made the Senior Women's National Team.
She was a two-time University Nationals champion and placed fourth at the University World Championships in 2004. She placed fifth at the 2001 Junior World Championships, after finishing eighth in 2000, and was the 2000-01 FILA Junior Nationals champion.
She was an Assistant National Women's Coach for USA Wrestling from 2017 to 2021, during which American women have won six gold medals, four silver medals and five bronze medals at the world championships and a gold, a silver and two bronze medals at the 2020 Olympics.
Clarissa made history in 2021 when she was named the first head coach of the University of Iowa women's wrestling team, the first NCAA Division I, Power Five conference institution to offer women's wrestling.
She was inducted into the Hawaii Sports Hall of Fame in 2018.
For her dedication to the sport and her exceptional wrestling career that includes a World Championship and an Olympic Bronze Medal, Clarissa Chun is honored as a Distinguished Member of the National Wrestling Hall of Fame.