News
USA Wrestling
International
College
High School & Youth
USAW
Hall of Fame biography: Andy Rein, Distinguished Member
by National Wrestling Hall of Fame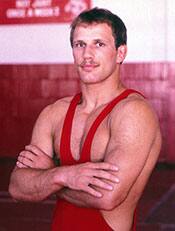 Andy Rein – Distinguished Member
Andy Rein was a silver medalist at the Los Angeles Olympics in 1984 after being an alternate in 1980.
He captured a gold medal at the prestigious Tbilisi International Tournament in 1983 and was a silver medalist at the Super Champion Title Tournament in Tokyo in 1985.
A four-time National Freestyle champion, Andy won a gold medal at the Pan American Championships in 1979 while finishing fourth at the World Championships in 1981 and earning a silver medal at the World Cup in 1982.
At the University of Wisconsin, he was an undefeated NCAA champion in 1980 at 150 pounds with a 40-0 record and runner-up in 1978 at 142.
Andy was a three-time All-American and a two-time Big Ten champion while also winning three Midlands Tournament titles.
He was a two-time East-West All-Star Meet champion and had a career record of 119-13-1.
At Stoughton High School, he was a two-time Wisconsin high school state champion while also capturing state and national AAU titles in Greco-Roman and freestyle.
Andy was head coach at Wisconsin for seven seasons, leading the Badgers to Top 15 finishes at the NCAA Division I Championships six times.
Andy coached three national champions and 14 All-Americans while compiling a career record of 81-41-3.
He was NCAA Rookie Coach of the Year in 1987 and Big Ten Coach of the Year in 1992.
He was a National Wrestling Coaches Association All-Star Team coach in 1993 and was a member of USA Wrestling's national freestyle coaching staff.
He was named University of Wisconsin Athlete of the Century and was inducted into the Wisconsin Athletic Hall of Fame in 2002.
He received the Area Sportsperson of the Year Award in 1976 and 1980 from the Madison Sports Hall of Fame.
Andy is a member of the Midlands Hall of Fame, the George Martin Wrestling Hall of Fame and received the Badger Legend Award.
For an outstanding career as a high school, college and international wrestling star and successful collegiate coach, Andy Rein is inducted into the National Wrestling Hall of Fame as a Distinguished Member.