News
USA Wrestling
High School & Youth
USAW
Mauger, Land and Attao a win away from Triple Crown after winning in Junior Greco-Roman Nationals semifinals
by Adam Engel, USA Wrestling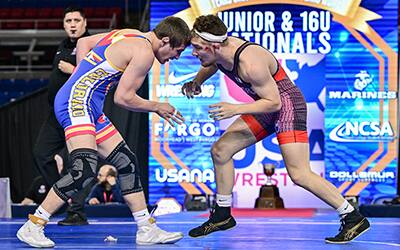 Photo of Braden Stauffenberg of Illinois wins his semifinals bout against Patrick Brackett of Colorado at USMC Junior Greco-Roman Nationals. Photo by Tom Dendy/Wrestling Texas, LLC

FARGO, N.D.
—Three wrestlers are one win away from a Triple Crown after advancing to the finals at the USMC Junior Greco-Roman Nationals on Friday morning in Fargo, North Dakota.
Idaho's Mack Mauger continues his outstanding tournament with a finals appearance at 106. Earlier in the week, he teched his teammate and good friend, Kolter Burton of Idaho, 11-1, in the 106 lb Junior freestyle final. Now, he only needs one more win to secure the Triple Crown after a 10-0 tech against Tyson Roach of Louisiana in the semifinals. He battles Brayten Casey of Wisconsin in the finals.
To complete a Triple Crown, a wrestler must win a folkstyle, freestyle and Greco-Roman national championship in the same calendar year.
Alabama's Cory Land cruised to the finals at 132 after he grabbed five tech falls in the tournament. Like Mauger, he can win a Triple Crown. In the final, Land will battle Kannon Webster of Illinois in a rematch of the Junior freestyle final where Land teched Webster, 11-0. Land, an incoming freshman at Northern Iowa, earned Cadet World silver medal in Greco-Roman last summer.
At heavyweight, Idaho's Aden Attao continued his Triple Crown goals with an 18-7 tech over Parker Ferrell of Virginia this morning. In freestyle, he defeated Dillan Johnson of Illinois, 9-6. Attao will clash with Sebastian Lopez of Kansas in the Junior Greco-Roman final.
Wyatt Voelker of Iowa became the only returning champion to reach the finals on Friday morning. He teched Wisconsin's Ian Smith, 12-4, in less than two minutes. At 145, Florida's Brennan Van Hoecke won by technical fall over returning champion Q'veli Quintanilla of Washington, 8-0 in the first period.
Javaan Yarbrough got redemption over Tyler Garvin of Maryland in the 100-pound semifinals bout which was a rematch from the Junior freestyle finals where Garvin beat Yarbrough 9-6. This time, Yarbrough got a 9-0 technical fall over Garvin.
Cody Chittum of Tennessee at 160 was another freestyle champion who lost in the semifinals.
Illinois is a runaway leader in the team standings with six finalists and 141 points after the semifinals. Wisconsin is second with 87 points.
The 2022 USMC 16U and Junior Nationals final session begins at 12:30 p.m. Central
with the Junior Greco-Roman finals and placement matches.
USMC JUNIOR GRECO-ROMAN NATIONALS
At Fargo, N.D., July 22, 2022
Finalist Pairings
100 - Isaac Stewart of Montana vs Javaan Yarbrough of Ohio
106 - Brayten Casey of Wisconsin vs Mack Mauger of Idaho
113 - Carter Nogle of Maryland vs Anthony Ruzic of Illinois
120 - Massey Odiotti of Illinois vs Kael Lauridsen of Nebraska
126 - Otto Black of Colorado vs Derek Guanajuato of Arizona
132 - Cory Land of Alabama vs Kannon Webster of Illinois
138 - Keith Smith of Nebraska vs Colton Parduhn of Alaska
145 - Brennan Van Hoeke of Florida vs Jayden Colon of Illinois
152 - Braden Stauffenberg of Illinois vs Dylan Evans of Pennsylvania
160 - Jaden Skellenger of Idaho vs Brendon Abdon of Florida
170 - Omaury Alvarez of Georgia vs Bradley Gillum of Illinois
182 - Michael Altomer of New York vs Ryder Rogotzke of Minnesota
195 - Wyatt Voelker of Iowa vs Jack Darrah of Missouri
220 - Max Ramberg of Wisconsin vs Ryan Stein of New York
285 - Aden Attao of Idaho vs Sebastian Lopez of Kansas
Semifinal Results

100
Isaac Stewart (Montana) pin Nathaniel Granados (California), 5:07
Javaan Yarbrough (Ohio) tech-fall Tyler Garvin (Maryland), 9-0 5:47
106
Brayten Casey (Wisconsin) dec. Jeremy Oani (California), 5-4
Mack Mauger (Idaho) tech-fall Tyson Roach (Louisiana), 10-0 5:08
113
Carter Nogle (Maryland) dec. Layne Kleimann (Utah), 7-5
Anthony Ruzic (Illinois) pin Michael Longo (Connecticut), 14-9 5:03
120
Massey Odiotti (Illinois) tech-fall Kenneth Hendriksen (Tennessee), 8-0 2:26
Kael Lauridsen (Nebraska) tech-fall1 Alan Koehler (Minnesota), 11-2 2:23
126
Otto Black (Colorado) tech-fall Gable Porter (Iowa), 8-0 0:49
Derek Guanajuato (Arizona) dec. Brandon Cannon (Colorado), 7-4
132
Cory Land (Alabama) tech-fall1 Matthew Beem (Iowa), 13-4 5:26
Kannon Webster (Illinois) tech-fall Nash Singleton (Oregon), 9-0 2:41
138
Keith Smith (Nebraska) tech-fall Pierson Manville (Pennsylvania), 8-0 1:25
Colton Parduhn (Alaska) tech-fall Gunnar Hamre (Wisconsin), 8-0 1:41
145
Brennan Van hoecke (Florida) tech-fall Q'veli Quintanilla (Washington), 8-0 1:48
Jayden Colon (Illinois) dec. Jaden New (Alabama), 7-0
152
Braden Stauffenberg (Illinois) dec. Patrick Brackett (Colorado), 7-1
Dylan Evans (Pennsylvania) dec. Tyler Sagi (New Jersey), 10-4
160
Jadon Skellenger (Idaho) tech-fall1 Jeremy Paradice (Georgia), 11-2 2:32
Brendon Abdon (Florida) dec. Cody Chittum (Tennessee), 7-5
170
Omaury Alvarez (Georgia) dec. Christian Moder (Florida), 8-7
Bradley Gillum (Illinois) tech-fall Brayden Gautreau (Michigan), 8-0 1:47
182
Michael Altomer (New York) tech-fall Matthew Waddell (Georgia), 8-0 0:54
Ryder Rogotzke (Minnesota) dec. Tate Naaktgeboren (Iowa), 5-3
195
Wyatt Voelker (Iowa) tech-fall1 Ian Smith (Wisconsin), 12-4 1:56
195 Jack Darrah (Missouri) tech-fall1 Robert Plympton (Oregon), 10-2 4:08
220
Max Ramberg (Wisconsin) dec. Sawyer Bartelt (Florida), 7-1
Ryan Stein (New York) dec. Bronx Wood (Kansas), 3-1
285
Aden Attao (Idaho) tech-fall1 Ethan Vergara (Florida), 12-1 2:37
Sebastian Lopez (Kansas) tech-fall Hayden Simpson (Oklahoma), 8-0 1:42
State Finalist Count
Illinois - 6
Idaho - 3
Wisconsin, Florida, New York - 2
Iowa, Colorado, Minnesota, Georgia, Maryland, Pennsylvania, Kansas, Montana, Alabama, Ohio, Alaska, Arizona, Missouri (tied) - 1