News
USA Wrestling
High School & Youth
USAW
Four returning champions still alive in Junior Nationals Greco-Roman, Idaho in contention for two Triple Crowns
by Koral Sugiyama, Special to TheMat.com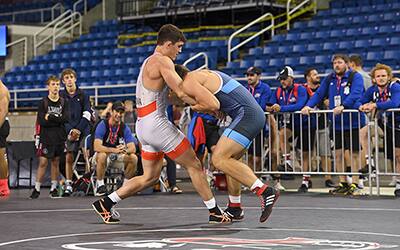 Photo of Wyatt Voelker of Iowa at the USMC Junior Nationals. Photo by Austin Bernard
FARGO, N.D.––The final tournament of the USMC Junior and 16U Nationals began this morning with Junior Men's Greco-Roman taking the mats. Four returning champions weighed in and made it through session one.
At 120 lbs, Ray Harris of California is a returning champion. He is looking for his first plaque of the week as he was taken out in the consolation round of 64 in the freestyle tournament. Harris won his first two matches today with 8-0 techs in the first-period.
Returning champion at 145 pounds, Q'veli Quintanilla of Washington (No. 11 at 138), also shut out his opponents this morning with an 8-0 and 9-0 technical fall.
Wyatt Voelker of Iowa at 195 pounds returns looking for another title this year ranked as No. 6. He was in line for a Triple Crown this year as a Showcase National champion, but fell in the freestyle semifinals to champion Cody Merrill. Voelker started out in the round of 32 this morning where he defeated his opponent with a 9-0 tech.
113-pound Kolter Burton of Idaho who is making his way through four divisions this week placed 5th in 16U freestyle and 2nd in Junior freestyle. Burton is battling his way through the backside of 16U Greco-Roman after dropping his quarter-finals match last night. He was defeated in the Junior freestyle finals by 2021 16U Triple Crown winner and this year's only Junior contender Mack Mauger. Burton won his first match today with an 8-0 tech and his second with a fall in 38 seconds.
Along with his freestyle and Showcase National championship, No. 7 Mack Mauger of Idaho is working to dominate his way through the 106-pound bracket. He had a bye this morning, but will face Wisconsin's Charles Meudt for his first match. Fellow Idahoan, Aden Attao also is in line for the Triple Crown. He won his match this morning 8-0.
Five Junior freestyle champions entered the Greco-Roman division. Mason Gibson of Pennsylvania, opened up with two technical falls. Gibson moved up from 126 lbs to 132 lbs. He could meet Kannon Webster of Illinois in the finals who was the freestyle champion at the same weight. Webster also started his day off with two tech-falls. Tyler Garvin of Maryland at 100 lbs won his match 9-0 this morning. At 160 lbs, Cody Chittum from Tennessee won both of his matches with a 6-3 decision and 8-0 tech.
The Junior Greco-Roman tournament returns tonight at 4 p.m to kick off the round of 16.