News
USA Wrestling
High School & Youth
USAW
Eleven returning All-Americans move into semifinals at USMC 16U Greco-Roman Nationals
by Adam Engel, USA Wrestling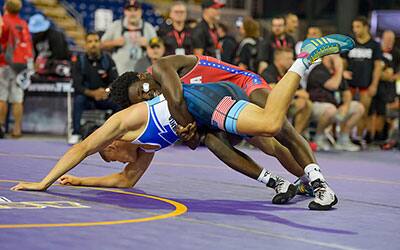 De'Alcapon Veazy of Indiana (in red) competes in the 182-pound bracket of the USMC 16U Greco-Roman Nationals. Photo by Ryan Cummings of MatFocus.
FARGO, N.D. — Eleven All-Americans secured repeat status with quarterfinal wins at the USMC 16U Greco-Roman Nationals on Wednesday afternoon in Fargo, North Dakota. With a top eight placement secured, the worst that these athletes can finish is sixth.

Twenty-five All-Americans remained for the second session. After two All-Americans were eliminated in the first session, 12 more were beaten and were not able to repeat as All-Americans.

Wisconsin 94-pounder Haakon Peterson, the only returning champion in this division, breezed to the semifinals after he outscored opponents 16-0 in two bouts. Peterson won a 16U freestyle national championship earlier in the week.

Peterson, however, isn't the only 2022 16U freestyle champion in the Greco-Roman semifinals. He's joined by Bekhruz Sadriddinov of Pennsylvania who won the freestyle division at 160 and Jarrel Miller Jr. who won at 170.

Cole Welte of Nebraska, another returning All-American at 94, will battle Pennsylvania's Kole Davidheiser in the semifinals. Davidheiser placed seventh at 88 in 2021 while Welte grabbed fifth.

The two returning All-Americans at 100 also advanced to the semifinals. Minnesota's Lawson Eller, who placed fourth at 88 last summer is on the opposite side of the bracket from Indiana's Revin Dickman, who secured sixth in 2021 at 88.

Iowa's Ryker Graff obliterated foes to make the semifinals at 106. He secured three tech falls in the process.

Phoenix Contos of Ohio found his offense at 126 and found the semifinals. A high scoring wrestler, Contos finished seventh in 2021. Now, he already surpassed that placement.

Garrett Reece of Colorado, a returning All-American at 132, earned that status again after he responded with seven straight consolation wins after a round of 128 loss.

At 138, Gabriel Bouyssou of Rhode Island demolished his opponents en route to the semifinals. He placed seventh at 132 in 2021. On Wednesday, he logged four technical falls. In that span, he spent less than two minutes on the mat.

Nevada's Gabriel Delgado repeated Greco-Roman All-American honors with a quarterfinal win at 145. De'Alcapon Veazy a returning All-American and 2022 16U freestyle runner-up, also made the semifinals at 182.

California 220-pounder Nicholas Sahakian became the final returning All-American to snag a semifinal appearance. He logged a 100% bonus point rate.

The tournament continues Thursday with the semifinals, consolation and consolation semifinals at 8:30 a.m. The placement matches and finals begin at 2 p.m. on Thursday.
Semifinal pairings:

88
Tanner Tran of Tennessee vs Christopher Swann of Georgia
James Hemmila of Illinois vs Caleb Noble of Wisconsin

94
Haakon Peterson of Wisconsin vs Rider Seguine of Idaho
Cole Welte of Nebraska vs Kole Davidheiser of Pennsylvania

100
Lawson Eller of Minnesota vs Lincoln Sledzianowski of Florida
Revin Dickman of Indiana vs Hudson Loges of Nebraska

106
Vincent Luttrell of New Mexico vs Jeremiah Wachsmuth of Oregon
Kody Tanimoto of Texas vs Ryker Graff of Iowa

113
Declan Koch of Wisconsin vs Edwin Sierra of California
Connor Fiser of Iowa vs Jayden Raney of Kentucky

120
Jordyn Raney of Kentucky vs Christian Fretwell of Florida
Amryn Nutter of Wisconsin vs Elijah Cortez of California

126
Phoenix Contos of Ohio vs Thomas Verrette of Colorado
Kaden Allen of Kansas vs Elias Navida of California

132
Nathaniel Askew of Georgia vs Draven McCall of Florida
Nolan Fellers of Iowa vs Billy Greenwood of Colorado

138
Gabriel Bouyssou of Rhode Island vs Tucker Stangel of Iowa
Kane Naaktgeboren of Iowa vs Alex Braun of Minnesota

145
Gabriel Delgado of Nevada vs Hunter Sturgill of Tennessee
Benjamin Smith of Maryland vs Aliaksandr Kikiniou of California

152
Kaleb Shine of Montana vs Claudio Torres of Florida
Tristin Greene of Ohio vs Banks Love of Utah

160
Bekhruz Sadriddinov of Pennsylvania vs Angelo Posada of California
Anthony Gutierrez of Illinois vs Tristan Steldt of Wisconsin

170
Gavin Blondeaux of Nevada vs Bryce Burkett of Minnesota
Jarrel Miller Jr. of Ohio vs Nicholas Ronchetti of Illinois

182
De'Alcapon Veazy of Indiana vs Coby Merrill of California
Cittadino Tuttle of Minnesota vs

195
Brennan Carey of Missouri vs Cole Carter of Alabama
Michael Mocco of Florida vs Behlen Waugh of Ohio

220
Nicholas Sahakian of California vs Melvin Whitehead of Nevada
Mason Ellis of Alabama vs Rylan Kuhn of Missouri

285
Sampson Stillwell of Missouri vs Soren Pirhoun of Virginia
Wyatt Schmitt of Illinois vs Evan Gratz of Wisconsin
How the returning All-Americans fared after day one:
94
Haakon Peterson of Wisconsin (Champion at 88 in 2021): 2-0 (Semifinalist)
Cole Welte of Nebraska (Fifth at (88 in 2021): 3-0 (Semifinalist)
Kole Davidheiser of Pennsylvania (Seventh at 88 in 2021): 2-0 (Semifinalist)

100
Lawson Eller of Minnesota (Fourth at 88 in 2021): 3-0 (Semifinalist)
Revin Dickman of Indiana (Sixth at 88): 4-0 (Semifinalist)

106
Brady Phelps of Illinois (Runner-up at 94): 3-2 (ELIMINATED, lost in quarterfinals, lost in consolation of eight No. 2)
Ryker Graff of Iowa (Seventh at 94): 5-0 (Semifinalist)
Devin Bobzien of California (Eighth at 94): 4-2 (ELIMINATED, lost in round of 16, lost in consolation of eight No. 2)
Aaron Seidel of Pennsylvania (Third at 100): 3-2 (ELIMINATED, lost in round of 16, lost in consolation of eight No. 1)
Cole Gentsch of Illinois (Sixth at 100): 3-2 (ELIMINATED, lost in round of 16, lost in consolation of 16 No. 2)
Ezekiel Witt of Kansas (Third at 94 in 2021): 3-2 (ELIMINATED, lost in round of 32, lost in consolation of eight No. 1)

113
Jaxton Packer of Idaho (Fourth at 100): 5-2 (ELIMINATED, lost in round of 64, lost in consolation of eight No. 1)
Matthew Martino (Runner-up at 106): 2-3 (ELIMINATED, lost in round of 16, lost in consolation of No. 2)

120
Trey Wagner of Pennsylvania (Runner-up at 100): 3-2 (ELIMINATED, lost in round of 16, lost in consolation of eight No. 1)
Jared Johnston of Ohio (Seventh at 100): 3-2 (ELIMINATED Lost in round of 128, lost in consolation of 32 No. 2)
Adam Butler of Ohio (Seventh at 106): 4-2 (ELIMINATED, lost in round of 64, lost in consolation of 16 No. 2)

126
Phoenix Contos of Ohio (Seventh at 120): 5-0 (Semifinalist)

132
Garrett Reece of Colorado (Fourth at 120): 7-1 (Lost in round of 128, onto consolation of four)

138
Gabriel Bouyssou of Rhode Island (Seventh at 132): 4-0 (Semifinalist)

145
Gabriel Delgado of Nevada (Fourth at 132): 3-0 (Semifinalist)
Justin Avila of Iowa (Seventh at 138): 0-2 (ELIMINATED, lost in round of 128, lost in consolation of 64 No. 2)

170
Luis Mendoza of Washington (Sixth at 160): 4-2 (ELIMINATED, lost in round of 32, lost in consolation of eight No. 2)
Hudson Rogers of Idaho (Eighth at 145): 4-2 (ELIMINATED, lost in quarterfinals, lost in consolation of eight No. 2)

182
De'Alcapon Veazy of Indiana (Third at 182): 3-0 (Semifinalist)

220
Nicholas Sahakian of California (Seventh at 220): 4-0 (Semifinalist)

285
Willie Cox of Alabama (Eighth at 285): 2-2 (ELIMINATED, lost in round of 16, lost in consolation of 16 No. 2)