News
USA Wrestling
High School & Youth
USAW
Four returning champions and Triple Crown eligible Gonzales advance in Junior Women's Nationals opening session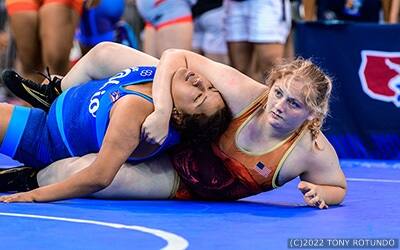 Photo of Sam Calkins of California pinning her opponent during session one of the USMC Junior Women Nationals. Photo by Tony Rotundo/WrestlersAreWarriors.
FARGO, N.D.—Tuesday marks the start of the Junior Women's Nationals with a record 946 competitors, while hosting only Junior women's bouts for the opening session on the floor of the Fargodome.
Four returning champions are entered and have advanced —California's Sam Calkins (No. 1 at 200 and No. 25 P-4-P) and Savannah Gomez (No. 3 at 138), plus Illinois' Alexis Janiak (No. 7 at 127), and Michigan's Eliana Bommarito (No. 1 at 225 and No. 7 P-4-P).
Sam Calkins has yet to be scored on with 11-0 and 10-0 technical falls in the opening rounds. Savannah Gomez picked up a couple of techs; with her second match ending with an injury forfeit. Gomez will face No. 7 Mia Furman of Idaho in the next round. Alexis Janiak also was unscored on with a tech-fall and a pin. Eliana Bommarito only had the chance to wrestle once this morning and ended it in 22 seconds with a pin.
This is also the first year the women have been given the opportunity to win a Triple Crown. The first leg was Folkstyle Nationals in March, the second was either the National High School Recruiting Showcase in April or the Women's Nationals in May. The third leg is here at the USMC Junior Nationals.
Only one Triple Crown contender weighed in. Isabella Marie Gonzales of California who won Junior Folkstyle Nationals at 117 pounds and U15 Women's Nationals at 54 kg (118.8 lbs). She also earned runner-up at Sunday's
16U Women's freestyle 117-pound finals.
It would be surprising if Gonzales broke a sweat during this morning's session. She stepped on the mat for a combined total of 45 seconds with a pin and tech-fall. She will face No. 11 Bayley Trang of Texas in the next round.
Nine 16U champions are looking to double up this week. Katey Valdez of Colorado, Rianne Murphy of Indiana, Ava Ward of Missouri, Skylar Little Soldier and Ella Pagel of Minnesota, Nebi Tsarni of Maryland, Mishell Rebisch and Sabrina Nauss of Michigan, and Savannah Isaac of Ohio.
The women return to the mats this evening at 4 p.m. CT to continue through the preliminaries and quarterfinals. You can follow the brackets on
FloArena
and watch the broadcast live on FloWrestling.