News
USA Wrestling
High School & Youth
USAW
Three returning champions reach USMC Junior Nationals freestyle finals; three others still alive for Triple Crown
by Gary Abbott, USA Wrestling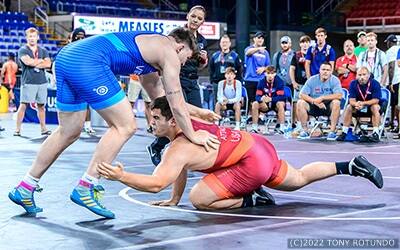 Aden Attao of Idaho takes a shot at the 285 pound semifinals at Junior Freestyle Nationals. Photo by Tony Rotundo, Wrestlers Are Warriors.

FARGO, N.D. – One of the favorite rounds of the Junior Nationals is the semifinals of the men's freestyle tournament, which always has great action and drama. This year's evening semifinal session was all of that and more.
Returning champions who advanced to the finals are Hunter Taylor of Missouri (113), Kannon Webster of Illinois (132) and Joshua Barr of Michigan (170).
Taylor scored an impressive 11-0 technical fall over Minnesota's Brandon Morvari in the semifinal, in a rematch of the 2021 Junior finals at 106. Taylor will battle Deion Johnson of Illinois in Tuesday's finals.
Webster was also in command in his semifinals, a 10-0 technical fall over Luke Simcox of Pennsylvania. In a highly anticipated finals, Webster will battle U17 World Greco-Roman medalist Cory Land of Alabama for the title.
Barr was equally dominant in his semifinals bout, securing a first-period 10-0 technical fall over Noah Mulvaney of Wisconsin. Barr will battle Rocco Welch of Pennsylvania in the finals tomorrow.
With wins in the semifinals, three wrestlers remain alive in the hunt for the Junior Triple Crown, Mack Mauger of Idaho (106), Cory Land of Alabama (132) and Aden Attao of Idaho (285).
A person wins the Triple Crown when they win USA Wrestling national titles in folkstyle, freestyle and Greco-Roman the same year. Mauger, Land and Attao won the 2022 National High School Recruiting Showcase, which was the first leg of this year's Triple Crown.
Mauger needed an officials' review to get past Iowa's Dru Ayala in the semifinals. Officials did not award Mauger a takedown in the final seconds, but Mauger challenged, and the takedown was awarded in review for a 7-6 victory. Mauger faces a fellow Idahoan in the finals, Kolter Burton, who beat a third Idaho semifinalist in Dedrick Navarro on the other side of the bracket.
Attao won by technical fall in the semifinals, stopping Parker Ferrell of Virginia, 18-7. He draws Dillan Johnson of Illinois for the gold medal.
Two Iowa athletes seeking Triple Crowns were defeated in the semifinals, Tate Naaktgeboren (182) and Wyatt Voelker (195).
Connor Mirasola of Wisconsin stopped Naaktgeboren, 9-1 in the semifinals, and will draw AJ Heeg of Oklahoma for the title.
Cody Merrill of California was a 4-2 winner in a close battle with Voelker, who was a 2021 Junior Nationals Greco-Roman champion. Merrill will compete against Idaho's Rylan Rogers in the finals.
In a battle of Michigan wrestlers in the 120-pound semifinals, Caden Horwatch defeated 2021 Junior Nationals freestyle champion Braeden Davis, 10-2. Horwath will compete against Nathan Jesuroga of Iowa for the title.
The Junior Freestyle finals are set for 1:00 p.m. Mountain Time on Tuesday, live on FloWrestling. The Junior Women's tournament also begins on Tuesday.
Iowa has a commanding lead in the team race with 176 points, well ahead of runner-up California with 102 points. Iowa won the Junior Duals this year in both styles.
USMC JUNIOR NATIONALS
At Fargo, N.D., July 18

Men's freestyle finals pairings
100 - Javaan Yarbrough (Ohio) vs. Tyler Garvin (Maryland)
106 - Mack Mauger (Idaho) vs. Kolter Burton (Idaho)
113 - Hunter Taylor (Missouri) vs. Deion Johnson (Illinois)
120 - Caden Horwath (Michigan) vs. Nathanael Jesuroga (Iowa)
126 - Mason Gibson (Pennsylvania) vs. Luke Stanich (New Jersey)
132 - Kannon Webster (Illinois) vs. Cory Land (Alabama)
138 - Ryder Block (Iowa) vs. Ismael Ayoub (Ohio)
145 - Beau Mantanona (California) vs. Kyle Dutton (Missouri)
152 - Cody Chittum (Tennessee) vs. Ty Whalen (New Jersey)
160 - Aiden Riggins (Iowa) vs. Nicco Ruiz (California)
170 - Joshua Barr (Michigan) vs. Rocco Welsh (Pennsylvania)
182 - Connor Mirasola (Wisconsin) vs. AJ Heeg (Oklahoma)
195 - Cody Merrill (California) vs. Rylan Rogers (Idaho)
220 - Kolby Franklin (Iowa) vs. Bradley Hill (Iowa)
285 - Aden Attao (Idaho) vs. Dillan Johnson (Illinois)
Semifinal results
100
Javaan Yarbrough (Ohio) dec. Caden Smith (Virginia), 6-4
Tyler Garvin (Maryland) dec. Isaac Stewart (Montana), 11-2
106
Mack Mauger (Idaho) dec. Dru Ayala (Iowa), 7-6
Kolter Burton (Idaho) tech fall Dedrick Navarro (Idaho), 12-1 4:50
113
Hunter Taylor (Missouri) tech fall Brandon Morvari (Minnesota), 11-0 5:51
Deion Johnson (Illinois) dec. Michael Olson (Minnesota), 7-6
120
Caden Horwath (Michigan) dec. Braeden Davis (Michigan), 10-2
Nathanael Jesuroga (Iowa) tech fall Alan Koehler (Minnesota), 10-0 4:39
126
Mason Gibson (Pennsylvania) tech fall Coleman Nogle (Maryland), 15-3 6:00
Luke Stanich (New Jersey) dec. Aden Valencia (California), 10-4
132
Kannon Webster (Illinois) tech fall Luke Simcox (Pennsylvania), 10-0 2:49
Cory Land (Alabama) fall Omar Ayoub (Ohio), 12-4 1:28
138
Ryder Block (Iowa) dec. Pierson Manville (Pennsylvania), 7-2
Ismael Ayoub (Ohio) tech fall Easton Taylor (Kansas), 10-0 2:27
145
Beau Mantanona (California) dec. Dylan Gilcher (Michigan), 5-3
Kyle Dutton (Missouri) dec. Zach Hanson (Minnesota), 6-3
152
Cody Chittum (Tennessee) tech fall Jude Swisher (Pennsylvania), 14-2 2:43
Ty Whalen (New Jersey) dec. William Henckel (New Jersey), 8-3
160
Aiden Riggins (Iowa) dec. Rafael Hipolito (Virginia), 8-1
Nicco Ruiz (California) dec. Braeden Scoles (Wisconsin), 10-8
170
Joshua Barr (Michigan) tech fall Noah Mulvaney (Wisconsin), 10-0 1:48
Rocco Welsh (Pennsylvania) tech fall Tyler Lillard (Ohio), 10-0 4:09
182
Connor Mirasola (Wisconsin) dec. Tate Naaktgeboren (Iowa), 9-1
AJ Heeg (Oklahoma) dec. Ryder Rogotzke (Minnesota), 11-4
195
Cody Merrill (California) dec. Wyatt Voelker (Iowa), 4-2
Rylan Rogers (Idaho) dec. Camden Mcdanel (Ohio), 8-3
220
Kolby Franklin (Iowa) dec. Sawyer Bartelt (Florida), 5-1
Bradley Hill (Iowa) tech fall Kail Wynia (Minnesota), 10-0 5:01
285
Aden Attao (Idaho) tech fall Parker Ferrell (Virginia), 18-7 4:53
Dillan Johnson (Illinois) tech fall Max Acciardi (New Jersey), 13-3 4:59
Top five teams after day two
1 Iowa 176
2 California 102
3 Pennsylvania 97
4 Idaho 87
5 New Jersey 75