News
USA Wrestling
High School & Youth
Women
USAW
Four repeat as 16U women's champions, Iowa brings California's team reign to an end
by Koral Sugiyama, Special to USA Wrestler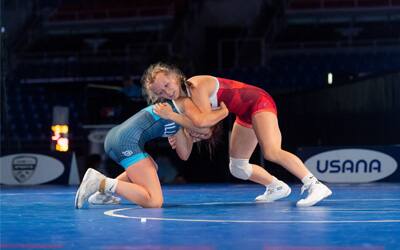 Skylar Little Soldier of Minnesota controls Cadence Diduch of Illinois in the 16U finals. Photo by Austin Bernard.
FARGODOME, N.D.– There were 15 athletes who added National champion to their resume along with dozens of All-Americans at the conclusion of the USMC 16U Women's freestyle Nationals Sunday afternoon.
No. 4 Skylar Little Soldier of Minnesota and No. 6 Cadence Diduch of Illinois both came to the 127-pound finals seeking to claim another title. Little Soldier won this weight last year, and Diduch moved up from 117 pounds.
Diduch went in for the first attack, but Little Soldier was able to block and spin behind for two points. Diduch reached for another attack, but Little Soldier responded by matching her high-crotch. Diduch exposed Little Soldier for two-points, however the Minnesota star ended the sequence on top and led 3-2. With less than a minute left on the clock, Diduch got in on the leg again, but the Hastings High School wrestler was able to hold her off to secure her second 16U 127-pound national title.
Returning champion Ella Pagel from Minnesota wrestled No. 3 Piper Fowler of Tennessee. These two wrestled each other in the opening round of U17 Women's Nationals, where Fowler pinned Pagel, but Pagel came back today to even the score.
Pagel quickly looked to avenge her loss with a body lock straight to Fowler's back, but Fowler fought free. In another exchange for upper body position, Pagel tried for the same lock, but was only able to secure two points this time The referee scored four points with another body lock from Pagel. Pagel was ready to celebrate her tech-fall but a blue challenge block flew to the center of the mat. Tennessee wins the challenge and Pagel was only awarded two points. She gets the needed takedown and continues her celebration for her second national title and an 10-0 technical fall.
Returning champion Nebi Tsarni of Maryland defeated Iowa's tough young star Skylar Slade in the 144-pound finals match.
Tsarni came out strong and secured the first takedown. She continued to control the match and picked up another score when she cinched Slade in and drove her to her back on the edge. Slade added one point to the board with a stepout, but Tsarni soon after answered back with two more takedowns. Tsnari will be taking home a second national title and a rubber chicken (which Maryland traditionally throws on the mat when it wins a Fargo title).
The final returning champion hit the stage at 180 pounds when No. 1 Sabrina Nauss of Michigan wrestled Oklahoma's Kali Hayden.
Hayden unsuccessfully went big early in the match and threw herself to her back. Fortunately, she fought off her back and this set the tone for the entire match of back exchange after back exchange. Both wrestlers were close to getting pinned. Nauss came out as the top wrestler, ending the match with a pin, and taking home her second stop sign.
The 94-pound final featured the only returning All-Americans from last year's competition. Colorado native Katey Valdez earned third last year while fellow Westerner Joely Slyter of Idaho earned eighth. The two previously wrestled at U17 Women's Nationals in the opening round where Valdez defeated Slyter with a pin.
Today, Valdez got right to work to defeat Slyter. The Pan-Am champion Valdez earned her first two-points with a fireman's and another two points on the edge. Slyter attempted a head-and-arm, but Valdez slipped it and transitioned into a turn. The Coloradoran finished Slyter off in the first period with another two-points to become the 94-pound champion.
Rianne Murphy of Indiana defeated Mary Manis of Florida during the 100-pound final bout. Murphy left as a double All-American last year, however this is Manis's first year in the Dome.
Murphy pushed the pace for the first two takedowns. Manis came back from her 30-second break with more control. She pressured Murphy around the mat with a two-on-one and got behind, but Murphy didn't give Manis any more opportunities. Murphy drove Manis in a slow, but determined, head-and-arm and was able to secure the fall.
At 106 pounds, No. 2 ranked Ava Ward from Missouri beat Heather Crull from Indiana. The two sophomores wrestled each other at the 2021 U17 Women's Nationals where Ward defeated Crull, 11-4, in the semifinals.
Ward powered through Crull with two double legs and a leg lace to give herself a comfortable lead within the first minute. With another two-points and a single leg finish, Ava Ward captured the 106-pound title, racking up a total score of 51 points to zero throughout her tournament.
Iowa wrestler Molly Allen, made it to the finals after defeating last year's champion, Cecilia Williams, in the semifinals. Allen toed-the-line with Arizona wrestler and No. 2 ranked Karlee Brooks and came out the victor.
Allen quickly got to Brooks's ankle and finished it through for two-points. After a throw attempt from Brooks, Allen drove her to her back for another pin in the finals to become the 112-pound national champion.
Colorado's No. 3 Persaeus Gomez teched California's No. 7 Isabella Marie Gonzales. This is the first time they wrestled each other at a USA Wrestling event. They both weighed in at 53 kg at U17 Nationals but were on opposite sides of the bracket.
Gonzales put the first two points on the board with a hip toss. Gomez was able to get in deep on Gonzales's legs in the first period, but time ran out before the finish. Coming back to the center from the break, Gomez got in on a single and gave herself an eight point lead before getting one more takedown and taking home the 117-pound national title with a 12-2 technical fall.
Both athletes at 122 pounds are emerging onto the high school scene. Everest Leydecker from Arizona wrestled No. 8 Carley Ceshker from Wisconsin and both freshmen earned a Folkstyle National title in March.
Leydecker attacked with a single leg and drove Ceshker to the edge of the mat twice for two step-outs to take the lead. Then three more points were put on the board with a takedown and another step out by Leydecker. Ceshker kept herself in striking distance with a four-point takedown after Leydecker attempted a chest throw. The pace slowed down, but Leydecker was still able to control the center with two more step-outs and that is all the Arizona wrestler needed to win the 122-pound title.
Carina Giangeruso from New Jersey defeated Folkstyle National champion Lauren Walton from Kentucky in the 132-pound final bout.
Giangeruso started with an attempted half shot. Walton blocked it and attacked across the body to get the first takedown and then added another point for a 3-0 lead. In the last minute of the match, Giangeruso was awarded with a passivity point before spinning around for the takedown. The New Jersey star won by criteria and took home New Jersey's first ever 16U National title.
At 138 pounds, Connecticut's Sarah Henckel scraped by Wisconsin's No. 5 Faith Bartoszek. The two previously faced each other in the third-place match at U17 Women's Nationals where Bartoszek won, 2-1.
This time, Bartoszek earned the first two single points and held the lead for the almost the entirety of the match. With seconds remaining, Henckel snapped Bartoszek down and ran to get the angle. Bartoszek tried to hold her quadpod, but dropped, and the clock wasn't able to save her. Wisconsin threw in the block, but lost the challenge and Henckel became the 138-pound champion. Henckel was named Outstanding Wrestler of the event.
No. 4 Mishell Rebisch has switched out an Alaska singlet for one from Michigan and took on Genevieve An from Georgia. Rebisch was runner-up at 16U Folkstyle Nationals while An earned fifth place last year.
Rebisch put the first points on the board with a quick exposure before An ended the exchange with a reversal. An again got in deep on Rebisch, but the same tune plays and Rebisch tossed An with a second crotch throw. Another exchange resulted with Rebisch countering with a quick tilt and a reversal from An. Rebisch tightened up her attacks and finished two sequences without giving up any more points to become the 152-pound champion.
The final match of the tournament at 200 pounds included No. 4 Savannah Isaac of Ohio, who is returning to the finals for a second year in a row, where she defeated No. 8 Mariyah Brumley of Missouri.
In the first sequence of the match, Isaac pancaked Brumley straight to her back for a quick win and the sound of Team Ohio fills the arena as Isaac is crowned the 200-pound national champion.
Women's wrestling continues to rapidly evolve and one of the biggest giveaways is seeing the talent distribute across the entire nation.
For the first time in 10 years, women's powerhouse California not only didn't walk away with any individual national champions, but Iowa steals the team race with 90 points, with Missouri second with 87, and California in third with 86.
Action for the women continues on Tuesday when the Juniors take the mat.
USMC 16U NATIONALS
At Fargo, N.D., July 17, 2022

Women's freestyle results
94 LBS
1st Katey Valdez (Colorado) tech fall Joely Slyter (Idaho), 10-0 1:32
3rd Caley Graber (Minnesota) tech fall Annalise Maralit (South Carolina), 12-2 2:54
5th Zoey Jewett (New York) tech fall Kendall Moe (Indiana), 10-0 1:35
7th Kyler Menza (Washington) dec.Alexandra Sebek (Illinois), 4-4
100 LBS
1st Rianne Murphy (Indiana) pin Mary Manis (Florida), 3:20
3rd Gigi Bragg (Michigan) tech fall Lauren Nguyen (California), 10-0 3:17
5th Gabriele Tedesco (Florida) dec. Madison Heinzer (California), 9-9
7th Mia Galindo (Virginia) pin Avy Perez (California), 0:37
106 LBS
1st Ava Ward (Missouri) tech fall Heather Crull (Indiana), 10-0 1:34
3rd Angelina Cassioppi (Illinois) dec. Ana Malovich (Pennsylvania), 7-4
5th Aspen Blasko (Minnesota) pin Mikayla Garcia (California), 3:02
7th Jillian Worthen (Iowa) tech. fall Harlee Hiller (Illinois), 12-2 0:52
112 LBS
1st Molly Allen (Iowa) pin Karlee Brooks (Arizona), 1:08
3rd Aubre Krazer (Pennsylvania) dec. Cecilia Williams (Michigan), 4-1
5th Reanah Utterback (Iowa) pin Calli Gilchrist (Connecticut), 1:04
7th Angelina Vargas (Missouri) pin Bk Martinez (California), 1:47
117 LBS
1st Persaeus Gomez (Colorado) tech fall Isabella Marie Gonzales (California), 12-2 3:26
3rd Bella Williams (Oklahoma) dec. Ashley Naranjo (Washington), 6-2
5th Kira Cole (Ohio) dec. Evelyn Holmes-Smith (Alabama), 2-2
7th Isabella Cepak (Michigan) pin Jessa Joiner (Missouri), 2:23
122 LBS
1st Everest Leydecker (Arizona) dec,Carley Ceshker (Wisconsin), 8-4
3rd Haylie Jaffe (Pennsylvania) dec. Alejandra Valdiviezo (California), 4-2
5th Savannah Witt (Pennsylvania) tech. fall Audrey Rogotzke (Minnesota), 11-0 2:56
7th Sophie Bowers (Illinois) dec. Ella Gahl (Indiana), 5-0
127 LBS
1st Skylar Little Soldier (Minnesota) dec. Cadence Diduch (Illinois), 3-2
3rd Alicen Dillard (Texas) pin Kayla Edwards (California), 2:56
5th Jordyn Fouse (Pennsylvania) pin Dealya Collins (Wisconsin), 3:35
7th Ciara Riner (West Virginia) pin Regan Rosseter (Nebraska), 2:24
132 LBS
1st Carina Giangeruso (New Jersey) dec. Lauren Walton (Kentucky), 3-3
3rd Isis France (Arizona) tech, fall Morgan Lucio (Arizona), 10-0 3:11
5th Janiah Jones (Missouri) dec. Mackenzie Pratt (Illinois), 6-3
7th Isabella Dias (Pennsylvania) dec. Janessa O'connell (Washington), 7-4
138 LBS
1st Sarah Henckel (Connecticut) dec. Faith Bartoszek (Wisconsin), 3-2
3rd Madison Westerberg (New York) tech fall Gianna Dibenedetto (California), 13-2 3:34
5th Sofia Delgado (Florida) tech. fall Annabelle Davis (Texas), 10-0 1:24
7th Taydem Bylin (Washington) dec. Lena Johannson (Alabama), 9-2
144 LBS
1st Nebi Tsarni (Maryland) dec. Skylar Slade (Iowa), 10-2
3rd Sydney Perry (Illinois) dec. Emma Peach (Iowa), 4-2
5th May Cuyler (Virginia) pin Jahlia Miguel (Hawaii), 0:43
7th Madeline Haynes (Missouri) dec. Raegan Snider (Pennsylvania), 7-3
152 LBS
1st Mishell Rebisch (Michigan) dec. Genevieve An (Georgia), 9-6
3rd Skylur Lewis (Arkansas) dec. Savannah Holderby (Ohio), 2-1
5th Alison Evans (Colorado) dec. Cali Dupree (Missouri), 3-3
7th Lexi Ritchie (Illinois) pin Adriana Palumbo (New York), 1:42
164 LBS
1st Ella Pagel (Minnesota) tech. fall Piper Fowler (Tennessee), 10-0 2:53
3rd Olivia Stean (Kansas) dec. Naomi Simon (Iowa), 8-7
5th Kylee Lindsley (Montana) pin Jael Miller (Pennsylvania), 1:53
7th Bella Porcelli (Iowa) dec. Rachel Schauer (Wisconsin), 13-4
180 LBS
1st Sabrina Nauss (Michigan) pin Kali Hayden (Oklahoma), 2:28
3rd Aurellia Ramos (Utah) tech. fall Tirza Twoteeth (Montana), 10-0 3:02
5th Isabella Renfro (Missouri) dec. Symphony Veloz (Oklahoma), 9-0
7th Ellie Poulette (Missouri) pin Taylor Waddy (Virginia), 1:08
200 LBS
1st Savannah Isaac (Ohio) pin Mariyah Brumley (Missouri), 0:20
3rd Blythe Cayko (Colorado) pin Cheyenne Cruce (Florida), 2:57
5th Tilisa Matakaiongo (Utah) pin Kiona Michel (Washington), 0:26
7th Phoenix Lindseth (North Dakota) pin Savannah Sistad (Iowa), 1:57
Outstanding Wrestler
138 - Sarah Henckel of Connecticut
Most Falls
117 - Isabella Cepak, 6 falls in 7:00
16U Girls Team Standings
1 Iowa, 90
2 Missouri, 87
3 California, 86
4 Michigan, 82
5 Minnesota, 81
6 Colorado, 74
6 Pennsylvania, 74
8 Arizona, 72
9 Illinois, 71
10 Indiana, 54
11 Florida, 50
12 Wisconsin, 49
13 Ohio, 46
14 Oklahoma, 42
15 Connecticut, 32
16 Washington, 31
17 New York, 26
18 Maryland, 25
18 New Jersey, 25
20 Utah, 24
21 Texas, 22
22 Montana, 21
23 (tie) Georgia, Idaho, Kentucky, Tennessee, 20
27 Virginia, 16
28 (tie) Arkansas and Kansas, 15
30 South Carolina, 12
31 Alabama, 9
32 Hawaii, 7
33 (tie) North Dakota and West Virginia, 5
35 Nebraska , 2