News
USA Wrestling
High School & Youth
Women
USAW
Day 2 preview: U16 Women champions to be crowned, U16 freestyle will hold semifinals, Junior Freestyle underway
by Gary Abbott, USA Wrestling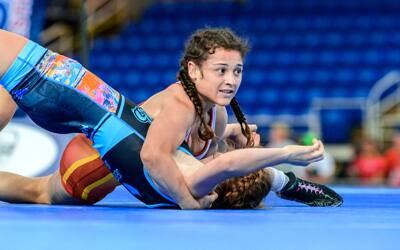 Katey Valdez of Colorado works for the pin in the 16U women's semifinals. Photo by Tony Rotundo, Wrestlers Are Warriors.
Sunday is one of the most active days in Fargo this year, with three different tournaments going on at the same time. It will have the first championship finals of the week, with the conclusion of the 16U Women's Freestyle Nationals. The 16U Men's Nationals moves through its second day, with the gold-medal finals determined. And the Junior Men's Freestyle Nationals will get started, with the early rounds of the largest tournament of the six events for the week.
What is finishing: 16U Women's freestyle champions and All-Americans are determined
Sunday marks the finals of the 16U Women's Freestyle tournament, which will award the first national champion stop sign trophies of the 2022 Fargo experience. The women competed through the semifinal round on Saturday, and will have important consolation rounds held in the morning.
16U Women's Freestyle Finals pairings
94 - Katey Valdez (Colorado) vs Joely Slyter (Idaho)
100 - Rianne Murphy (Indiana) vs Mary Manis (Florida)
106 - Ava Ward (Missouri) vs Heather Crull (Indiana)
112 - Molly Allen (Iowa) vs Karlee Brooks (Arizona)
117 - Persaeus Gomez (Colorado) vs Isabella marie Gonzales (California)
122 - Everest Leydecker (Arizona) vs Carley Ceshker (Wisconsin)
127 - Skylar Little Soldier (Minnesota) vs Cadence Diduch (Illinois)
132 - Lauren Walton (Kentucky) vs Carina Giangeruso (New Jersey)
138 - Sarah Henckel (Connecticut) vs Faith Bartoszek (Wisconsin)
144 - Skylar Slade (Iowa) vs Nebi Tsarni (Maryland)
152 - Mishell Rebisch (Michigan) vs Genevieve An (Georgia)
164 - Piper Fowler (Tennessee) vs Ella Pagel (Minnesota)
180 - Sabrina Nauss (Michigan) vs Kali Hayden (Oklahoma)
200 - Mariyah Brumley (Missouri) vs Savannah Isaac (Ohio)
Missouri leads the team race with 25 points, with Iowa in second with 24, California in third with 23, Arizona and Colorado tied in fourth with 20 points. Missouri and California each have nine left in the tournament, but Missouri has two in the finals and California has just one. It should be a close team race, which most likely will be determined in the consolation rounds.
What is continuing: 16U Men's Freestyle powers through the semifinals
The bulk of the 16U Men's Freestyle Nationals is held on Sunday, as both the finalist pairings and the All-American wrestlers will be determined. The 16U quarterfinals and semifinals will be held during Sunday's 4:30 p.m. session.
At this point, the top four states in terms of athletes who remain on the championship side of the bracket are Pennsylvania with 18, California with 15, Ohio with 14 and Minnesota with 10.
There are 21 returning All-Americans who are still on the championship side of the bracket and remain in the hunt for a gold medal. There are also six wrestlers who remain alive for the Triple Crown, after winning Folkstyle Nationals in April, and moving into day two of the Freestyle Nationals without a loss:
What's starting: Junior Men's Freestyle gets rolling with preliminary action

The Junior men's freestyle event is getting started on Sunday, with a preliminary entry of 1,521 athletes, easily the largest field of the six tournaments here in Fargo and also the largest Junior freestyle national tournament of all time.
Junior Men's Freestyle returning champions: Hunter Taylor of Missouri (106 in 2021, 113 in 2022), Braeden Davis of Michigan (113 in 2021, 120 in 2022), Kannon Webster of Illinois (120 in 2021, 132 in 2022), Nasir Bailey of Illinois (132 in 2021, 138 in 2022) and Joshua Barr of Michigan (160 in 2021, 170 in 2022).
There were 70 wrestlers in the most recent FloWrestling ranking who were in the preliminary entries, including Pound-For-Pound No. 4 Cody Chittum of Tennessee, No. 16 Joshua Barr of Michigan and No. 19 Nate Jesuroga of Iowa.
WHAT TO EXPECT IN THE JUNIOR FREESTYLE TEAM RACE
In 2021, Illinois won the Junior men's freestyle title with 130 points, followed by Pennsylvania with 111, Michigan with 107, Wisconsin with 103 and Iowa with 98. The 2022 National Junior Duals in Tulsa, Okla. was won by Iowa, with a dominant 47-14 win over Ohio. Oklahoma placed third, Wisconsin fourth, Illinois fifth, California sixth, Minnesota seventh and Ohio Scarlet in eighth.
SUNDAY'S SCHEDULE
8:00 a.m.- 10:30 a.m. — 16U Women Freestyle: Session III — Consolations, and Consolation Semifinals
8:00 a.m. - 1:30 p.m. — Junior Men's Freestyle: Session I — Preliminaries and Consolations
1:30 p.m. - 4:00 p.m. — 16U Women Freestyle: Session IV — Finals, Medal Matches & Awards
4:30 p.m. - 9:00 p.m. — 16U Men's Freestyle: Session III — Quarterfinals, Semifinals and Consolations
4:30 p.m. - 9:00 p.m. — Junior Men's Freestyle: Session II — Preliminaries and Consolations